Breakout Forecast Selections for Week 10:
Market conditions continue with extreme volatility. Readers are cautioned that negative conditions are still strong and my momentum gauge remains the same as the prior week 9 at a value of 35. Volatility in the market is at all time highs with this past week having 4 out of 5 days with greater than 1% moves in the S&P 500. In contrast to this time last year the market had gone 81 days without a single 1% daily move.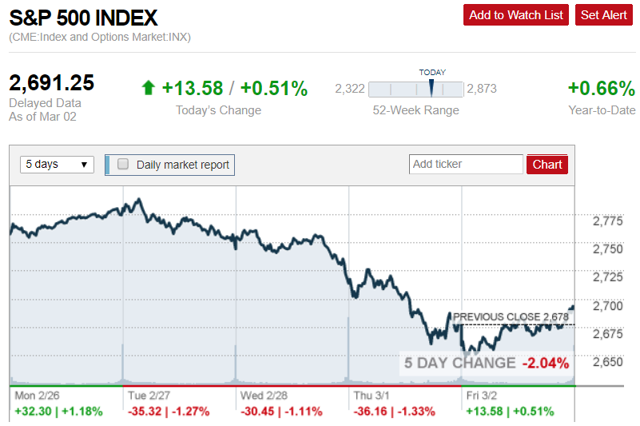 My momentum gauge is based on the size of the list of positive and negative screened momentum stocks. The negative momentum indicator has increased from 35 last week to 42 this week. The positive momentum indicator has remained the same from last week at 35. The all time low for positive momentum selections is 10 (during week 6) and all time high is 120 (last August).

Additional selections from last week's separate technical articles continue to deliver strong double-digit returns: AGEN +29.88% and DRNA +26.52%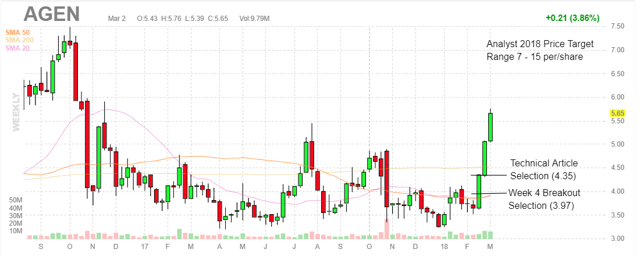 This week I have selected 8 breakout stocks from the following sectors: 7 healthcare and 1 technology. I continue to see strong signals of breakouts across the biotech sector as I described in my last sector report.

** I also want to mention that subscribers to my stock service have again put me on the Seeking Alpha list as one of the top authors for the month for the second month in a row. I hope you will also consider joining for more valuable updates in Value & Momentum Breakouts.
The two new selections of positive momentum stocks for this week include:
ChemoCentryx (CCXI) - Healthcare / Biotechnology
Infinity Pharmaceuticals (INFI) - Healthcare / Biotechnology

These stocks are not necessarily recommended for long term buy/hold unless you are comfortable with very large price swings. As I continue to observe, strong momentum events usually last from one to three weeks and may encounter some substantial decline before returning again to positive gains.
These are the most volatile selections I offer from among all the different Value & Momentum portfolios. Proposed entry points for each of the selected stocks are as close to the highlighted prices in yellow on the charts at market open. All stocks are selected for high short-term breakout results over one to three weeks.
Breakout Stock Charts for Week 10
Note: all breakout stocks are selected based on my algorithm to increase the frequency of 10% gains within a short period of time as described in my methodology articles. Price targets are estimated through an unrelated technical charting process for those who are looking for estimated exit points. It is possible the momentum in these selections can move the price beyond the estimated targets offered.
Pick #1: ChemoCentryx (CCXI) - Healthcare / Biotechnology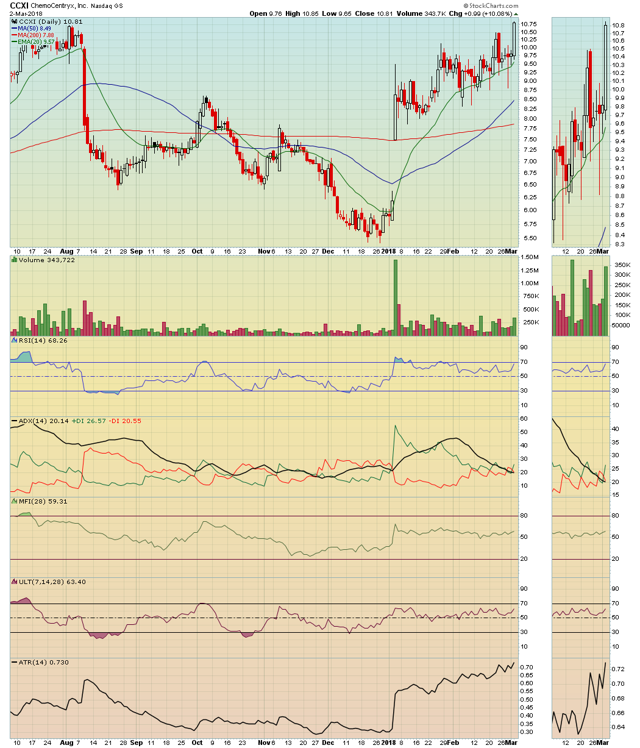 Price Target: 12
CCXI has strong technical parameters for breakout selection this week with increasing RSI, money flow, and other key indicators. CCXI was previously selected in the Week 6 Breakout Forecast and has so far gained 12.60%. The price has now cleared prior resistance levels last seen in August and is likely to go considerably higher based on strong fundamentals and technical characteristics.
ChemoCentryx, Inc., a clinical-stage biopharmaceutical company, develops medications for inflammatory disorders, autoimmune diseases, and cancer in the United States. Its lead drug candidate is Avacopan (CCX168), an orally-administered small molecule that is a selective inhibitor of the complement C5a receptor (C5Ar), which is in Phase III development for the treatment of anti-neutrophil cytoplasmic auto-antibody-associated vasculitis AAV.
Pick #2: Infinity Pharmaceuticals (INFI) - Healthcare / Biotechnology

Price Target: 2.70
INFI has strong technical parameters for breakout selection this week with increasing RSI, money flow, and other key indicators. Based on the behavioral, technical, and fundamental variables INFI is showing positive signs of a strong price move to the original positive price trend at 2.40 and possibly much higher. These characteristics are the result of increased investment interest and attractive parameters to institutional buyers.
Infinity Pharmaceuticals, Inc., a biopharmaceutical company, develops medicines for patients with difficult-to-treat diseases in the United States. Its lead product candidate includes IPI-549 an orally administered immuno-oncology product candidate that inhibits the enzyme phosphoinositide-3-kinase-gamma (PI3K-gamma) is in Phase 1 clinical study.

Breakout Forecast Performance Results:
Total Return Chart: +55.80%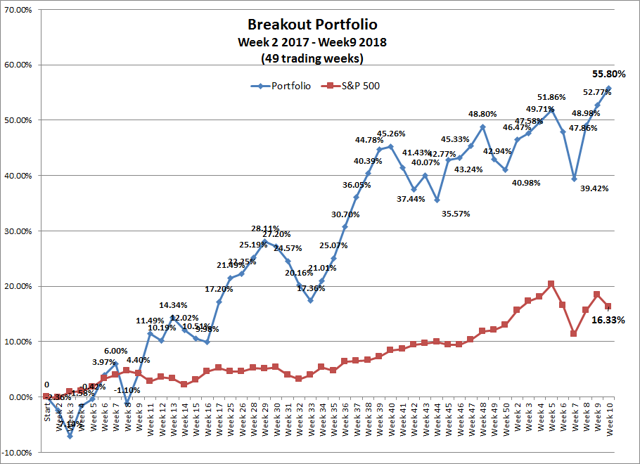 Total Breakout portfolio returns by week for the past 5 weeks are listed below through the end of last week to illustrate the rolling returns of prior top performers and total portfolio returns:


| | |
| --- | --- |
| Breakout Forecast | Portfolio gains past 5 weeks / Top 3 Performing Stocks |
| Week 9 | +3.03% / (ARWR) +14.83%, (VCEL) +14.38%, (SENS) +8.16% |
| Week 8 | +9.83% / (FATE) +52.00%, (DRNA) +29.20%, (CDXS) +12.68% |
| Week 7 | +8.36% / (EGAN) +36.60%, (FEYE) +13.79%, (EROS) +10.83% |
| Week 6 | -0.52% / (CCXI) +12.60%, (IDN) + 4.51%, (HAIR) +3.69% |
| Week 5 | -3.61% / (QNST) +36.78%, (CNAT) +12.29%, (CYRX) +2.00% |

For those who are new to this short-term selection method I would highly recommend that you review the end of year performance summary and the links to methodology articles about how these high volatility, typical low cap, breakout selections work. Basically, I am trying to maximize the frequency of substantial positive returns using the parameters that resulted from my published doctoral research by focusing on the most volatile sector of stocks.

2018 YTD Chart: +14.61%
Cumulative return with 1-Week holding period.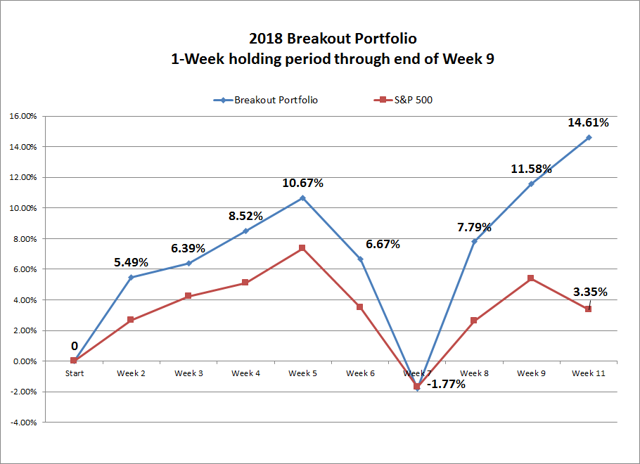 The next charts shows the cumulative return for a longer fixed 2-week holding period instead of the 1 week holding period charted above. Because 2-week holding periods overlap with weekly selections, I have separated it into two charts, Odd and Even weeks:
Using 2-week holding periods, the ODD Weekly Breakout portfolios have returned 12.77% compared to 5.39% for the S&P 500 YTD over the same holding periods.
The EVEN Weekly Breakout portfolios have returned 9.83% compared to 0.72% of the S&P 500 in the equivalent 2-week holding period.


Chart 1. Chart 2.

Additional Value & Momentum Portfolio Returns: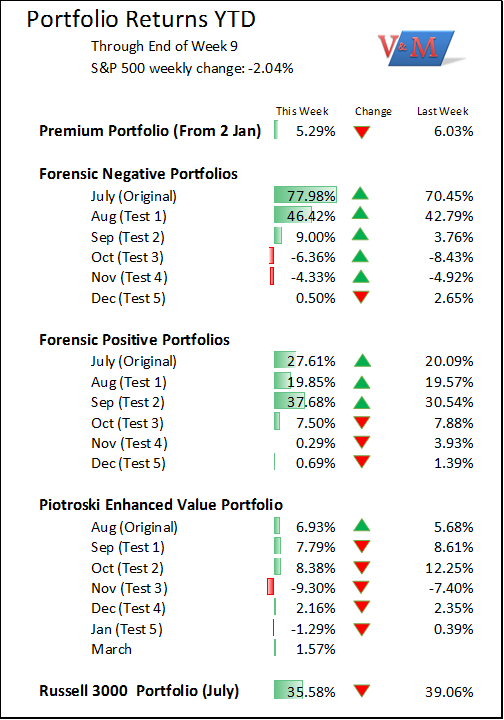 Full portfolio composition reports are exclusive to members, however additional articles on the different categories of portfolios and samples of research provided to subscribers are listed in my public research profile.

If you are interested in subscribing to any of the Value & Momentum Breakout portfolios offered you can visit my subscription page here. Otherwise please click the "Follow" button at the top of the page and enjoy free updates on the progress of each of the different portfolios I offer that are outperforming the S&P 500 in each of their respective time periods.

As always, I wish you the very best in all your investments!
JD Henning, PhD, MBA, CFE, CAMS