Chart Of The Week: This One's Easy
By Jeffrey P. Snider
What do August 2008, August 2011, and January 2016 all have in common? In pop culture or mainstream news, I'm not sure you could find any consistent link between those precise periods. Even in economics, it's not quite as uniform. Those were all forming or beckoning downturns, but all at somewhat different stages of them.
More specifically along those lines, what they really have in common was "dollar" problems globally. Big ones. These are not particular months you want anything to be compared to, especially if you are a Hong Kong bank and anyone doing "dollar" business with one (meaning practically everybody).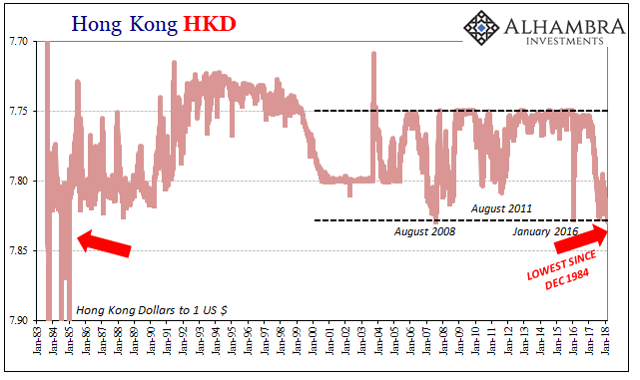 The Hong Kong dollar is today trading at the lowest level since 1984. It doesn't fall outside of these other comparisons. This is not a good sign for global liquidity, money, or just plain stability.
This article was written by
As Head of Global Investment Research for Alhambra Investment Partners, Jeff spearheads the investment research efforts while providing close contact to Alhambra's client base. Jeff joined Atlantic Capital Management, Inc., in Buffalo, NY, as an intern while completing studies at Canisius College. After graduating in 1996 with a Bachelor's degree in Finance, Jeff took over the operations of that firm while adding to the portfolio management and stock research process. In 2000, Jeff moved to West Palm Beach to join Tom Nolan with Atlantic Capital Management of Florida, Inc. During the early part of the 2000′s he began to develop the research capability that ACM is known for. As part of the portfolio management team, Jeff was an integral part in growing ACM and building the comprehensive research/management services, and then turning that investment research into outstanding investment performance. As part of that research effort, Jeff authored and published numerous in-depth investment reports that ran contrary to established opinion. In the nearly year and a half run-up to the panic in 2008, Jeff analyzed and reported on the deteriorating state of the economy and markets. In early 2009, while conventional wisdom focused on near-perpetual gloom, his next series of reports provided insight into the formative ending process of the economic contraction and a comprehensive review of factors that were leading to the market's resurrection. In 2012, after the merger between ACM and Alhambra Investment Partners, Jeff came on board Alhambra as Head of Global Investment Research. Currently, Jeff is published nationally at RealClearMarkets, ZeroHedge, Minyanville and Yahoo!Finance. Jeff holds a FINRA Series 65 Investment Advisor License.