Amgen (NASDAQ:AMGN) has been in my portfolio for a while. I most recently added in November of 2017. I have sold calls on my position many times and today is another example of this strategy.
AMGN has history of EPS greater than dividends paid out
D/E ratio is a bit high
Dividend on par with 10-year Treasury
Covered call options enhance income
First, Let's Look At AMGN's Fundamentals
On first blush, AMGN would not pass my criteria test because EPS of $2.57 is much less than dividends paid out of $5.28. However, this is an aberration. AMGN took a big write-off in the fourth quarter of 2017. Without that write-off, AMGN has consistently produced earnings in excess of dividends paid out, and this is one of the "moats" that I use to quell my nerves.
The table below is courtesy of Nasdaq.com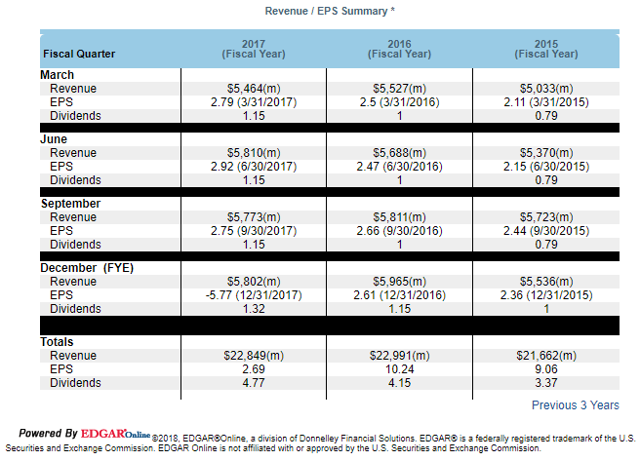 AMGN yields 2.8%, which is pretty close to the 10-year U.S. Treasury. I need more income than a 10-year Treasury or I would buy the more safe Treasury.
AMGN carries a debt-to-equity ratio (D/E) of 1.158. My rule for D/E ratio is less than one or within industry standard. A good comparison is Gilead (GILD), which carries a D/E ratio of 1.395, making AMGN's D/E respectable. MSN Money calculates industry D/E average of .90, making AMGN's D/E ratio just a bit high. If AMGN has a weakness, it is this slightly elevated D/E ratio.
Two catalysts make me want to hold onto AMGN.
Annual dividend raises: over 20% since 2015
Covered call options: add 1.13% to yield
Today AMGN is one a few stocks in my personal portfolios that is up. Moreover, a very nice call is available. See the details in the table presented below: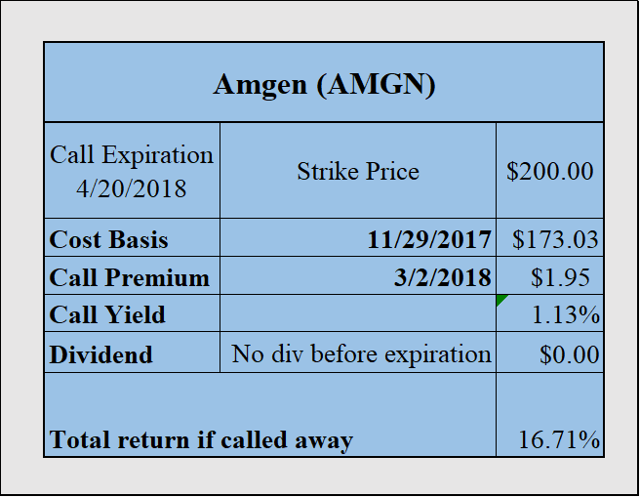 I am not adding to AMGN at this time, I am, however, working my portfolio for income on a stock that I feel has a good "moat" of safety. The call expiration is only 49 days away. While a call does limit upside potential, it also can limit my ability to unload AMGN should something go terribly wrong. This is why I chose an expiration date less than two months. If you go out further, you could capture the dividend in May, however, AMGN did not have any May calls available, and I did not want to go out as far as June.
M* MoneyMadam
This article was written by
I used to be in "the business" and I used to write a blog on Income Investing called MoneyMadam.com. Now I Post my income trades on Twitter @MM_capitalist. Follow me there. MM