Note: Subscribers to Avisol Capital Partners Total Pharma Tracker got an early look at this publication.
Welcome to another edition of "3 Things In Biotech," a daily digest dedicated to helping you keep pace with the fast-moving world of pharmaceutical and biotechnology research.
FibroGen gets on the fast track in pancreatic cancer
Company: FibroGen (FGEN)
Therapy: Pamrevlumab
Disease: Pancreatic cancer
News: FGEN announced that the FDA has granted its anti-CTGF monoclonal antibody pamrevlumab fast track designation in the treatment of advanced, unresectable pancreatic cancer. This designation was based on a review of an ongoing phase 2 study combining pamrevlumab with one of two standard multiagent chemotherapy regimens: nab-paclitaxel/gemcitabine.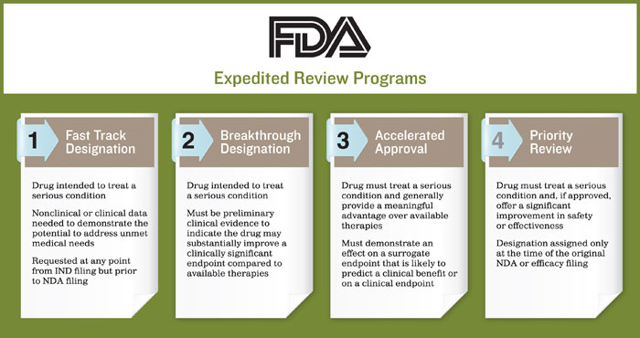 Source: "Understanding the FDA's expedited pathways"
Looking forward: Fast track designation is an important and valuable early-stage tool for biotechs to receive. Although it is a long shot from guaranteeing approval for its drug, FGEN stands to benefit markedly in terms of access to the FDA and overall speed of the movement of pamrevlumab through the regulatory channels.
This is great news for FGEN, but it is still going to be a while before this news can blossom into something much bigger. As such, it's still early to buy.
INSYS

gets moving on a pivotal cannabidiol study

Company: INSYS Therapeutics (INSY)

Therapy: Cannabidiol

Disease: Infantile spasms

News: INSY announced that it has activated the first trial site for a phase 3 study investigating cannabidiol oil for a form of pediatric epilepsy.

Looking forward: According the INSYS, this form of epilepsy is diagnosed in around 1,200 patients per year in the US. Therefore, this trial represents an important step forward in terms of making INSY a relevant pharma. The natural question, I suppose, is with the seemingly imminent legalization of marijuana in the United States at some point in the future, will sales of a pharmaceutical based on the plant be viable? Likely yes, in this case, assuming the phase 3 trial demonstrates feasibility and efficacy in these patients. Doctors will be much more comfortable using a verified product at controllable doses.

So it looks like INSY could be making an important move toward getting its first cannabidiol product approved.
Idera Pharmaceuticals moves forward in relapsed melanoma
Company: Idera Pharmaceuticals (IDRA)
Therapy: IMO-2125
Disease: PD-1 refractory melanoma
News: IDRA announced that it has initiated a phase 3 global study to investigate its intratumoral TLR-9 agonist IMO-2125 in combination with ipilimumab versus ipilimumab alone in patients with metastatic melanoma that has progressed on prior anti-PD-1 therapy. The study will enroll 300 patients in 10 countries, with primary endpoints of overall response rate and overall survival.
Looking forward: The problem of how to treat metastatic melanoma that has progressed on best available immunotherapy throws clinicians back to the darker days before the options like nivolumab and pembrolizumab became available. This makes investigation of alternative salvage therapies an important area of research. I don't really know how this particular trial will play out, although IMO-2125 did gain fast track designation on the back of favorable phase 1/2 findings, where most of the nine patients enrolled had disease control.
This is an important step forward for IDRA, but it is a high-risk time to invest.
Author's note: Thank you for taking some time out of your day to read some commentary on recent biotech happenings. I hope you'll consider leaving a comment or a question in the section below! This is one way in which Seeking Alpha is able to gauge the effectiveness of its writers and the platform. So if you want to keep seeing more editions of "3 Things," go ahead and participate!
As I mentioned above, I am now collaborating with Avisol Capital Partners on their Marketplace service known as the Total Pharma Tracker (TPT). Some of my work will be available to TPT subscribers either exclusively, or in advance. I will also collaborate in developing watchlists and other investment essentials. Please subscribe to TPT by clicking on this link - Total Pharma Tracker.
Disclosure: I/we have no positions in any stocks mentioned, and no plans to initiate any positions within the next 72 hours. I wrote this article myself, and it expresses my own opinions. I am not receiving compensation for it (other than from Seeking Alpha). I have no business relationship with any company whose stock is mentioned in this article.