Pandora: Bracing For Spotify
Summary
Pandora Premium has finally launched on desktop.
Restructuring will lower costs and help boost thin margins.
A Spotify listing will finally allow for a comparable company to value with Pandora.
Spotify (SPOT) is gearing to go public this year, most likely in the first quarter of 2018. This is one of, if not the, biggest competitor for Pandora (NYSE:P) and a public filing will provide greater insight for investors. P seems to be in the midst of a very exciting time with the launch of 'Pandora Premium' on desktop, a revenue beat in Q4 and gearing its focus towards voice-assistants and smart speakers. The Spotify filing will finally be the last piece of the puzzle needed for full analysis on Pandora.
Going Public
Spotify's filing is not a conventional IPO, instead they are going to go the route of a so-called direct listing. While this is not a new process, this is the first time a company the size of Spotify is using this method. Being the most comparable to Pandora (P), a public listing of Spotify is going to finally allow a direct comparison of valuations for the two companies. There is sure to be a lot of excitement on its first trading day but lets look at how Pandora is bracing for this transition.
On Feb. 28, Spotify filed to go public for up to $1 billion. The company will go public on the NYSE and trade under the ticker "SPOT". The valuation of Spotify is far beneath latest estimates upwards of $16 billion. However, on private markets, shares have traded between $90 - $123 giving a valuation of ~$23 billion. As of close on Feb. 28, Pandora was valued at a little over $1 billion ($1.1 bil). This would imply that Spotify is worth 23x what Pandora is worth, which seems a little exaggerated.
Profits (or lack of)
Spotify is recognized as the largest music streaming service on the market. The service had 159 million MAUs (up 29% YoY) and 71 million subscribers (up 46% YoY) as of Dec. 31, 2017. Based on 2016 revenues, Spotify had a global market share of 42%. Engaged listening hours per customer per month also increased, up 13% from 2016 to 25 hours. As a result of this impressive growth, Spotify has seen revenue increase from €1,940 mil ($2,370 mil) in 2015 to €4,090 mil ($5,014 mil) in 2017.
Despite growing revenues by ~110% in 2 years, the company has seen net profits dive lower and lower. For example, in 2015 the company reported a net loss per share of €1.62 ($1.99), which decreased even further to a whopping loss of €8.14 ($9.98) per share in 2017. The chart below compares Pandora and Spotify's revenues and EPS from 2015 - 2017:
Name
2015
2016
2017
Pandora (P)

$1,164mil

($0.79)/share

$1,385mil

($1.49)/share

$1,467mil

($2.29)/share

Spotify (SPOT)

€1,940mil

(€1.62)/share

€2,952mil

(€3.63)/share

€4,090mil

(€8.14)/share
Sources: Morningstar, SEC
Clearly, the music streaming business is not easily profitable, which is mainly due to artist royalty payments. Recently, the Copyright Royalty Board (CRB) hiked the mandatory royalty rates by 44%. This brings the rate from 10.5% to 15.1% and is in effect from 2018-2022. The catch here is that this ruling is for interactive streaming, not radio (ad-supported), which is the majority of Pandora's revenue. This will be a major headwind for Spotify however. Since 2006, the company has paid out over €8 billion ($9.76 billion) in royalties and this continues to increase as the company grows, especially if rates keep rising.
Pandora on the other hand should not be affected to greatly by the change. Their Plus and Premium platforms will be but they are not the majority of the companies revenue. For 2017, Plus and Premium accounted for 21.5% ($315.9 mil) of total revenues, but the company has the goal of increasing subscription revenues to $1.3 bil by 2020.
While Spotify is the largest streamer in the world, Pandora is the largest streamer in the US. The company has 100 million quarterly users and only operates in the US, Australia, and New Zealand. Looking at the metrics that are used by the company we will focus on two, Revenue per 1000 listener hours (RPM) and licensing per 1000 listener hours (LPM). The chart below shows RPM and LPM data from FY 2017.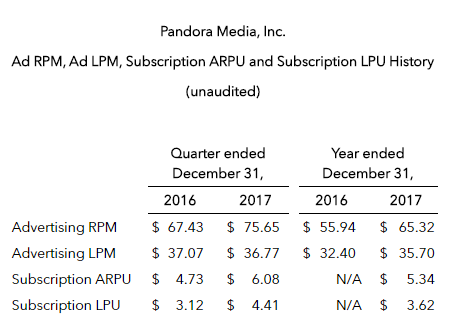 Source: Pandora
For Q417, Pandora had 5.03 billion listener hours. As shown above, the company was able to increase advertising RPM by ~$10 and managed to keep advertising LPM to a low ~$3. To accomplish this the focus has been to increase the amount of video ads being played as they can generate a CPM of $25 - $35. As more popular feature are included into the free, ad based service, in order to gain more access the company will prompt the user to watch a video ad in order to do so. This can obviously be done away with an upgrade to Pandora Premium.
Pandora Premium
After a little under a year of availability on mobile, Pandora Premium launched on desktop mid-February. Now that the service is finally available on desktop, Pandora is more of a threat to Spotify. However, this doesn't mean that there are not problems with the service. To begin with, Pandora cant seem to get customers to 'stick' after the 60-day free trial.
Premium accounts for about 1 mil of the total 5 mil subscribers. Finally being available on the web allows Pandora to compete with other online streamers such as Apple (AAPL) and Spotify. This should hopefully attract more customers as the service is no longer limited to mobile. The company is continuing to invest in this project and should see improvements going forward.
Restructuring
Pandora has announced that they plan to lay off 5% of their 2,500 person workforce. This layoff will focus on the 'advertising sales and client services' divisions of the company. This is the result of the company moving towards more automated advertisement and 'other cost savings'. The combination of which should save the company ~$45 million a year. Included in these savings are $6.5 - $8.5 mil directly related to employee savings.
Along with the layoffs Pandora is also looking to expand operations in Atlanta. This is a further step to cut costs as the taxes are lower in Atlanta when compared to Oakland.
Conclusion
With the filing of Spotify, Pandora investors will have more data to compare and dissect in order to form their opinions. However, Pandora is different as it doesn't rely as heavily on subscription revenue so royalty payments are not as straggling as for Spotify. Pandora is also making promising steps forward to compete with the launch of Premium on the web and focusing on cutting costs through its restructuring plans. Given that the company is only operating in 3 countries, it will be interesting to see if management decides to push for an international presence to take on competitors and also continue to grow listening hours, ad revenue, and subscribers. One thing is clear, management is bracing for Spotify.
This article was written by
B&B Market is a young investor who is passionate about Chinese stocks and the companies behind them. Although I am early on in my professional career, I am not new to the markets.  I have put in enough years to have quite a few trading regrets.  These regrets are what led me to love the Chinese economy.  I aim to learn more and more everyday as I write, and am looking for conversations with other investors.  Coverage consists of stocks that have been determined as undervalued, hot-topics, or upcoming IPOs.  I write as a form of due diligence, meaning that this is a part of my research process.  As a result, I have a personal incentive for well-researched coverage.For more in-depth coverage, including valuations with buy/sell targets, newsletters, and more, check out my Marketplace Service "Corporate China".Feel free to message/comment any companies you would like to see covered, or improvements you would like to see.  Thanks for reading!
Analyst's Disclosure: I am/we are long P. I wrote this article myself, and it expresses my own opinions. I am not receiving compensation for it (other than from Seeking Alpha). I have no business relationship with any company whose stock is mentioned in this article.
Seeking Alpha's Disclosure: Past performance is no guarantee of future results. No recommendation or advice is being given as to whether any investment is suitable for a particular investor. Any views or opinions expressed above may not reflect those of Seeking Alpha as a whole. Seeking Alpha is not a licensed securities dealer, broker or US investment adviser or investment bank. Our analysts are third party authors that include both professional investors and individual investors who may not be licensed or certified by any institute or regulatory body.