Record-High COT Short Position Means Silver Is The Place To Be For Contrarians
Mar. 05, 2018 1:44 AM ET
GLD, SLV, IAU, CEF, AGQ, PSLV, PHYS, USLVF, PPLT, SIVR, PALL, SGOL, UGLDF, ZSL, UGL, SPPP, SLVO, DGP, GLL, GTU, GLDI, OUNZ, DSLVF, DZZ, DGL, DGLDF, GLTR, DBS, PTM, DGZ, DBP, PGM, GYEN, BAR, GEUR, GLDW, GHS, UBG, USV, JJP, SHNY-OLD, QGLDX, GHE, BLNG-OLD, DULL-OLD, PLTM, CEF:CA, PHYS:CA, PSLV:CA, SPPP:CA
12 Comments
Summary
Speculative gold longs cut positions as shorts added to their own positions for the week.
Silver speculators increased their own COT net-short position to the highest on record.
Trade wars are inflationary and bearish for the US Dollar and thus should help precious metals.
Silver should look very appealing for contrarians as it is in record short territory and only needs a little boost to trigger a short squeeze.
We are the most bullish on silver that we have been in over a year.
The latest Commitment of Traders (COT) report showed a weekly decline as speculative longs continued to cut positions (3 out of the last 4 weeks), while shorts significantly increased their own positions. At 12.7% short, we are at the highest gold short position since December of 2017. But the real bearish speculative action was in silver as speculators significantly increased their short position to the highest net short on record – which should have the contrarians licking their chops at the opportunity.
We will get more into some of these details but before that let us give investors a quick overview into the COT report for those who are not familiar with it.
About the COT Report
The COT report is issued by the CFTC every Friday, to provide market participants a breakdown of each Tuesday's open interest for markets in which 20 or more traders hold positions equal to or above the reporting levels established by the CFTC. In plain English, this is a report that shows what positions major traders are taking in a number of financial and commodity markets.
Though there is never one report or tool that can give you certainty about where prices are headed in the future, the COT report does allow the small investors a way to see what larger traders are doing and to possibly position their positions accordingly. For example, if there is a large managed money short interest in gold, that is often an indicator that a rally may be coming because the market is overly pessimistic and saturated with shorts - so you may want to take a long position.
The big disadvantage to the COT report is that it is issued on Friday but only contains Tuesday's data - so there is a three-day lag between the report and the actual positioning of traders. This is an eternity by short-term investing standards, and by the time the new report is issued it has already missed a large amount of trading activity.
There are many ways to read the COT report, and there are many analysts that focus specifically on this report (we are not one of them) so we won't claim to be the experts on it. What we focus on in this report is the "Managed Money" positions and total open interest as it gives us an idea of how much interest there is in the gold market and how the short-term players are positioned.
This Week's Gold COT Report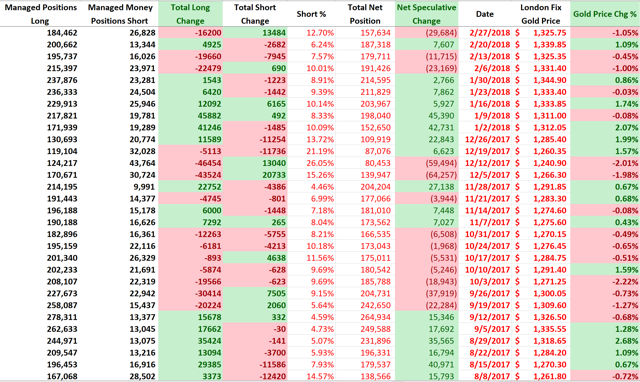 *Gold price data reflects the COT week (Tues-Tues) not a standard week (Mon-Fri)
For the week, speculative longs decreased their positions by a sizable 16,200 contracts for the week, while speculative shorts increased their own positions by 13,484 contracts. Gold closed the COT week (Tuesday) at $1325, which isn't too far from where gold stood on Friday; so we think this COT positioning is fairly representative of the actual current positioning.
Moving on, the net position of all gold traders can be seen below: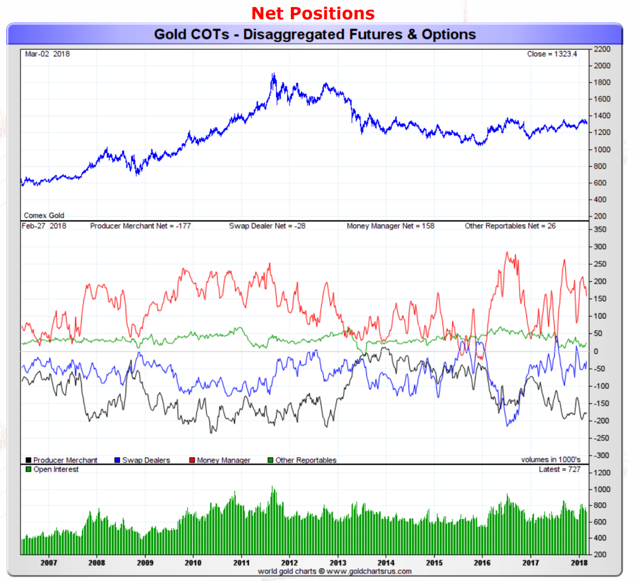 Source: GoldChartsRUS
The red line represents the net speculative gold positions of money managers (the biggest category of speculative trader), and as investors can see, we saw the net position of speculative traders decrease by a little under 30,000 contracts to 158,000 net speculative long contracts. In terms of the historical range, the speculative positions are currently still on the higher end of their 10-year chart, but the position is improving for those contrarian buyers.
As for silver, the week's action looked like the following: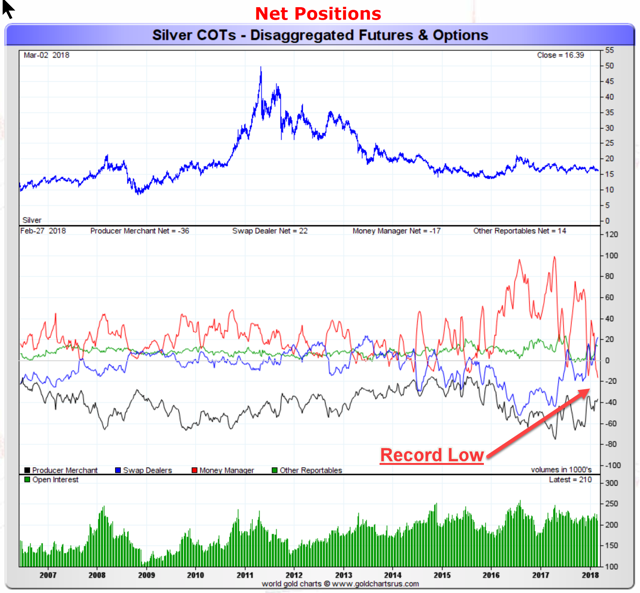 Source: GoldChartsRUS
The red line which represents the net speculative positions of money managers showed the speculative position declining by around 6,000 contracts in silver as speculative longs slightly increased their position while speculative shorts jumped in to increase their own positions by 6,300 contracts.
The big takeaway here, though, is that at a net short position of 17,000 contracts we are entering record-breaking territory in terms of silver shorts. In our view, this is an excellent contrarian time to take a position and investors may be thinking the same thing as despite last week's decline in PMs, silver was the best performer for the week. This is unusual as silver tends to have a higher beta than gold and tends to drop much more than gold on down weeks – a very good sign for silver bulls.
Trump's Tariffs
The big news for the week came from the White House as US President Trump doubled down on his tariff opinion. While the move helped spark a 420-point drop in the Dow Jones Industrial Average Thursday, the biggest takeaway for PM investors is its implications for (1) inflation and (2) the US Dollar.
In terms of inflation, tariffs and trade wars are very inflationary as they cause prices of commodities and basic goods to rise due to governments taking a higher cut. This higher government cut is almost always passed on to consumers, and generally leads to reciprocal tariffs abroad (again raising prices) and tends to work its way through the system to affect indirectly related goods. While gold and other PMs aren't really commodities, general rising prices tend to also move PM prices as well as investors seek anti-inflationary safe-havens.
The implications of these tariffs on the US Dollar are also one that is positive for precious metals as trade wars increase global animosity – which leads to a desire not to hold competitor currencies AND the potential to use bond holdings as a weapon in trade negotiations. In the case of the US, where $6.3 trillion in debt is held by foreign nations, this threat could be very real especially considering that US deficits are rising and the Federal Reserve is cutting back on its Quantitative easing. Maybe that is why we are seeing declines in the US Dollar despite negative action in the stock market that should lead investors to the "safe-haven" US Dollar – but we've seen only a small rise in the currency.
Inflationary tariffs, trade wars and global animosity are all good for precious metals – especially monetary metals like gold and silver.
Our Take and What This Means for Investors
We have changed our take on both silver and gold after this week's events and COT report. We are more bullish on PMs than we have been in a while as many different factors of uncertainty exist that offer the next catalyst to boost gold and silver prices. Declining markets, trade wars, tariffs, and bond wars are all things that could quickly push investors back into precious metals.
Thus, we have a Neutral-Bullish short-term outlook on gold but an Extremely-Bullish outlook on silver, as we expect silver to outperform gold on a relative basis simply due to the extreme speculative positioning.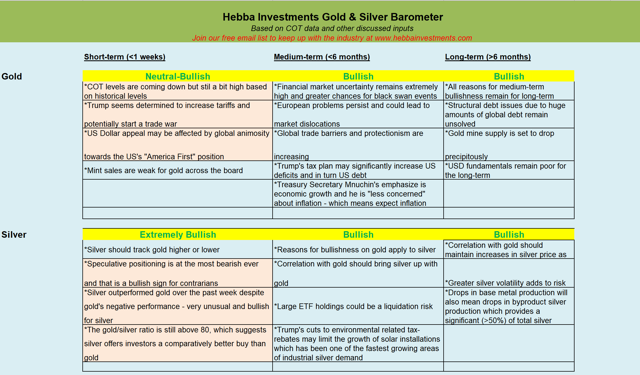 We think it is time for investors to consider adding to their gold positions and certainly adding to silver positions through some of the ETFs (SPDR Gold Trust ETF (NYSEARCA:GLD), iShares Silver Trust (SLV), Sprott Physical Silver Trust (PSLV), and ETFS Physical Swiss Gold Trust ETF (SGOL), etc.).
This article was written by
I'm an asset manager at Hebba Alternative Investments with a focus on real assets. In my articles I like to focus on events that affect the macro environment for assets (especially gold and silver), and also introduce readers to different metrics that I believe are under-utilized when assessing investments. On a more personal note, I'm a firm believer that there can be honesty, morality, and integrity in finance (though its rare) and i'd like to believe that I stick to those principles. Thus I never "pump and dump" stocks, I always list the securities we own, and I take it very seriously when I recommend a company - I do not want to see any investors/readers lose money because of my recommendations. I'm not always right with recommendations, but investors and readers can know that I always tell the truth (there is no deception) and I eat my own cooking as recommendations are either always owned OR the reason I dont own them is given (usually related to restrictions on stocks I can buy). Advising people in financial matters is a serious issue and integrity is much more important than money to me, but I do believe both can co-exist. You live with money, but after your death you only have your morality and integrity and thus i've made my choice between the two. A bit philosophical for a bio, but I dont think there's a better way to give investors my background than that. We offer investors a free weekly email list detailing gold, silver, and general economic markets which you can sign up for at: http://www.communitysynergy.com/subscribe/hebbainvestments_subscribe.html
Analyst's Disclosure: I am/we are long SIVR, SGOL. I wrote this article myself, and it expresses my own opinions. I am not receiving compensation for it (other than from Seeking Alpha). I have no business relationship with any company whose stock is mentioned in this article.
Seeking Alpha's Disclosure: Past performance is no guarantee of future results. No recommendation or advice is being given as to whether any investment is suitable for a particular investor. Any views or opinions expressed above may not reflect those of Seeking Alpha as a whole. Seeking Alpha is not a licensed securities dealer, broker or US investment adviser or investment bank. Our analysts are third party authors that include both professional investors and individual investors who may not be licensed or certified by any institute or regulatory body.