Want To Cure The Trade Deficit? Increase Domestic Savings
Mar. 05, 2018 3:09 AM ET
SPY, QQQ, DIA, SH, IWM, TZA, SSO, TNA, VOO, SDS, IVV, SPXU, TQQQ, UPRO, PSQ, SPXL, UWM, RSP, SPXS, SQQQ, QID, DOG, QLD, DXD, UDOW, RWL-OLD, SDOW, VFINX, URTY, EPS, TWM, SCHX, VV, RWM, DDM, SRTY, VTWO, QQEW, QQQE, FEX, ILCB, SPLX, EEH, EQL, SFLA-OLD, QQXT, SPUU, IWL, FWDD, SYE, SBUS, SMLL, SPXE, PPLC, PPSC, UDPIX, JHML, OTPIX, RYARX, SPXN, USSD, HUSV, RYRSX, SCAP, SPDN, SPXT, SPXV, USWD
40 Comments
Summary
Tariffs on imports don't solve the problem of the trade deficit.
National Accounting identities indicate that the current account deficit can also be defined as the difference between savings and investment.
Research from the Boston Fed bears this out.
The administration's increased tariffs have once again sparked a discussion about the US trade deficit. The administration is probably working on the assumption that after the US raises tariffs, trade treaty counterparties will renegotiate the conditions of their US trade treaty, but include provisions that will reduce the US trade deficit.
This is, however, the wrong way to go about solving the problem, because the trade deficit is really about the low rate of US savings. "How can that be?" you ask. "Those two economic numbers have no relation to each other!"
Actually, they do. To begin the explanation, here's a diagram of the US economy (from page 39 of Macroeconomics by Robert Gordon, (c) 1990):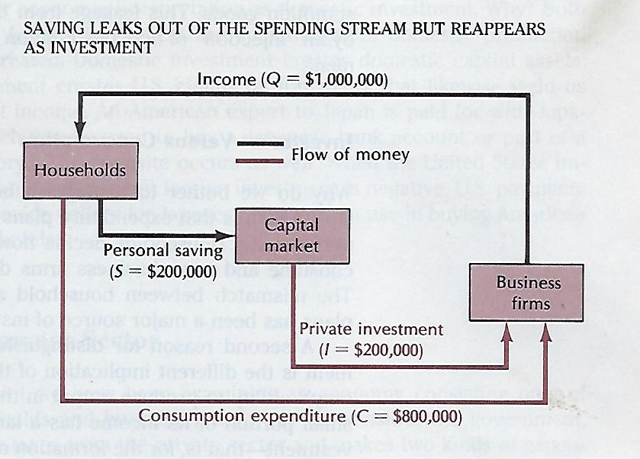 Any economy is actually a circular flow between businesses and households. Consumption expenditures = the income paid by businesses to households in the form of income. Every month when the BEA reports GDP, they're reporting on the lower part of the circle -- that is, consumption expenditures (personal consumption + Investment + Government Spending + Net Exports). At the same time, they're also reporting on gross national income or GNI (in general, this is income from a variety of sources + transfer payments).
We can convert the above diagram to a simple equation:
Q (income) = E (Expenditures)
Now we begin to substitute various identities for Q and E, starting with Q (income). Looking at the diagram we see that Q = Consumption + investment. We express this mathematically as Q=C+I. So, we can rewrite Q=E as:
C (consumption) + I (Investment) = E (Expenditures).
With me so far? Good.
Now, let's attack the E side of our equation. Looking back at the circular flow, we see that S (Savings) equals [Q (income) - C (Consumption)]. Expressed as an equation, we get S=Q-C. We now add "C" to both sides of the equation to get S+C=Q. We then substitute that for Q in our original equation (Q=E), getting
S+C=E
So now we substitute our two new identities into the first equation and arrive at the following:
C+I=S+C
Finally, subtract C from both sides of the equation, to get savings=investment or
S=I.
This is one reason why, when we go to the St. Louis Fed's database to access BEA GDP data, we eventually arrive at this webpage:

Research from the Boston Fed explains this in more detail. I've pasted the relevant excerpts below: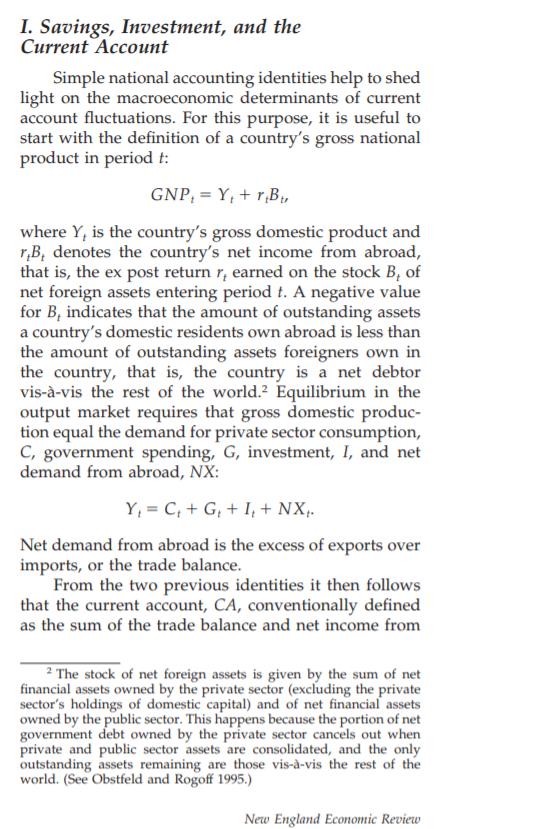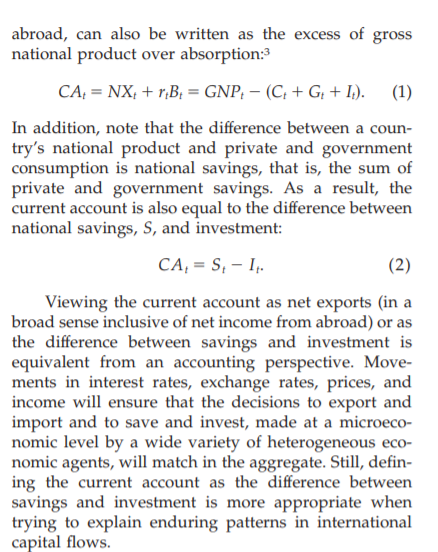 (The explanation at this link is also very helpful)
The Boston Fed's research contains the following chart which brings the academic discussion into the real world: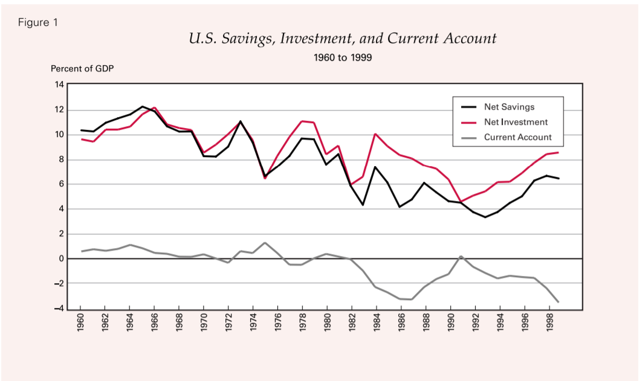 The top two lines show that investment (in red) and savings (in black) track each other very closely, which indicates that the S=I relationship is real. Also note that when investment (in red) is higher than savings (in black), the current account deficit either declines or is negative. This shows that when investment is higher than savings, the US pays more money abroad, which is basically paying the US paying for the use of foreign dollars used to finance domestic investment.
Also note that in the early 1960s, savings (in black) was higher than investment (in red) and during that time we have a current account surplus. This is why I titled this piece, "Want to Cure the Trade Deficit? Increase Savings." Because that's how to ultimately solve the problem. Implementing tariffs has absolutely no impact on the primary causation; instead, we need to figure out a way to save more, or, consume less.
This is why tariffs won't work; they attack the wrong problem.
This article was written by
Hale Stewart spent 5 years as a bond broker in the late 1990s before returning to law school in the early 2000s. He is currently a tax lawyer in Houston, Texas. He has an LLM in domestic and international taxation (MagnaCumLaude). He is the author of the book The Lifetime Income Security Solution. Follow me on Twitter at @originalbonddadYou can read his legal analysis on his law office's blog.
Analyst's Disclosure: I/we have no positions in any stocks mentioned, and no plans to initiate any positions within the next 72 hours. I wrote this article myself, and it expresses my own opinions. I am not receiving compensation for it (other than from Seeking Alpha). I have no business relationship with any company whose stock is mentioned in this article.
Seeking Alpha's Disclosure: Past performance is no guarantee of future results. No recommendation or advice is being given as to whether any investment is suitable for a particular investor. Any views or opinions expressed above may not reflect those of Seeking Alpha as a whole. Seeking Alpha is not a licensed securities dealer, broker or US investment adviser or investment bank. Our analysts are third party authors that include both professional investors and individual investors who may not be licensed or certified by any institute or regulatory body.