Lanny's February Dividend Income Summary
Second month down and another month of dividends in. I don't know about you, but the dividend increases keep coming in hot, right off of the Tax Cuts and Jobs Act! It's been a very exciting time to keep in touch with the stocks you own, as you never know when the next company will be announcing a dividend increase.
Dividend Income
I received a total of $387.52 in dividend income in February. This is a solid increase from last year, which I will talk about in the next section. There were really no surprises, no movements of dividend expected payments as it relates to timing, and everything went smooth. The 401(k), Health Savings Account (HSA) and all dividends are automatically invested/reinvested, which helps take the emotion out of timing and making a decision. Also, to find out why I max out my 401(k) and HSA, please refer to the 3rd part of my tax series, as that describes the magnitude of benefits to increase the amount you can invest due to reduction in taxes.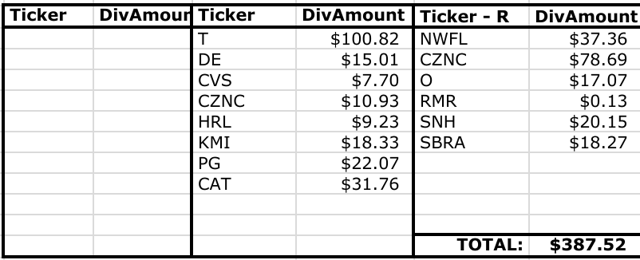 Here we have a solid 14 different entities sending checks to me this month (up from 12 last year). Wow! I receive a triple-digit dividend payment from AT&T (T). So crazy to say that up there on the board. That reinvested into almost 3 shares as well, producing even more in forward dividend income. Only one purchase was made this month, I hopped back on the Realty Income (O) wagon and picked up shares when they spiked down into the $48's. I will start benefiting from this starting with March's dividend payment.
Similarly, I have split out between the individual stock amounts and the retirement accounts, as the "- R" indicates a retirement account dividend (or the furthest column to the right). I separate these two, as I like to know what portion of my dividend income is coming from those retirement accounts that I cannot touch until 59.5 (barring any other usage rule I could use). Here, it shows that I received a small total of $171.67 (up from $151.07 last year), or 44.3%, of my income from retirement accounts, and the other 55.7% was from my individual taxable account portfolio. Additionally, this shows from retirement accounts that I'm all ready for my set it and forget it mentality to keep that income going. To see my portfolio, one can go to our portfolio summary page.
Dividend Income Year-over-Year Comparison
2017:

2018: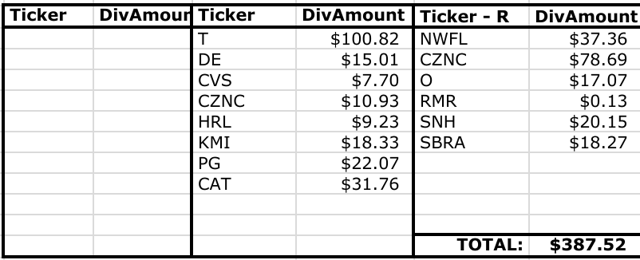 So what are the differences here? My purchases last year in Hormel (HRL) and CVS Health Corp. (CVS) have begun paying dividends on a quarterly basis. Further, I had purchased shares in AT&T towards the end of last year, so the results are easily seen above. Year over year, the dividend income increase was 20.13%. I believe May's dividend will show even better results, due to the reinvestment and dividend increases. I am very happy with a 20% dividend increase, however!
Dividend Increases
A month wouldn't be a month without high-quality companies increasing their dividend! See the small chart below for the details on the dividend increases announced this month that are holdings in my portfolio.

We all know by now that the power of the dividend growth rate is real! Let's just say tax reform has continued to be nice as it relates to dividend increases. January brought $82.88 in additional forward income from dividend increases, but I wonder if February can stack up. Similar to January, I had so many surprising dividend increases. Cisco (CSCO) came out and had a solid 14% dividend increase. T. Rowe Price (TROW) swung heavy with a whopping 23% increase, and BHP Billiton (BBL) also had a very strong increase, as its dividend has come roaring back. Double-digit dividend growth rates are gladly accepted by me, as that's one of the best reasons to be a dividend income investor! In order to achieve this much forward income, one would have to invest $3,164 at 3.50%! The last two months combined has added $193.62. Thank you, companies, for the dividend increases!
Dividend Income Conclusion and Summary
The name of the game is to learn and act in the right manner to what you have learned. The plan is to maximize every dollar for investment opportunities and live a balanced life. My hope is that my month of dividend income above shows the community that one can use dividend income as a revenue engine to take back control of your life. Dividend investing, once you learn the right way, becomes easier to do and starts to make quite a bit of sense.
As I discussed, with my updated normal monthly expenditures at the moment, this dividend income would cover over 39% of my average $984 monthly expense for my house, including utilities. Almost covering half of the amount, I will get there soon. In addition, my auto loan is finally gone, and I am able to deploy the additional capital for all of 2018 into new investments that are opportunistic. In similar fashion, all of the investing from last year and moves this year show that my aim to save 60% of my income and make every dollar count has allowed promising results already this year.
How crazy are these dividend increases? Are you able to keep up with all of the announcements? I know I barely can. Definitely leave your comments, thoughts and other investment items below! Excited to read the comments, and thank you, the community, for stopping by - as you are helping me on my journey to financial freedom!
This article was written by
Two guys who love Investing, Dividends, Frugality, Passive Income & attempting to Reinvest Our Dividends to one day achieve Financial Freedom! Follow us on your journey towards a work-free life! We share EVERY ASPECT of our journey on our blog, social media, and YouTube Channel. Make sure to follow us so you don't miss an update. Updates include the stocks we are watching, buying, selling, and our overall thoughts about the the marketBlog: http://www.dividenddiplomats.comYouTube Channel: www.youtube.com/dividenddiplomatsTwitter: https://twitter.com/DvdndDiplomats