U.S. Commerce Secretary Wilber Ross appeared on CNBC on Friday, March 2, 2018, to defend President Trump's proposed 24% tariff on steel and 10% tariff on aluminum coming into the United States from foreign sources, during which he held up a can of Campbell's (CPB) Condensed Chicken Noodle Soup to claim that tariffs would have a minimal impact on American consumers. The following video shows the entire 21 minute-long interview, where Ross holds up his Campbell Soup can prop to make his point at roughly the 3:50 minute mark.
Checking Ross's math, we find that a 25% increase in the cost of the current $0.026 of tinplate steel in one of Campbell Soup's iconic Number 1 size soup cans would indeed raise its cost by roughly $0.006 to $0.032 per can.
The problem with Ross's math is that it doesn't consider just how many cans of soup that Campbell makes and sells each year: 440 million. Of which, some 200 million are Campbell's Condensed Chicken Noodle Soup like the prop he used in his CNBC interview, or 45% of the total. Campbell's Condensed Tomato Soup is its second-best seller, whose sales account for 85 million cans each year, or 19% of Campbell's annual total.
Thanks to President Trump's tariffs, a financially-troubled Campbell Soup Company will need to pay up to an additional $27.3 million to buy the imported steel that it cannot avoid given the limited capacity of U.S. steel producers in order to deliver the same 440 million cans of soup to the market, which would be on top of the $11.44 million than it is currently paying to do so at Ross's $0.026 per can cost point.
That seemingly tiny cost increase at the consumer level, when rolled up to the company's bottom line, may be enough incentive to change how the company chooses to package all of its soups altogether in favor of plastic, glass or cardboard materials that would not be subject to President Trump's tariffs on steel and aluminum. How might U.S. steel producers, who are currently salivating at the prospects of increasing their sales and market share, respond if their sales were to fall sharply instead as a result of that kind of strategic business decision? And how successful could such tariffs ever be if they drive similar changes at other American companies to the point where it hurts the very industries that they were meant to prop up?
Finally, we're going to have to take Secretary Ross to task for the price he paid for the can of Campbell's Condensed Chicken Noodle Soup he used as a prop during the CNBC interview. We realize that Washington D.C. is filled with far too many people who have far more money than sense, but still, $1.99 for a 10.75 fluid ounce can of chicken noodle soup? Really?
Longtime readers will know that we pay close attention to the price of the cans of Campbell soup that American consumers pay. Which for us, goes all the way back to when Campbell first brought its Number 1 size cans of condensed tomato soup to U.S. grocery stores back in 1898, which we've been updating and filling in since we first began tracking it.
Although Campbell didn't introduce its Chicken Noodle soup product until 1934, in recent decades, grocers have tended to set the prices of Campbell's two best-selling canned soups identically, which means the latest update to our chart showing the historic discounted sale price of a can of Campbell's Condensed Tomato Soup is also communicating how much consumers are paying for a can of Campbell's Condensed Chicken Noodle soup when they buy them at regular sale prices at grocery stores across the U.S.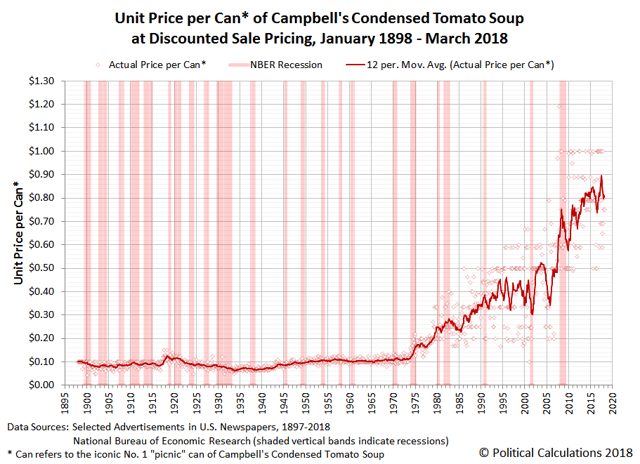 If he had more discriminately shopped at a regular grocery store like Meijer rather than a convenience store like 7-Eleven before his CNBC interview on March 2, 2018, he would have paid $0.75 for the can, saving himself $1.24. If he shopped elsewhere, he could likely have found sale prices between $0.75 and $1.00 per can without any coupons for the same product, where the trailing twelve-month average sale price of Campbell's condensed tomato/chicken noodle soup in March 2018 is about $0.80 per can. For proof of the lower available sale price, here's an image from Meijer's weekly grocery ad for February 25, 2018, through March 3, 2018: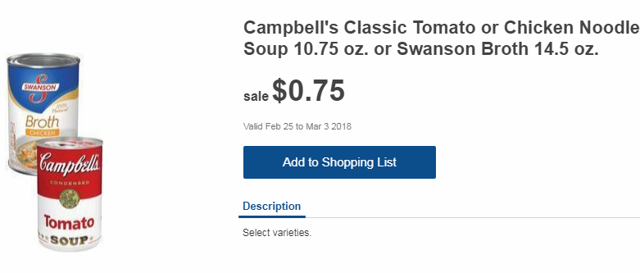 Is it really too much to ask for people who work for the federal government in Washington D.C. to shop around for lower prices before they buy anything?
This article was written by
Ironman is the alias of the blogger at Political Calculations, a site that develops, applies and presents both established and cutting edge theory to the topics of investing, business and economics. We should acknowledge that Ironman is either formerly or currently, and quite possibly, simultaneously employed as some kind of engineer, researcher, analyst, rocket scientist, editor and perhaps as a teacher of some kind or another. The scary thing is that's not even close to being a full list of Ironman's professions and we should potentially acknowledge that Ironman may or may not be one person. We'll leave it to our readers to sort out which Ironman might behind any of the posts that do appear here or comments that appear elsewhere on the web!