Portola Pharmaceuticals: What The Latest Developments Regarding AndexXA Entail?
Summary
Requisition by the FDA for additional data does not mean AndexXa won't be approved in May this year.
Final decision by CHMP for AndexXa is set in Q4.
AndexXa has the robust chances of approval (and to procure blockbuster sales in the foreseeable future).

Doing what everyone else is doing at the moment, and therefore what you have an almost irresistible urge to do, if often the wrong thing to do at all. - The Father of Growth Investing (Philip Fisher)
In the past 3-months, the shares of Portola Pharmaceuticals (NASDAQ:NASDAQ:PTLA), a bioscience company focusing on the innovation and commercialization of medicines to treat blood disorders and cancers, receded over 31%. Accordingly, the stock traded $15.63 lower at $35.25. Despite the stellar molecules brewing in the pipeline, shares traded southbound due to temporary regulatory setbacks (as well as investors concern about the management's competence). In this report, we'll explicate how the recent CHMP and FDA opinions on AndexXa are simply fogs in front of the mirror, which obscured the substantial unlocked value in this stellar company.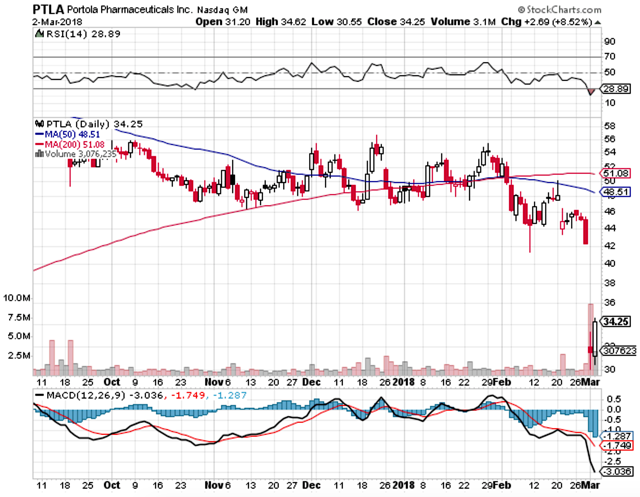 Figure 1: Portola stock chart. (Source: StockCharts).
Fundamentals Analysis
As illustrated in figure 2, the South San Francisco, based-firm, Portola is innovating a pipeline of three therapeutics: (1) betrixaban (Bevyxxa), (2) andexanet alfa (AndexXa), and (3) cerdulatinib. Bevyxxa received the early PAS from the FDA and launched since January with encouraging signs. Cerdulatinib is a dual Syk/Jak kinase inhibitor that is currently in its phase 2 study of patients with relapsed/refractory B-cell cancer (who have failed multiple treatments).

Figure 2: Therapeutic pipeline. (Source: Dr. Tran BioSci, Adapted from Portola)
AndexXa
As mentioned, the primary aim of this report is to feature AndexXa. Of note, we authored an initial assessment of the said molecule in our Part III research, in which we recommend readers to check out for a background understanding of this highly promising molecule. AndexXa (being a modified protein) is an antidote for serious bleedings associated with both (direct and indirect) Factor Xa inhibitors ("FAi") such as (rivaroxaban, edoxaban and betrixaban) as well as enoxaparin. AndexXa works by binding to FAis to render them ineffective, thereby normalizing the blood clotting (and stops the bleed).
Currently being investigated in the phase 3 prospective, global, single-arm, open-label trial coined ANNEXA-4, the study is set to complete in Nov. 2022. Nevertheless, the interim data reported was stellar: there was a significant percentage of patients (79%) who achieved excellent hemostasis (i.e. the bleeding stops at 12 hours since the beginning of AndexXa bolus in 37 out of 47 patients).
On Feb. 20, 2018, Portola provided an update on AndexXa regulatory decisions by both the Committee for Medicinal Products for Human Use ("CHMP) of the European Medicines Agency ("EMA") and the US FDA. Moreover, the company shed further details on AndexXa updates during Q4 earnings conference call ("CC"). We highly suggest readers check out that transcript, which provided vital clues about AndexXa. In the said CC, there were numerous insightful questions and responses. Notwithstanding, we only listed two such Q&As below.
Matthew Harrison: I have two from me. Bill, maybe if we could just first start with your comment that you made in your prepared remarks about the FDA's recent communication, can you just clarify exactly what the request was, how it was requested, and it sounds like have they made a request for a randomized study with AndexXa or what's your interpretation of that request?

CEO Bill Lis: So it just came late last week, and so we don't have much information. We just thought at this time it was important for us to communicate it. It just came over and the request that's been made require a randomized clinical trial. Then, the expectation that we would have discussions over the review period on what that expectation would be. That's how we see it. So, I think as we get more information we will let everybody know.

They communicated to us that they confirm that AndexXa is still on their Accelerated Approval and that they would like to have discussions about this randomized clinical trial that would be done in addition to the UCC and ANNEXA-4. So, I think we're just going to have to be patient and see what the discussions will be like over the next few weeks before we can comment further."

Yigal Nochomovitz: On the European process for AndexXa, did you get clarity from them that they were okay with the Gen 1 specs and that they just want to see the Gen 2 as matching up with Gen 1, is that the right interpretation?

CEO Bill Lis: I think the right interpretation is that they are going through their review process. Now they want to (look at Gen 1 and) Generation 2 simultaneously. Then, the bioequivalence study that we just completed, we'll submit that as part of the dossier. So that's what I can clarify. We are not going to speak on (their) behalf and what their interpretation is.
Are we comfortable with Generation 1 and everything we have submitted according to the discussions? Yes, we are. And we are equally confident with respect to Gen 2 and what we have done as far as scaling up over the bioequivalence data that we saw. That's both for the FDA and for EMA."
Based on our analysis of the available information, it is not far from the truth that the EMA voted positive for the Marketing Authorization Application ("MAA") of AndexXa (and set the final decision date by year-end). Moreover, the US FDA requested additional data that, in an of itself, extended the original decision date of Feb. 2, 2018, to May 4. Furthermore, the company to present additional outcomes on ANNEXA-4 on March 12 at the American College of Cardiology's 67th Annual Scientific Session (which we believe will shed further light on this issue).
To get a better view of what investors can expect, we'll provide a series of question and answer. As follow, the first inquiry is whether the FDA/EMA requested an additional phase 3 trial prior to approval? Based on the communication from the management (it seems that in their prior meeting with the FDA), the agency did not solicit for a randomized trial as a requisite for approval. Nonetheless, the EMA is likely to have requested an additional study in their prior meet, but the trial would be a phase 4 (post-marketing surveillance) rather than phase 3.
The second question is what are the odds of AndexXa approval without an additional randomized trial? Our research indicated that there is a 60% chance that the FDA will approve AndexXa without a randomized trial. One reason is that Commissioner Scott Gottlieb, M.D., has lowered the regulatory hurdles to expedite approvals (which ameliorates the burden of the lengthy and high costs associated with clinical trials). As for the EMA, there is a 75% chance that AndexXa will be approved by year-end.
The third question is how is the new trial designed? The primary reason that ANNEXA-4 was designed with only a single arm is that it would be unethical for patients suffering a major bleed to be put on a placebo (or sugar pill). In other words, they would die. For the new trial, the principal investigator can employ idarucizumab (Praxbind) as comparator arm to assess for non-inferiority. Of note, the reason that the management did not employ the comparator arm with Praxbind is that the said molecule was FDA-approved on Oct. 16, 2015; however, ANNEXA-4 already commenced earlier in the year (Jan. 2015).
Final Remarks
If you're patient and willing to wait until the dust settled, Portola can be a solid investment for the long haul that is most likely to deliver multi-bagger profits. Last but not least, we'll close out the research by sharing with readers the perspectives of a stellar physician, innovator and former fund manager, Richard Bank,
The CHMP decision is not at all final. They have an idiosyncratic way of thinking. Over time, I've seen them use "negative trend" and not always as an automatic rejection. All I know is the data is the data. And, the FDA deemed it as safe and efficacious. Just a guess, but their thinking could be as obtuse as waiting for Portola to find out what the real issue is with AndexXa. It could optimistically be that the additional trial is a post-marketing surveillance (a phase 4 study) rather than another expensive phase 3 trial. The FDA wants to have an antidote on the market for best medical practice. I am just being an optimist and trying to figure out why CHMP said it was a "negative trend" (for Bevyxxa) some convoluted thinking perhaps. It does usually mean that it is unlikely to be approved, but I have seen rare approvals. Nevertheless, PTLA is very inexpensive and the shares can fly with some good news. I really like the name and heard that CEO Lis is going to meet with FDA and hopefully resolve this issue. I believe should that happen, CHMP just might possibly approve Bevyxxa. Should neither of these optimistic scenarios occur, Bevyxxa will be a multibillion-dollar drug, and my target price is $90 per share.
Author's Notes: We're honored that you took the time to read our market intelligence. Founded by Dr. Hung Tran, MD, MS, CNPR, (in collaborations with Analyst Vu, and other PhDs), Integrated BioSci Investing ("IBI") is delivering stellar returns. To name a few, Nektar, Spectrum, Atara, and Kite procured over 446%, 180%, 180%, and 82% profits, respectively. Our secret sauce is extreme due diligence with expert data analysis. The service features a once-weekly exclusive Alpha-Intelligence article, daily analysis/consulting, and model portfolios. Subscribe to our marketplace now to lock in the current price and save money in the future.
This article was written by
As an astute devotee of Warren Buffet, Ben Graham, Phillip Fisher, Sir John Templeton, and Peter Lynch, Dr. Harvey devoured any resources/books on these gurus to learn their craft for over two decades. In the process, he refined their investment approaches specifically to biotech and founded Integrated BioSci Investing: The Number #1 Biotech Service for Long-Term Growth Investing and Power Catalyst Trading.  Since inception, our flagship portfolio has delivered over 31.23% annual average (i.e. 187.39% for roughly six years). As you can appreciate, we're adept at assisting and serving institutional/retail investors/traders who are looking for alpha. Dividend investors wanting to boost your return can also benefit greatly from our investment research. We currently have over 20 docs in our service for us to tap into their clinical insight for your gains. Check out some of our binary event forecasts that lead to meteoric gain like the 359% single-day pop from Madrigal Pharmaceuticals (MDGL)'s NASH data release. During his training at the world-renown Columbia University, Harvey Tran, M.D., M.S., developed a passion/edge for analyzing the intricacies of various preclinical/clinical studies, biostatistics, and science/medicine. Importantly, it allowed the physician-scientist Harvey to realize the internal working of various therapeutic in-development that the market tends to overlook. In recent years, Dr. Harvey founded and led two healthcare roll-up companies. The endeavor helped him gain deep insight into the inner working of a corporate board. His experience as a consultant to common/professional investors and institutions gave him a huge advantage in biotech analysis. The combination of elite training and a passion for biotech provided Dr. Harvey with an aptitude for delivering highly accurate clinical data forecasting that is crucial to picking winning biotech investments for you.Follow us for the latest research. And, take our FREE 2-week trial to Integrated BioSci Investing to start your winning process now!Check out Dr. Harvey's LinkTree for his complete experience. You can make your one good decision a year as Mr. Buffett recommended by checking out  Integrated BioSci Investing!
Analyst's Disclosure: I/we have no positions in any stocks mentioned, and no plans to initiate any positions within the next 72 hours. I wrote this article myself, and it expresses my own opinions. I am not receiving compensation for it (other than from Seeking Alpha). I have no business relationship with any company whose stock is mentioned in this article.

I like to inform our readers of Seeking Alpha's recent policy change, in which the company implemented the paywall (not only to my articles but to all articles that are published over 10-day). This is in place, as the company is, after all, a business. And, the revenues from ads are not adequate to support the high-quality research that the company is providing. If you are a REAL TIME FOLLOWER, you will be notified immediately of our new research for you to continue to benefit from our due diligence.
Seeking Alpha's Disclosure: Past performance is no guarantee of future results. No recommendation or advice is being given as to whether any investment is suitable for a particular investor. Any views or opinions expressed above may not reflect those of Seeking Alpha as a whole. Seeking Alpha is not a licensed securities dealer, broker or US investment adviser or investment bank. Our analysts are third party authors that include both professional investors and individual investors who may not be licensed or certified by any institute or regulatory body.