Sea Ltd. (NYSE:SE), the Singapore-based internet company, has threatened to make new lows after the stock plunged on Q4 earnings news as well as the announced departure of its group president, Nick Nash. Though the signs that Sea would be a doomed offering were evident from the beginning, the stock's recent price movements have been even more of a nail on its cross. Year to date, Sea has lost 20% (versus relatively flat for the broader S&P 500), and since the company's IPO at $15/share, it has lost nearly 30%:
Sea's major value proposition to investors (one that rang very sympathetically with investors in the early days) was that it operated a trifecta of leading Internet businesses within the fast-growing economies in Greater Southeast Asia, a group of seven countries that Sea refers to as GSEA: Singapore, Indonesia, Malaysia, Thailand, Taiwan, Vietnam, and the Philippines. Sea's overarching message to investors was that, with GSEA relatively underdeveloped in technology and internet proliferation, it could become something like the Alibaba (BABA) or Tencent (OTCPK:TCEHY) of GSEA. Tencent, indeed, is one of its backers.
But the company's issue is that the mix of platforms it operates - Garena, a gaming service that essentially is the distributor of League of Legends (which is owned by Riot Games, not Garena itself) of GSEA; Shopee, an e-commerce site, and AirPay, a PayPal (PYPL)-like online payments service - is a confusing mix, despite the synergies that Sea claims these businesses to have with each other. It's probably a service like Shopee that has the largest market potential of these three businesses (Alibaba made its name by becoming the Amazon (AMZN) of China with its Tmall site), but Shopee has barely begun to monetize its platform.
The majority of Sea's revenue base lies in its non-proprietary gaming business, relying on digital item and currency sales to fuel revenue growth. It just only recently launched its own game in Q4 - and while this is the right direction for the company to be taking, it's likely responsible for the plunge in the bottom line, which is alarming investors more and more with each passing quarter.
And while it's true that Sea is showing nice user growth across all three of its lines of business, it doesn't have sole dominion over its space and is just as likely to fade into irrelevance as it is to "make it big." The fact that the company's staggering losses are eating into its cash reserves suggests that the company may not have long to turn the ship around.
The bottom line on Sea: great vision, huge potential, but no evidence of an ability to execute. Take a parallel to MySpace - obviously it was a great idea with a huge market, but better execution was what made Facebook (FB) king of the hill. Sea isn't the only company with its eyes trained toward the tiger economies of Southeast Asia, and it's likely that these well-oiled Chinese Internet giants will soon step in to claim their territory.
Let's take a look at the company's most recent quarterly results: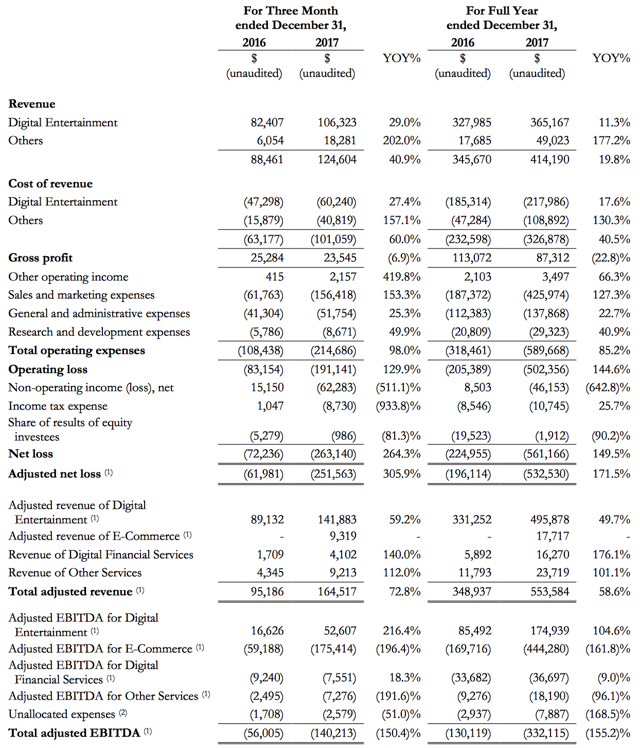 Source: Sea Ltd. investor relations
The one positive thing to note about Sea's earnings was that it showed great revenue growth in its non-gaming business. Total revenues were up 41% y/y in the quarter to $124.6 million, with the Digital Entertainment (Garena) business growing 29% y/y and "other" revenues (Shopee and AirPay) growing 202% y/y. Note that despite the high y/y growth rates, Shopee and AirPay are still far from having a full monetization strategy figured out. Shopee, in particular, only began monetizing in 2017. This does suggest huge potential for it, but without a track record for execution, there's a lot of risk involved on betting for success.
Garena's active users grew 74% y/y to 87.8 million - a great figure, but we also have to remember that the broad majority of this user base is tied to a popular game that Garena itself does not own. The company's newly released and proprietary Free Fire is a step in the right direction, but it's unlikely that Free Fire will become as financially successful as League of Legends or even recoup its development costs. Garena did disclose an impressive 6 million DAUs for Free Fire, but that's still comparatively very short of League's following.
Also note that of these 87.8 million users, the majority of them are free users - Garena's paying user base was only 7.2 million, up 36% y/y. And while it's well known that among "freemium" games, only a precious minority of users make up the bulk of purchases, their revenues are extremely fickle and are at risk if they move on to the next game. And with gaming still representing ~85% of Sea's revenues, this is an important risk to highlight.
Metrics in Shopee, in my opinion, are far more positive - as I previously mentioned, I believe Shopee to be the only bullish reason for investing in the company. Gross orders are up a staggering 244% y/y, with the company growing beyond its original Indonesian market and into Taiwan and Vietnam. AirPay - which I believe actually does have synergy with Shopee (but the connection between Garena and the other two segments I fail to see) - also saw a 311% increase in transaction volumes on the platform.
Unfortunately, despite the rapid growth in Sea's platforms, the company was unable to also achieve margin improvements. Sales and marketing expenses - the single largest component of Sea's costs - expanded a staggering 157% y/y in the quarter, far exceeding revenue growth. Promotions in the e-commerce segment were the primary culprit here, underlining the point that while Shopee's growth might be impressive, it takes massive advertising investments to achieve.
Overall, Sea's net losses in the quarter amounted to -$263.1 million, 4x greater than losses in 4Q16. This also presents a horrifying net margin of -211%, much worse than the already bad -141% Sea posted in Q3. It's intuitive to realize why despite strong growth and user metrics, investors are critical of Sea's mounting losses.
Cash burned in operating activities for the quarter was -$113.2 million; for the full FY17, Sea burned -$334.2 million. The good news for Sea is that its successful IPO ("successful" in the sense that it priced the offering at a high $15 and raised nearly $1 billion; not successful in the sense that investors have seen their shares appreciate) has left it with $1.35 billion of cash, or about four years' worth of liquidity. But with the company losing money at a rate of $2 per $1 earned in revenue, it's unclear whether Sea has a path forward.
The bottom line
The key sound bite on Sea: good growth results, strong vision and potential, but the company is likely to go underwater with its staggering losses before it ever achieves a meaningful scale.
While the company does have its merits, it's an extremely risky investment with a short and spotty track record for execution. Though the company does have a shot at success, the risk-reward profile for investors at this current point is unfavorable. I'd be waiting for more concrete evidence of a turnaround in margins, as well as more results from Shopee as the e-commerce segment continues to monetize, before diving into this name.