DAX Moves Higher After Rough Week
By Kenny Fisher
The DAX index has started the week with considerable gains. In the Monday session, the index is trading at 11,998.58, up 0.70% since the Friday close. On the release front, Eurozone indicators were a disappointment. German and Eurozone Services PMIs dropped in February and missed their estimates. Still, both indicators continue to point to expansion. Elsewhere, Sentix Investor Confidence dropped to 24.0, well off the estimate of 31.1 points. This was its weakest reading since April 2017. Retail Sales declined 0.1%, shy of the estimate of +0.3%. This marked a third decline in the past four months, raising concerns about consumer spending in the eurozone.
It was a dreadful week for the DAX, which slipped 4.6% if its value. European stock markets reacted negatively following US President Trump's decision to impose stiff tariffs on steel and aluminum imports in order to protect domestic producers. Under the new scheme, foreign steel will be taxed at 25% and aluminum at 10%. The response to the move was overwhelmingly negative, both abroad and in the US. China and the EU immediately denounced the move and US auto makers and oil and gas producers also condemned the tariffs. In imposing the tariffs, Trump relied on a provision which allows such measures for national security, but clearly, US trading partners will not quietly accept these protectionist measures. If these countries retaliate, a nasty trade war could ensue, which would likely unnerve investors and send the markets even lower.
The Federal Reserve was in the spotlight last week, as Jerome Powell delivered his maiden speeches to Congress last week. Next up is the ECB, as policymakers meet on Thursday. Will Draghi & Co. deliver more of the same? The markets will be paying close attention to the language used by ECB, as there is a possibility of removing the easing bias regarding bond purchases. A removal of the easing bias would likely be interpreted as a plan to tighten policy and could impact on the stock markets. Inflation remains weak, so there is little pressure on the ECB to tighten policy anytime soon. Recent indicators show that inflation in the eurozone is steady, but remains well below the ECB target of around 2 percent. Eurozone CPI dipped to 1.2% in February, down from 1.3% in January.
Sunday (March 4)
All Day - Italian Parliamentary Election
Monday (March 5)
3:55 German Final Services PMI. Estimate 55.3. Actual 53.4
4:00 Eurozone Final Services PMI. Estimate 56.7. Actual 56.2
4:30 Eurozone Sentix Investor Confidence. Estimate 31.1. Actual 24.0
5:00 Eurozone Retail Sales. Estimate 0.3%. Actual -0.1%
Tuesday (March 6)
*All release times are EST
*Key events are in bold
DAX, Monday, March 5 at 7:45 EDT
Previous Close: 11,913.71 Open: 11,3814.17 High: 12,031.92 Low: 11,805.81 Close: 11,988.58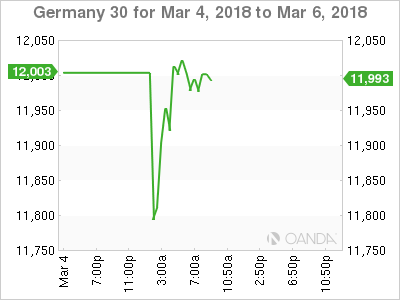 This article is for general information purposes only. It is not investment advice or a solution to buy or sell securities. Opinions are the authors; not necessarily that of OANDA Corporation or any of its affiliates, subsidiaries, officers or directors. Leveraged trading is high risk and not suitable for all. You could lose all of your deposited funds.
This article was written by
Dean Popplewell has nearly two decades of experience trading currencies and fixed income instruments. He has a deep understanding of market fundamentals and the impact of global events on capital markets. He is respected among professional traders for his skilled analysis and career history as global head of trading for firms such as Scotia Capital and BMO Nesbitt Burns. Since joining OANDA in 2006, Dean has played an instrumental role in driving awareness of the forex market as an emerging asset class for retail investors, as well as providing expert counsel to a number of internal teams on how to best serve clients and industry stakeholders.
Symbol
Last Price
% Chg
FXE
-
-
Invesco CurrencyShares® Euro Currency Trust ETF