Note: This article was originally published March 2nd on Value Investor's Edge, a Seeking Alpha subscription service. Due to the "breaking news" nature of this report it was released much earlier than usual to Seeking Alpha.
Background
On Thursday, Donald Trump announced his intention to impose 25% tariff on steel and a 10% tariff on aluminum as early as next week. Most viewed this as the opening salvo in an upcoming trade war but a few tried to dismiss that notion. However, those attempts to downplay this move were shattered early Friday morning when President Trump tweeted:
Trade wars are good, and easy to win.
Other countries are now left weighing their options while speculation is growing at home and abroad as to what industries might be targeted next, and to what degree.
Maritime Trade
According to the International Maritime Organization, the UN body overseeing maritime trade, "over 90% of the world's trade is carried by sea."
There is little doubt that free trade has brought greater volumes to the global maritime industry. This is due to liberal trade policies which significantly dismantled tariffs, restricted domestic subsidies, and curtailed quotas. The 1990's provided proof positive of this development as several free trade agreements were in full swing or came into effect and global trade grew over twice as fast as the global economy.
The World Maritime News reports:
With regards to the containerised trade, the GATT and WTO trade deals and the entry of China into the WTO are widely credited as having accelerated international trade in general and ocean-borne trade in particular.
The concept is simple. Less expensive goods sourced from overseas were increasingly likely to penetrate developed economies, but often at the expense of domestic producers.
Additionally, firms increasingly utilize global supply chain management to expand their resource base, reduce costs, and integrate diverse network capabilities.
A recent IMF study calculated that a 1 percent increase in global growth increased trade volumes by 2.5 percent in the 1990s. IMF's Managing Director, Christine Lagarde warns that "Curbing free trade would be stalling an engine that has brought unprecedented welfare gains around the world over many decades."
However, the UN recently noted that "nationalist rhetoric, protectionist arguments and a beggar-thy-neighbour outlook are dominating economic discourse. Growing inequalities feed this xenophobic turn, which provides a convenient "other" to blame for everybody's problems."
If this sentiment becomes more pronounced, and protectionist policies continue to materialize, it can have a dramatic impact on global maritime trade. But which segments stand to lose the most?
Why Protectionism?
The benefits of free trade agreements might be a hard sell to many middle class workers in developed nations who view free trade as disproportionately benefiting the wealthy and foreign workers, while the burden has been largely placed upon them, while governments have failed to address the issue.
A popular chart, known as the elephant chart, appears to support this view.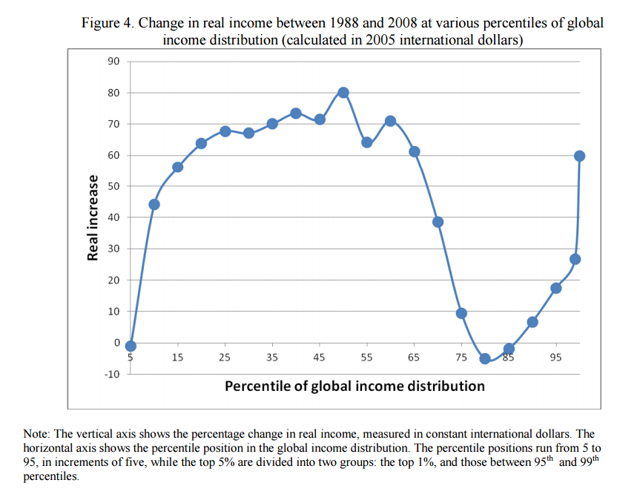 Source: Bloomberg
Made by Branko Milanovic, an economics professor at the City University of New York, it shows real incomes rose significantly for most of the world's population between 1988 and 2008. But that doesn't hold for most residents of the United States and other developed countries. The chart is often presented as a depiction of the consequences of globalization and confirms what many, mostly middle class workers in developed nations, have long felt was happening. These workers, who are also voters, view themselves as the victims of free trade with the developing world and a political backlash has been brewing.
The end result is a rising sentiment toward protectionism. Lately, Donald Trump has been the poster boy for the rise of protectionism, but this trend has been gaining momentum well before he came into power.
It is noteworthy that Hillary Clinton also maintained an increasingly tough stance regarding globalization, and criticized the latest free trade agreement, the Trans-Pacific Partnership, for failing to do enough to support American jobs.
But preceding Trump's victory came Britain's surprise vote last year to leave the European Union. In fact, George Osborne, the former Chancellor of the Exchequer, has labelled the Brexit as the "greatest act of protectionism" in Britain's history.
Other nations such as Germany, France, and Italy have also been experiencing a political uprising based on protectionism to varying degrees. Some of this can be traced as far back as the 2008 crash.
In fact, Bloomberg came out with a very telling graph illustrating what they termed the Politics of Rage.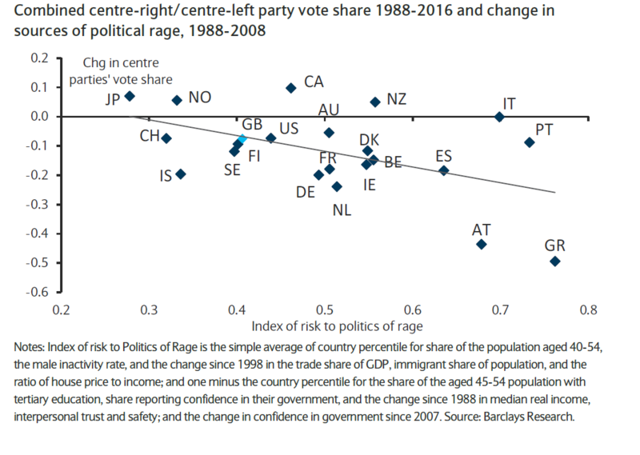 Source: Bloomberg
Bloomberg reports:
Trade volumes have stalled while the "politics of rage" has taken root in advanced economies, driven by a collapse in the perceived legitimacy of political and economic institutions, a new report from Barclays Plc warns. The result, the bank says, is an oncoming protectionist lurch-restrictions on the free movement of goods, services, labor, and capital-combined with an erosion of support for supranational bodies, from the European Union to the World Trade Organization.
This growing trend of protectionism which when coupled with lackluster global growth and slowing trade presents a series of challenges to an already struggling shipping industry.
In a January 27th, 2017 report, Bimco stated:
If the growth and embracing of protectionist policies throughout 2016 becomes a reality, it may pose a huge threat to the shipping industry and could disrupt trade flows and limit economic growth.
CNN reports:
"Corporate America has warned Trump that tariffs could backfire. Last month, the Business Roundtable warned of the risk of "foreign retaliation" that would "harm the U.S. economy."
So what trade flows will be disrupted and which shipping segments will be hit the hardest?
Containerized Trade
It's of great concern to the containerized shipping segment since China and the USA have an important relationship regarding the trade of finished products.
In fact, there is no greater route of importance than the China to North America trade when it comes to containerized cargo.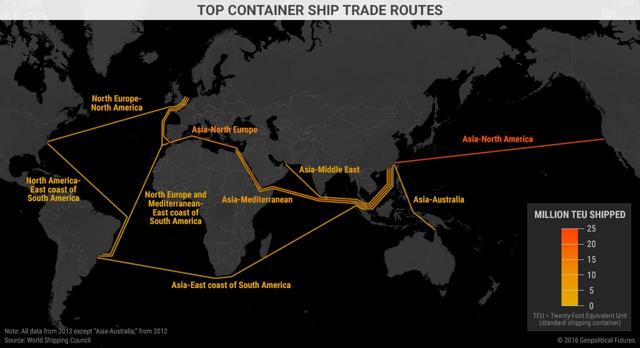 Source: Geopolitical Futures
In terms of "goods only" the US Census Bureau notes that China is the number one supplier to the USA at $505.6 billion in 2017, accounting for 21.6% of the USA's total imports.
But it's not just a one way street. USA exports to China came in at the number three spot behind Canada and Mexico totaling $130.4 billion, representing 8.4% of the USA's total exports.
Total trade comes in at $636 billion or 16.4% of the total trade conducted by the United States.
To look at it another way, according to the World Shipping Council, in 2014 the number of TEUs shipped around the world totaled 127.6 million. China and the USA were responsible for 36 million and 11.9 million, respectively. That comes out to 37.5% of total containerized trade volumes between just these two nations.
While this initial tariff announcement by the USA targets materials typically carried by dry bulk vessels, one cannot simply dismiss that an escalation of this situation may include finished goods. Historically countries have retaliated by instituting their own tariffs as a response. The growing tensions and increasingly inhospitable rhetoric could lead to an all out trade war with container shippers serving this route being one of the major losers.
But it doesn't stop with China. Remember that other nations targeted by this announcement are also major trading partners with the USA. Canada, Japan, South Korea, and Brazil could respond with measures of their own.
In 2017 Canada ranked number one in terms of the destination for exports of US goods. Japan occupies the number four spot, S. Korea at number seven, and Brazil comes in at number ten.
In terms of imports into the US they are equally important ranking number two, four, six, and 12, respectively.
Reuters reports that Canada is already preparing to escalate the situation with measures of its own:
"Should restrictions be imposed on Canadian steel and aluminum products, Canada will take responsive measures to defend its trade interests and workers," the country's foreign affairs minister, Chrystia Freeland, said in a sharply worded statement.
Brazil has made a similar announcement:
Brazil's industry ministry said Brazil would consider taking action on its own over the tariffs or in concert with other countries.
Deutsche Welle noted that the EU will likely respond:
The European Commission is mulling concrete counter-measures, should the United States impose high tariffs on steel and aluminum imports. The focus would most likely be on agricultural produce including tomatoes and potatoes.
The Business Insider reports:
The EU was said to be mulling tariffs on US agricultural products like cheese and bourbon.
Dry Bulk
Already dry bulk finds itself in the crosshairs of this current trade war with steel and aluminum typically being transported on dry bulk vessels.
In 2016, there was a total of 3.172 billion tons of dry bulk cargo transported throughout the world. Of that total steel products composed 404 million tons, representing 12.7% of the overall trading volume.
With the United States being the top steel importer this policy, which aims to increase domestic steel competitiveness and therefore consumption, will have a significant impact on dry bulk demand for the classes of vessels engaged in the steel trade.
The class distinction is important as various sized vessels occupy different trading niches. In this particular case the smaller dry bulk classes will likely be the hardest hit.
But retaliatory measures could take it to the next level.
The Business Insider reports:
China is already looking into restrictions on US exports of sorghum and soybeans, both of which are important crops for American farmers.
It's also noteworthy that demand for US corn and wheat are significant in several of these overseas markets that are now being targeted by these steel tariffs.
Much of this trading volume is facilitated by dry bulk vessels and depending on the size of the market can be carried out by vessels as large as a Panamax. In fact, during harvest seasons it's usually the Panamax class that benefits most from the seasonal bump, and will therefore likely suffer the most if restrictions on US agricultural products are instituted.
Finally, coal exports out of the USA have been gaining momentum.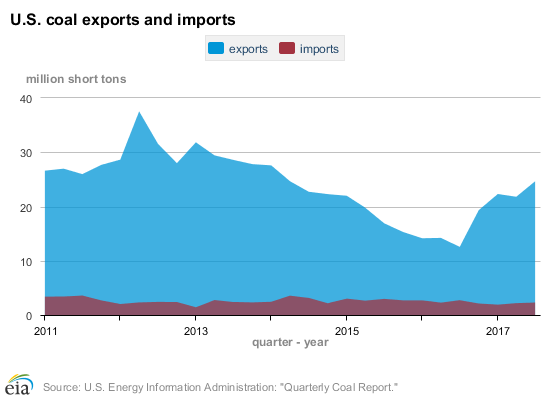 Source: EIA
President Trump has made no secret about his intention to revive a failing coal industry. The recent bump in exports has been cheered by supporters of this goal and serves as a testament to his achievement on this front.
Canada, Brazil, Europe, India, China, South Korea, and Japan all compose very significant markets for US coal exports. In fact, in 2017 these regions accounted for well over 85% of total US coal exports.
Given that President Trump has invested political capital in the domestic coal industry, key importers cutting off US coal could have significant political and economic consequences, which could go a long way in undermining his stated agenda on this front.
Finally, on a random side note, let's also not forget that inflationary pressures are mounting throughout the US and even the world to a degree. Increased trade protections on steel, aluminum, and agricultural products could cause the downstream prices of goods to increase, further leading to inflationary pressure in several economies.
Product Tankers
The USA is a key supplier of refined crude products to the world. But many destinations for these exports are the target of these recent measures.
VesselsValue compiles all voyages and trading routes for various classes of product tankers.
Regarding MR tankers, the USA to Brazil route is the most important in terms of ton mile demand. Other key routes include the USA to South Korea, USA to Japan, USA to China, and USA to India.
The LR1 trade sees quite a bit of ton mile demand from the USA to India route. The LR2 route surprisingly sees quite a bit of ton mile demand from the USA to Canada route.
Just how important are US exports to the tanker trade?
Recently VesselsValue produced a report noting the ton mile demand and exactly where those cargoes are headed.
It shows that US exports now account for about 25% of global ton mile demand for MR tankers.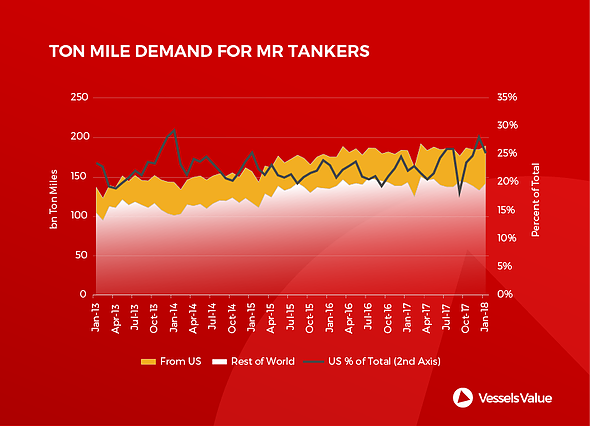 Source: VesselsValue
The report also showed exactly how important certain regions are to this overall trade.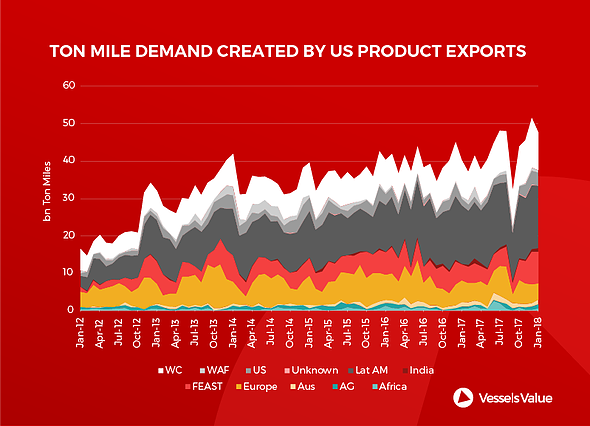 Source: VesselsValue
Remember, nothing is off the table when it comes to how a country or region may retaliate in a global trade war. With many regions still possessing high levels of refined product inventory, ushered in by recent low crude prices which inspired refiners to maximize production to capitalize on attractive margins, product exports out of the USA could be a viable target.
Refiners in the US have a significant amount of political clout and regions with high inventory levels would be able to mitigate waning product imports through increasing use of their stockpile. This could make product exports out of the USA a target for retaliatory measures.
Crude Tankers
Crude exports from the USA have been picking up over the past couple years as export restrictions have been relaxed.
Again, we find a similar situation where main importers of US crude are the very same nations and regions targeted by these tariffs.
Canada remains a top importer of US oil, but much of that can be traced to pipelines. But coming in the number three and four spots are China and Japan. Other significant volumes flow into India followed by South Korea.
However, US exports of crude still remain a very small percentage of the overall crude trade. Any sort of efforts to retaliate on this front will likely have a very minimal impact on the segment. Therefore, this area looks to be relatively safe from any sort of escalating trade war.
Gas
Lately, both LNG and LPG exports out of the USA have been benefiting from increasing global demand. President Trump has made it clear that energy exports out of the USA will be a key component of his administration's policy.
According to the EIA, a great deal of these exports out of the USA are headed to East Asia, particularly South Korea and China, which have increased their consumption of LNG significantly over the past few years. Again, we see Japan and India also being the recipients of significant increases of US produced LNG.
The most important LPG markets for US exports, according to the EIA, are China composing 11.3%, Canada at 9%, Brazil at 4.5%, 15.1%, and South Korea at 8.2%.
Once again, we see key destinations for US produced LNG and LPG being the exact countries targeted in President Trump's tariffs.
Now, let's suppose that this area is targeted as a response. Many might assume that volumes would simply be made up elsewhere and all things would be equal. That is partly true. Volumes could be sourced from other regions such as Australia or the Middle East for example regarding LNG. However, ton miles traveled would likely be reduced as a result. The USA to East Asia for example represents on of the longest hauls in shipping. The longer the route the more time it takes to deliver the cargo. In short, reducing average haul distance will impact vessel demand negatively, which will in turn lower charter rates.
Conclusion
Free trade has been beneficial to maritime trade. But the reversal of that policy, protectionism, will have the opposite effect.
The sentiment appears to be on the rise as middle class workers in developed markets, who are also voters, perceive themselves as bearing the costs of free trade.
The result is a political shift ushering in bureaucrats who pledge to focus inward. This will be achieved through restricting trade in an effort to promote domestic production which curtail demand for maritime trade.
An already struggling shipping industry which is plagued with overcapacity could see more vessel supply freed up if these protectionist policies take hold.
Already we see policies unfolding which would impact the dry bulk segment. Announcements by countries initially targeted seem to suggest that dry bulk may be further impacted along with container shipping.
Other segments present likely targets as well, which include product tankers and LPG/LNG as targeted countries are major recipients of US exports in both these segments.
Going forward, shipping companies and investors should watch this potentially escalating "trade war" closely. Intensifying protectionist measures will certainly be an impairment to global trade and therefore demand for maritime trade.
Thank you for reading, and I welcome all questions/comments.
If you would like to stay up to date on my latest analysis, I invite you to follow me on Seeking Alpha (click the "Follow" button next to my profile picture at the top) as I continue to cover all aspects of maritime trade.
Value Investor's Edge
Value Investor's Edge is a top-rated research service dedicated to offering actionable trades and strategic income opportunities. We now cover a variety of deep value and income-driven sectors, while maintaining our focus and very profitable record of shipping industry coverage. Members receive exclusive access to over a dozen reports per month, including regular shipping and commodity macro analysis from James Catlin, exclusive content by top-tier deep value analyst J. Mintzmyer, industrial and MLP ideas from Micheal Boyd and international insights from Ian Bezek. This winning team has developed a dedicated following of highly knowledgeable investors and industry professionals who also share their own thoughts and ideas. For more information on Value Investor's Edge, simply click the link.
Disclosure: I am/we are long NMM, GNK, GOGL, SALT, STNG, GLOP, TGP, GLNG. I wrote this article myself, and it expresses my own opinions. I am not receiving compensation for it (other than from Seeking Alpha). I have no business relationship with any company whose stock is mentioned in this article.
Editor's Note: This article covers one or more microcap stocks. Please be aware of the risks associated with these stocks.