GreenPower Pulling Ahead In 2018
Summary
2017 was a ground breaking year for GreenPower as they achieved regulatory approvals, introduced new bus models, secured orders, and began construction of their new factory in Porterville, CA.
GreenPower made the strategic decision to enter the electric school bus market and will be making their first deliveries in the summer of 2018.
With the introduction of the Synapse 72 school bus and the EV Star mini-bus the Company now has a complete suite of BEV bus products.
I provide discussion and feedback from Executive Chairman Fraser Atkinson.
GreenPower Bus Status Update
Last year was pretty tough on long term investors of GreenPower (GPVRF) as they endured a 9.2% share dilution and a 50% decline in share price without a single vehicle delivery to speak of. Nonetheless, 2017 can rightfully be summarized as the "ground breaking" year for the company as they methodically made progress on the permitting and start of construction of their new bus factory, achieved CARB HVIP voucher approvals and US EPA certification, introduced several new bus models, conducted sales tours, and received multiple orders for various bus models. With this ground work in place the quiet achievers at GreenPower are now set to embark on substantial progress in the coming year. Since mid-January 2018 the share price has increased approximately 50% with increased daily trading volume as investor confidence in the company's potential continues to strengthen. 2018 is shaping up to be a great year for GreenPower.
Confirmed orders received in 2017 until now are as follows:
March 2017: City of Porterville ordered ten EV350 transit buses. First buses will commence service in March 2018, with the remaining units to be delivered by end of summer 2018.
October 2017: Calaveras Unified School District ordered three Synapse 72 school buses, to be delivered in summer of 2018.
November 2017: CVS Tours ordered two EV 550 double decker buses, with plans to purchase seven more buses over the next 3 years.
December 2017: LA Unified School District ordered their first electric school bus from GPV, to be delivered in the summer of 2018.
February 2018: Rialto Unified School District ordered two Synapse 72 school buses, to be delivered in the summer of 2018.

Synapse 72 Transit and School Bus models (source: Company website)
A significant milestone in 2017 was GreenPower's introduction of the world's first purpose-built Type-D electric school bus. At the time of introduction an executive of the well-established EV bus manufacturer BYD noted that his company was not interested in the school bus market, stating "school buses don't really have a very big environmental impact because they operate in the morning and then the afternoon, and that's pretty much it." (source: VW scandal could drive bus business B.C.'s way). The huge upside of eliminating noxious fumes and noise from the school environment was apparently lost on them and others, leaving GreenPower with a golden opportunity to be among the first movers in a huge and dynamic market niche. As noted in my previous article (GreenPower: The Electric Bus Market's Quiet Achiever) in the USA alone there are approximately 480,000 school buses in operation versus 70,000 transit buses, and in terms of total annual sales revenue the two categories are almost equal. In addition, there is a growing trend among government recipients of the $2.3 billion Volkswagen Mitigation Trust Fund to channel a significant portion of these funds to support the electrification of school bus fleets. A recent article in School Transportation News concerning electric school buses in California noted the following:
"The majority of the money comes from state's cap-and-trade auction proceeds, the state's Air Quality Improvement Program, and the Volkswagen Mitigation Trust Fund. School buses are expected to receive a big piece of the latter." (source: Calif. School Districts Take Advantage of Alt-Fuel Funding)
Always moving forward, in January 2018 GreenPower introduced a brand new 25-foot Class-4 mini bus, the EV Star, slated to hit the market in April 2018. The company has an aggressive demonstration schedule set for this summer and based on the level of interest expressed by end-users the company anticipates this product could become their #1 seller in terms of unit volume.
Competitors Are Not Asleep at the Wheel
Notable competitors in the electric school bus market are Trans Tech Bus, Lion Electric Company, Thomas Built, IC Bus, Navistar (NAV) and Blue Bird (Nasdaq: BLBD), all of which offer electric conversions of existing legacy bus designs. Trans Tech Bus in partnership with Motiv Power Systems holds the distinction of being the first provider of an electric Type-A school bus (see diagram below) in March 2014. Lion Electric has offered a Type-C school bus since 2015 with several early adopter sales already completed. Thomas Built, IC Bus, and Blue Bird are currently demonstrating their own Type-C models with each company planning to begin production in 2019. All these companies produce high quality BEV buses, with Trans Tech and Lion Electric holding a narrow lead due to early sales in previous years.

Source: GAO presentation 2015 National School Trans Specs and Procedures
Discussion with Fraser Atkinson, GreenPower Executive Chairman
In recent correspondence between myself and Fraser Atkinson, GreenPower Executive Chairman, I asked Atkinson to shed further light on the exciting times ahead for the company. Excerpts of the discussion are presented below:
Jennings: GreenPower has achieved first mover status in the very lucrative electric school bus market. Initial sales have all been in California with financial assistance from the CARB HVIP voucher program. How do you see this market developing both inside California as well as the wider North American market?
Atkinson: California: Last year our Synapse 72 all-electric school bus was listed on the HVIP program for a base voucher of $95,000 plus the additional enhanced vouchers of $15,000 if the bus is used in a Disadvantaged Community and $10,000 for the first three purchased under the program. For 2018 that base voucher has increased to $220,000 which combined with the two enhanced vouchers increasing this to $245,000. Our price, net of vouchers is considerably less expensive than a traditional diesel school bus.
VW Mitigation Trust Fund: Now that the beneficiaries have been set the various States are preparing their plans. In many cases States are targeting more than 50% of the funding to new all-electric buses and in some cases more than 25% specifically to all-electric school buses.
We see significant opportunities in California in 2018 and then across the U.S. in 2019 as a result of these programs.
Jennings: The new EV Star model was announced in January 2018. Is this unit based on the same "clean sheet" design as all other GreenPower vehicles? Who are the anticipated customers for this model, and what level of interest has been shown to date? Can this be sold as a Type A or B school bus?
Atkinson: Yes it is.
We see an untapped market between the traditional heavy duty and the medium duty bus markets. This includes shuttle operations for airports, hotels, Universities, and employee transportation, to name a few.
The EV Star could be a better choice for a school than a Type-A school bus as it's easier to drive and with the rear access for wheelchairs is a lot easier to manage the ADA requirements than a Type A school bus.
Jennings: CVS Tours of Victoria has become your first repeat customer with their recent order for two EV550 double decker buses and their intention to replace all nine of their fleet buses with EV550s within the next three years. As the sole provider of EV double decker buses in North America how do you see this niche developing in the future?
Atkinson: Our EV550 double decker can be used in numerous sectors where an operator needs to move a lot of people. With seating for 100 passengers plus up to 30 standees in a vehicle that is 45 feet long this is less expensive on a "per passenger basis" than a traditional 40 foot low floor transit bus which usually would have seating for 40 passengers and up to 38 standees.
A number of transit properties and numerous tourist operators already have diesel or CNG double deckers in their fleet so we don't have to develop a new market as there is a substantial market opportunity in electrifying existing fleets
Jennings: Several of GreenPower's competitors have completed the Federal Transit Administration's "Altoona" bus testing program which is intended to facilitate comparison of competing bus models during procurement bidding. Has the lack of Altoona certification resulted in any lost sales, and does GreenPower plan to complete Altoona testing anytime soon?
Atkinson: We have one of our EV350 forty foot all-electric low floor transit buses in process with this program. It's important to note that we don't need the Altoona test for the majority of sectors that we are targeting.
Jennings: GreenPower has advised that the construction of their new factory will be done in three phases, with Phase 1 encompassing the construction of the office building and one of three buildings comprising the manufacturing facility. When can we expect production to begin rolling out of the new factory? What is the anticipated schedule for completing Phases 2 and 3?
Atkinson: It's important to note that we are currently set-up with final assembly capabilities that can produce and deliver all of the buses we have on order as well as our expected orders for the ensuing year. The manufacturing facility that we are building in Porterville will allow us to increase those production capabilities in 2019 / 2020.
Jennings: With Volkswagen due to pay out US$2.3 billion in reparations as a result of their emission cheating scandal, how do you see this impacting the EV bus market? Can a large portion of these funds be expected to be spent on building out infrastructure for private electric vehicles as opposed to public transportation?
Atkinson: There are two funds that will impact our section. The VW Mitigation Trust Fund with $2.9 billion and the VW Infrastructure with $2 billion. The Infrastructure fund could end up being primarily directed to building out infrastructure for electric cars. However, the VW Mitigation Trust Fund specifically lists the acquisition of a new electric transit bus, school bus or shuttle bus as one of the mitigation actions. In many cases States are targeting more than 50% of the funding to new all-electric buses and in some cases more than 25% specifically to all-electric school buses.
Jennings: GreenPower recently adopted a share holder rights plan, described as "designed to ensure the fair and equal treatment of shareholders in connection with any take-over bid for outstanding common shares of the Company." In the absence of a takeover does GreenPower face any significant capitalization challenges that might otherwise hinder the level of aggressive growth required to compete against your more established competitors? What is the company's growth strategy moving forward?
Atkinson: With the delivery of product and receipt of payment we are no longer a start-up but an operating company which, unlike any of our competitors, only requires modest sales to break-even or report a profit.
We have opened a sales office in Los Angeles and combined with our presence in the San Joaquin Valley we are well positioned to take advantage of the significant funding available along with desire for operators to electrify their fleets.
Jennings: Any other news you would like to share at this time?
Atkinson: GreenPower is in the right place at the right time. The Future is Green.
Opportunity
Because both the transit and school bus markets are so perfectly suited for battery electric vehicle (BEV) adoption, once adoption momentum gets underway it is likely that the overall transition to fully electric bus fleets will accelerate faster and more completely than the private vehicle market. Established conventional bus manufacturers can at best hope to maintain their current market share as they convert legacy ICE models into BEV models. In contrast, GreenPower is a uniquely pure-play early innovator in the BEV field that is already gaining a sales foothold with the earliest adopters. As illustrated in the standard "Diffusion of Innovation" curve shown below, investors still have time to position themselves in the earliest stage of this potentially explosive market.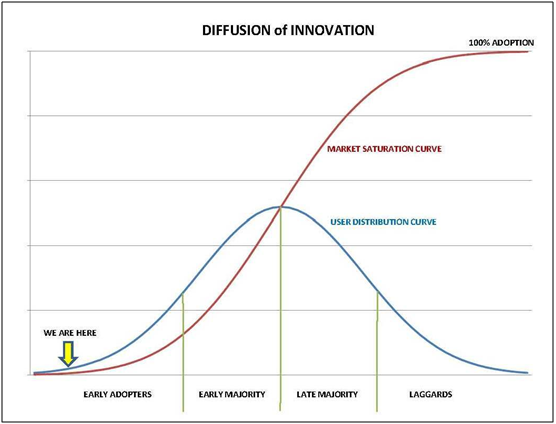 Source: author
Risks
GreenPower comes with the usual risks inherent to a micro-cap company seeking to compete against established, well-capitalized competitors. Outstanding shares increased 9.2% during 2017 and further share dilution remains a risk to investors moving forward. On the Toronto Ventures exchange the average daily volume for GPV is approximately 87K shares per day which provides reasonable liquidity, however, on the US OTCQX exchange the average daily volume for GPVRF remains quite low at approximately 14K shares per day.
Although current progress indicates the company is gaining strength in the BEV market the risk remains that they might not be able to gain or maintain a profitable market share once better-known manufacturers with established customer bases commence full BEV school bus production in 2019.
Conclusion
GreenPower presents a compelling alternative to BEV buses offered by the more established competitors. They are well positioned to supply the BEV transit bus and school bus markets right at the time these markets are poised to make an accelrating transition to all-electric systems. With an exceptionally strong management team in place the company presents an excellent risk/reward investment for investors familiar with the micro-cap space and willing to hold shares on a long term basis. One final point to note is that insiders hold 57.6% of all outstanding shares, thus ensuring the interests of the management team and BOD remain closely aligned with those of the retail investment community.
Editor's Note: This article covers one or more microcap stocks. Please be aware of the risks associated with these stocks.
This article was written by
Analyst's Disclosure: I am/we are long GPVRF. I wrote this article myself, and it expresses my own opinions. I am not receiving compensation for it (other than from Seeking Alpha). I have no business relationship with any company whose stock is mentioned in this article.
Seeking Alpha's Disclosure: Past performance is no guarantee of future results. No recommendation or advice is being given as to whether any investment is suitable for a particular investor. Any views or opinions expressed above may not reflect those of Seeking Alpha as a whole. Seeking Alpha is not a licensed securities dealer, broker or US investment adviser or investment bank. Our analysts are third party authors that include both professional investors and individual investors who may not be licensed or certified by any institute or regulatory body.