Buy These Dividend Stocks Today
Summary
Investors may be attracted to overvalued stocks.
I offer an alternative for investors seeking strong companies with attractive valuations.
Many REITs are significantly undervalued.
Preferred shares are a great way to supplement income.
Investors should buy AVB, EQR, VNQ, or SCHH today.
There are some sectors where investors can find attractive valuations and strong fundamentals.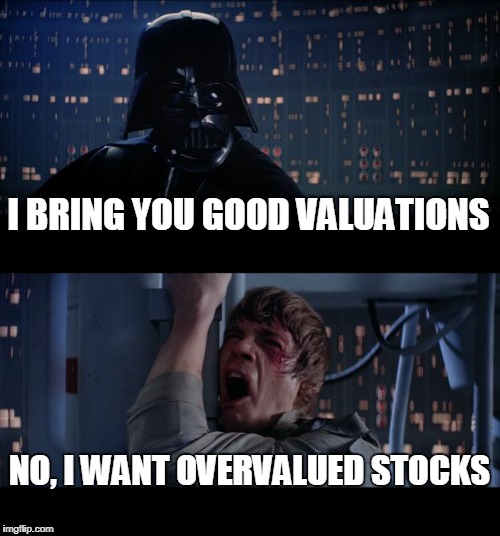 Source: imgflip
Investors should be seeking to lessen the volatility of their portfolios. Buying overpriced companies often leads to high volatility. While many sectors are grossly overpriced, I will offer some alternatives.
Apartment REITs
The apartment REIT sector is a great place for investors to hunt dividends. The yields are reasonable and the growth is fairly consistent. In general, the larger apartment REITs appear to be better options. The smaller apartment REITs have more difficulty with operating expenses. Investors may be lured in by the higher dividend yields, but I would strongly favor the bigger players with stronger balance sheets.
There is no reason for investors to believe that a recession is eminent, but a strong balance sheet is good financial planning. Equity Residential (EQR) is one such apartment REIT. They have a great portfolio and an excellent balance sheet. Their operating expenses devour a very small portion of their revenue.
AvalonBay (AVB) is another great apartment REIT. They are set apart by their exceptional skill in developing new properties. Essex Property Trust (ESS) is the third of the great apartment REITs. Essex has their entire portfolio located on the West Coast. Most of the allocation is in California. The properties appear excellent. However, the valuation is a bit higher. Management of Essex appears more willing to increase leverage. I prefer to see very strict discipline on leverage.
I have full reports of Equity Residential, AvalonBay, and Essex Property Trust on The REIT Forum. (subscription required)
Triple net lease REITs
Many investors love the triple net lease REIT space. Realty Income Corporation (O) and National Retail Properties (NNN) are a couple of the most loved REITs in the world. The triple net lease REITs carry higher dividend yields and have more consistent operating results. However, an activist recently took aim at Realty Income Corporation. The information the activist presents is designed to make Realty Income Corporation look bad. Some of their claims had significantly more merit than others. However, the triple net lease REIT space has more correlation to bonds than other types of equity REITS. It could see significant price declines if Spruce Point is successful. If Spruce Point can lower the share price on O, investors should expect the entire triple net lease REIT sector to fall dramatically lower. The dividends are safe, but the share price is not. I prefer the apartment REITs as a sector at this point.
Mortgage REITs
CYS Investments (CYS) indicated that they intend to reduce their dividend.
ARMOUR Residential REIT (ARR) indicated that they intend to reduce their dividend.
Five Oaks (OAKS) already cut their dividend.
Orchid Island Capital (ORC) already cut their dividend.
Investors in residential mortgage REITs should be able to figure out the trend.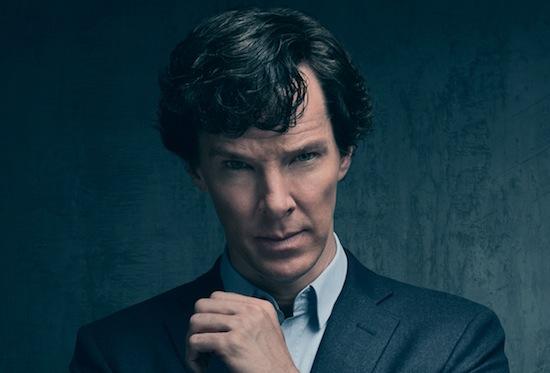 Dividends are declining. The only way dividend yields might increase is through lower prices. The preferred shares are dramatically more attractive than the common shares for most of these mortgage REITs. The preferred dividend cannot be cut until the common dividend is reduced to zero.
Investors focusing on the higher current yield of the common stock are ignoring the forward yield. If dividends are not cut sufficiently in 2018, the cuts could easily continue into 2019. The flattening of the yield curve is a major problem. Remarkably, investors are content to ignore my warnings.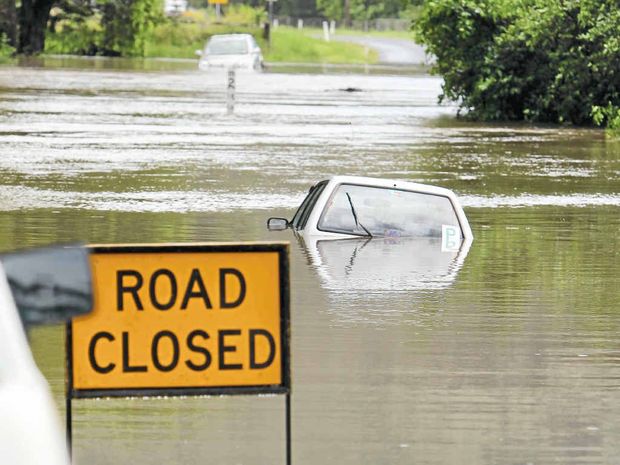 Source: Google images
They are content to ignore several mortgage REITs cutting dividends or announcing their intent to cut the dividend in the near future. Perhaps the most astounding exchange I've heard was on the earnings call for Annaly Capital Management (NLY). One analyst expressed his dismay that Annaly's core earnings had been flat for so many quarters. He wondered what it would take for Annaly to ramp up their risk level to enhance their earnings. He felt it was time for the earnings to grow.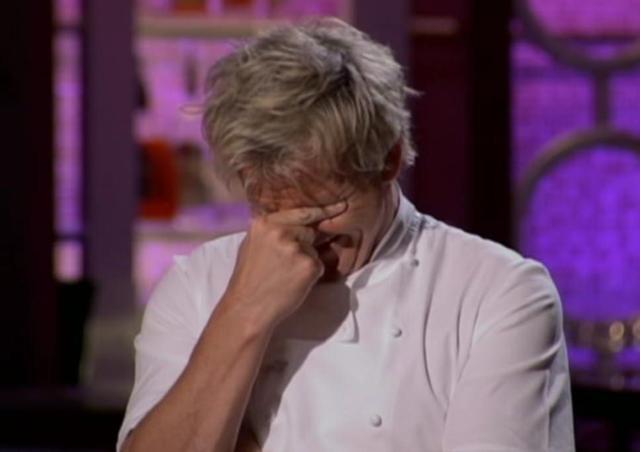 Source: Google images
Clearly, he had no idea what was happening throughout the sector. Annaly's earnings are steady because they have been pushing their periodic hedging expenses through futures contracts. The futures contract turns the entire gain or loss into a realized gain or loss (excluded from core earnings) as opposed to letting it flow through realized net interest expense on swaps (part of core earnings). If Annaly did not change their hedging techniques over the last few years, their core earnings would have been gradually declining instead of remaining flat.
Telecommunications
Many investors like Verizon (VZ) and AT&T (T) for their steady earnings and steady dividend payouts. The dividend growth may be slow, but the companies trade at a low multiple of earnings. It is incredible to see giants within the sector trading at low multiples with strong dividends. AT&T and Verizon got exactly the man they wanted in charge of the FCC. This process is known as regulatory capture. The regulators are put in place because of concerns from consumers. However, the enormous amount of money on the line leads to significant political donations that eventually allow the industry to control their own regulators. As it stands, the FCC is an ally to the telecommunications industry.
Tech companies
Many dividend investors in the tech space like Microsoft (MSFT). Intel (INTC) was thoroughly out of favor for quite a while. It was one of the few tech companies trading at a low multiple of earnings and a solid dividend yield. Microsoft is the dividend stock I want to discuss today. As I prepare to board a flight, I wanted to download some shows for my Surface 3. If my product was from Apple (AAPL) or Google (GOOG), I could download those shows very easily. As we move towards a world where technology is confined to apps, Microsoft's products become less relevant. The apps are primarily designed for systems created by Apple or Google. No one wants to create useful apps for Microsoft's platforms.
This becomes a challenge for Microsoft because it gives their customers an incentive to try the competing products. It doesn't hurt that Microsoft is vastly behind Google on voice recognition. Some of Microsoft's recent products are:
The Windows Phone - which no one uses.
The Surface - which is a poor man's Chromebook.
The search engine BING - which is a homeless man's Google.
Internet Explorer - which is used to download Chrome.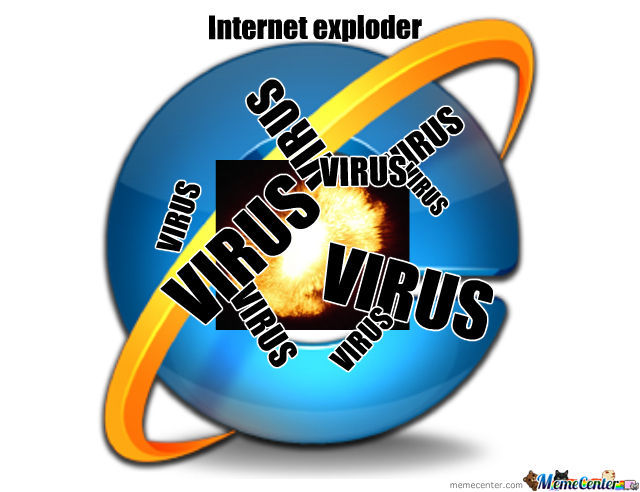 Source: memecenter
In honor of these achievements, the earnings multiple on Microsoft continues to climb.
ETFs
Some dividend investors still prefer ETFs for more diversification. For investors who want the additional diversification, I have several dividend ETFs they should consider. For non-REIT equity, I have the top 5 dividend ETFs for 2018. If investors are interested in buying REITs through an ETF, I have several suggestions. The first two are the Vanguard Real Estate ETF (VNQ) and Schwab U.S. REIT ETF (SCHH).
Top choices
Within the investments discussed in this article, I am particularly fond of AvalonBay and Equity Residential. I believe apartment REITs are poised to perform well on the back of higher wage growth. It has been around a decade of terrible wage growth. We are finally seeing some improvement there. There is also a substantial amount of increased demand from Millennials who still live with their parents.
Investors seem content to discount apartment REITs and most other REITs on the basis of rising bond yields. However, the 20% deduction for pass-through entities appears to include REITS. Multiple REIT management teams have recently referenced it in their investor presentations. That would materially increase the after-tax yield on REITs. Currently, the price risk on triple net lease REITs is too substantial for me to endorse it. While the REITs have solid dividends, the combination of Spruce Point and the extra high correlation with bonds is simply too much.
Buy AVB
Buy EQR
Buy VNQ
Buy SCHH
Editor's Note: This article covers one or more microcap stocks. Please be aware of the risks associated with these stocks.
The REIT Forum is the home of the best research on REITs and preferred shares. The Forum's portfolio has returned over 20% every full year since inception.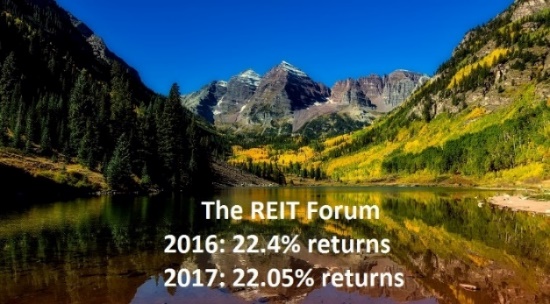 You will have access to spreadsheets of every REIT and preferred share we cover updated in real time. The spreadsheets have easy to follow buy/hold/sell ratings. Subscribers get instant actionable SMS alerts on time sensitive investments.
A highly knowledgeable and interactive chat room, with 65/65 5-star ratings, is great for both new and mature investors. Join The REIT Forum for 2018 with weekly preferred share updates and rapid fire roundups for common stocks.
This article was written by
Home to the best research on REITs.
If you'd like to try the service, use this link: get 10% off The REIT Forum.
Colorado Wealth Management is a REIT specialist who began his decades-long investment career in a family-owned realtor office before launching his own company and embracing his drive for deep-dive REIT analysis. He passed all 3 CFA exams. He focuses on Equity REITs, Mortgage REITs, and preferred shares.
Features of the group include: Exclusive REIT focus analysis, proprietary charts and data models, real-time trade alerts posted multiple times a month, multiple subscriber-only portfolios, and access to the service's team of analysts and support staff for dialogue and questions on the REIT space.
Analyst's Disclosure: I am/we are long AVB, EQR, NLY-F. I wrote this article myself, and it expresses my own opinions. I am not receiving compensation for it (other than from Seeking Alpha). I have no business relationship with any company whose stock is mentioned in this article.

No financial advice. Investors are expected to do their own due diligence and consult with a professional who knows their objectives and constraints. CWMF actively trades in preferred shares and may buy or sell anything in the sector without prior notice. Tipranks: Buy AVB, EQR, VNQ, SCHH.
Seeking Alpha's Disclosure: Past performance is no guarantee of future results. No recommendation or advice is being given as to whether any investment is suitable for a particular investor. Any views or opinions expressed above may not reflect those of Seeking Alpha as a whole. Seeking Alpha is not a licensed securities dealer, broker or US investment adviser or investment bank. Our analysts are third party authors that include both professional investors and individual investors who may not be licensed or certified by any institute or regulatory body.