Novavax: Mounting Delays Raise Concerns
Summary
The Novavax story is troublesome.
RSV F for maternal vaccination was derisked late last year?
Novavax cash prospects separate bulls from bears.
Novavax's future catalysts are dubious.
Fool me once, shame on you. Fool me twice, shame on me. Fool me thrice... well, how many disappointments does Novavax have in store? Novavax (NASDAQ:NVAX) has disappointed many investors in over its nearly 30 years. My initial Novavax posting, "Novavax: The Little Engine That Couldn't", documents Novavax's disappointments. This current article is my memo to self, "Novavax is a heartbreaker". Yet I confess I am long the stock. I have no excuse. Somehow or another it keeps pulling me in.
The Novavax story is troublesome
Novavax is a boom or bust stock. It missed its first scheduled NanoFlu data release late last year; it then promised to catch the story up with a full data package in February 2018. I watched in vain every day in February, hoping for some positive momentum upon release of the data.
Then, at the last possible moment, after close of market on February 28, 2018, Novavax issued its NanoFlu press release. Instead of the expected full data package, it issued a press release with the following italicized lead:
Phase 2 trial of NanoFlu vaccine expected to begin in third quarter of 2018
Given strength of trial data, Novavax has submitted detailed results for publication in peer-reviewed medical journal
Company management to discuss more complete trial results after publication
For a brief moment, the release was well received. In the pre-and post-market sessions on the 28th of February and March 1st, Novavax shares shot up to almost $3.00. As the day progressed, the stock settled back dramatically. It closed at $2.27, only a few cents from where it opened on February 27, 2018.
Novavax's submittal of its NanoFlu phase 1/2 trial results to a peer reviewed medical journal creates delay and a big guessing game. How long will it take for the article to be published? Where will it be published? Such questions can consume the narrative. All the while, the full data package we were told to expect in February will remain unseen by investors.
RSV F for maternal vaccination was derisked late last year?
According to Novavax, its other big clinical stage pipeline candidate, RSV F vaccine for infants via maternal immunization, was "derisked" late last year. This RSV F vaccine is undergoing a large scale, rigorous phase 3 trial which Novavax dubbed Prepare. It is a randomized blinded, placebo-controlled trial expecting to enroll 8,618 third trimester pregnant women. The Bill and Melinda Gates Foundation is helping to underwrite the ample costs of the trial.
clinical trials.gov describes how the trial enrollment may be smaller:
...based on the operation of the group-sequential design, the incidence rate of the primary clinical endpoint events, and the efficacy of the intervention. Women in the third trimester of a singleton uncomplicated pregnancy and 18 to 40 years of age (inclusive) will be enrolled and randomized in a 1:1 ratio into one of two treatment groups, active or placebo, over approximately the three months prior to peak RSV season. After the first global season of enrollment, the randomization scheme will be changes to a 2:1 (active/placebo) ratio to enable more efficient accrual of the safety database.

All maternal subjects will receive a single intramuscular (IM) injection on Day 0 with the assigned test article, the RSV F vaccine or placebo. Study participation for maternal subjects will span approximately nine (9) months from the first dose, ending six (6) months post-delivery. Study follow-up for infant subjects who are consented will span approximately one (1) year post-delivery.
Novavax enthusiasts have been burned before on this RSV F vaccination. A trial of the vaccination in older adults failed spectacularly in September of 2016, causing the stock to crater.
Novavax never gave up on the RSV F vaccine. Its trial of the vaccine for infants via maternal vaccination has been ongoing since 2015. At the JPMorgan healthcare conference early this year, Novavax issued a slide claiming that its infants via maternal vaccination RSV F trial was "derisked".
The de-risking which Novavax claimed for its RSV F vaccination involved a minimum of information and a maximum of positive innuendo. An examination of slides 9 and 10 from the 2018 JPMorgan healthcare conference tells just how elastic the concept of de-risking can be.
Slide 10 is very comforting; it provides: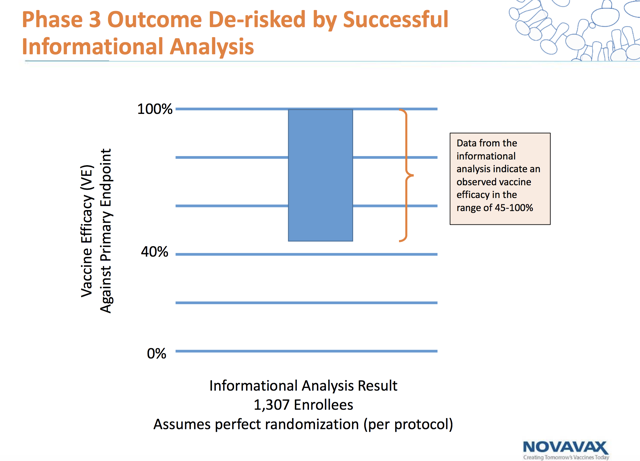 However, when we go to slide 9, which supplies the basis for the characterization that the vaccine is derisked, we come face to face with disturbing questions. Slide 9 describes the so-called "informational analysis" as follows:

Can this be true? When does a yes/no answer constitute analysis, particularly when we do not know the exact question? I can't convince myself that this information truly enhances the likelihood of a successful outcome for this trial.
Rather, I am more convinced by the position advanced by Seeking Alpha contributor Stone Fox Capital in "Novavax: Is This Time Different?", in which he recounts how this trial is now extended so that actual interim data must await 2018-19. I will not consider this vaccine as truly derisked until actual data is released rather than some individual Data Safety Monitoring Board statistician's (who may or may not have been acting in an official capacity at the time) answer to a binary question.
Novavax cash prospects separate bulls from bears
Both bulls and bears can agree that Novavax burns cash at an exhausting pace. According to page 33 of its Q3, 2017 10-Q, it utilized over $100 million for operating activities during the first 9 months of 2017. Novavax reported cash, cash equivalents and securities of $172 million after Q3, 2017. If we extrapolate that to an annual cash burn of ~$133 million, then Novavax will need to replenish its cash reserves at some point in the next few quarters.
Where bulls and bears part company is on the impact of this grand appetite for cash. Bulls see Novavax's ongoing cash needs as manageable. Reyan is a prolific and engaging contributor to Seeking Alpha postings addressing Novavax. I will quote one of his recent comments below. This comment to Seeking Alpha 2/28/18 Novavax news feed provides an excellent example of a bullish thesis on Novavax's cash needs at the current moment:
One grant from BARDA or second round fund from BMGF will prove the Company doesn't need Dilutions to get new monies in. Remember with the new positive RSV informative review done by DSMB announced last month, the Company won't sit on those news doing nothing. Show their positive results in top medicine journal and to BARDA and FDA, fund will come in.
Now, bears have an entirely different point of view. Bears see Novavax's voracious appetite for cash as a fatal flaw. They see it as creating recurring incursions on their percentage ownership in the company. The more secondaries that Novavax entertains, the larger its share count grows, and as a necessary corollary, their percentage interest shrinks.
Novavax's future catalysts are dubious
What catalysts can Novavax point to in the near term to punch up its share price so that any future share issuances create maximum traction? I had high hope that February's full NanoFlu data package would unleash a share price tsunami. And so it did for a few wonderful hours.
The very same comment stream, which included Reyan's comment excerpted above, has another particularly useful comment from Upside Research. Upside Research's comment reveals an enviable understanding of a bullish thesis for Novavax. In his comment, he sets out the following list of near-term catalysts:
* publication of the data in a respected journal in Q2
* discussion of the results on a conference call, plus discussion of the upcoming phase 2 trial in Q2
* initiation of the phase 3 in Q2
* quite possibly announcement in Q2 or Q3 of the flu vaccine getting accelerated status from the FDA
* decent likelihood of funding for the flu vaccine from BARDA and or from a partnership with a major pharma player
* stock gains in Q4 in the weeks before the RSV phase 3 trial results are released.
Each and every one of these potential catalysts could give Novavax the boost that it so sorely needs. Yet none of the ones that are likely to have such a positive effect are certain, or even particularly likely, to occur before another round of funding becomes necessary. Such funding would place the shares under more pressure. How much pressure one envisions marks the boundary between bulls and bears.
I have gone from being long leaps in Novavax to a measured long position in its shares, some of which are subject to covered calls. Accordingly, I am extremely hopeful that Novavax can indeed right its listing self... hopeful, not confident.
Conclusion
My heart and my portfolio favor the bull ending where Novavax lives happily ever after. My vision is that it might surmount its challenges which seem to conspire to impede FDA approval of landmark vaccinations.
I am nonetheless dejected by today's (3/1/18, as I was writing this article) experience. My head tells me that Novavax's management is quite comfortable with the status quo. From a shareholder perspective, this is worrisome. For us, it seems as if there is always "a hole in the bucket, dear Liza, dear Liza, a hole in the bucket Liza my dear".
This article was written by
Writing under the pseudonym "out of ignorance", I very much regard investing as a learning process. Investing failures are tuition paid. Investing successes enter the trove of lessons learned. In my Seeking Alpha articles I share my experience from decades of investing and from ~5 years of focused research on a variety of stocks, in recent years with a primary emphasis on healthcare stocks. I greatly appreciate those who take the time to share their reactions to articles, particularly those who share relevant anecdotes and experiences.
Analyst's Disclosure: I am/we are long NVAX. I wrote this article myself, and it expresses my own opinions. I am not receiving compensation for it (other than from Seeking Alpha). I have no business relationship with any company whose stock is mentioned in this article.

I may buy or sell shares in Novavax over the next 72 hours.
Seeking Alpha's Disclosure: Past performance is no guarantee of future results. No recommendation or advice is being given as to whether any investment is suitable for a particular investor. Any views or opinions expressed above may not reflect those of Seeking Alpha as a whole. Seeking Alpha is not a licensed securities dealer, broker or US investment adviser or investment bank. Our analysts are third party authors that include both professional investors and individual investors who may not be licensed or certified by any institute or regulatory body.