No matter how positive you are on any company or stock, it's always wise to look at potential risks to the downside. Today, I want to explore this angle for Apple (NASDAQ:AAPL), a name I've been very positive on over the years. While I still think that upside remains moving forward, there is one risk for 2018 that does worry me. I'm talking about device upgrades.
If we go back to the fiscal Q1 earnings report, Apple reported unit sales in all three main product lines that fell short of expectations. Again, we can throw out year over year growth rates seen as headlines because of the extra week in the prior year period. Despite the unit sales misses, the company was able to still beat overall revenue expectations thanks to much higher than expected average selling prices, primarily on the iPhone. The iPad also saw a nice ASP gain over the prior year period.
Everyone knows that Apple charges premium prices for its products. With those prices, however, comes an expectation of high quality. When you are paying $800 or more for a phone, you expect it to last, usually more so than one that only costs a fraction of that price. One Apple analyst recently published the following estimate of an Apple device lifespan, with the figure rising over the past couple of years.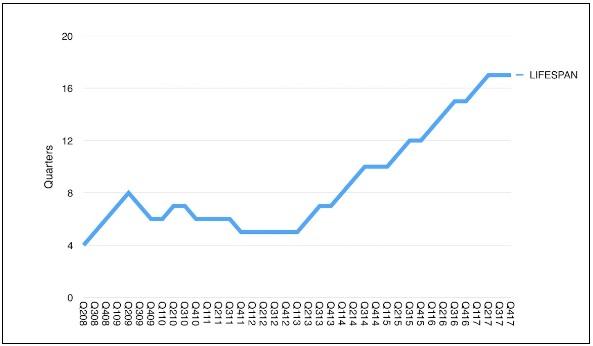 (Source: Horace Deidu via MacRumors article)
I bring up increasing lifespan estimates because Apple's thought process has somewhat changed in recent times. We don't necessarily see every product refreshed after just one year anymore. Small screen devices such as the iPhone SE and iPad mini are now considered quite outdated, and I'm curious to see if we finally get refreshes this year outside of the minor upgrades to storage space we saw in 2017. At the end of this month, customers who bought the iPhone SE when it first came out will be off their 2-year contracts, so what will they do if Apple doesn't launch a new small screen device?
Driving consumers to upgrade faces another hurdle this year, and that's due to the battery issue Apple has detailed for some older generation iPhones. Last week, a Barclays analyst noted that average wait times for a new battery have jumped to a minimum of 2.7 weeks from 2.3 weeks earlier in the year, with a lot of customers complaining about the long wait. This analyst believes that the $29 replacement could cost the company millions of unit sales this year as consumers get a new battery instead of a new phone. Apple CEO Tim Cook says that lost sales weren't even a consideration when they instituted the battery replacement offer, as detailed on the latest conference call:
On the battery, Toni, we did not consider in any way, shape, or form, what it would do to upgrade rates. We did it because we thought it was the right thing to do for our customers. And sitting here today, I don't know what effect it will have. And again, it's not -- was not in our thought process of deciding to do what we've done.
Are we starting to see some impact of consumer pushback when it comes to iPhone sales? Late last week, an analyst at JP Morgan reduced the firm's iPhone X sales estimate, partially offset by increased sales of lower priced phones. Full year sales are now expected to rise by just 2% to 3% versus the previous forecast for 9% growth. Even when taking into account better than expected selling prices, its hard for iPhone revenues to impress when you take down your unit sales number by more than 10 million for the year. On Monday, another Apple analyst lowered his fiscal 2018 unit sales estimate by 3.7 million units, citing a lack of upgrades in the near-term.
Does Apple have an upgrade problem? That's the question I'm asking today, and I look forward to your comments below. Over the next couple of months, I'll be closely watching to see if Apple introduces new versions of its smaller screen devices, otherwise growth estimates may need to come down a little. Fortunately, investors may be a little forgiving at the next earnings report, given Apple is expected to announce an increase to its already massive capital return plan. However, dividends and buybacks won't satisfy everyone for long if too many consumers decide to go with battery replacements instead of buying new iPhones.