5 Reasons To Sell Tesla Now
Summary
Tesla increased revenue by 68% during 2017, but every other operating metric suffered.
Tesla has chosen to fund development with debt, which has left them over-leveraged and with a poor credit rating.
Wall Street analysts expect 5% downside potential in Tesla's stock price.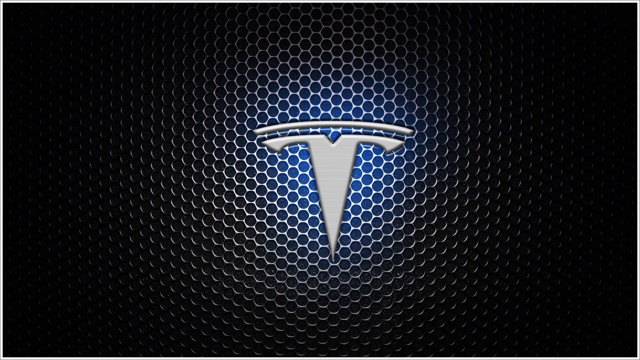 What's most concerning to me about Tesla (NASDAQ:TSLA) is its 4.66x price/sales multiple. Most other domestic automotive stocks have a price/sales ratio below 0.5x. I will continue to assert that as long as Tesla's business is reliant on car sales, it should be valued as an automotive stock, not a technology stock. All of the issues that Tesla currently faces (i.e. low margins, production issues, capital allocation, etc.) continue to reaffirm this belief. This high valuation is indicative of expectations that are unrealistic and I believe that presents a tremendous amount of risk. Given where the stock currently trades, I believe now is an excellent time to sell and an opportunity to find value elsewhere. As I'll discuss below, Tesla's performance, financing strategy, and shrinking technology gap are all additional concerns.
1. Tesla's Valuation
Tesla kind of reminds me of Amazon (AMZN) where its valuation is just in the realm of fantastical nonsense. I've heard a lot of the possibilities. Sure there's a chance Tesla takes over the car world and brings solar power and battery banks to the mainstream. The idea of selling a car + solar + battery package is quite appealing. However, this is a long way off and I don't like to make investments on where a company might be in say 10 years. For every Tesla bull that points out some of these possibilities, there are just as many real life issues that plague Tesla today. For example, as I'll soon talk about, Tesla's financing strategy could be an issue and might even doom the company if there were a perfect storm of events (i.e. recession + credit downgrade). Tesla also has yet to show they will ever be able to produce a large amount of cars and continues to be plagued by production issues.
Since Tesla isn't profitable yet, using price/sales is probably the best valuation metric to use for comparison. When comparing Tesla to other car companies, there's just nothing that can make quantifiable sense. Ford's (F) price/sales is 0.26x and Tesla's is 4.66x. Tesla certainly has upside if the solar and battery businesses take off, but a difference that great has never made much sense to me. Also, consider that Tesla's current gross margins are not great either. Tesla still has the benefit of trading like a startup or tech company, but still has the margins of a car company. I believe that sets the stock up for a crash once a more realistic reality comes into focus.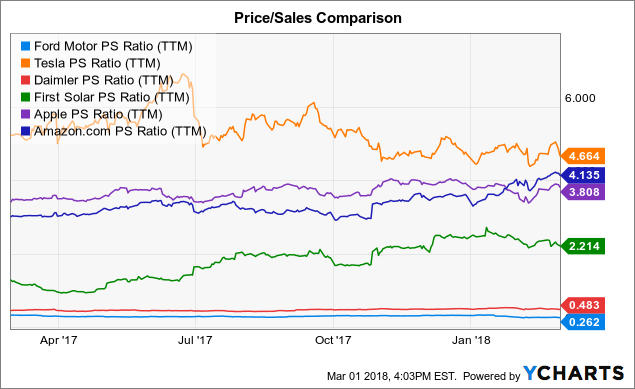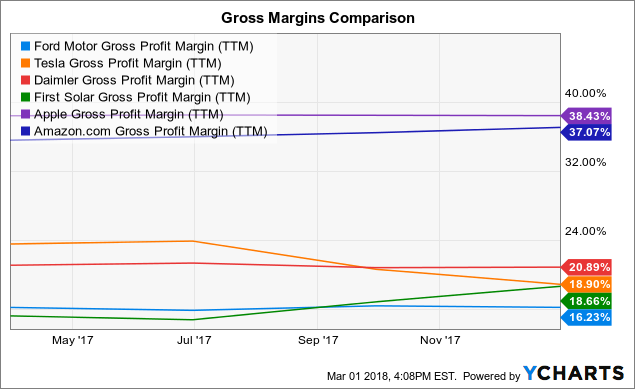 2. Tesla's Performance
Tesla's revenue growth has been solid the last couple of years, but all other financial metrics don't look that great. Gross margins, net income, profit margins, and free cash flow were all worse in 2017 year-over-year. Tesla also has consistently missed car production targets.


3. Tesla's Financing Strategy
One thing I fundamentally disagree with is how Tesla is going about financing its development costs and capital investments. Tesla has increasingly turned to the debt markets. This poses a number of real risks:
Interest rates are now increasing, which will increase Tesla's cost basis.
Tesla is a long way from producing positive free cash flow. Proceeds from new debt offerings are actually used to help pay for financing costs, which I hate to see. I don't think debt should be used so willingly unless it can be supported by a company's operations.
Tesla's credit rating already isn't that great and is at risk for a downgrade in the future.

Keep in mind that Tesla has had an absolutely golden opportunity to raise capital in the secondary markets the last few years. Sure it would be dilutive to Elon Musk and existing shareholders, but if you believe the stock is overvalued, this is a great way to raise inexpensive capital. Not doing this could easily look like a mistake if a recession hits sooner rather than later. Tesla's stock also has had a considerable amount of volatility historically.
4. A Vanishing Technology Lead
Tesla once had a considerable moat in terms of electric car technology, but other car companies are closing in. Here's a list of the cars with the longest all-electric ranges:
Tesla Model S = 218 - 315 miles
Tesla Model X = 237 - 295 miles
Tesla Model 3 = 220 - 310 miles
Chevrolet Bolt = 238 miles
Nissan Leaf = up to 150 miles
Volkswagen e-Golf = 125 miles
What's really intriguing here is Chevrolet's (GM) Bolt, which has a price tag of $37,500 and gets you 238 miles of range. Tesla's Model 3 starts at $35,000, but the slightly less price tag also gets less range (220 miles), so I basically consider the pricing as pretty comparable. So this really begs the question, does Tesla still have much of a technology lead if Chevrolet can basically produce a car with similar performance at the same price? It would appear not that much.
Tesla bulls are going to be quick to point out that the Gigafactory is going to reduce costs and give them a superior edge. I agree with the reduction in costs, but any car company (or any company for that matter) can do the same thing. The majority of big car companies are pouring significant capital into electric car development (a lot more than Tesla can), so I would not be surprised to see any technological advantage Tesla has today continue vanishing over the next five years.
5. Goldman Sachs' Values Tesla as an Automotive Company
According to MarketWatch, the consensus Wall Street price target on Tesla is $316.64. This target price indicates about 5.5% downside potential, but analyst's expectations are mixed. Goldman Sachs is a good example of a firm that's skeptical of the valuation and currently has a price target of $205. David Tamberrino points out something very interesting to me. The $205 price target assumes the automotive valuation is $171.00/share, Tesla Energy (i.e. batteries) is worth about $30.00/share, and SolarCity at about $4.00/share. A big reason I'm so negative on Tesla is that it's still an automotive company, which is what David's valuation breakdown indicates as well. Elon Musk always wants to reaffirm that Tesla is more than a car company, but the bottom line is that today and in the near future Tesla is still just a car stock. Once you boil it down to that, some of the valuation metrics just don't make sense and a price correction looks like a real possibility.
Conclusion
Investing in Tesla carries tremendous uncertainty. The market has what I think are unrealistic expectations for the stock. Anything could send it tumbling such as a slowdown in growth, more production problems, or downgrade in credit quality. As I've mentioned, I'm concerned with the massive premium Tesla trades at relative to other automotive stocks. Tesla's valuation is correlated with tech stocks or startups. This is even though Tesla shares all of the negative qualities (hint, hint) of auto stocks like low gross margins, macroeconomic risk, and production risk. Given Tesla's stock performance over the last five years and such a high-risk profile, I believe now is a good time to sell and recognize profits.
This article was written by
I'm an avid investor, managing my own portfolio. Im also a previous Series 7 License holder and currently studying for the CFA Level II exam. Previous financial experience includes 5 years at Square 1 Bank, a commercial bank specializing in venture lending to entrepreneurs and venture capitalists: - Assistant Vice President – Life Sciences & Technology Banking - Life Sciences Client Manager - Senior Portfolio Analyst - Portfolio Analyst
Analyst's Disclosure: I/we have no positions in any stocks mentioned, and no plans to initiate any positions within the next 72 hours. I wrote this article myself, and it expresses my own opinions. I am not receiving compensation for it (other than from Seeking Alpha). I have no business relationship with any company whose stock is mentioned in this article.
Seeking Alpha's Disclosure: Past performance is no guarantee of future results. No recommendation or advice is being given as to whether any investment is suitable for a particular investor. Any views or opinions expressed above may not reflect those of Seeking Alpha as a whole. Seeking Alpha is not a licensed securities dealer, broker or US investment adviser or investment bank. Our analysts are third party authors that include both professional investors and individual investors who may not be licensed or certified by any institute or regulatory body.