Amgen And Arrowhead Potential Announcement Coming Soon
Summary
Slide from latest AsiaTIDES conference gives information not yet available on Arrowhead's website.
Milestone payment might substantially shore up Arrowhead's cash cushion.
Arrowhead's fate is now tied to Amgen collaboration deals as much as its own pipeline.
Arrowhead Pharmaceutical's (NASDAQ:ARWR) latest presentation at the AsiaTIDES conference from February 27 to March 1, 2018 revealed information currently not yet updated on the company's official webpage. One slide in particular might foretell an incoming milestone payment from Amgen Inc. (AMGN) that could be a great potential positive catalyst for the stock price in the near term. A cash infusion, along with a share offering earlier in January, should help to solidify the company's pipeline development well into 2019 as at this point, the company is as reliant on Amgen's collaborative progressions as its own.
Here's a slide from Arrowhead's J.P. Morgan healthcare conference presentation in early January 2018, and what is currently presented on the company's webpage.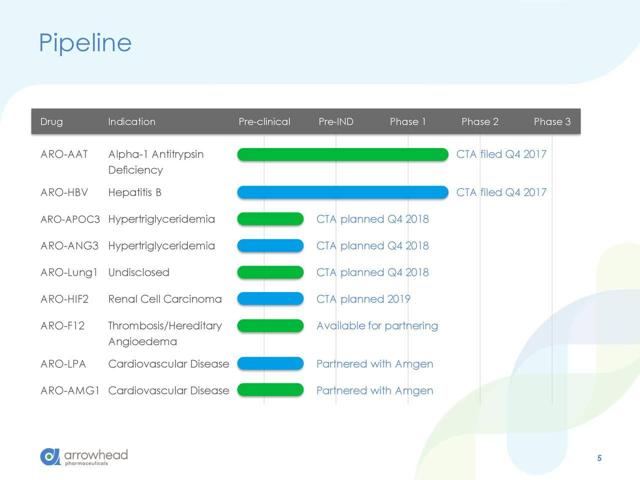 Slide from J.P. Morgan Presentation and Currently on Webpage
Just recently, Arrowhead had another presentation (AsiaTIDES pdf file) at the AsiaTIDES conference in Japan which included a new pipeline slide that is very interesting compared to one just presented at the beginning of the year and what's now officially on the company's webpage. Slide 20 originally had the words "CONFIDENTIAL" printed at the bottom last Friday night, which was the only slide among the presentation marked in that way. What's interesting is that Arrowhead removed the pdf file last Friday night, and has put the file up again by the end of the weekend with the words "CONFIDENTIAL" removed from the bottom of the slide. Here's what the new slide shows from their pdf file, which is causing me to get sweaty palms.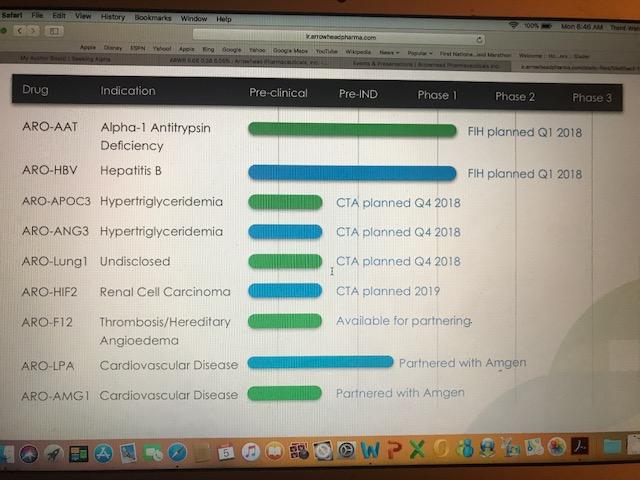 Slide From AsiaTIDES Presentation
First, ARO-AAT and ARO-HBV have changed from CTA filed Q4 2017 to FIH planned Q1 2018. These developments in themselves are great catalysts for the company moving from its clinical trial applications to its first in humans trials this quarter for each of these pipeline candidates. The ARO-AAT progression got announced on February 22nd while the ARO-HBV progression got announced on February 15th, though these advancements are not yet reflected on the company's official pipeline on its website yet.
Second, the ARO-LPA candidate partnered with Amgen got progressed from in-between the Pre-Clinical and Pre-IND categories to between the Pre-IND and Phase 1 categories. This is what I believe was the reason for the "CONFIDENTIAL" label at the bottom of the original AsiaTIDES slide, because I do not believe this was public information before the Japan presentation, and there have not been any announcements of the advancement or milestone payments for this progression at the time of this writing. However, Amgen did recently have a presentation where they merely mentioned AMG 890 (their assumed name for ARO-LPA) resulting in Arrowhead shares moving up about 26% just from a general acknowledgement of the candidate and nothing else.
Now, why is this important? First, back in 2016, Arrowhead and Amgen formed an exclusive collaboration agreement for the development of Arrowhead's ARO-LPA and its ARO-AMG1 candidates which Amgen has not officially renamed and taken ownership of yet on its official website. However, according to research I did in my last article on Arrowhead, a corporate slide appeared in 2016 with Amgen renaming ARO-LPA into AMG 890. I think that is the only time Amgen has mentioned the candidate before its most recent re-appearance on a recent Amgen presentation slide.
Amgen's collaboration agreement with Arrowhead included Amgen giving Arrowhead $56.5 million in upfront cash and stock payments with an additional $617 million from Amgen available in the form of future payments tied to development, regulatory, and sales milestones. With the aforementioned presentation slide from Amgen's latest presentation, along with Arrowhead's recent pipeline progression of the drug in its latest presentation also, it appears very possible that an Amgen milestone payment might soon be announced for Arrowhead, along with Amgen officially taking possession of the candidate, by renaming it for its own pipeline on its official webpage.
According to Arrowhead's latest earnings report, it ended 2017 with $50.7 million in cash and short-term securities before undertaking a $40 million equity offering in early January giving the company a balance sheet of approximately a little over $100 million in liquidity after the offering was upsized. With the company having cash outflows of $14.7 million over the last quarter, its cash position gives it about 6 quarters of cash left, or to get into the beginning of 2019 before things start getting dicey again.
However, a key potential upcoming milestone payment from Amgen could give Arrowhead the cash cushion it needs to work on progressing its current pipeline through almost all of 2019. With years to go before it might see a commercial product, these potential cash milestone payments mean quite a lot to Arrowhead.
Arrowhead has done a marvelous job working its way up the lows of a year ago with much more work ahead of it.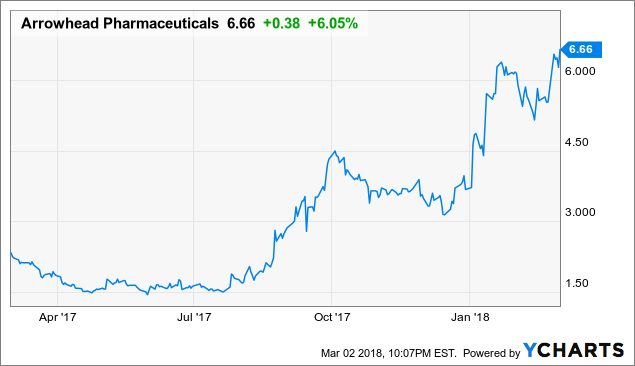 The announcement of Amgen's progression of Arrowhead's ARO-LPA candidate, along with a potential milestone payment, seems like a very possible near-term announcement based on Arrowhead's latest progression of the drug on a very recent pipeline presentation along with Amgen again using its name for the candidate in one of their recent presentations. The company has done wonderfully over the past 12 months with a potential very important step in the company's future possibly soon coming. I continue to hold all of my shares I have held over the past year and have bought some more in preparation for this upcoming possible announcement, but might consider selling some if the announcement comes and the market decides it loves the idea. If the market can move Arrowhead stock 25% by Amgen merely mentioning its candidate one general time on its presentation slide, it will be interesting to see what the market would think about an official advancement announcement with a corresponding milestone payment. The main risk is that the announcement never comes, that the candidate is merely still just mildly interesting to Amgen and Arrowhead's latest progression is wishful thinking or what it expects at a future date. No matter what, I find the story very intriguing. Best of luck.
This article was written by
B.S. Psychology University of Missouri-Columbia MBA University of Missouri-Columbia Full time investor looking to capitalize on market overreactions and looking for value where others see nothing but wreckage. Long term buys and short term trades to build wealth.Investing Better Than A Money Manager: The Rise Of Retail Investing - By Trent WelshI have an investing book with the title above on Amazon written for beginning retail investors looking to set up a self-directed portfolio with their IRA's, 401k's, or other retirement or trading accounts. It details how to pick and choose stocks amidst the different sectors and how to figure out how much in each sector an investor should have to help achieve diversification.Please take a look at it and let me know your thoughts. Thanks and Best of luck to all :).
Analyst's Disclosure: I am/we are long ARWR. I wrote this article myself, and it expresses my own opinions. I am not receiving compensation for it (other than from Seeking Alpha). I have no business relationship with any company whose stock is mentioned in this article.
Seeking Alpha's Disclosure: Past performance is no guarantee of future results. No recommendation or advice is being given as to whether any investment is suitable for a particular investor. Any views or opinions expressed above may not reflect those of Seeking Alpha as a whole. Seeking Alpha is not a licensed securities dealer, broker or US investment adviser or investment bank. Our analysts are third party authors that include both professional investors and individual investors who may not be licensed or certified by any institute or regulatory body.