Apellis Pharmaceuticals: Benefit/Risk Ratio Worsens
Summary
One year of treatment with APL-2 has NO impact on best corrected visual acuity (BCVA).
Treated patients continue to convert to wet AMD even after stopping therapy.
Treatment thus far demonstrates no clinical benefit but certainly gives plenty of adverse events.
Apellis Pharmaceuticals (NASDAQ:APLS) presented "updated" data from their FILLY trial at the 2018 Macula Society in late February (slides). Here, they showed some additional tidbits that could be of interest, but as I reviewed the presentation, for the first time, they revealed the actual best corrected visual acuity (BCVA) for patients in their trial. If you recall, the primary endpoint of the FILLY trial is LS mean change from baseline in square root GA (geographic atrophy). This is a long way of saying the change in size of the lesion. The company is using the area of atrophy as a surrogate for visual acuity. As I have written before, the reason that the FDA allows this surrogate is that it is believed that the size of the lesion would reasonably predict changes in visual acuity. However, since no one has been able to really change or reverse the lesions, we actually don't know how good of a surrogate it would be nor the magnitude of the change that is required to show a measurable difference. For the first time, we actually have data that shows some data on this - and it isn't good.
FILLY Trial Design
Briefly, the trial compared, on a 1:1:1 basis, sham, every other month (EOM), and monthly injections of APL-2 for one year. After one year, treatment was stopped and patients were followed for another six months. I think the purpose of this observation period was for safety and to see what happened to lesions after stopping treatment. The most obvious predicted outcome is that the lesions resume their pretreatment growth rate. This seems to be what happened. This data isn't all that interesting, but the safety data and BCVA data were shown for the first time.

BCVA impact of treatment
For the first time, the company actually shows the impact of the treatment on best corrected visual acuity (BCVA). What we see is that over the 18 months, visual acuity of the patients did actually decline, and in fact, over 12 and 18 months, the sham treated patients lost 4.4 and 6.4 letters. In contrast, the monthly and EOM treated patients lost 3.3/7.7 and 5.8/8.8 letters at the 12/18 month time points. There are around 80-85 patients per arm, which makes the study very good sized. I think it readily apparent to anyone looking at the BCVA that, at best, there's no difference in visual acuity after one year of treatment. After stopping therapy, there doesn't seem to be any residual benefit, with the groups showing similar declines in vision, but interestingly, with the sham group doing numerically better (hypothesis for this later). I show both the overall graph from the presentation (slide 13) as well as show the data in table.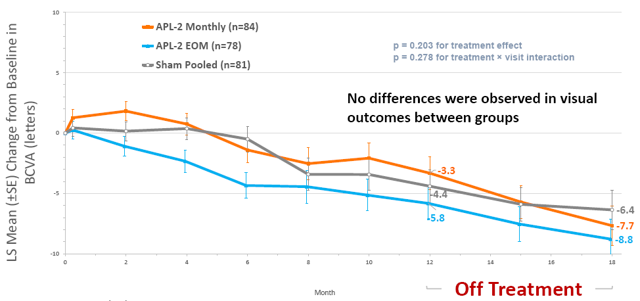 Letters lost/month
12m
18m
12m
18m
Sham
-4.4
-6.4
-0.4
-0.4
EOM
-5.8
-8.8
-0.5
-0.5
Monthly
-3.3
-7.7
-0.3
-0.4
Based on this, I feel I can confidently state that there's no difference in visual acuity after one year of APL-2 treatment. No matter how big the company makes the phase III trial, they will at best prove this to be the case.
The question might be asked, what if you continued to treat with APL-2, would we start seeing visual acuity actually separate from the APL-2 from sham? We actually don't know this from this data, since treatment was stopped. However, as I discuss below, I think this is highly unlikely, and in fact, I would bet at year 2, the treated groups would have worse visual acuity than sham.
Safety and Wet Conversion Rate
The biggest risk that I flagged previously on this treatment was the conversion of dry AMD to wet. Wet AMD is an aggressive vision robbing condition which can be treated with anti-VEGF therapy. I think it is very naive to think that patients who started with one eye disease and then go to two have the exact same vision as patients who only have one disease. There are several important questions that needed to be answered in the patients after stopping at one year of treatment with APL-2. First, it was of interest to see if these wet conversions continued after stopping treatment. We, of course, wouldn't know what would happen if you continued. However, logically, you would have to assume that conversions you saw after stopping treatment also would have occurred if treatment continued, at a minimum. In fact, you would think it would be higher if you kept APL-2 going. I think it is unarguable that treatment with APL-2 causes dry to wet AMD conversion - since you have 1% conversion in sham but 21% in the monthly arm. FILLY show that these conversions continue even after you STOP treatment. In the monthly arm, four more patients converted after stopping APL-2 therapy. I can only imagine if they continued to get treatment what the real rate would be.
In addition, we see the normal and expected complications of intravitreal injections, which are cases of endophthalmitis and retinal detachment of 2% and 1% annual rate. These complications are directly related to the number of injections. The more injections you do, the more injection complications will occur, and these will impact vision.
The second important question the company must answer is whether the patients who converted to wet AMD had worse vision than patients who did not. I believe that they would, but we need to see the data. I believe, even on treatment, patients with wet AMD do lose vision over time. In addition, this wet AMD is drug induced, so it would be of interest to the natural course of drug induced wet AMD compared to spontaneous wet AMD. It may be the same, worse, or more benign.
To summarize, continued treatment with APL-2 resulted in a significant increase of dry to wet AMD conversions, which continued even after stopping treatment. We also saw the expected complications of intravitreal injections.
Benefit/Risk
The fun part is to think about the benefit risk for this treatment in this indication. First, when looking at best corrected visual acuity (BCVA), we see there's no difference when on treatment or going off treatment, full stop. Maybe BCVA would separate with longer treatment, but there sure isn't a hint of that at 12 months. In fact, I will argue that with longer treatment, the treated group will do worse - due to the significantly increased rate of vision threatening complications - with retinal detachments, endopthalamitis, and wet AMD conversions.
The company needs to show the BCVA in treated patients who did not convert and compare that to treated patients who did convert. The company is making a big statement by saying that despite the conversion to the more aggressive wet AMD, catching it early led to no change in visual acuity. This could indeed be true, since we do know that treatment of wet AMD is effective, but it isn't 100%. So I think there are two scenarios – neither which are favorable to APLS.
Scenario 1 (Patients that convert to wet AMD = Patients that do not)
This would be a surprising scenario to me, since, intuitively, one would think that an eye with 2 diseases would do worse over time than an eye which only has one. However, for the sake of argument, let's say this is true – which is the wet AMD is so effectively treated that there it has no effect. However, this means that the APL-2 treatment has absolutely NO EFFECT on vision even after a year of treatment. The modest impact on the change in growth rate is now shown to be clinically irrelevant in this scenario. Obviously, the conclusion is that one should not use APL-2 since it has no impact on BCVA or is so modest that you can't even detect a difference after a full year of treatment.
Scenario 2 (patients who convert to wet AMD have worse BCVA than patients who do not).
I think this is a more likely scenario, which is that patients who convert to wet AMD have a worse BCVA than the patients who do not. In this case, if the patients who convert do worse in BCVA, it does necessarily mean that the patients who do not convert actually have better vision. However, in aggregate, the converters who do worse are balanced by the non-converters who actually do better. In this scenario, it becomes very important to understand the long-term outcome of the wet converters as well as appreciate what percentage of patients would convert with longer term treatment. This already is very ominous, since even after stopping treatment, the monthly group had four additional conversions. To appreciate the magnitude of this conversion effect, note that in 81 sham patients, there was only one wet conversion over 18 months. In contrast, the monthly group (N=86) had 18 conversions. The group which got only six injections (N=79), there were seven conversions. This is a striking dose response. Also consider the number of eye infections and retinal detachments, consequences of eye injections. If you convert, you not only are getting APL-2 injections, but anti-VEGF injections as well. We see about 2% annual incidence of sight threatening eye infections as well as 1% annual incidence of retinal detachment. Patients who get two monthly injections have twice the risk of these adverse events than patients who only get one. So as more patients convert, they get so many injections that the risk of these vision impacting adverse injections increase as well.
Conclusion by Eyeballing the Results
I think simply looking at the BCVA treatment graph tells you the clinical utility of APL-2 treatment for dry AMD – it isn't much. It is clear that the treatment has NO impact on visual acuity after one year of treatment. Note how the company tries to stress that the growth of the dry AMD area slowed down dramatically in months 6-12 as compared to 0-6 (slides 9-11). However, if you look at the rate of vision loss on the chart with BCVA, you see there's no obvious translation of this "change" in atrophy rate. If you look at the monthly rate of vision loss for BCVA (simply divide the vision loss by number of months of observation), you see no discernable impact of the treatment on monthly BCVA vision loss in months 0-6 vs 7-12 in either treatment arm.
Change in BCVA
Rate of change of BCVA (letters/m)
6m
12m
18m
0-6m
7-12m
13-18m
Sham
-0.5
-4.4
-6.4
-0.08
-0.37
-0.36
EOM
-2.5
-5.8
-8.8
-0.42
-0.48
-0.49
Monthly
-1.8
-3.3
-7.7
-0.29
-0.28
-0.43
APL-2 impact on GA growth months 7-12
-46.6%
In fact, you can make an argument that the patients who were treated every month or every other month for 12 months had worse vision than sham at month 18 (not a good thing). I could explain this by the 21% of patients who now have wet AMD are now at a more rapid downward trajectory compared to patients who did not. The placebo arm patients are only burdened by one patient converting, while the treated arms have up to 21% conversion - this would be a massive headwind to reverse.
Either way, based on this data, I would think the company would have a hard time enrolling for this trial, since at the end of one year, what do you think you would tell the patient? Basically, don't expect any difference in visual acuity compared to sham, and you get a bonus of a 20% chance of getting wet AMD with the risk of wet conversion continuing even if you choose to drop out and stop treatment, 2% chance of endopthalmitis, and 1% chance of a retinal detachment on an annual basis. You may have a chance of slowing the growth of the atrophy, but you can't detect a benefit in visual acuity.
Sell side analysts are still pumping the name, but I would challenge any of them to highlight what the benefit to vision is and weigh that vs. the adverse events. Think about what the patients in the FILLY trial got. Patients in the monthly treatment arm walked away with no improvement in vision compared to sham (numerically worse), and as a bonus, 21% of them got the gift of wet AMD, 2% endopthalmitis, and 1% retinal detachment. I think until APLS demonstrates a tangible benefit to vision, this thing is likely to never get approved. If by miracle that the FDA approves this, why would anyone want to get something like this?
Based on my analysis, I think the dry AMD program is negative value, since the company is planning on spending money for 2 phase III trials. The PNH program may be worth something, but comparable companies are probably valued at 100M or less. Thus, I think APLS is worth $2-$3 for the PNH program only, so 90% downside. The company won't even have enough money to finish the phase III trials, so perhaps the company is worth zero. The lock up expires this spring, so I think the hedge funds will start getting involved when the liquidity improves.
This article was written by
Investor with a healthcare interest
Analyst's Disclosure: I/we have no positions in any stocks mentioned, and no plans to initiate any positions within the next 72 hours. I wrote this article myself, and it expresses my own opinions. I am not receiving compensation for it (other than from Seeking Alpha). I have no business relationship with any company whose stock is mentioned in this article.
Seeking Alpha's Disclosure: Past performance is no guarantee of future results. No recommendation or advice is being given as to whether any investment is suitable for a particular investor. Any views or opinions expressed above may not reflect those of Seeking Alpha as a whole. Seeking Alpha is not a licensed securities dealer, broker or US investment adviser or investment bank. Our analysts are third party authors that include both professional investors and individual investors who may not be licensed or certified by any institute or regulatory body.