Applied Materials' Display Segment Should Grow 10% In FY 2018
Summary
Applied Materials' CEO said in the company's recent earnings call that its display segment would grow 30% in FY 2018.
To meet that growth, Applied Materials' revenues must average $677 in each of the next three quarters, a feat it only accomplished once in the last nine quarters.
Applied Materials is counting on revenue growth from 10.5G LCD plants and from its operations in LTPS backplanes and OLED encapsulation, primarily for the smartphone sector.
Based on anticipated timelines of 10.5G plant equipment installs, there will be a shortfall of $365 million in equipment sales to meet its 30% growth.
The oversupply of OLED displays for smartphones will also present headwinds for the company to meet its needed revenue stream of $450 million per quarter to meet its 30% growth.
Background
Applied Materials' (NASDAQ:AMAT) Gary E. Dickerson reported in the company's Q1 2018 earnings call that:
"In Display, there are two equally large market inflections driving capital investments: the introduction of Gen 10.5 substrates for TV manufacturing and organic LED displays. In mobile, the transition to OLED displays is compelling. Display is a unique growth driver for Applied, and we expect to increase our revenue by more than 30% in 2018 on top of nearly 60% growth last year."
I want to analyze this segment of the company because if Dickerson is correct about 30% growth, because based on my analysis of the display market, that growth doesn't seem plausible. In addition, except for large revenue gains anticipated in equipping 10.5G display plants. the company is facing headwinds in oversupply of displays for smartphones and an erosion in market share by companies in both low-temperature polysilicon (LTPS) backplanes and flexible OLED encapsulation.
In fact, AMAT has been losing market share to competitors in its semiconductor segment as well. For example, I previously reported in a February 5, 2018 Seeking Alpha article entitled "Sizeable Changes In Semiconductor Equipment Market Share In 2017" that AMAT's semiconductor segment grew 30.5% in CY 2018, but unfortunately for the company, its main competitors Lam Research (LRCX), KLA-Tencor (KLAC), and Tokyo Electron (TEL) had greater growth. AMAT lost market share to these companies in specific sectors such as deposition, etch, and inspection/metrology.
In addition, I reported in a February 28, 2018 Seeking Alpha article entitled "Applied Materials Continues To Get Walloped In Its Core Ion Implant Business By Axcelis" that the company lost share in CY 2018 against significantly smaller Axcelis (ACLS) in the ion implant sector.
The Display Sector
AMAT's display segment had revenues of $1,900 million in FY 2017, up 56.7% from FY 2016 revenues of $1,206 million. Revenue growth from FY2015-2016 was 27.8%.
I've plotted revenues for FY 2016-2018 by quarter as shown in Chart 1 below. Q4 2017 stands out with QoQ growth of 65%. Had revenues been typical for Q4, say $455 million (which would be the same as Q1 2018 actual), growth for the year would have been just 39%.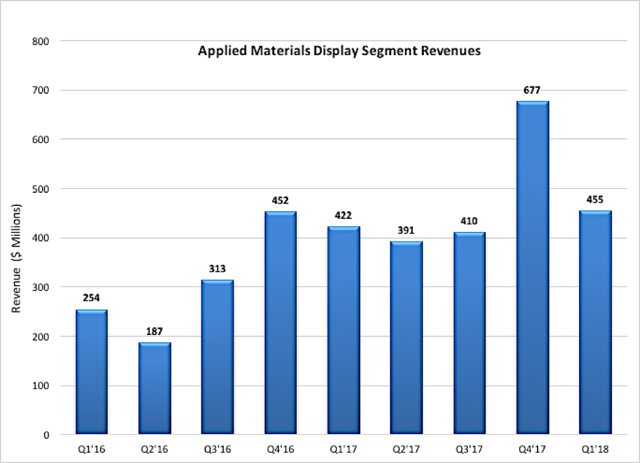 Chart 1
For AMAT to achieve revenue growth of 30% for FY 2018, according to Dickerson's disclosure, revenue for each of the next three quarters must average $677 million. Can this be achieved, or was it just rhetoric on the part of Dickerson? Let's look deeper.
As Dickerson said, AMAT's display revenues are based on two segments – OLEDs and 10.5G LCDs. I discussed these very issues in a November 29, 2017 Seeking Alpha article entitled "Applied Materials Is Weak Short Term For Semiconductors, But Strong For Displays."
I correctly noted in the article in the top bullet that:
"Strong display revenue growth by Applied Materials in FYQ4 is and will be bolstered by equipment sales for large 10.5G LCD panels."
So, in order for AMAT to achieve the 30% growth, it will need the same revenues of $677 million for the next three quarters. Is that possible?
10.5G
A driving force for 10.5G plant construction is that a 10.5G glass substrate is 1.8 times larger than an 8.5G one in area and can be cut into six 75-inch panels. In comparison, a 7.5G glass substrate can be cut into only two 75-inch TV panels. Thus, there is a significant cost benefit of moving to the larger substrates.
AMAT's deposition tools are used to form the backplane for LCD displays. The company's deposition tools are the only ones capable of uniform coating of panels this size, which measure 3370mm x 2940mm. AMAT's equipment can deposit amorphous silicon, LTPS (Low Temperature Polysilicon), and IGZO (Indium Gallium Zinc Oxide). AMAT issued a press release on November 16, 2017, that its PVD and CVD deposition tools were purchased by China's BOE Technology Group in the first 10.5G LCD plant.
There are a total of seven 10.5 fabs that are now under construction or planned, and the total capex (plant construction and equipment) could surpass $50 billion over the next few years.
But there is a big caveat. How many of these seven 10.5G fabs under construction or planned will be purchasing equipment from AMAT in the next three quarters? Chart 2 below from IHS shows planned equipment purchases for 10.5G equipment, install dates, and production ramp up.

Chart 2
For BOE, equipment was ordered in 1Q 2017 and installed in Q3 2017, so revenue would be recognized by AMAT in Q3 2017, which equates to its FY Q4 2017, since the company's FY and CY do not coincide. This revenue was part of the $677 million reported.
The next install would be for CSOT in Q2 2018, which would be AMAT's FY Q3 2018.
The next install after that would be LG Display in 3Q 2018, which would be AMAT's FY Q4, 2018.
Finally, the next install would be Foxconn-Sharp, in 4Q 2018, which would be AMAT's 1Q 2019.
My thesis, which I will detail below, is that the additional revenues generated by the BOE 10.5G plant, drove revenues up from the average of about $450 million per quarter shown in Chart 1 to $677 million, and that one 10.5G plant per quarter for the remainder of FY 2018 would be needed for the company to generate total quarterly revenues of $677 each quarter to meet the 30% growth for the FY.
On the face of it, since the Foxconn-Sharp plant would not produce revenues until FY 2019, either the CSOT or LG Display 10.5G plant would need to be twice the revenues for the BOC plant to meet the 30% growth. That doesn't appear to be the case. Chart 2 above reports fab capacity, which I've listed below as the number of sheets per month.
BOE – 120,000
CSOT – 90,000
Foxconn-Sharp – 90,000
LG display – 20,000
Revenue Assumptions
Let's assume, based on Chart 1 above, that AMAT generates $450 million per quarter on non-12.5G sales, since that appears to be the average over the past five quarters, and $275 million for the BOE 10.5G plant equipment install.
Since capacity for BOE is 120,000 panels per month, equipment to fit the plant would be $2,300 per 1,000 monthly panel capacity ($275 million divided by 120,000). Note that multiple tools are required to meet the throughput of a plant. Revenues generated per plant would be:
CSOT - $207 million
Foxconn-Sharp - $207 million
LG Display - $46 million
Total - $460 million
Needed - $825 million (3 equivalent BOE Plants @ $275 million each)
Shortfall - $365 million
As I stated above LG Display wouldn't be included in FY 2018. For the sake of being nice, let's assume the install would be pulled into FY 2018. That would give AMAT revenues of $460 million, a shortage of $365 million of the $825 million needed for 12.5G plants for the company to grow 30% in FY 2018 as Dickerson stated.
There's another potential problem in filling these 10.5G plants. CSOT, Foxconn-Sharp, and LG Display are at the mercy of other equipment suppliers to deliver equipment, particularly Nikon's lithography tools. According to DSCC:
"With BOE, CSOT, Foxconn/Sharp, HKC and LG Display all having announced or expected to build 10.5G fabs, there is a tremendous amount of 10.5G capacity expected to be installed from mid-2017 to mid-2021. As shown in the table below, it could amount to as much as 600K 10.5G substrate per month input capacity. This works out to demand for 76-84 10.5G litho or exposure tools. However, there is only 1 litho tool supplier, Nikon, selling 10.5G systems as Canon has so far opted not to produce their tools at 10.5G as they anticipated a small market after losing the Sharp 10G business years ago. Due to the multiple, large projection lenses used in the Nikon 10.5G system and the precise lens matching and uniformity requirements, Nikon is only able to produce one of these systems per month. Thus, Nikon will only be able to produce approximately 48 systems over this 4-year period, with priority going to the companies who already submitted POs to the company. BOE has reportedly issued POs for 13 units with CSOT booking 8 units through the end of 2018."
Thus, even though purchase orders are signed and install dates are set, these display manufacturers may push out install of AMAT deposition equipment until Nikon is able to deliver the critical lithographic tools needed to make the displays. So, instead of having a pull-in of install at LG Display, we may have pushouts into FY 2019 at the other 10.5G plants.
That means that AMAT would have to make up the $365 million shortfall in non-10.5G plants and for OLEDs. So instead of the average of $450 million per quarter, the company would need to make $572 million in each of the next three quarters in non-10.5G business. Let's take a look.
OLED and Smaller LCDs Backplanes
I noted in an August 23, 2017 Seeking Alpha article entitled "Coherent And Applied Materials To Benefit From Strong Growth Forecast For Display Equipment," that AMAT has no competition for the 10.5G panels but for smaller panels, Coherent (COHR), through lasers sales to AP Systems, has eroded AMAT's market share for 6G panels predominantly used to make smartphones. Coherent also uses its own lasers in its own annealing systems. SFA Engineering uses a non-laser thermal treatment for the conversion.
So, there are two issues impacting AMAT's needed display revenues to meet that 30% growth – (1) competition and (2) demand for non-10.5G panels. Let's look at each.
Backplanes
As a background, a display is made up of two parts: a frontplane, the layer that makes the image you see, and a backplane, an array of TFTs (thin film transistor) that control which pixels in the front plane turn on and off. The front plane is an LCD or OLED.
While AMAT has no competition at 10.5G, it does have competition at 6G at the TFT Backplane:
PECVD companies - AMAT, Jusung Engineering (Korea), and Wonik IPS (Korea)
PVD companies - AMAT, Avaco (Korea), Iruja (Korea), and Ulvac (Japan)
Laser Anneal companies – Coherent, AP Systems (Korea), Japan Steel Works (Japan)
Again, AMAT is losing traction in the LTPS backplane for displays for smartphones as COHR's (primarily through AP Systems) laser anneal technology offers a better alternative to AMAT's LTPS deposition process.
Laser anneal equipment converts a-Si TFT into LTPS TFT by applying high-energy laser to substrates. AP Systems is sole vendor for Samsung Display and its market presence in China panel maker is rising based on its long track record and experience of mass production at Samsung Display. The laser source of AP Systems' annealing tool is 100% Coherent. Another competitor is JSW (Japan Steel Works), which dominates LG Display's laser annealing equipment purchases. JSW has a long track record and experience working with Chinese panel makers. AP Systems is competing with JSW for Chinese panel makers by leveraging its track record with Samsung Display. In China, the market is expecting Hans Laser to be one of the key local laser equipment suppliers if Chinese players ramp up OLED capacity.
OLED Encapsulation
OLED encapsulation technology and competition is detailed in my May 24, 2016 Seeking Alpha article entitled "Applied Materials Stock Bounced On Display Orders - But Is It Sustainable?"
Competition to AMAT comes from Korean companies Jusung Engineering, Wonik IPS, and TES. All have ALD technologies and equipment for displays. ALD offers advantages over PECVD. ALD-deposited thin films offer better water and oxygen protection and a thinner film is needed to provide the same protection as thicker PECVD-coated films. The fact that ALD film is a slower coating process is balanced by the need for a thinner film.
The Display Market
The OLED market is currently in overcapacity. I discussed in a September 5, 2017 Seeking Alpha article entitled "A 100% Oversupply Of Smartphone OLED Displays By 2020 Is Looming - So What?" that
"Capacity for OLED displays for smartphones are ramping at a strong pace but a 100% oversupply will stymie growth in 2020."
Two months later, IHS confirmed my analysis, reporting estimates of over supply in the flexible OLED market in 2018. IHS said that demand for flexible AMOLED displays is growing at a slower pace than expected - and also at a slower rate than its supply, and as a result the demand in 2018 will be 44% lower than the supply.
One month after that, analysts from CLSA also concurred with my analysis. According to CLSA, spending in the OLED industry has peaked and OLED producers are not expecting to place any new equipment orders in the near future.
The oversupply has been exasperated by the slashed production of the iPhone X due to weak demand. Making matters worse, Chinese OLED panel makers are expanding production capacity, heating up the price competition even more.
The TV market is a different story. I noted in my above SA article:
"While the OLED market for smartphones will be in overcapacity by the end of 2019, OLED for other applications, particularly for TVs, will be another opportunity. The OLED TV panel customer base is expanding -large-sized OLED panel shipments are projected to reach 1.6 million in 2017, up from 900,000 TVs in 2016 and 420,000 in 2015."
Investor Takeaway
Due to weaker demand for OLED panels used in smartphones, Samsung Display and LG Display's new investment in small/midsize OLED will likely be limited in 2018. In particular, Samsung Display-bound equipment makers should witness a sharp drop in orders after the company supply business with Apple's iPhone X was curtailed.
LCD TVs are a different story. Panel prices fell sharply in 2017, as TV demand was sluggish due to high prices stemming from the rise in panel prices in 2H16. That is changing. 4Q 2017 LCD TV sales reached $26.3 billion, up 10% YoY, the fastest growth since 4Q 2010. I see panel demand recovery fueled by a recovery in TV panel demand, particularly high-end TVs, well as monitor and notebook displays.
But 10.5G panels are changing the face of the TV industry. Currently 65-inch LCD TV panels are mainly produced at 6G factories, with a 1,500mm by 1,850mm glass substrate being cut into only two panels. A 10.5G glass substrate is 1.8 times an 8.5G one in area and can be cut into six 75-inch panels, eight 65-inch units, or 18 43-inch LCD TV panels.
Dickerson forecast AMAT will see 30% growth in FY 2018 in its display segment. Based on my thesis that AMAT needs to generate $677 million each of the next three quarters.
I contend that even if we see pull-ins of equipment installs at the LG Display 10.5G plant, there would still be a shortfall of $365 million. With supply chain bottlenecks from Nikon, even that $365 million is a stretch.
In addition, my analysis contends that AMAT must also make $450 million per quarter through the remainder of FY 2018 for non-10.5G plants and OLED LTPS backplane deposition and flexible OLED encapsulation.
Given the migration to laser annealing for LTPS backplanes, and a move to ALD in encapsulation away from AMAT's PECVD, even generating revenues of $450 per quarter in these segments is questionable.
Given these constraints, AMAT's display growth may be a maximum of 10% YoY. If we combine my forecast of 10% growth for the semiconductor equipment industry for 2018, given the fact that AMAT has been losing market share to competitors, revenue growth for the company (excluding the Global Services segment) will be at a maximum of 10% for FY 2018.
Editor's Note: This article discusses one or more securities that do not trade on a major U.S. exchange. Please be aware of the risks associated with these stocks.
This article was written by
Robert Castellano has 38 years of experience analyzing the semiconductor markets.
He runs the investing group
Semiconductor Deep Dive
. It provides investors with recommendations for stocks with the greatest near- and medium-term growth potential. Members receive detailed analysis and research tools to make investments in semiconductor and tech stocks.
Learn more
.
Analyst's Disclosure: I/we have no positions in any stocks mentioned, and no plans to initiate any positions within the next 72 hours. I wrote this article myself, and it expresses my own opinions. I am not receiving compensation for it (other than from Seeking Alpha). I have no business relationship with any company whose stock is mentioned in this article.
Seeking Alpha's Disclosure: Past performance is no guarantee of future results. No recommendation or advice is being given as to whether any investment is suitable for a particular investor. Any views or opinions expressed above may not reflect those of Seeking Alpha as a whole. Seeking Alpha is not a licensed securities dealer, broker or US investment adviser or investment bank. Our analysts are third party authors that include both professional investors and individual investors who may not be licensed or certified by any institute or regulatory body.