By Joseph Tenaglia
Following one of the most tranquil years in stock market history, volatility came roaring back in late January and early February.
Many investors were calling for the inevitable return of volatility in 2018, ourselves included. That said, few foresaw how quickly and how violently that prediction would come to fruition. While there was some debate as to what exactly prompted the pickup in volatility (with everything from inflation to inverse volatility exchange-traded products to the all-encompassing "quants" being blamed), the bottom line is that the spike in the Volatility Index (VIX) left equity investors running for cover.
One thing we found interesting was that during the height of the correction, the MSCI Emerging Markets Index outperformed the S&P 500 by almost 150 basis points (bps) on the downside, with other emerging market (EM) strategies holding up even better.1 Given that the EM asset class historically has had a standard deviation about 50% higher than that of the S&P, EM investors who may have expected the performance of EM to be worse than that of the U.S. were likely pleasantly surprised.
Valuation's Impact on Beta
The EM outperformance brings to mind a concept that Jeremy Grantham has written about: beta is a critical component of explaining relative performance, but valuation can influence beta. Assets that are more expensive relative to their history may experience volatility above their expected levels (and vice versa). When an asset's price outruns its fundamentals, a downturn in the market can be disproportionally negative when the music stops.
This is the exact same idea that underpins WisdomTree's original investment philosophy and why we focus on fundamentals. Regarding those fundamentals, within EM we remain encouraged by corporate earnings and believe that the attractive valuation currently offered by the asset class is being underappreciated. As such, the recent sell-off may have provided us with a live case study that validates the dynamic beta concept.
Using Volatility as a Buy Signal
As our Chief Investment Strategist Luciano Siracusano recently noted, when the VIX spikes upward, the following 12 months historically have seen strong returns for the S&P 500. Taking it a step further, while elevated VIX levels have portended good times for U.S. equity investors, EM equity investors have had even greater reason to cheer.
VIX Levels vs. MSCI Emerging Market Index Forward One-Year Returns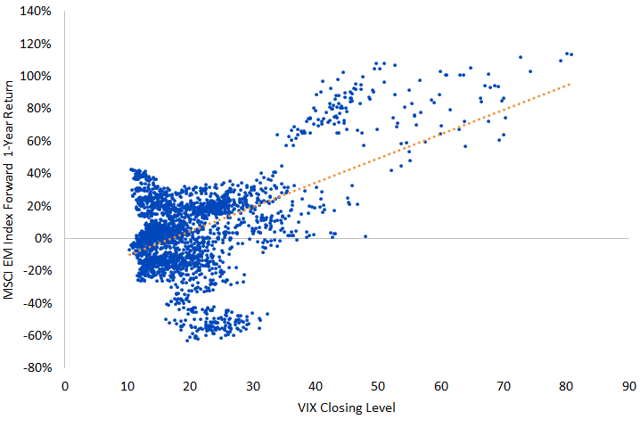 Learning to Embrace Volatility
On a closing basis, the recent high on the VIX was 37.32, set on February 5. Dating back to 2007, of all 163 instances when the VIX reached levels at least that high, the MSCI Emerging Markets Index had positive returns over the next year on every single occasion-with the average one-year return at 69.9%. While VIX spikes admittedly were clustered around a handful of key events, the results each time were unanimous. The big takeaway from our research? The higher the levels reached by the VIX, the higher the forward returns tended to be for EM.
The tough lesson here for investors is to embrace volatility. Where a rising VIX typically equates to a short-term equity sell-off, EM investors who historically have used the dips as buying opportunities often made out like bandits.
Small-Cap Dividends in EM: Having Your Cake and Eating It, Too
Over our history, we've found that our dividend-weighted approach typically has the greatest excess performance relative to cap weighting in lesser efficient markets, particularly in mid-caps and small caps around the globe. Since its inception in 2007, the WisdomTree Emerging Markets SmallCap Dividend Index not only has outperformed the large-cap-focused MSCI Emerging Markets Index, but, contrary to what one might expect with small caps, it has done so with less volatility.
This excess performance holds true for both the Index's entire history as well as immediately following jumps in the VIX. Regardless of how high the VIX went, the WisdomTree Index outperformed the MSCI index in the aftermath of all elevated VIX levels.
Index Forward Returns following Different VIX Regimes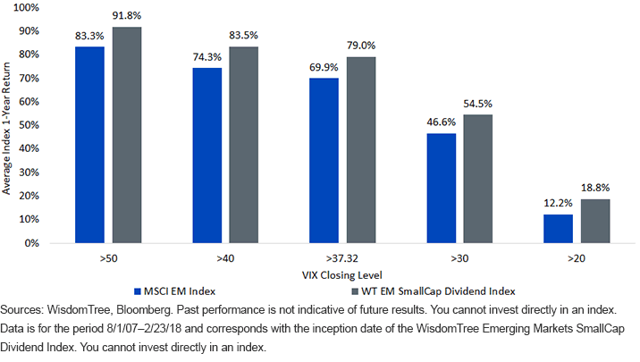 One More Reason to Like EM Small Caps
We view the recent volatility as an opportunity to step back and reassess portfolios. Although the sell-off in EM was less severe than it was in the U.S., it nonetheless presented a window to take advantage of more favorable entry points than those that were available beforehand.
When building their EM portfolios, we believe investors should include a dedicated small-cap allocation through a strategy like the WisdomTree Emerging Markets SmallCap Dividend Fund (DGS), which tracks the WisdomTree Emerging Markets SmallCap Dividend Index, for macroeconomic, fundamental and risk reduction reasons. Given how the index that DGS tracks has tended to outperform in the exact type of environment in which we currently find ourselves, we may have just found one more reason to add to that list.
1Bloomberg, for the period 1/26/18-2/8/18.
Important Risks Related to this Article
There are risks associated with investing, including possible loss of principal. Foreign investing involves special risks, such as risk of loss from currency fluctuation or political or economic uncertainty. Funds focusing on a single sector and/or smaller companies generally experience greater price volatility. Investments in emerging, offshore or frontier markets are generally less liquid and less efficient than investments in developed markets and are subject to additional risks, such as risks of adverse governmental regulation, intervention and political developments. Due to the investment strategy of this Fund, it may make higher capital gain distributions than other ETFs. Please read the Fund's prospectus for specific details regarding the Fund's risk profile.

Joseph Tenaglia, Asset Allocation Strategist, CFA
Joseph Tenaglia joined WisdomTree as an Asset Allocation Strategist in July 2016. He is responsible for building model portfolios and creating custom solutions for WisdomTree's clients. Within the research team, Joseph maintains a particular focus on emerging markets. Prior to joining WisdomTree, Joseph worked at Emerging Global Advisors as an Emerging Markets Portfolio Specialist, where he sat on the firm's Investment Strategy team, oversaw capital markets, and maintained relationships with client home office research and due diligence teams. He started his career at BNY Mellon as a Regional Consultant and also worked as an analyst on the national accounts team. Joseph graduated in 2009 from Boston College. Joseph is a holder of the Chartered Financial Analyst designation.