ISM Non Manufacturing Remains Right Near Multi-Year Highs
After climbing to a twelve-year high in January, the ISM Non-Manufacturing report dipped a bit in February but still managed to beat expectations. While economists were forecasting the headline index to fall from 59.9 down to 59.0, the actual decline was less than half of that to 59.5. Outside of last month's report and the one in October 2017, this month's would have been the best reading since August 2005. On a combined basis, accounting for each sector's share of the overall economy, the February ISM came in at 59.6, which was a slight decline from January, but still right near multi-year highs.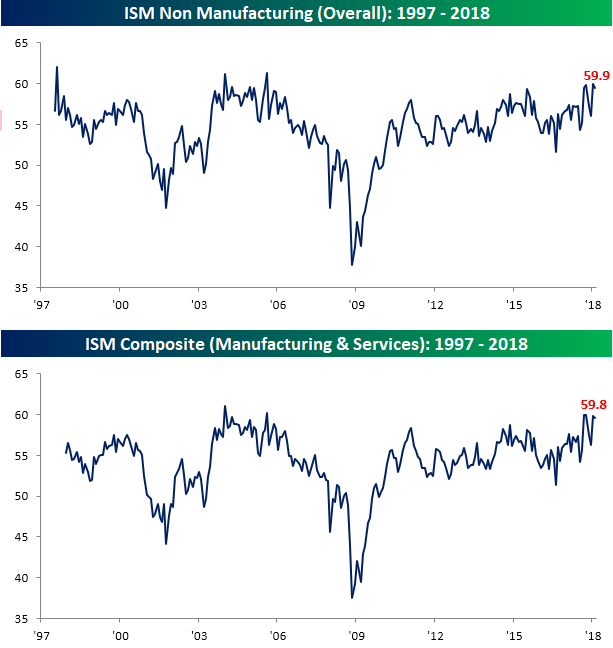 As far as the internals of the report were concerned, it was also a pretty solid report. On both a m/m and y/y basis, more sub-indices were up than down. New Orders were particularly strong as that index rose to its highest levels since January 2006. On the downside, the Employment component saw its largest m/m decline since February 2014. While that doesn't bode particularly well for Friday's Non-Farm Payrolls report, we would note that in January the index had a pretty big jump, so this month's pullback is probably just a reversion to the mean type of move. Furthermore, back in February 2014 when we last saw a similar one-month decline, the corresponding Non-Farm Payrolls report actually came in stronger than expected. One encouraging aspect of the report was the Prices Paid component, which actually showed a slight decline relative to January.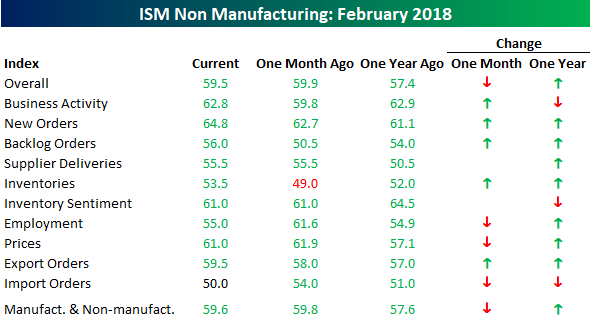 While the Prices Paid component of this month's report declined, like the ISM Manufacturing report last week, there are still plenty of whiffs of inflation in it. As shown below, in the commentary section of this month's report, there were still more than a couple of mentions of rising prices and higher costs.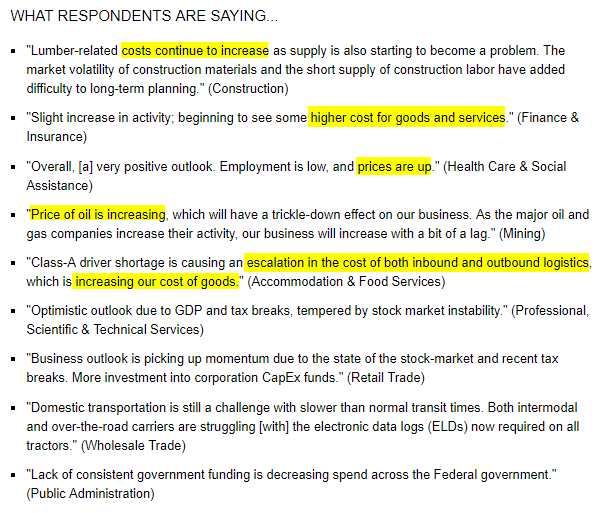 This article was written by
Bespoke Investment Group provides some of the most original content and intuitive thinking on the Street. Founded by Paul Hickey and Justin Walters, formerly of Birinyi Associates and creators of the acclaimed TickerSense blog, Bespoke offers multiple products that allow anyone, from institutions to the most modest investor, to gain the data and knowledge necessary to make intelligent and profitable investment decisions. Along with running their Think B.I.G. finance blog, Bespoke provides timely investment ideas through its Bespoke Premium (http://bespokepremium.com/) subscription service and also manages money (http://bespokepremium.com/mm) for high net worth individuals. Visit: Bespoke Investment Group (http://bespokeinvest.com/)