The Rising Interest-Rate Trend
Editor's note: Originally published at tsi-blog.com on March 5, 2018.
The rising interest-rate trend in the US isn't new and isn't related to the Fed's so-called "policy normalisation" program. However, it has only just started to matter.
That the rising interest-rate trend isn't new and isn't related to the Fed's rate-hiking efforts is clearly illustrated by the following chart. This chart shows that the US 2-year T-Note yield began trending upward in 2011 - more than 6 years ago and more than 4 years prior to the Fed's first rate hike.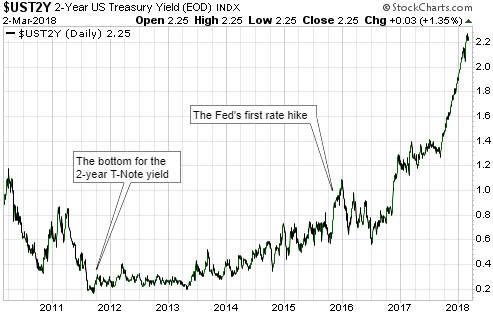 As we go further out in duration we find later beginnings to the rising-yield trend. This is evidenced by the following three charts, the first of which shows that the 5-year yield bottomed in mid-2012, the second of which shows that the 10-year yield double-bottomed in mid-2012 and mid-2016, and the third of which shows that the 30-year yield continued to make lower lows until mid-2016. But even in the case of the 30-year yield, the rising trend is now more than 18 months old.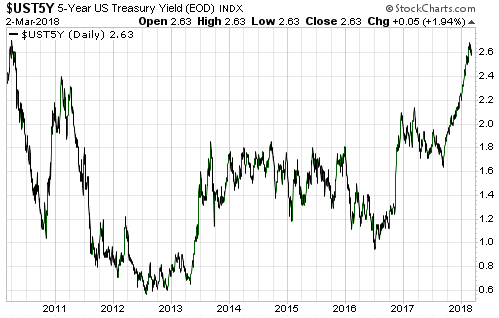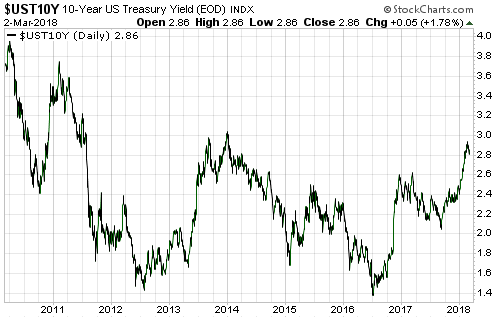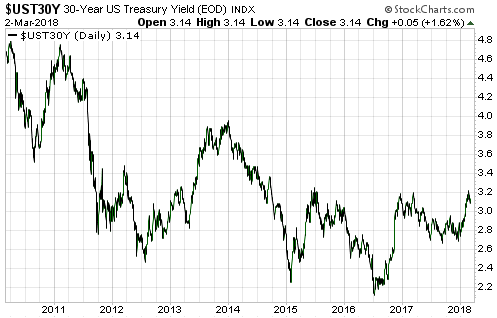 Given that US interest rates have been rising for more than 6 years at the short end and more than 18 months at the long end, why has the trend suddenly begun to draw a lot of attention in the mainstream press?
The answer is: because rising yields on credit instruments have begun to put downward pressure on equity prices. The stock market is capable of ignoring rising interest rates for long periods, as has been demonstrated by the market action of the past few years. However, if a rising interest-rate trend persists for long enough it transforms, as far as the stock market is concerned, from an irrelevance to the most important thing.
The way that interest rates gradually turned upward over several years despite the relentless downward pressure applied by the central bank suggests that we are dealing with the end of a very long-term decline. In other words, there's a good chance that we are now in the early stages of a 1-2 decade (or longer) rising interest-rate trend. But how could that be, when debt levels are very high and the economy-wide savings rate is very low?
Under the current monetary regime, major upward trends in interest rates are not driven by the desire to consume more in the present (the desire to save less) or by rapidly-increasing demand for borrowed money to invest in productive enterprises. That, in essence, is a big part of the problem - interest-rate trends do not reflect what they should reflect. Instead, major upward trends in interest rates are driven primarily by rising inflation expectations, or, to put it more aptly, by declining confidence in money.
Of particular relevance, under the current monetary regime it is not only possible for a large, general increase in the desire to save to be accompanied by rising interest rates, it is highly probable that when a large rise in interest rates happens it will be accompanied by a general desire to save more. It's just that the desire for greater savings won't manifest itself as a greater desire to hold cash. It will, instead, manifest itself as a desire to hold more of something with near-cash-like liquidity that is not subject to arbitrary devaluation by central banks and governments. Gold is the most obvious example.
This article was written by
I graduated from the University of Western Australia in 1984 with a degree in electronic engineering and from 1984 until 1998 worked in the commercial construction industry as an engineer, a project manager and an operations manager. I began investing in the stock market 2 months prior to the 1987 stock market crash and thus quickly learned about the downside potential of stocks. Only slightly daunted by the rather inauspicious timing of my entry into the world of financial market investments, my interest in the stock market grew steadily over the years. In 1993, after studying the history of money, the nature of our present-day fiat monetary system and the role of banks in the creation of money, I developed an interest in gold. Another very important lesson soon followed: gold may be the ideal form of money for those who believe in free markets and a wonderful hedge against the inherent instability of the government-imposed paper currencies, but it is not always a good investment. By mid-1998 the time and money involved in my financial market research/investments had grown to the point where I was forced to make a decision: scale back on my involvement in the financial world or give up my day job. The decision was actually quite an easy one to make and so, at the beginning of 1999, I began investing/trading on a full-time basis. My major concern in deciding to pursue a career in which I devoted all of my time to my own investments was that I would miss the personal interaction that had been part and parcel of my business management career. The Speculative Investor (TSI) web site was launched in August of 1999 as a means for me to interact with the world by making my analysis/ideas available on the Internet and inviting feedback from others with similar interests. During its first 14 months of operation the TSI web site was free of charge, but due to the site's growing popularity I changed it to a subscription-based service in October of 2000. Its popularity continued to grow, although I remained -- and remain to this day -- a professional speculator who happens to write a newsletter as opposed to someone whose overriding focus is selling newsletter subscriptions. My approach is 'top down'; specifically, I first ascertain overall market trends and then use a combination of fundamental and technical analysis to find individual stocks that stand to benefit from these broad trends. This approach is based on my experience that it's an order of magnitude easier to pick a winning stock from within a market or market sector that's immersed in a long-term bullish trend than to do so against the backdrop of a bearish overall market trend. Fortunately, there's always a bull market somewhere. I've lived in Asia (Hong Kong, China and Malaysia) since 1995 and currently reside in Malaysian Borneo.