Dividend Update - February 2018
February always seems to go quick. Helps it is a short month anyway. Work has been crazy busy for me most of the month, so I haven't been as active on the blog as I would like to. Hopefully, now things are slowing down a little bit, I can get right back into it. However, even though I was busy, my portfolio was just as busy generating passive income for me. February was a great month for dividends and I made some big gains. Here are some more details.
Dividends
T - $33.11
NNN - $14.11
GIS - $12.61
HRL - $5.71
O - $6.45
LTC - $3.31
ABBV - $3.55
February dividends add up to $78.85, which represents an increase of 83.1% from last year where I made $43.06. Below are some charts from my portfolio page to better visualize the results.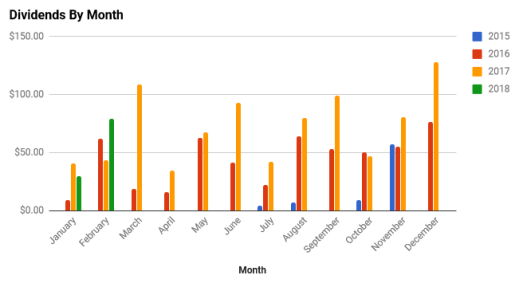 As you can see from February 2017's dividend post, I was paid dividends from 3 companies. This year, I was paid by 7! Two of those were monthly dividend payers, so about halfway through the year, they will not play as big of a role in my growth numbers. Other newer positions that helped growth are HRL and seeing its first dividend payment ever for me is ABBV.
Lastly, I added a lot more to my position of T on a dip late last year. This is where most of my increase came from. My position with them is almost at the point where I can DRIP a full share every quarter it pays out.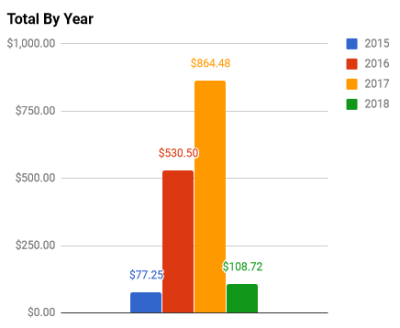 I am very happy with the results for February. Over 80% increase makes up for the small decrease I posted last month. This year's dividend has already surpassed that of my entire 2015 when I started investing. I am looking forward to seeing my dividend income after the first quarter. That should give a better representation of overall dividend growth numbers. Can't wait to see what March and the first quarter ending month brings!
How did your portfolio perform in February? Did you achieve any big growth or a decrease? Your comments are always welcome below.
This article was written by
Dividend growth investing and the pursuit to achieve financial freedom through the power of passive income. Buy and hold quality companies for the long term.