Cronos: Cannabis Unicorn With First-Ever Nasdaq Listing
Summary
Cronos saw share price jump 37% this week after Nasdaq listing.
Market reached $1.9 billion, closing in on MedReleaf and Aphria.
Early-stage cannabis company with only $1 million in quarterly revenue, raising concerns over overheated valuation amid Nasdaq listing.
We are excited to introduce our Discover Cannabis series. Every week we will introduce a new cannabis company to our readers. Besides our Weekly Cannabis Report where we provide a weekly review p of key developments and trading updates in the cannabis space, we have been asked by readers to expand our coverage outside the large caps. Although we have repeatedly shared our views that small producers are inherently risky in the cannabis industry given that distribution channels are controlled by the government and market is likely to be oversupplied post-legalization, we still believe in the value of offering a broader coverage to our readers. Cannabis will be a large and diversified market with abundant opportunities for many successful ventures. Besides the large-cap names, we think investors could be well-served to learn about other up-and-coming players. With that, we are excited to start with Cronos Group this week after it made headlines last week.

Situation Overview
Cronos Group (NASDAQ:CRON) shocked the cannabis sector by becoming the first Canadian cannabis company to be listed on the Nasdaq. Cronos started trading on the Nasdaq under "CRON" on Tuesday and ended the week 37% higher. With $1.9 billion in market capitalization, Cronos has become top 5 cannabis companies in Canada by market capitalization. Another giant has been born in the cannabis industry and we think investors should take notice of it.
`
Nasdaq Listing
Cronos' listing on the Nasdaq was a first for Canadian cannabis company. Cronos was able to supersede larger players such as Canopy (TWMJF), Aurora (ACBFF), Aphria (APHQF), and MedReleaf (OTCPK:MEDFF) to list on the Nasdaq first and the benefit has been evident in the share price. Cronos ended the week with its share price up 37% lifting its market capitalization to $1.9 billion. The listing has many benefits including better access to U.S. investors and enhanced liquidity. We think the initial pop might dissipate over time as the premium will eventually be taken over by reality. Other companies are also signaling that they will seek their U.S. listing soon. Canopy CEO last week told a group of audience that the company is under preparation to apply for a listing on the Nasdaq. Although no timeline has been given from Canopy we would expect an announcement in Q2 or Q3.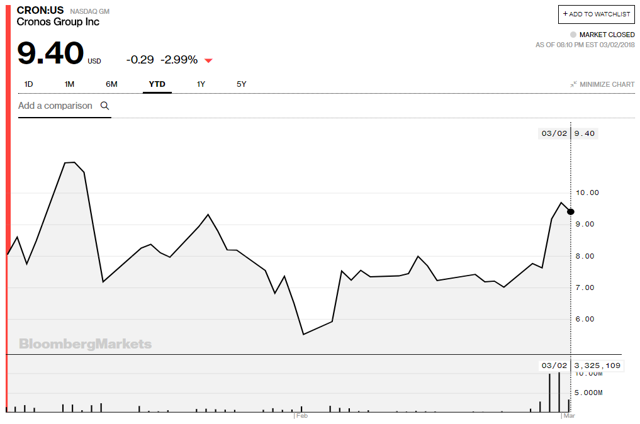 Operations Overview
Despite the recent listing announcement, Cronos has also been executing on its growth and expansion plan. The company operates a 70,000 sq. ft. existing facility with 7,000 kg of capacity annually through its subsidiary, Peace Naturals. Currently, the company is undergoing expansion including a state-of-the-art 286,000 sq. ft. indoor production facility and a 1,200 sq. ft. extraction lab. Cronos expects to reach 40,000 kg annual capacity prior to 2019.
Indoor facility expected to be largest purpose-built indoor cannabis production facility in the world, fully operational by Summer 2018.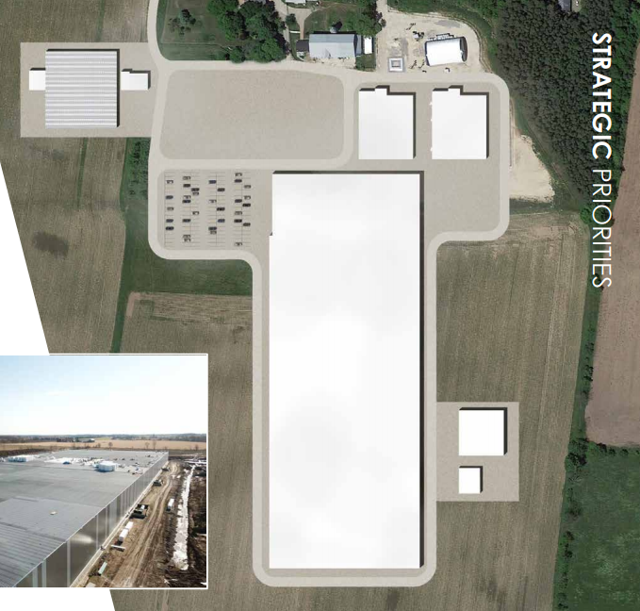 (Investor Presentation)
Cronos also has a strategic joint venture with Kibbutz Gan Shmuel, named Cronos Israel. Gan Shmuel is one of the largest and most sophisticated kibbutzim in Israel, which already exports to 35 countries throughout Europe & Asia. Cronos boasted the ideal climate for cannabis production in Israel and Cronos claimed that it will be able to produce high-quality medical cannabis at an expected cost of between $0.40 and $0.50 per gram. Although no details have been given on how it defines cost. For details on how cannabis report cash cost differently, please refer to "The Complete Cannabis Guide #1 - Production Cost". Phase 1 of the JV includes a 45,000 sq. ft. greenhouse with 5,000 kg annual capacity. Phase 2 includes an increase of capacity to 24,000 kg annually. Cronos has in total around 5,000 kg annual capacity and is expecting to reach 40,000 after all planned expansions are completed.

(Financial Statement)
Distribution
As we argued in "5 Predictions For the Cannabis Industry" that capacity is becoming less relevant in today's environment. Health Canada has issued a large number of licenses and is continuing to issue new licenses every week, creating an abundance of supply looming to choke the market once this production comes online. We caution investors to focus on distribution and sales channel as that is where the money will be made in the future. Capacity is easy to replicate given the low barrier to entry in the cannabis space.
Germany
Cronos has an exclusive supply agreement with Pohl-Boskamp, an international pharmaceutical manufacturer, and supplier founded in 1835. Pohl has distribution into 12,000 German pharmacies and the opening of medical marijuana market in Germany has created a shortage of supply. Cronos exports its products through Peace Naturals.
(Investor Presentation)
Australia
Cronos announced the formation of its Australian joint venture in February 2018. Cronos Australia is a 50/50 joint venture between the Cronos and NewSouthern Capital. Cronos Australia will serve as the hub for its Australia, New Zealand, and South East Asia expansions. According to the company, Cronos Australia's first production campus will be located on 120 acres and will commence construction on the initial phase of its production platform with a 20,000 sq. ft. the purpose-built facility, with an expected annual production capacity of 2,000 kg. Further expansions are also contemplated.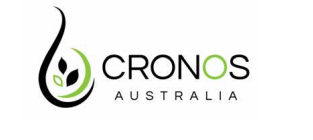 IP Portfolio
Cronos prides itself on its portfolio of IP assets including over 150 unique cultivars. Custom has its own CO2 extraction equipment that removes the need for post-processing and maintaining the natural balance in its plants. Cronos also has a partnership for research projects with experts from Cornell University, University of Toronto, Hebrew University, Volcani Center, Fluence Bioengineering and P.L. Light Systems on a variety of topics. We think the genetics assets will become important if Cronos can establish itself as the industry standard which will lead to other upcoming LPs sourcing seeds from one of the 150 cultivars available at Cronos.
Financials
In the latest quarter (Q3 2017), Cronos achieved $1.3 million in revenue. The disclosure at Cronos is poor compared to others. The company does not disclose cash cost which is a key metric in the cannabis industry. Without cost information, it becomes extremely difficult to assess the competitiveness of its operations. IFRS rules obscure reported financials and investors won't have a clear picture of the operational performance based on current exposure.
There is really nothing surprising from these financials besides that Cronos is still a very early stage LP with an ambitious expansion but limited track record. It operates in a competitive environment and it has not secured any supply agreement. One could argue that there are certain risks to its current valuation given the lack of medical market presence and low sales.

(Financial Statement)
Management
We think the management is capable and has the right mix of skills and past experiences. CEO, Michael Gorestein, has a background in venture capital and corporate law. We think Michael's U.S. background helped him to steer Cronos to become the first pot company listed on Nasdaq. Going forward, we hope Cronos will focus on improving its periodical disclosure, securing distribution channel for its products and further derisking expansion projects.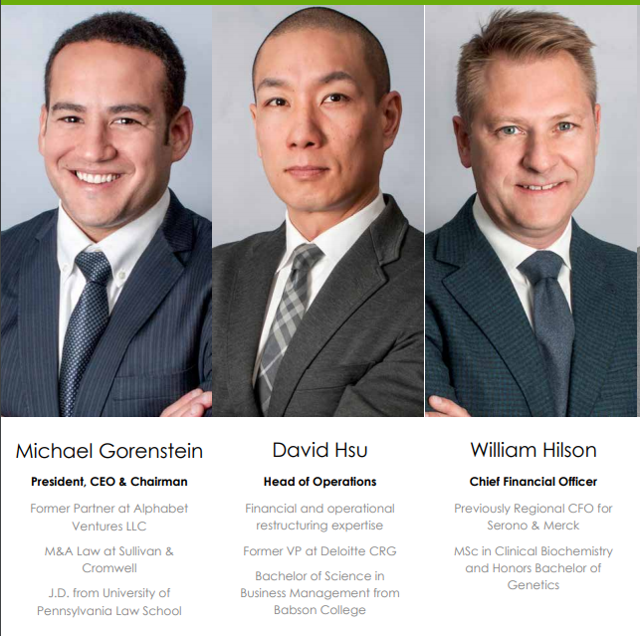 (Investor Presentation)
Overvalued?
Cronos is at best called a start-up at the moment, compared to more established industry players. The $1.9 billion market capitalization seems hefty to us, as Cronos lacks the scale and supply agreements compared to larger players Canopy, Aurora, and Aphria. In the latest quarter, Canopy generated $21 million in revenue and Aurora booked $12 million while Cronos had $1 million. However, Cronos has $1.9 billion in market capitalization whereas Canopy has $5.5 billion and Aurora has $4.9 billion (excluding CanniMed). Cronos seems to trade at a lofty valuation based on its current revenue.
However, we think the Nasdaq listing which created over $500 million in market value for Cronos over a few days might have overheated the stock. We think as investors return to calm or other Canadian companies announced listings in the U.S., the listing premium in Cronos share price could dissipate.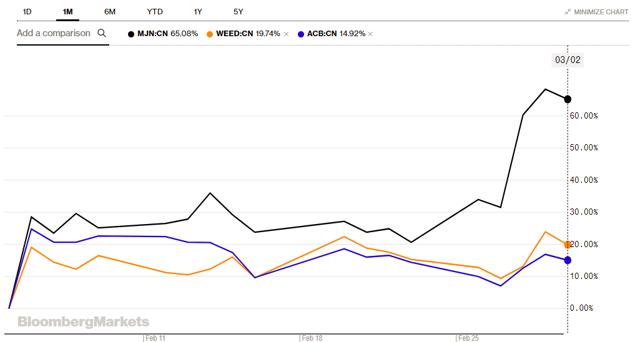 `
Summary
Cronos has an entrepreneurial and experienced management team with deep knowledge of the U.S. capital markets. We aren't surprised by the first-ever Nasdaq listing from Cronos, but the spectacular run on its share price make us worried about an overheated stock. We would suggest investors remain on the sidelines on this stock given the valuations, especially comparing to other industry giants who have many times the revenue, capacity and track record. We think Cronos still has much to prove for itself in order to live up to the $1.9 billion valuations it has gathered so far. However, the significant interest from U.S. investors could very well continue to push the stock price higher. We think Cronos has done a commendable job in terms of garnering investor interest and media attention, but execution and results will eventually dictate long-term performance and the young company just haven't proved itself both operationally and financially. We are excited to see what it can do once legalization happens this summer.
Additional Resources
"Follow us" to receive our latest articles and investment ideas in the sector. We also publish a widely read Weekly Cannabis Report which is your best way to stay informed on the cannabis sector.
You will also benefit by reading our recent publications:
We also publish a Discover Cannabis series where we introduce one new cannabis company to our readers every week:
Editor's Note: This article discusses one or more securities that do not trade on a major U.S. exchange. Please be aware of the risks associated with these stocks.
This article was written by
We are your best guide to cannabis investing. Read our 2021 Cannabis Sector Outlook here. We also provide in-depth industry analysis and coverage of 70+ cannabis stocks to help you get started.
Analyst's Disclosure: I/we have no positions in any stocks mentioned, and no plans to initiate any positions within the next 72 hours. I wrote this article myself, and it expresses my own opinions. I am not receiving compensation for it (other than from Seeking Alpha). I have no business relationship with any company whose stock is mentioned in this article.
Seeking Alpha's Disclosure: Past performance is no guarantee of future results. No recommendation or advice is being given as to whether any investment is suitable for a particular investor. Any views or opinions expressed above may not reflect those of Seeking Alpha as a whole. Seeking Alpha is not a licensed securities dealer, broker or US investment adviser or investment bank. Our analysts are third party authors that include both professional investors and individual investors who may not be licensed or certified by any institute or regulatory body.