The disappointing Q4 and 2017 full year results for LifePoint reflect the struggle for American hospitals. LifePoint Health (NASDAQ:LPNT) is trading at where it was 5-6 years ago around the mid 40's. Through that time the company has compounded their revenue at 13% annually over the last 5 years and by 85% in aggregate by purchasing more hospitals. The massive sell-off on Friday
LifePoint Health owns and operates community hospitals, regional health systems, physician practices, outpatient centers, and post-acute facilities. LifePoint operates 71 hospital campuses in 22 states throughout the United States, having a total of 9,424 licensed beds. LifePoint generates revenues by providing a broad range of general and specialized healthcare services to patients through a network of hospitals and outpatient facilities.
Things Aren't Always How They Appear
At first glance LifePoint Health looks like an excellent value pick.
| | |
| --- | --- |
| LifePoint Health | March 5th 2018 |
| Share Price | $46.12 |
| Market Cap | $1.81B |
| Price/Book | 0.81 |
| Price/Sales | 0.29 |
| Current Ratio | 1.7 |
| P/EBITDA | 3.6 |
| P/EBIT | 11.5 |
| P/E | 18.5 |
| P/Next YR E | 10.3-11.66 |
LifePoint's valuation looks promising until you look deeper. Their Price/Book ratio values their equity at only 82% of book value; LifePoint holds unproductive assets that produce very little profit which is declining. Their return on assets and investment is less than 2% and their return on equity is less than 5%. Their profit margin is 1.63%; after expenses LifePoint is only able to squeeze out a tiny profit.
The P/EBITDA multiple of 3.61 is very low. P/EBITDA is not accurate measure of business valuation for LifePoint considering their assets depreciate by about $400 million per year. Hospital equipment is extremely expensive to replace, LifePoint generally spends marginally more than their depreciation on capex each year. Depreciation and amortization is a very real business expense that can't be cut because patient outcomes depend on the resources physicians have access to.
LifePoint's P/EBIT of 11.51 isn't high but considering their stagnant revenue and their decreasing margins and earnings LifePoint should be selling a lower level. In 2017 LifePoint reported earnings per share of 2.51 down 11% even with a 5.5% smaller share base. Their P/ AVG 5YR Earnings is 15.91, low - average for a healthy company but LifePoint is not healthy. The current P/E is 18.59 does not provide a margin of safety for investors.
On February 23rd LifePoint released their full year 2017 results and their guidance for 2018.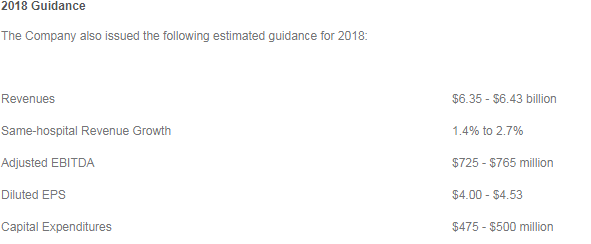 The only part of the guidance believe will be accurate is their capital expenditures. LifePoint continually decreased their guidance every quarter in 2017, then reported lower than their downward revised estimates. The new tax legislation will account for approximately $0.40/share earnings in fiscal 2018. I would take these estimates with a grain of salt.
Where It Hurts
Margins are falling to new lows for health care providers and hospitals; creating a challenging environment where some providers will start reporting net losses. Increased volume is no longer the quick win for providers to boost revenue as volumes are expected to fall. Lifepoint admitted 2.3% less in 2017 than 2016 while their revenue per equivalent admission only increased by 0.2%. Revenues per equivalent patient are nearly $9,000 already giving wiggle room for growth on a per patient basis. Hospitals are changing their strategies away from their past volume-based model to focus on value-based care.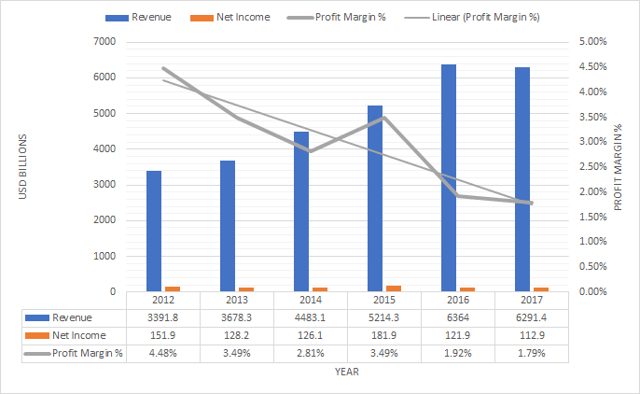 Providers such as LifePoint Health will struggle with a stagnant revenue stream if they are lucky. From 2012 to 2017 LifePoint's Revenue grew by $2.9 Billion of that revenue growth $2.831 Billion was acquired. Revenue barring acquisitions was flat over the 6 years. Same-hospital admissions, equivalent admissions, surgeries and emergency room visits are negative year over year; this trend is likely to continue even against demographic odds.
Adapt or Die
LifePoint and the U.S. healthcare industry as a whole face challenges adapting to the Medicare Access and CHIP Reauthorization Act of 2015 (MACRA). Hospitals will face increasing challenges and risks moving forward.
The traditional fee for service payment systems are being replace with financial incentive framework that rewards for improved quality, outcomes, and costs. Ultimately, value-based payments transform traditional business models by putting significant revenue– and risk– at stake.
The law today only impacts Medicare payments, it lays the groundwork for and provides strong incentives for other payers to move in the same direction, potentially disrupting the health care system at all levels. The typical hospital has a double digit negative margin on it's combine Medicare and Medicaid business. This is offset by margins on the commercial side which are typically above 20%. The mix is tilting more towards government low paying programs, It is increasingly difficult for hospitals to boost their fees and keep pace with rising costs. Providers who do not embrace change and will fall behind.
By 2025 80% of overall payments to providers are expected to be value-based. Health systems will compete on their ability to take on risk and provide high quality cost-effective care.
LifePoint Health's is hurting from stagnant same hospital revenue and ever decreasing margins; the future looks bleak for the company. Their most profitable segment (HMO, PPO and other private insurers) is getting squeezed out by increasing Medicare and Medicaid payments. It looks like their margins will continue to decrease in the short and medium term.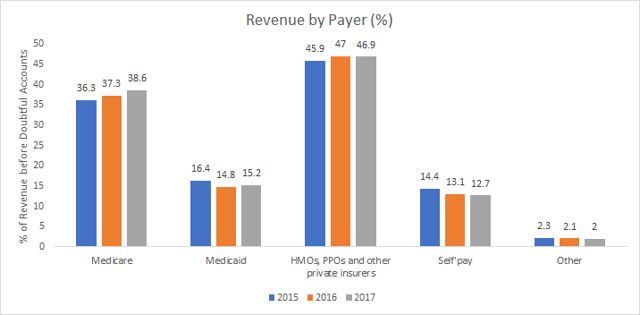 LifePoint is yet to see large changes in their payment mix, but their payment mix is already less favorable than 2015. Medicare payments are up 2.3% and self-pay is down by 1.7%. Even within the HMO, PPO and other private insurer segment LifePoint has no control over patients switching their coverage over to lower cost, less favorable plans with lower reimbursement rates forcing the patient to pay an increased portion of the cost. LifePoint expects this trend to continue in the coming years. LifePoint's profitability will be hit twice as they see a higher mix of payments from their least profitable payers while their most profitable payers are shifting to less favorable coverage plans that increase the likely-hood of patient defaults.
Debt
LifePoint Health has reduced their share count by 12% since January 1st, 2015 or by about 4% per year and their earnings per share continues to decline. Their aggressive share reduction has been funded by excessive borrowing making the company more leveraged and risky for equity holders. Credit ratings of their corporate senior notes will likely see a downgrade. Since January 1st, 2015 LifePoint has net borrowings of $629.3 million, Increasing their interest cost by about $36 million. During the same time frame LifePoint repurchased $443.7 million of common shares, 83% of the repurchases were in 2015 and 2016 while their shares were trading at and then near all time highs. Management repurchased shares at the worst time they could have. Buybacks in 2017 have significantly dropped off. LifePoint needs to focus on paying off debt which will be very difficult considering their huge amortization & depreciation account and the cost of integrating their 2016 hospital purchases.
LifePoint's shrinking net income and their large debt expense makes the company a risky buy. Their 2017 interest coverage ratio was on 2.07 down from 2.37 in 2016 and 3.64 in 2015. In the next two years LifePoint will have to refinance their $1.1 billion of 5.5% notes, most likely at a higher interest rate due to rising rates not yet reflected in their borrowing and worse interest coverage. LifePoint is in a squeeze, they could issue equity or debentures alternatively and reduce their long-term debt; but that would dilute their earnings. The combination of decreasing earnings equity issuance will not look good for shareholders.
Conclusion
LifePoint Health Inc. looks like an excellent value pick at their current valuation. The company is trading only 10 - 12 times next years estimated earnings. I doubt they will hit their 2018 guidance estimates. The company operates in a industry where revenue growth is now non-existent and costs continue to rise. The shift from a fee for service model to a value-based system is a major hurdle for healthcare providers. Margins for LifePoint have been crushed and will continue to face downward pressure. LifePoint's payer base is shifting from their most profitable payers to their least; from insurance policies to Medicare, cheaper coverage policies and soon Medicaid.
The company's debt levels and interest coverage are concerning, especially with significant refinancing needed in less than 2 years. Expect increased interest expenses which will hurt their bottom line even more. It's unlikely LifePoint will be able to continue their aggressive share repurchase plan; LifePoint will likely transition focusing on reducing their leverage.
LifePoint looks healthy and like a great value pick but the company but I would keep my distance; I don't want to catch the illness they have.