S&P Upgrade And Russian Markets' Reaction
Belatedly, on the S&P upgrade for Russian sovereign debt, here is a good primer from Bloomberg.
Markets' repricing was quick on the news when S&P upgraded country bonds from BB+ to BBB: Russian dollar- and euro-denominated bonds rose across the maturity curve. Russia's 2043 eurobond was up 1.4 cents to 115 cents in the dollar the day after the upgrade, while the 2026 issue was up 0.69 cents to 105 cents, and the 2027 issue was up 0.72 cents to 101 cents. 5-year CDS fell 5 bps to 103 bps.
This was not a watershed, however, as Russian bonds have been rallying (with some volatility) for quite some time prior, shaking off completely the end of January extension of the U.S. sanctions.
A neat chart via BOFIT shows the improvement in the state of Russian fiscal position: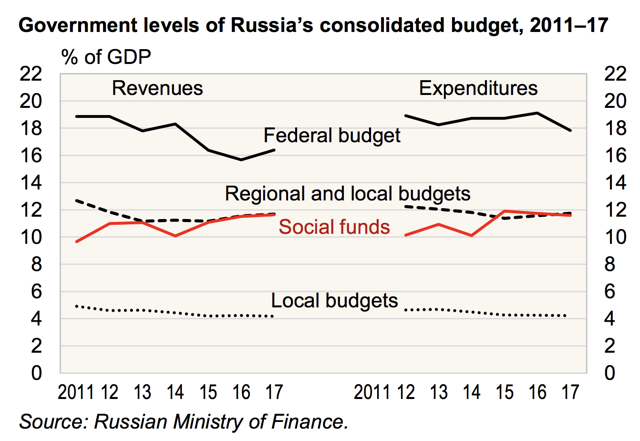 Russia spent 3 years in 'junk rating' lock up, much of it due to the U.S. and EU sanctions, rather than to any adverse dynamic in Russian sovereign default risks.
As BOFIT noted, "S&P Global Ratings noted that Russia's macroeconomic policy has allowed the economy to adjust to lower commodity prices and international sanctions. The outlook for the Russian economy is stable. S&P's rating for Russian sovereign foreign bonds now matches that of Fitch, while Moody's continues to apply a junk rating (Ba1). ... The Russian government currently faces no compelling need to borrow from abroad as the current fiscal outlook is rather good thanks to the rise of oil prices and fiscal discipline."
In 2017, Russia witnessed an 18 percent rise in federal revenues, and an 8 percent increase in allocations to the Social Reserve Funds (spending from the funds rose 6 percent).
Russia retains the position, rather rare for any country, to be able to pay off its entire external government debt from its sovereign reserves.
This article was written by
I lecture in Finance in Trinity College, Dublin and at Monterey Institute for International Studies (California) and hold a number of non-Executive and advisory positions. I am research-active in macroeconomics and finance, as well as economic policy analysis and my academic record can be found on the designated section of my blog http://trueeconomics.blogspot.com/. In the past, I served as the Head of Research and Partner with St Columbanus AG, Head of Macroeconomics (Institute for Business Value, IBM), Director of Research (NCB Stockbrokers), Group Editor and Director (Business and Finance Publications). All opinions expressed are my own and do not reflect the views or positions of any of my past, present or future employers. Potential conflicts of interest are highlighted in the posts wherever I can reasonably foresee such arising.