Lam Research: An Unjustified Sell-Off That Has Created A Golden Buying Opportunity
Summary
Lam's stock sell-off was unjustified, and management noted an excellent overall quarter, which included raised guidance.
The stock market decline dragged almost every stock with it, Lam research included; this was an excellent opportunity to add more shares.
Wall Street still bullish on LRCX, no news of any downgrades and an average price target of $230, way above the current bid.
What Happened?
Only recently, Lam Research (NASDAQ:LRCX) reported earnings per share of $4.34; this beat Wall Street's estimates by 66 cents. Along with substantial EPS numbers, they reported revenue of $2.58 billion; this is up 37.2%, beating Wall Street's estimates by $10 million.
The earnings call sounded great, and guidance looks strong. However, the stock took a turn for the worst and sold off, along with the rest of the market, unjustifiably down almost 25% - at one point - from the recent highs.
Many investors got spooked by the rapid decline in the company's share price, this within itself encouraged more selling. Since then, however, the stock has recovered somewhat, not to the highs of recent months, but up almost 24% from the lows. Although nothing fundamentally changed within the company when the sell-off occurred, investors soon forget about the solid fundamentals and start to think about worst-case scenarios.
Are we going into a bear market? Is the economy overheating? All these are legitimate questions people ask themselves on the way down, and they forget the main reason they purchased the stock in the first place.
If an investor bought Lam at $190 and thought they were getting a good deal, they should have stepped in at $160. I know for a fact this is easier said than done, I was one of those investors, and now I'm kicking myself. Lam was such a good buy at $190, and yet I was questioning my investment valuation methods at $160.
The stock fell all the way down to $160 - despite strong guidance from management. This is what they said:
We're expecting shipments of $3.175 billion plus or minus $125 million. We're forecasting revenue of $2.850 billion again plus or minus $125 million. We're forecasting gross margin of 46% plus or minus one percentage point. I do expect to see a stronger gross margin percentage in the June quarter as compared to March.

We're forecasting operating margins of 29% plus or minus one percentage point and finally, we forecast earnings per share of $4.35 plus or minus $0.15 based on a share count of approximately 181 million shares.
Those are the projected numbers for Q3-18. Looking back to Q3-17, we can see that the numbers were $2.41 billion in shipments and revenues of $2.15 billion.
On a year-over-year basis, this is an increase in shipments by 24%, along with 25% growth in revenue - it's also good to know 2017 Q3 gross margin was 45.1%. 2018 Q3 gross margin estimates go up to 46%.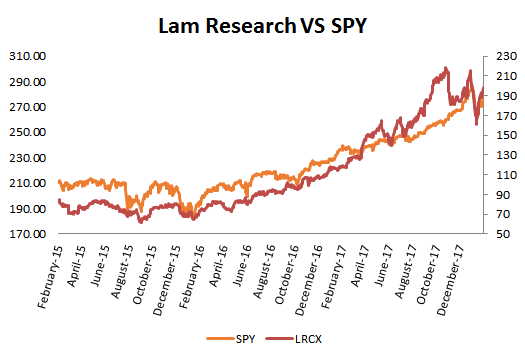 You can see above that Lam Research tracks the S&P 500 (SPY) well. Over the past few months, the stock got ahead of its historical correlation. From June to October, the stock vastly outperformed the S&P 500 and reverted to its mean trend - almost two months before the market sold off.
Looking Further Ahead
Full-year 2018 looks promising for the sector as a whole. Lam Research appears to be benefiting the most from a strong sector performance.
The Lam Research 2017 annual report highlights shipments and revenue of $8.6bln, and a GAAP operating income of $1.9bln. Management notes that all of these milestones are a considerable achievement in the history of the company.
They also state that these results were possible because of the continued partnership with customers and the ongoing proactive investment in research and development. The company has morphed from a single product company into a multi-layered diversified company.
Upgrade/downgrade history will show investors that analysts are all expecting stellar performance from the company.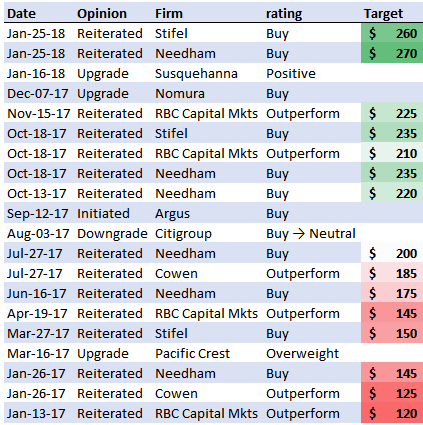 Modeling of the data and using reasonable growth estimates - more on the cautious side - still shows that Lam Research is a tremendous investment that only keeps getting cheaper. It won't be long until investors see this opportunity and start bidding the stock up to even higher levels than the all-time highs.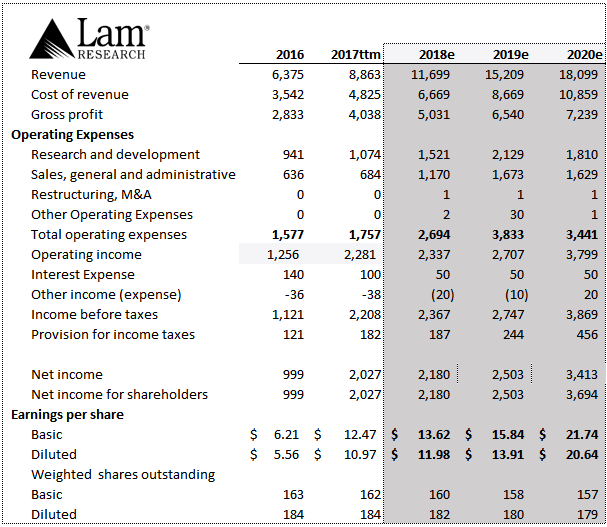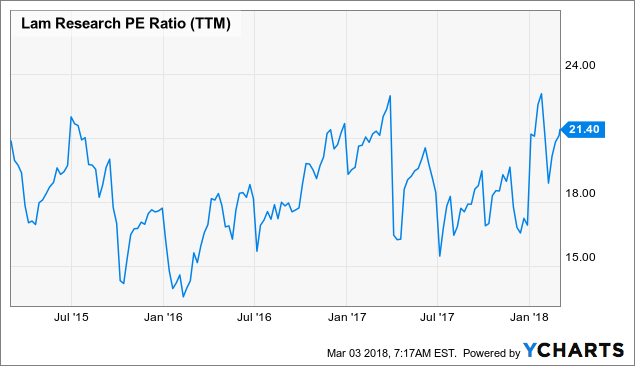 The stock should hit $237.63 at some point this year, a 15x multiple was applied to the valuation — this is an average multiple, and if we apply a 20x multiple, we get a target of $316.84; the stock trades now with a 20x EPS.
Final Note
After an extremely impressive Q3, complemented by positive guidance, the stock's brief sell-off should be seen as just such. For a high-growth company with a solid client base and tremendous shipment numbers to continue selling off for no real reason is unjustified. The stock can go down with the broader market as it has over the past month, but keep in mind Lam Research is a stable growth company with high earnings potential.
Buy Lam Research with targets of $237, but be prepared for the stock price to track the overall market if we see further declines.
This article was written by
Michael A. Ball is a 5-star expert and has a call accuracy rate of 89%, with an average return per trade of 15.3% — according to Tipranks.com.The goal is to seek out investments that by nature will be around for a very long time. Buffett often describes this as an economic moat — an unpenetrable business with a clear edge over its competitors.We often hear the term invest with confidence. When you buy a business that you know will be around for a long time, you have an edge in the market, you have time. Regardless of all the market noise, you should always have confidence in your investments.Putting your money in new fast-growing companies can be exciting and rewarding, but extremely risky.
Analyst's Disclosure: I am/we are long LRCX. I wrote this article myself, and it expresses my own opinions. I am not receiving compensation for it (other than from Seeking Alpha). I have no business relationship with any company whose stock is mentioned in this article.
Seeking Alpha's Disclosure: Past performance is no guarantee of future results. No recommendation or advice is being given as to whether any investment is suitable for a particular investor. Any views or opinions expressed above may not reflect those of Seeking Alpha as a whole. Seeking Alpha is not a licensed securities dealer, broker or US investment adviser or investment bank. Our analysts are third party authors that include both professional investors and individual investors who may not be licensed or certified by any institute or regulatory body.