What In God's Name Is The Herbalife Long Thesis At $95 Per Share?
Summary
Ackman has capitulated and is out of the Herbalife trade, Icahn has declared victory on a nationally televised CNBC interview.
Scott Wapner did not ask Icahn the only relevant question going forward; whether he would tender into the Dutch Auction.
All things being equal, what's the long thesis here?
OK, so what in God's name is the Herbalife (NYSE:HLF) long thesis at nearly $100 per share?
As I said on my most recent podcast, I have gotten the trade in Herbalife wrong for the last four or five years. I openly admit that.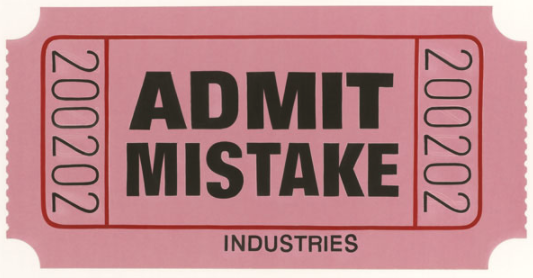 The facts are a different question - I still believe my facts and assertions about the company's business model are accurate and I believe my opinion was found to objectively be correct by the Federal Trade Commission. Here's a photo of me when FTC Chair Edith Ramirez made the baffling (and in my opinion spineless) statement that the company was "not found to not be a pyramid".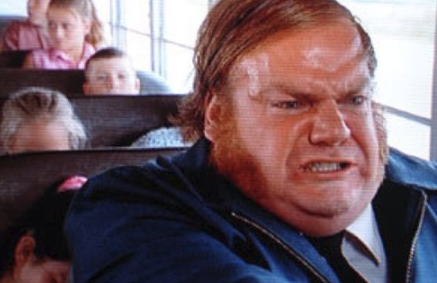 There is no doubting that there is nothing that's going change the fact that, for the trade, Carl Icahn beat down Bill Ackman. He used his leverage and his knowhow to engineer a squeeze and, accordingly, took his recent victory lap on CNBC in this interview.

The five year battle is essentially over for those keeping score in terms of the trade in terms of optics - Icahn and Herbalife won. Now Scott Wapner can stay friends with both guys and can go out and try to sell books.

So where does that leave us today? With the name dropping out of the mainstream, what does the investment thesis look like going forward? Rather than try to list 1 million reasons why I think the company is a good short here (stop me if you've heard this one), I want to instead push the question of what the long thesis is at this point.

I have stated publicly on Twitter that I expect the stock to move slightly higher before moving lower again. After the completion of the company's last Dutch Tender offer, shares moved up in accordance with the percentage of outstanding shares that were retired from the Dutch auction. I expect the same thing to happen this time, which will probably be a 5% to 8% boost that may put the stock finally over $100.

The most crucial question about the Dutch Tender, though, I asked last week: will Carl Icahn be selling into it or is he permitted to do so? I raise the point that the previous Dutch Tender had in its press release that he was not going to tender shares, while this one made no such statement. Scott Wapner chose not to address this point during his interview of Carl Icahn last week, despite the suggestion that he do so. Instead, Wapner offered no pushback on a litany of what I believe to be absurd justifications for his long position made by Icahn, including:
"It's hard to get into the business, it has big barriers to entry. They have great barriers to entry" - Icahn
"The model creates jobs, it makes entrepreneurs" - Icahn
"I look at it as a major growth company" - Icahn
All of these statements are ridiculous.
Regarding "barriers to entry", Icahn thinks this is a positive and that Herbalife as "great barriers to entry". Herbalife's own 10-K, however, states,
"In addition, because the industry in which we operate is not particularly capital intensive or otherwise subject to high barriers to entry, it is relatively easy for new competitors to emerge that will compete with us for our Members and customers."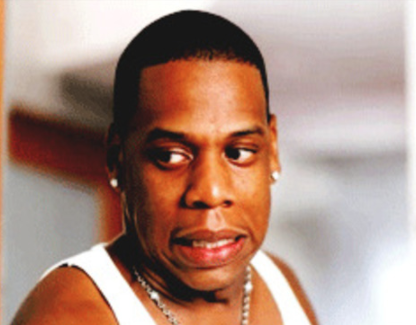 Also, as Christine Richard pointed out on Twitter last week, FTC guidance says that MLMs promoted as jobs are "likely to be deceptive":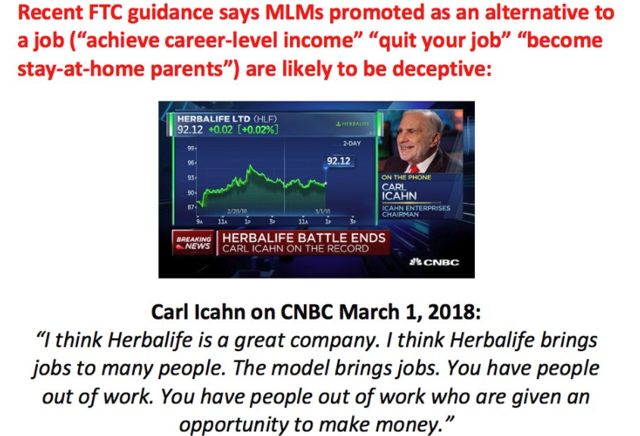 (Source: Orion Research LLC Twitter)
Finally, does this look like a "major growth company" to you?

Does this look like signs of major growth?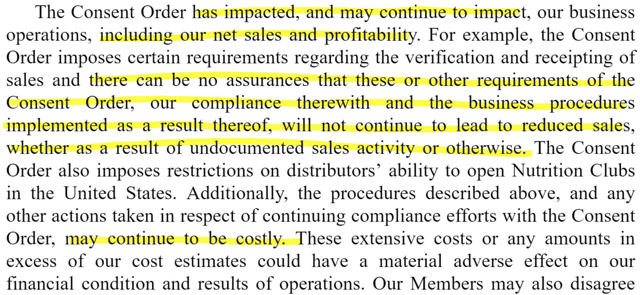 Or even just a growth company?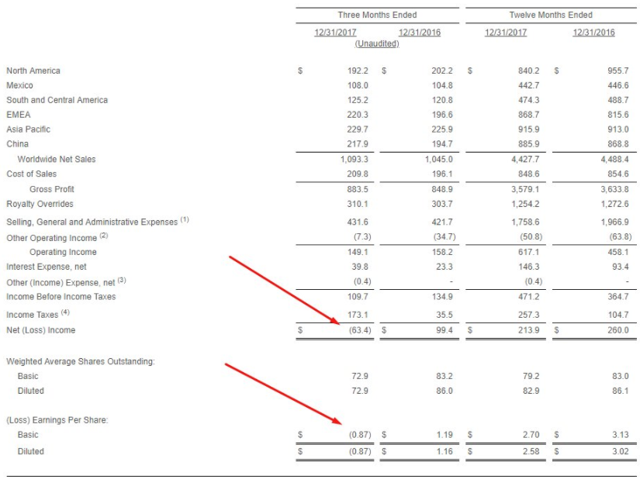 Growth, Carl? Growth?

(Source: ir.herbalife.com with QTR annotations)
Because that looks like the opposite of growth to me.
But I digress. And so long investors may have a couple more weeks of appreciating stock to look forward to, possibly. However, some of the smartest investors that I know have made statements guessing that with Ackman out of the picture and the stock at all-time highs, this may be a point where the company is the most appealing it has ever been as a short.

So why be long the company?

It certainly doesn't feel like a growth story anymore from the financials, especially when you look at charts of the company's revenue and net income and cash flow for the last couple of years.
Over the last 3 years the company's stock price is up 201.6% while its trailing twelve month revenue is down 7.78%.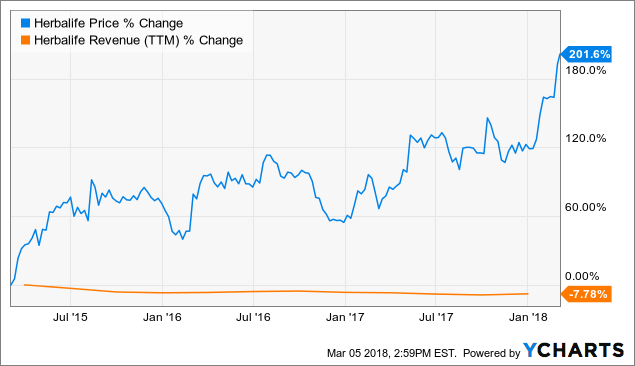 A major growth company.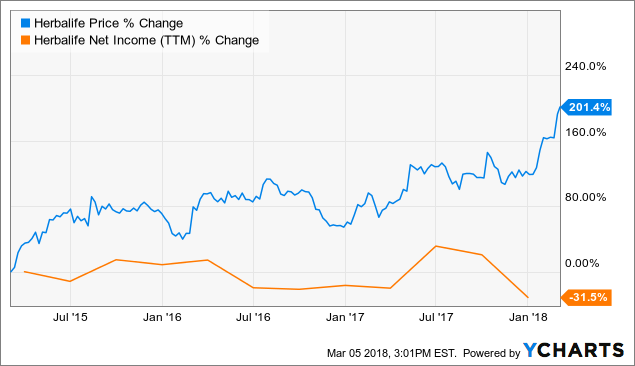 A major growth company.
The idea of going long doesn't necessarily seem to be something that management is interested in, with CEO Michael Johnson and CFO John DeSimone stepping out of their respective roles over the past 18 months.

So, with the company at this valuation currently - its PE going up and its FCF yield going down: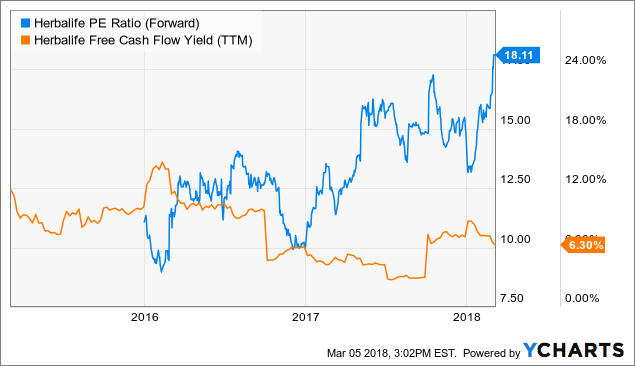 What is the narrative going to be that will support the stock price from here or what is going to guarantee that the company can continue to produce results and cash flow the way that they have over the last couple of years, when it appears to me the growth of the company has stagnated or slowed down quite a bit? The valuation looks to be relatively nosebleed. The company is priced more optimistically than other peers in the food and supplements sector, as my friend and fellow Seeking Alpha contributor Keubiko recently pointed out.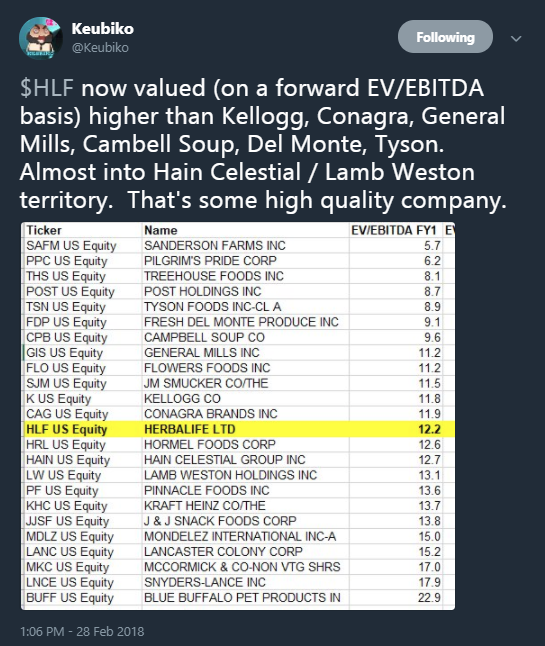 The one thing that I think the company may do is make a strategic move, like acquiring GNC or some type of move that could allow them to shift away from the multi level marketing model a little bit. This is what I would have done as soon as much of the criticism started coming down on the company. I talked about this with other shorts for years. Even though GNC is a failing business with a lot of debt, Herbalife could at least make a transaction with a similarly situated company so they have something to point back to and say "Hey look, we are not just an MLM company anymore".

That seems to be the biggest opportunity for the company going forward. They're making this name change now and so it seems like it wouldn't be a bad idea to make somewhat of a business model pivot now, as well. Kudos to executives like Michael Johnson and John DeSimone who were able to successfully navigate Bill Ackman's critiques and come out on the other side relatively unscathed personally. The future of the business could be another story.

The only other idea for a long thesis, aside from valuation, was the possibility of an Icahn-led buyout. With the company's valuation the way that it is now, I just don't see anybody being able to raise the capital necessary to take the company private, nor do I see any reason that anybody would want to do that. Yes, the company spouts off a lot of free cash, but the balance sheet isn't exactly spotless and if the free cash is put into jeopardy at some point, for any reason, the business becomes much riskier looking. Capitalizing its free cash stream seems to be the only asset the company is banking on right now.

On top of this, there are still regulatory concerns surrounding the company, including a recently filed lawsuit that is reportedly seeking 1 billion in damages from the company. This has been reported on by Law 360 (see below) but (surprise) not by the main stream media.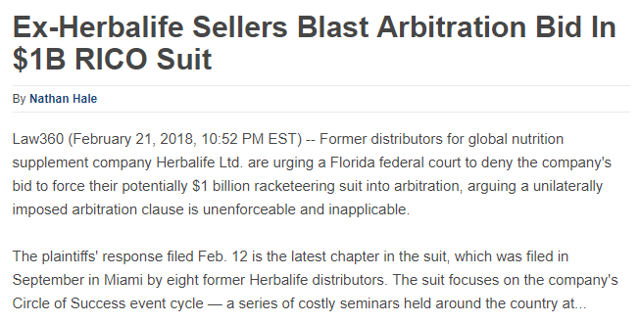 You can read the full text of the 246 page complaint here.
Not only this, but one of the plaintiff counsel who put this suit together recently made a couple of ominous sounding statements on his blog. What do you think this means?
Christine Richard and I started having long conversations about confidence scammers months before Ackman's opening salvo. When she mentioned Herbalife's revenues in our first conversation, I almost swallowed my tongue. More than a billion per year? How is that possible? That makes them bigger than all the other scams I've ever written about combined.

Where are all the victims? Where's all the buzz? How are they generating sufficient leads to sustain those kinds of numbers? I have my ear to the ground and both hands on the pulse of this specialized underworld. I know as much about it as anyone ever has. I see Herbalife's footprints all over the place, of course. But they ain't that big … they ain't nothing like that big.

During my first two years of writing about Herbalife I was contacted by between five and ten journalists… all of them wanted to talk about Vemma (which maxed at approx $250 million in scam revenue). Nobody cares about Herbalife. Herbalife is just not that big a deal in America, or in Scamworld America (assuming there's a difference between the two).

So if they're not a billion dollar scam, and they're not a billion dollar consumer products company… then where the hell are all the clock consistent billions coming from?

It's a delicious mystery. I've probably already solved it; but it's one of those situations where you have to wait until the final scene in the parlor room.
Also filed under "not covered by the media" was when it was reported by Bloomberg a couple months ago that regulators in Italy were "scrutinizing" the company:
A handful of Italian senators called on the government to scrutinize Herbalife Ltd. and its peers, likening their multilevel-marketing operations to a pyramid scheme that needs greater oversight.

The six senators, mostly from the Democratic Party, cited a report showing that more than 84 percent of Herbalife distributors in Italy haven't made any money, according to a transcript. They called on the Economic Development Ministry to review the companies' activities, arguing that their tactics may be illegal. It wasn't immediately clear what action, if any, the ministry would take.
On top of that, the consent order here in the United States still seems to have somewhat of a stranglehold on the company based on the above disclosure it made (and that I highlighted) in its most recent 10-K.

The final conundrum is how Carl Icahn exits the trade. As I guessed on my podcast it would need to be a three pronged style trade, perhaps tendering shares while also arranging a block trade and blowing some out on the open market. The stock is so high up now that he could unload some on the open market if he needed to and still get out with the profit. My guess is that the two for one split might help create some extra liquidity for Icahn to exit, similar to the way he exited his Netflix bet after their two-for-one split.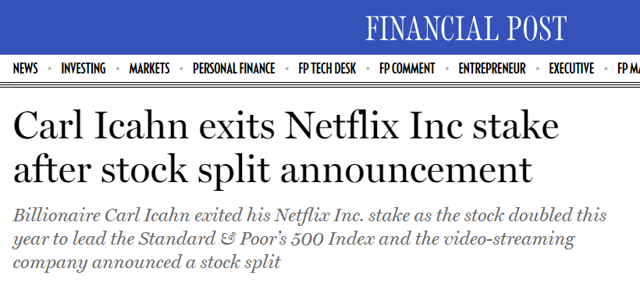 With Icahn's shares going elsewhere in this event, assuming he does sell, the float becomes much less locked up and some actual repricing of the stock could potentially happen in a scenario like that. Aside from the fact that nobody really knows what's going to happen now, the stock hasn't repriced properly in my opinion because so much of the float is locked up. Right now the oustanding share count is about 77 million shares. Of those, Icahn owns 22.8 million, and we can basically turn and point to another 47 million shares. That leaves very few shares.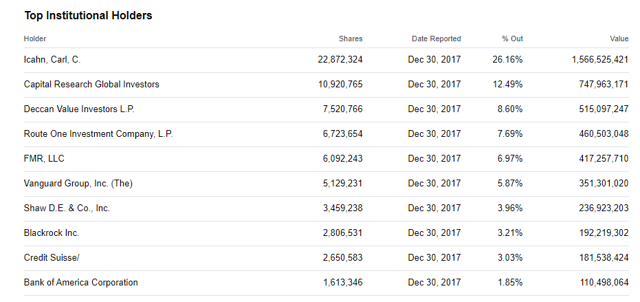 So while we may see the stock move a little bit higher in the short-term, the gap between the company's fundamentals and valuation has never been larger, leading me to believe – stop me if you've heard this one – that there's no better time to be short Herbalife than right now and also, perhaps, if the stock does wind up breaching the $100 level.

If you were getting long the stock now, ask yourself why. The short squeeze this is off the table. There is a massive unknown in North America. There are lingering unknowns in Italy and China. There is a new lawsuit that is being dealt with. Valuations are frothy. Do you want to pay close to 18 times or 20 times cash flow right now for a company whose business model has been alleged by the FTC to consist primarily on recruitment? I wouldn't, but to each his own.

This article was written by
This page and all of its contributor content is operated by Quoth the Raven Research, LLC. Please read this disclaimer first and foremost: https://quoththeravenresearch.com/disclaimerterms-of-service/ Quoth the Raven is Christopher Irons from Philadelphia, PA. Commentary by QTR has been featured in Barron's, the Wall Street Journal, Financial Times, Yahoo Finance, Reuters, Bloomberg and many other financial outlets. QTR is a speaker at numerous financial conferences annually. QTR was named to Benzinga's "10 Financial Twitter Names to Follow in 2018" and in late 2017 was named to Forbes' "Top 100 Twitter Accounts for Finance". In 2016, QTR's work was selected as a finalist for the Sohn Investment Conference Idea Contest. In 2014, he was named to Seeking Alpha's Top List of Best Performing Financial Bloggers and was TipRanks' #6 Performing Financial Blogger (Out of 4,000+). View QTR's track record on TipRanks: https://www.tipranks.com/bloggers/quoth-the-raven View QTR's website: http://www.quoththeravenresearch.com View QTR's Twitter: https://twitter.com/QTRResearch Listen to the QTR podcast: http://quoththeraven.podbean.com All content contained herein is bound to both Seeking Alpha's terms of service, as well as the terms of service found here: https://quoththeravenresearch.com/disclaimerterms-of-service/
Analyst's Disclosure: I/we have no positions in any stocks mentioned, but may initiate a short position in HLF over the next 72 hours. I wrote this article myself, and it expresses my own opinions. I am not receiving compensation for it (other than from Seeking Alpha). I have no business relationship with any company whose stock is mentioned in this article.
Seeking Alpha's Disclosure: Past performance is no guarantee of future results. No recommendation or advice is being given as to whether any investment is suitable for a particular investor. Any views or opinions expressed above may not reflect those of Seeking Alpha as a whole. Seeking Alpha is not a licensed securities dealer, broker or US investment adviser or investment bank. Our analysts are third party authors that include both professional investors and individual investors who may not be licensed or certified by any institute or regulatory body.