Welcome to my first portfolio update for 2018. My ultimate goal is financial freedom. In the future I hope to own a portfolio of income producing investments that will give me enough income to live off and grow into perpetuity. That's why I'm naturally attracted to dividend growth investing.
My belief is that individual investors can beat the market. I don't believe in diversification (to a degree); I also don't believe you always need to be 100% fully invested.
Schematically I group my stock into my, "dividend growth machine" and "beat the market stocks." My dividend growth machine consists mainly of DGI stocks that produce income that can be redeployed where I see value. The other stocks are invested to seek alpha, through growth at a reasonable price, a catalyst or deep value.
In theory I'm a contrarian even though my portfolio might have lots of familiar names. In my personal life I enjoy speculation, but I take my portfolio dollars very seriously and am risk-averse. This is my life savings, I hate losing money, and the math of loss works heavily against you. If your portfolio drops 50%, you need a 100% increase to get back to even. My trades are investments, made after careful consideration and analysis.
As a stock owner, 27/30 of my companies pay dividends. If my money is at risk, it's only fair to be rewarded. Dividends made sense to me when I started investing and they make sense to me now.
In the past I've been pretty good at buying low, but I've failed at the "sell high" part. I've sold some winners (and even losers) way too early. Knowing my weakness I've developed a bit of a slow hook.
Here is a pie chart of the current holdings updated through 3/2/18.
Here is equity portion, excluding cash and fixed income.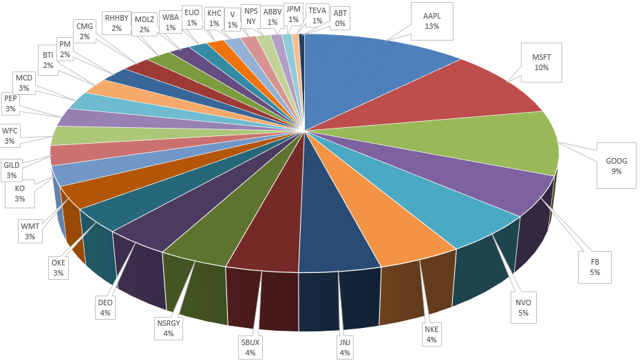 My last portfolio update was November 20th, and you can read about My 27 Stock Portfolio here. Since that last update I've had some movement.
Added invest-able cash to the portfolio, making my pie bigger.
Purchased Visa (V)
Purchased Roche (OTCQX:RHHBY)
Purchased Naspers (OTCPK:NPSNY)
Added to Facebook (FB)
Added to Nestle (OTCPK:NSRGY)
Added to Pepsi (PEP)
Added to Kraft Heinz (KHC)
Sold my entire International Business Machines (IBM) position. You can read about why in my article, "Buffett and I are both dumping IBM."
Current Holdings
26% Cash (overall): My cash position is really about 21% Cash and Short-term investments and 5% Fixed income through the Vanguard Total Bond Market Index (VBTIX). In the past I've just lumped it all together.
The bond fund is primarily government bonds and high quality corporate and Agency debt. It has over 8,000 bonds, a 6.1 year duration an 8.4 year effective maturity. Morningstar shows a 2.62% TTM yield, a 2.97% 30 day SEC yield.

Source Vanguard.
12.53% Apple (AAPL): My first Apple Article was published on this Website nearly 8 years ago. Everything came true and much more. If anything, Apple is one of the stocks I'd actually be looking to add new money to.
A couple of food-for-thought articles from my favorite author DoctoRx can be read here and here. The point is that the future is indeed bright and why only a small bet? Apple might not be another 5 bagger in terms of price appreciation, but it's one of the best cash machines the world has ever seen. Apple has so much money they barley know what to do with it and they are positioning themselves to be a future dividend Aristocrat.
Even if they just maintain the dominant franchises they have, you'll be more than ok. If their R&D pays off and they lead new markets like augmented reality, wow.
Apple trades at 13.25 times next years's earnings vs. the Yardeni estimated market forward PE of 17.1 and the tech forward PE of 18.4. You are getting the fortress balance sheet, the free cash flow, the current "it" company at a discount to Mr. Market and peers. Tell me why I shouldn't add more?
9.64% Microsoft (MSFT): Before blockchain, "Cloud" and "AI" were two major tech buzzwords. Microsoft is one of the top cloud providers in the world and Azure grew 98% in the most recent quarter. I'm not big on FANG; out of my 4 major tech stocks Microsoft is the one I'd be least likely to add to at the moment.
8.88% Alphabet (GOOG) and (GOOGL): Google and Facebook are winning the internet. With a forward PE of 22.23, there's a slight premium to the market and tech market. Google's growth is worth a 30% premium to the market and 20% to tech peers. Earnings this year will be double what they were 5 years ago.
5.38% Facebook (FB): This is one of the best growth-at-a-reasonable-price stocks out there. It was one of my most recent adds. This reminds me of buying Apple 10 years ago.
5.15% Novo Nordisk (NVO): 2018 Earnings should be double what they were 6 years ago. I love "up and to the right" predictable growing earnings.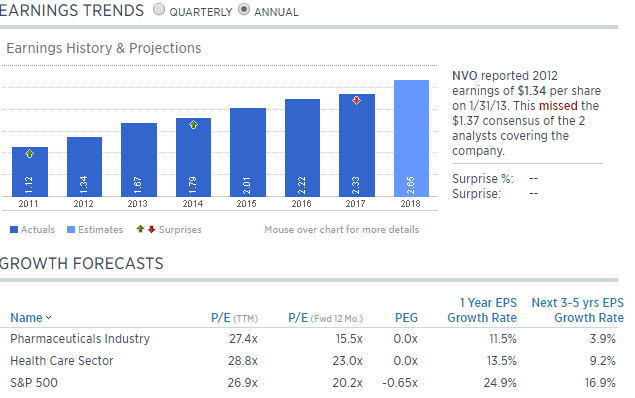 Source: CNBC
It's not just where Novo Nordisk was; it's where they are now. They currently trade at only a 10% to 20% premium to the market and peers. You are paying a little extra for one of the best companies in the world, a market leader with tons of runway.
The future is also bright. Positive data out of a phase 3 clinical last week for potential future blockbuster Semaglutide. This oral GLP-1 will most likely be launched in 2020.
4.46% Nike (NKE): Since my last portfolio update Nike is up 11% while the market is only up 3.5%. Over the last 6 months Nike is up 24.3% to the market only up 9.36%. After the nice run up I would NOT add to this stock or initiate a new position, but I wouldn't sell.
4.36% Johnson & Johnson (JNJ): I've owned for 10+ years. Great company, great stock. With a recent pullback from $148 per share to $128 per share I did some due diligence and decided to NOT add to my position as there are better buys.
3.86% Starbucks (SBUX): Starbucks is going to be the McDonald's (MCD) of the 21st Century and a future dividend Aristocrat. They conquered America but there's a whole world out there. In all my travels, I'm impressed with what I see from Starbucks, even in Peru.
3.71% Nestle (OTCPK:NSRGY): Nestle is a foreign dividend Aristocrat that has a yearly dividend coming up. After a recent Nestle article, I added to my position @ $80. The new CEO's strategy appears to be a good one. I'm considering making more frequent and smaller adds to my portfolio like I did with Nestle, and Kraft Heinz (KHC).
3.6% Diageo (DEO): It was a good idea picking up shares of a U.K. dividend Champion during a time of crisis and then adding to them. Diageo trades at about the same valuation as the market, pays a better dividend, is a better quality company and is defensive. People drink in good times and bad. Warning, if you own Diageo it will give you an added reason to drink Guinness or Captain and Coke.
3.21% Oneok (OKE): This was a buyout from the Oneok MLP (formerly OKS) Natural gas pipelines. I love that 5.4% dividend.
3% Walmart (WMT): This was a January 2016 dog of the Dow purchase that I wrote about here. The stock recently pulled back from the $104 range to sub $90. I'm currently neutral on the stock.
2.66% Coca-Cola (KO): Almost everything written about Coke on Seeking Alpha is negative these days. Obviously, the payout ratio is high and the growth hasn't been there. With a forward PE similar to the market, and a 3.5% dividend yield, this stock is quietly underrated for DGI investors and as a bond substitute.
2.66% Gilead (GILD): This stock has been undervalued awhile. Need to hold tight.
2.64% Wells Fargo (WFC): Financials trade a discount to the market. Wells 10.73 trades at a forward PE discount to other financials which is 13.6 per Yardeni research. Interest rates could be rising, which could help net interest margins at banks. There was a great article on Seeking Alpha maybe a year ago talking about banks soft assets as a hidden area of value (can anybody help me out here?) In the future, there is a lot of room for cost cutting at these banks, from blockchain simplify back office paperwork to branches going online. I'll take the 2.72% yield.
2.58% Pepsi (PEP): This was a recent add under $110. if DGI investors are looking for a spot to re-invest dividends, Pepsi looks like a good choice at current prices and a nearly 3% (and growing) yield.
2.5% McDonald's (MCD): Mid-2015 I wrote, "The State of McDonald's." My point was that McdDnald's was worth owning, and a better hold than another struggling, DGI stock, Procter & Gamble (PG). Here's the chart since then.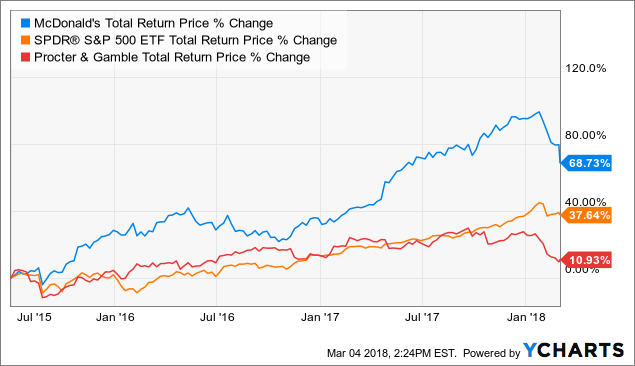 McDonald's handily beat the market, and Procter & Gamble is solidly lagged. McDonald's pulled back from $178 in January to $148 and is a HOLD.
2.3% British American Tobacco (BTI): It's like a giant game of Pac-Man. Lorillard gets bought out by Reynolds American. Reynolds American gets bought out by British American Tobacco. Lorillard was one of my greater investments. I love the 4.64% yield.
2.17% Philip Morris International (PM): 4% dividend yield. I mentioned it in my last portfolio update but I believe there's a chance big tobacco can get into the marijuana market in a big way. Small chance, but if they do it's like a call option on all these stocks.
2.17% Chipotle Mexican Grill (CMG) I'm in the red on this one. I still believe in this company long-term. Let's see what the new CEO can do to get Chipotle back on track.
1.96% Roche (OTCQX:RHHBY): The world's largest biotech. They sell 3 of the top 10 drugs and have fantastic R&D. An excellent summary of the long case for Roche can be read here, "More positive for Roche, The Core Biotech for the Long-Run". They also have a nice yearly dividend payment coming up in the 3.5% range. Thematically I love health care for the long-term.
1.65% Mondelez International (MDLZ): Spin off from Kraft. It boasts a ~2% yield. Personally I love Milka and Cadbury brands. Others love Oreo's, Ritz, Sour Patch kids, Philadelphia, Chip's Ahoy, Tang, Trident. At a better valuation I'd consider adding.
1.43% Walgreens Boots Alliance (WBA) I've always had an eye on Walgreens, hoping for a pullback. Last year they got Amazon'd and I started a position. I'd consider adding more as it's one of the better risk adjusted buys in the market now. Hat tip to Chuck Carnevale for an excellent article on Walgreens that can be read here.
1.38% Proshares Ultrashort Euro (EUO) Paying $1.24 for 1 Euro is a joke.
1.27% Kraft Heinz (KHC): Everybody wants to talk about what Kraft isn't good at, how about those 27% operating margins that are the envy of the industry? If you are just going to do the same thing as everybody else you will get the same results. Management is different. You can ready why I'm betting on the jockey here, "Kraft Heinz will succeed because of the Patriot way."
1.23% Visa (V): You can read part of my bull thesis here.
1.10% Naspers (OTCPK:NPSNY): This is a backdoor, cheaper way to buy into Tencent (OTCPK:TCEHY).
0.86% AbbVie (ABBV): I've held AbbVie/Abbott Laboratories for a long time.
0.77% JP Morgan Chase & Co. (JPM): This is another new holding. Might not have bought at the best price but started small, willing to buy on the way down (and the way up). If I buy into something, I like waiting about 6 months and evaluating if it's worth deploying further capital.
0.52% Teva Pharmaceuticals (TEVA): This is another of my few holdings in the red. Stock recently got a Buffett pop.
0.44% Abbott Laboratories (ABT): I've held AbbVie/Abbott Laboratories for a long time.
Watch list
Square (SQ), Nvidia (NVDA), Samsung (OTC:SSNLF), McCormick (MKC), Colgate-Palmolive (CL), Beckton Dickinson (BDX) stand out. I also wouldn't mind finding some overvalued stocks to short.
Conclusion
I like my portfolio and current high cash balance. The market looks overvalued and due for a pullback. If the market keeps going up, happy to reinvest dividends and slowly buy value on the way up. If we have a correction, I'd be even happier to add to existing holdings, and going long some riskier/beaten down names. If we have a crash, I'd be happy to stay calm and go, "all in".
Comments and feedback are much appreciated. Thank you for reading.
Editor's Note: This article discusses one or more securities that do not trade on a major U.S. exchange. Please be aware of the risks associated with these stocks.