Shopify And Wix.com - Where Are They Going?
Summary
Shopify (SHOP) and WiX (WIX) provide very similar services, have similar revenues but trade at vastly different multiples.
Shopify historical growth rate is much better than WiX, but its future is clouded with significant risks while Wix's future is much clearer; Both companies have good products.
While both companies have strong balance sheets and are running an annual loss, WIX has a much stronger cash flow statement.
Strictly e-commerce companies are better suited to use SHOP while companies that do not have e-commerce as their core business are better suited to use WIX.
Concurrently longing WIX and shorting SHOP may be a viable approach for investors who want to eliminate the technology and e-commerce market risk from their portfolio.
Editor's note: Seeking Alpha is proud to welcome Ramy Taraboulsi CFA as a new contributor. It's easy to become a Seeking Alpha contributor and earn money for your best investment ideas. Active contributors also get free access to the SA PRO archive. Click here to find out more »
I was recently asked by a client to help him choose an on-line e-commerce store front for his business. While doing so, I looked at two alternatives: Shopify (NYSE:SHOP) and WiX (NASDAQ:WIX). This prompted me to look at both companies from both a financial and a product perspective and share my findings.
STOCK PRICE REVIEW
Following is the stock graph for both companies:

The correlation between both companies is very high and both have experienced a huge return on investment (383% for Shopify and 225% for WiX) in less than 3 years. Both companies operate in the same field (providers of e-commerce and web sites). In addition, both companies have comparable revenue (in the range of $500M each) and comparable number of employees (approximately 2,000 for Shopify and 2,400 for WiX).
PRODUCT COMPARISON REVIEW
Summary
Shopify is an e-commerce platform, while WiX is a general web site building platform with e-commerce capabilities. WiX has come a long way over the past 12 months to the extent that it is now competing head-to-head with Shopify in the e-commerce software space, and is now considered the primary Shopify competitor. If this trend continues for the next 12 months, WiX will surpass Shopify from a functionality perspective, and this will result in significantly curtailing the potential growth rate for Shopify.
Shopify and WiX have an overlap in terms of their target market. The following diagram shows how the customer base of both companies overlap: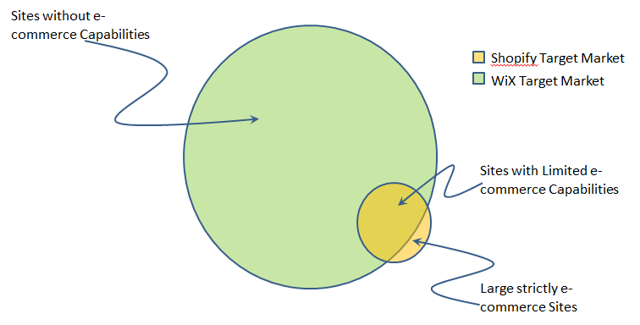 At a high level, if someone has a few products they are selling (like authors or sports clubs), they should use WiX. If someone is in the e-commerce business with hundreds of products, then Shopify would be a better choice.
The following table provides a comparison between both products from a product perspective and the winner in each category:
| | | |
| --- | --- | --- |
| Feature | Shopify | WiX |
| Pricing | | X |
| E-commerce Features | X | |
| General Web Site Features | | X |
| Ease of Use | X | |
| Flexibility | | X |
| Expandability | | X |
| Customer Support | X | |
| Integration | X | |
Details
This section provides the detailed comparison of the above features. You might like to skip the details and jump directly to the BUSINESS AND FINANCIAL COMPARISON REVIEW BELOW.
Pricing and Features:
Given that most of the e-commerce clients for both companies are using the starting package, we will look at the starter package for both.
WiX is conspicuously less expensive than Shopify. WiX starts at $17 per month while Shopify starts at $29. The features provided are very similar and comparable for simple e-commerce stores. For more details about the features, all you need to do is to search for "WiX vs Shopify" on YouTube, and you would get many videos that compare both platforms.
Please note the date of the video you are watching. Many videos are outdated from 2016 and 2017. WiX has improved quite significantly over the last 12 months, and you should review the videos from 2018.
In general, at the low end, both products provide very similar features. However, as the e-commerce needs increase, the Shopify features become better than the WiX features.
While these videos are useful, you should take them with a grain of salt. WiX does not pay for referring clients to them, Shopify has an Affiliate Program that pays up to $2,000 for each merchant referral. In some comparison videos, you will find the presenter asking the viewer to click on a Shopify link for them to "take credit and continue creating free comparison videos".
Ease of Use:
Both products are very easy to set up.
WiX, being a general website builder platform, has more templates for different types of businesses, and you can add an on-line store for any of these templates as a separate page. WiX also has the WiX Artificial Design Intelligence in addition to its regular editor which can have the e-commerce site up and running in a very short time frame.
Shopify, being specialized in e-commerce excels in the maintenance of the site after is being built. It also has a very large number of templates related to e-commerce sites. Shopify compares negatively against WiX from the perspective of enhancing the site with features that are not related to e-commerce, for example, blogs, resources, surveys, on-line bookings, memberships, calendars, and general forms.
On the other hand, Shopify provides the ability for users to switch themes after the site is built, which is not yet available via WiX.
Flexibility and Expandability:
In July 2017, WiX introduced WiX Code, the new feature that allows the site developers with an unlimited ability to introduce new features and have native database access to their site. More details are available in their public announcement: Wix Introduces Wix Code.
I personally believe that WiX Code is an integral feature of WiX's strategy that would allow developers to create more advanced features which will eventually enhance the experience of WiX users.
Shopify does not provide this level of flexibility in its site and its development standards are more rigid.
Customer Support
Shopify has support for all subscription plans, while WiX has phone support only for the upper tier (which is still less expensive than Shopify). In addition, Shopify provides help with non-technical issues like how to sell your products. On the other hand WiX provides Professional Site Review with its upper tier plan ($25 per month, which is still less expensive than Shopify's starter plan at $29 per month).
Both companies provide a comprehensive support database and a user group community that can help answering in-depth questions.
CORRECTION: After publishing the report, WiX PR staff contacted me and informed me that while WiX does not provide a traditional call centre, they provide a call-back feature for all its users, even the free ones. According to WiX, this functionality is the same as calling and provides less sitting and waiting.
In general, Shopify has better customer support compared to WiX.
Integration with other platforms
In this category, Shopify wins without competition. They allow integration with other platforms like Amazon, Facebook, Messenger and many other platforms. WiX does not have these capabilities, and Shopify clearly wins on this front.
BUSINESS AND FINANCIAL COMPARISON REVIEW
Summary
The following table provides a comparison between both companies from a financial perspective
Shopify

WiX

GAAP Revenue

$673M

X

$425M

Non-GAAP Revenue

$450M

$525M

X

Expenses

$429M

$406M

X

Total Current Assets

$1,025M

X

$264M

Cash Flow from Operations

$8M

$83M

X

Capitalization

$11.95B

$3.49B

GAAP Price/Revenue Multiple

17.8 times

9.2 times

X

Non-GAAP Price/Revenue Multiple

26.6 times

6.6 times

X

2017/2016 Revenue Growth Rate

73%

X

47%

2017/2016 Subscriber Growth Rate

45%

X

28%

Number of Paying Subscribers

509,000

3,200,000

X

Annual GAAP Revenue per Customer

$1,300

X

$130

Annual Non-GAAP Revenue per Customer

$884

X

$164
Details
The financial details are based on the latest annual financial results from both Shopify (Shopify Announces Fourth-Quarter and Full Year 2017 Financial Results) and WiX (Wix Reports Fourth Quarter and Full Year 2017 Results). All figures are in USD.
Revenue Analysis
Annual revenue for Shopify was $673M and for WiX was $425M. However these numbers do not tell the whole story:
Shopify mostly charges their customers on a monthly basis, and as a result there is very limited deferred revenue for the company (reported at just $1M). WiX mostly charges their customers on an annual basis which means their deferred revenue is approximately 50% of their recurring revenue base (reported at $202M). From a financial perspective, for adjusting the financial statements to a non-GAAP basis, this deferred revenue should be recognized as revenue instead of a liability as the customers would realistically have no claims to the annual subscriptions. This makes the Shopify and WiX revenues in the same range.
To be conservative, we will adjust the financial statements and recognize 50% of the deferred revenue as the current year revenue
Most WiX's revenue is recurring revenue, while over 50% of Shopify's revenue only is recurring.
Shopify's Merchant Solutions can be categorized as a pass-through revenue, and when adjusting the financial statements to a non-GAAP basis, the cost of Merchant's revenue would be deducted from the Merchant revenue. This is a deduction of $231M.
WiX also has Merchant solutions, but its revenue from these solutions is very small as a percentage of its overall revenue and can be safely ignored.
As a result of the above adjustments, on a non-GAAP basis, the revenue can be adjusted for both companies, and it would result in over $525M of revenue for WiX and lower than $450M for Shopify.
Expenses
Both companies have expenses in the low $400M ($429M for Shopify and $406M for WiX). If we look at the details of these expenses, we will see that the breakdown of expenses is marginally different:
Shopify

WiX

Expense Item

2016

2017

2016

2017

Sales and Marketing

$129

$226

$156

$204

Research and Development

$74

$135

$105

$153

General and Administration

$43

$68

$27

$48

Total

$246

$429

$288

$406
Looking at the trends, Shopify expenses went up by 75% year-over-year with most of the increase in the Sales and Marketing, while WiX expenses have gone up by 40%.
I would personally see the expense profile marginally better for WiX which spends more on R&D compared to Shopify. The significant increase in the Sales and Marketing expenses for Shopify (about $100M increase) also worries me about their sales and marketing strategies.
Cash Position
As of the end of the year, Shopify had $1,025M in current assets, while WiX had $264M. The more important factor is cash from operations. Shopify generated $8M from operating activities while WiX generated $83M from operating activities, more than 10 times as much. Moreover, the cash flow from operating activities from Shopify dropped by about 40% from $14M to $8M while WiX's cash flow from operating activities more than doubled from $40M to $83M.
The above numbers provide a relatively gloomy picture for Shopify's cash flow from operating activities compared to WiX.
Capitalization and Price/Revenue Multiple
Both companies are in a losing position, so the PE ration is not meaningful. However, price to revenue may provide a more meaningful measure for comparison.
As of March 3rd, the market cap of Shopify was $11.95B compared to a market cap of $3.49B for WiX. That is, WiX is valued as a company at 30% of the value attributed to Shopify.
On a non-adjusted GAAP basis, Shopify's revenue was $673M and WiX's revenue was $425M. This means that Shopify is trading at 17.8 times the historical GAAP revenue while WiX is trading at 8.2 times the historical GAAP revenue.
Based on the adjusted financial statements, Shopify's revenue is approximately $450M and WiX's revenue is $600M. This would increase the price for Shopify to be 26.6 times the historical non-GAAP revenue and reduce the price for WiX to be 6.6 times the historical non-GAAP revenue.
In other words, based on the adjusted historical financial statements, Shopify is about 4 times as expensive as WiX.
Historical Growth Rate
The numbers do not lie, and based on historical figures, Shopify has experienced a higher growth rate compared to WiX both from revenue and number of customers perspectives.
The following chart shows the GAAP revenue growth rate for Shopify (in millions of USD):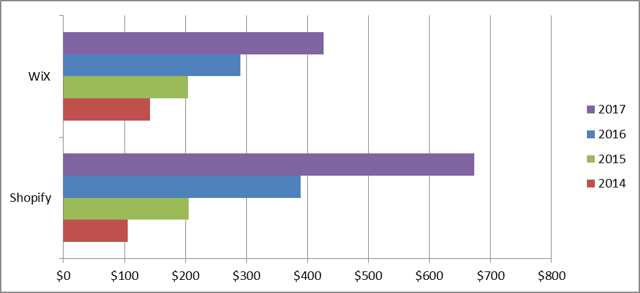 This is an impressive chart and shows that, while both companies are experiencing a good growth rate, Shopify's revenue has been growing significantly faster than WiX.
The next chart shows the paying subscriber[1] base growth rate: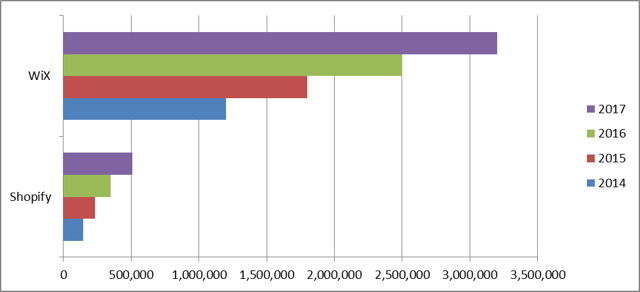 While WiX has a significantly higher number of paying customers, most of these customers are at much lower subscription base compared to Shopify. This shows that the per-user annual fee for WiX is significantly lower than that of Shopify, and accordingly they would be less price-sensitive and more committed to the WiX platform.
In general Shopify beats WiX on all fronts of historical growth.
Future Growth Potential and Churn Rate
While history may provide a glimpse on what the future is holding for us, this is not necessarily the case for the comparison between Shopify and WiX. Management guidance may also provide some indication, but in this fast changing environment, we cannot rely on them.
Because of the continued growth of e-commerce, I expect both companies to continue growing. However, I expect the WiX growth rate to be increasing while the Shopify growth rate will be stagnant or even decline. Here are the reasons for my prediction:
WiX has a huge number of non-paying registered users (119M), and this provides an incredible very inexpensive sales funnel for acquiring paying subscribers. Shopify does not have this sales funnel and their cost of acquisition of clients would thus be much higher.
WiX's strategy for acquiring paying clients over the last year has been providing them with a 50% discount for the first year subscription to convert from non-paying to paying plans. These customers will switch to a higher fee base over the next year, and will result in a higher revenue growth. Shopify does not adopt this strategy.
The annual cost for WiX's clients is much lower than that of Shopify ($1,300 for Shopify and $130 for WiX). This huge differential (10 times) provides WiX with a potential of increasing their price without any significant friction, and reduces the ability for Shopify to do that.
Because of the relatively lower annual fees, WiX clients much less price-sensitive compared to Shopify clients, and any down turn in the economy would be far more damaging to Shopify compared to WiX.
WiX provides a wider offering to its clients compared to Shopify. Shopify is strictly an e-commerce site builder, while WiX offers a complete web site builder with e-commerce capabilities. This means that WiX users, despite their paying a lower fee compared to Shopify, are getting more for their money. This will result in a much lower attrition rate for WiX compared to Shopify.
WiX is has been significantly increasing its e-commerce capabilities over the last 12 months and if this trend continues it may turn out to be superior to Shopify's e-commerce alternative. With its relatively low price, Shopify's growth rate will be significantly curtailed with new users choosing WiX instead of Shopify.
The real competitors for Shopify are not the e-commerce software providers like Wix, Magento, WooCommerce, Weebly, … as much as they are the competitors of Shopify customers in the e-commerce space, specifically, Amazon, Flipkart, Alibaba, eBay, Best Buy, Walmart and the other huge retailers who are creating their own e-commerce sites. The e-commerce success nowadays is based on the economies of scale, and the barriers to entry for creating a new e-commerce operation is extremely high. As a result, I expect that the churn rate for Shopify customers will be quite significant, as many of them will find that they are not generating enough revenue to compensate them for their risk, effort and time required to remain in the e-commerce business. On the other hand, WiX is focusing on e-commerce for customers with a few products rather than larger e-commerce operations, and they are offering far more than e-commerce in their platform; As a result, I expect WiX to be experiencing a much lower churn rate compared to Shopify.
Conclusion and Recommendation:
I would recommend longing WiX and shorting Shopify for the following reasons:
Both longing and shorting two companies in the same industry eliminate the market risk, that is, as the overall market goes up or down, your portfolio will not be impacted.
Shopify is running the risk of a huge churn rate because of the increased e-commerce competition from the giants like Amazon, Alibaba and Walmart which will negatively impact their client base.
WiX generates 10 times as much cash flow from operations as Shopify and its cash flow from operation is increasing while Shopify's cash flow from operations is dropping.
WiX's revenue is expected to grow significantly even without an increase in the number of subscribers as WiX client start paying their full subscription fee after the first year 50% discount. Shopify in not in this position.
WiX's technology is far more powerful and flexible than that of Shopify.
WiX-Code will provide advantages to the company similar to open-source advantages but only restricted to the WiX platform; Shopify does not have this feature.
WiX provides to their clients much more than e-commerce while Shopify is only provides an e-commerce platform.
WiX is putting more into R&D compared to Shopify; this will result in better product features that would better retain the customer base.
WiX has over 100 million users using its platform which provides an outstanding inexpensive hot prospect list for conversion to paying clients. Shopify does not have such a prospect list.
---
[1] WiX has over 119,000,000 overall registered users, most of which are non-paying (only 3,200,000 are paying), which provides a tremendous growth opportunity for WiX.
This article was written by
Managing Director and CEO, VeritableSoft Innovations Inc. ​Ramy is responsible for all the day-to-day operations of VeritableSoft, in addition to setting up the strategic direction of the company as a board member. ​Prior to working in VeritableSoft, Ramy held different executive positions including Chairman and CEO at SyncBASE, CIO at Insurance Bureau of Canada, VP - Internet Strategy and Development at Fidelity Investments, VP - Internet Strategy at Merill Lynch and Chief Systems Architect at Mercer Human Resources Consulting. Ramy has also held various directorship positions, and he is currently a director of AlphaOmega Reno Construction Inc., Canadian Wado Ryu Karate Do Federation and ESOP Association Canada. In addition to being the Chairman and CEO of VeritableSoft Innovations, Ramy also teaches business at both Seneca College and Schulich School of Business, York University. ​Ramy is a Professional Engineer who holds an M.Sc. in Computer Science, MBA and he is a Chartered Financial Analyst (CFA). Ramy has been practicing different forms of martial arts for 40 years, and is currently actively practicing Karate and Tai Chi. He also plays music and enjoys reading, writing and traveling around the world.
Analyst's Disclosure: I am/we are long WIX. I wrote this article myself, and it expresses my own opinions. I am not receiving compensation for it (other than from Seeking Alpha). I have no business relationship with any company whose stock is mentioned in this article.

I am holding both a small long on WIX and a small short on SHOP.
Seeking Alpha's Disclosure: Past performance is no guarantee of future results. No recommendation or advice is being given as to whether any investment is suitable for a particular investor. Any views or opinions expressed above may not reflect those of Seeking Alpha as a whole. Seeking Alpha is not a licensed securities dealer, broker or US investment adviser or investment bank. Our analysts are third party authors that include both professional investors and individual investors who may not be licensed or certified by any institute or regulatory body.