After The Big Pop, Axon Stock Is (Finally) Fairly Valued
Summary
AAXN is positioned for huge growth over the next 5-10 years, thanks to the rapid digitization of the law enforcement industry globally.
At $38, though, AAXN stock is more than fully valued.
We are buyers on substantial dips below $37.
Back in early August, we outlined a case for Axon (AAXN) stock to get to $60 within the next five years. After a huge beat-and-raise quarter, AAXN stock is well on its way to that level, trading at $38 as of this writing and up 70% from its August lows. Although AAXN has long been one of our favorite investments, we think that this recent pop has propelled AAXN stock into fair value territory. We think AAXN stock is presently worth around $37 and, consequently, do not see favorable asymmetry in owning shares at current levels. All in all, we are using this rally to take profits off the table but will look to re-enter on a substantial drop.
We have been pounding on the table for some time about the strength of the underlying growth narrative supporting AAXN stock. At first, the growth narrative was all about smart weapons and body cameras adding necessary transparency to and removing lethal force from law enforcement amid an era wherein police brutality was a political hot button and a media hot topic. The whole narrative was about AAXN providing a solution for controversial police shootings by adding video footage to the mix.
While that narrative remains true today, it has since become only a part of the entire AAXN growth narrative. AAXN is now revolutionizing all parts of the entire law enforcement industry with technology. The company has rolled out new products like Evidence.com (back-end digital storage solution), Axon Fleet (car camera), Axon Dock (charging station and data download port), Signal Sidearm (a device which starts video capture as soon as a firearm is removed from a holster), Axon Citizen (mobile app which allows witnesses to upload footage to police's Evidence.com system), and Axon Interview (video capture designed for police interrogations), among much more. Between all these new products, AAXN has sewn itself into every part of the law enforcement world, thereby growing the company's addressable market. Per its latest IR deck, AAXN management pegs its domestic TAM at $3.8 billion and its international TAM at $2.6 billion, for a global TAM of $6.4 billion. AAXN total revenues last year were just $344 million, so it's easy to see why investors are pricing in big growth into the foreseeable future.
The Weapons business grew at a 10% rate last quarter, while the Software & Sensors business grew at a 27% rate last quarter. Given the massive market opportunity and plethora of new cross-selling opportunities, we don't realistically see growth diluting that much further into the foreseeable future. Over the next five years, we realistically think that Weapons revenue can grow at a 10% CAGR to $378 million and Software & Sensors revenue can grow at a 25% CAGR to $333 million. Altogether, we think revenues can grow at a 16% CAGR over the next five years to $711 million by 2022. That is actually at the low end of management's five-year guide, which calls for revenues to grow at a 16-20% CAGR over the next five years.
Thereafter, revenue growth should slow considerably, given market saturation, but we still think Weapons revenue can grow at a 5% CAGR over the subsequent five years to $482 million by 2027 while Software & Sensors revenue can grow at a 15% CAGR to $671 million by 2027, putting total revenues at $1.15 billion by 2027 (13% revenue CAGR over next 10 years, versus management's guide for a 15-18% revenue CAGR in a 5-7 year window). All in all, we feel these 5- and 10-year revenue projections align with sensible market opportunity projections and management's guide.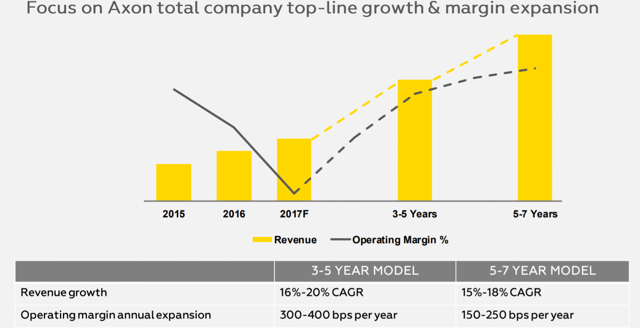 (Source: IR Deck)
Margins will start zooming higher next year as the company goes from an exceptionally heavy investment period to a less heavy investment period. Over the next 5-10 years, investment intensity will lessen with market growth, and management is guiding for 300-400 basis points of margin expansion per year over the next five years. In the long term, management is guiding for Weapons operating margins of 40% and Software & Sensors operating margins of 25% and up.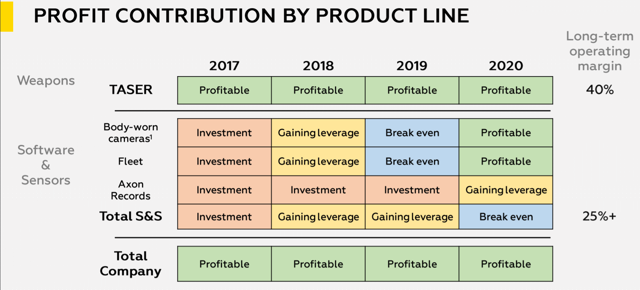 (Source: IR Deck)
Abiding by those guides, operating margins will be at least 18.8% by 2022 (300 basis points of expansion per year from a 3.8% base 2017). On $711 million in revenues, that would put operating profits at $134 million in five years (versus $13 million in 2017). Taking out 22.5% for taxes and assuming 54 million diluted shares, that should equate to about $1.90 in earnings per share by 2022.
Then, assuming AAXN hits its long-term operating margin targets by 2027, we are looking at 25% Software & Sensors margins on $671 million in revenue ($168 million operating profits) and 40% Weapons margins on $482 million in revenue ($193 million operating profits). All together, that is roughly $361 million in operating profits by 2027. Again, taking out 22.5% for taxes and assuming 54 million diluted shares, that should equate to roughly $5.20 in earnings per share by 2027.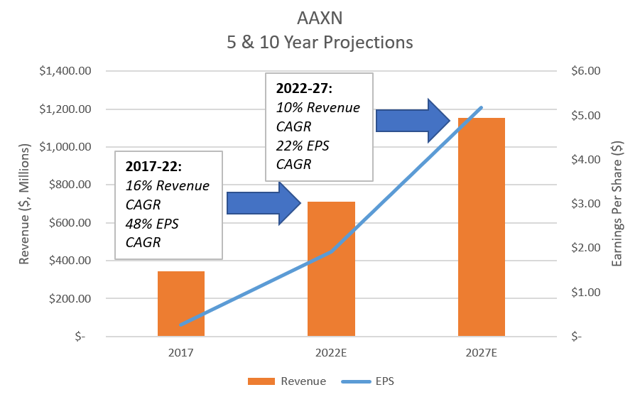 Based on these projections, we think AAXN stock is presently worth $37. From 2022 to 2027, we see earnings growing at a 22% clip. According to data from Yardeni Research, a sustainable long-term average PEG in the stock market is 1.3. A 1.3 PEG on a 22% earnings growth stock implies a fair forward earnings multiple of 28.6. A 28.6x forward multiple on 2022 EPS estimates of ~$1.90 implies a 2021 end price target of just over $54. Discounting that back by 10% per year, we arrive at a present, 2017-end fair value of roughly $37.
Overall, then, we clearly believe that the best is yet to come in the AAXN growth narrative. However, we also think the stock is fully priced for big growth over the next 5 and 10 years. Consequently, we are taking profits off the table here but will gladly buy back into this name on any substantial dips below $37.
This article was written by
L&F Capital Management, LLC, is a quantitative investment management group located in San Diego, California. Our multi-strategy investment approach comprises a mix of event-driven trades and long-term value investments, utilized together to maximize profit in both short and long term scenarios. We maintain consistency in portfolio mix through our long-term value holdings, but stress flexibility in portfolio mix from our daily event-driven trades. We believe this mix of flexibility and value generates both short and long term profits while reducing exposure to market volatility. L&F also shares various trade and investment opportunities through Seeking Alpha. For more information, visit www.lfcapitalmanagement.com.
Analyst's Disclosure: I/we have no positions in any stocks mentioned, but may initiate a long position in AAXN over the next 72 hours. I wrote this article myself, and it expresses my own opinions. I am not receiving compensation for it (other than from Seeking Alpha). I have no business relationship with any company whose stock is mentioned in this article.
Seeking Alpha's Disclosure: Past performance is no guarantee of future results. No recommendation or advice is being given as to whether any investment is suitable for a particular investor. Any views or opinions expressed above may not reflect those of Seeking Alpha as a whole. Seeking Alpha is not a licensed securities dealer, broker or US investment adviser or investment bank. Our analysts are third party authors that include both professional investors and individual investors who may not be licensed or certified by any institute or regulatory body.