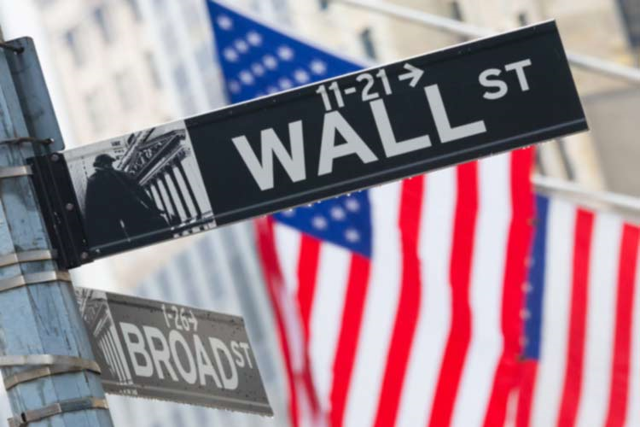 Image source: marketwatch.com
Investment Thesis
Analysts expect the US large-cap banks to take advantage of a healthy economic backdrop. The large-cap banks will benefit from growing GDP, lower unemployment, and higher short-term interest rates. They also anticipate this will result in a continued earnings per share (EPS) growth.
These economic indicators will be strongly anchored in improved loan growth, better net interest margin, more solid capital markets revenues, good operating leverage, benevolent asset quality, enhanced regulatory backdrop, and aggressive capital deployment.
In this equity research, we will examine the state of 23 US large-cap banks, and we will analyze them according to earnings growth, asset quality, stock valuations, capital management, and regulatory backdrop.
The analytical method employed considers the statistical median of the 23 large-cap banks taken as one composite index called the "median bank" to serve as benchmark of the overall performance of the 23 large-cap banks.
Earnings Outlook
Mid-single digit net interest income growth has been driven by higher loan growth. The year 2018 could see net interest margin (NIM) expansion, marking its third straight year of expansion for the first time since the 1970s. The advancement in NIMs was seen by technical analysts to get sluggish as deposit betas move higher.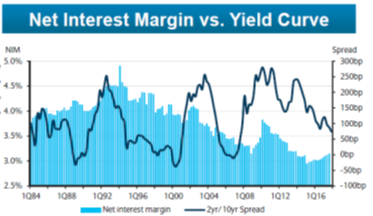 Source: Barclays Research
Operating leverage of 250 basis points is still positive. Fee income is expected to widen despite a potential pickup in expense growth. A small portion of expected savings from taxes will be plowed back into technology-related capital spending.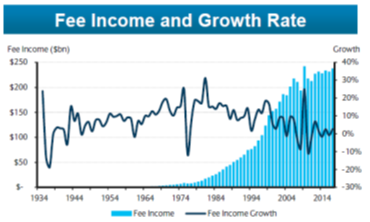 Source: Barclays Research
Majority of these US banks say they would increase loan loss provisions. Although most of these banks assume a continued benevolent asset quality, loan losses could get higher. Of course, share repurchases will be constantly active.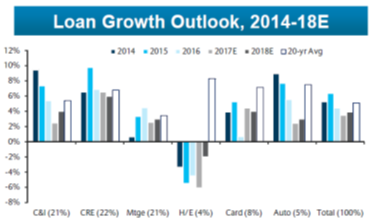 Source: Barclays Research
Average loan growth in 2018 would accelerate from 2017's expected level. Quicker GDP growth, increased business, and consumer confidence and tax cuts would benefit loan growth. There are other political drivers such as trade policy reform, infrastructure, healthcare, and corporate regulatory cuts which will aid loan growth.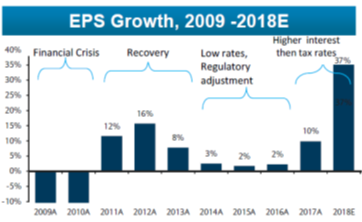 Source: Barclays Research
Earnings per share should be pretty good. Large-cap banks would not need significant growth to yield a decent EPS growth. EPS growth accelerated to double-digits in 2017 following a 2% EPS growth in the median bank during 2014, 2015, and 2016.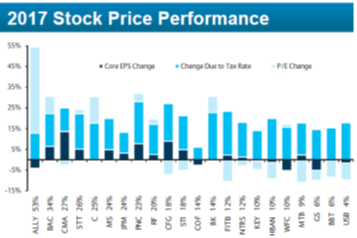 Source: Barclays Research
Net interest income will be adversely affected but it should benefit from the US Fed's 25 basis point rate hike in mid-December 2017 and another expected in mid-March this year. Trading revenues are seasonally stronger, while expenses tend to be elevated. Tax rates are expected to fall across revenue sources.
Asset Quality
Asset quality would see a bottoming process in non-performing assets and delinquencies. It will be accompanied by an increase in net charge-offs. These charge-offs will rise from a level less than half of its historical average.
Asset quality would also expect a higher loan loss provision with a modest build-up in loan loss reserves. Loan losses are running 60% below their historical average. This level was reached in 1981 and 1996. Both occurred five years after net charge-offs (NCO) peaked in 1976 and 1991. It took another five years for loan losses to return toward their historical average of 1.00% in both of those cycles. However, normalized losses could be lower in the next cycle.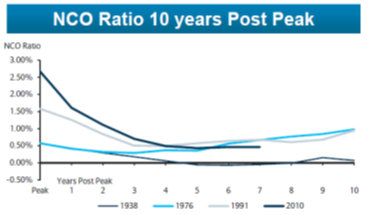 Source: Barclays Research
Going back 81 years ago, bank stocks outperformed the S&P 500 by 56%. It was a 50/50% split when bank stocks rose 20 basis points or less. However, bank stocks lagged in 7 out of 8 instances when NCOs increased more than 20 basis points. Analysts noted NCOs never exceeded more than 14 basis points in a year in which unemployment rate drops.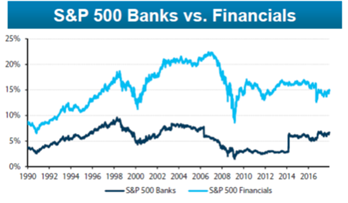 Source: Barclays Research
Stock Valuations
Large-cap banks are currently trading at 13X 2018 EPS and 2.1X price-to-book ((P/B)) calculated on 25-year averages. This valuation is seen undervalued despite prospects of earnings growth that is above historical averages and improving profitability. Earnings growth will accelerate on regulatory easement, tax reform, technology, and the strongest balance sheets.
Forward price-to-earnings ratios relative to the S&P 500 have declined despite marked changes in the outlook since the 2016 US Presidential election for the economy, interest rates, tax, and regulation. Analysts are forecasting that P/E valuations will improve from there.

Source: Barclays Research
My Takeaway
There are uncertainties and risks despite the very positive outlook for US large-cap banks. Most concerns of analysts center on the economic outlook, interest rates, tax reform, regulatory developments, and technology.
Gathering up analyst views, I could say that large-cap banks are a general reflection of the US economy right now. The United States is now in the later stages of the economic expansion cycle. The yield curve for interest rates is currently in its flattest and it has been over a decade. Deposit betas are rising and the US Federal Reserve is unwinding the quantitative easing.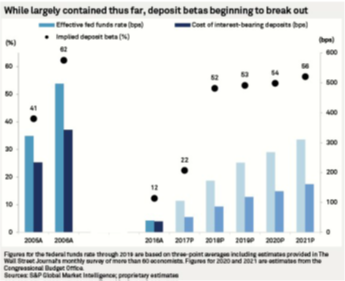 Source: S&P Global Market Intelligence
The developments in the regulatory rollback more specifically on the MiFID could be sluggish. The much anticipated midterm elections will be of key interest for investors and could bear positive effects to the banking regulatory environment. There are 435 seats in the House and 33 of the 100 seats in the Senate will be battled out. There are 39 state and territorial governorships and many other local elections.
I noted that there are several factors that caused the recent slowdown in loan growth of the median bank. Higher loan payoffs and paydowns resulted from large liquidity in the market. Many large corporate customers accessed the capital markets. These involved higher yields and rising IPOs while completed mergers and acquisitions were lower. The proceeds were used to pay down or pay off bank debt.
I also noted that commercial real estate loans were settled already prior to maturity, thus, reflecting lower cap rates. Another contributing factor would be increasing competition for middle market and small business loans. Large-cap banks are now more cautious to lend several market segments like automotive, multi-family real estate, medical office buildings, construction/development, and energy.
The banking industry liquidity is closely monitored by regulators, and this would lead to another pullback in loan growth. All banks have already begun disclosing liquidity coverage ratios (LCR) last August. Higher interest rates further weighed in. The one-month London Interbank Offered Rate ((LIBOR)) doubled in 2017 to its highest level since 2008.
Disclosure: I/we have no positions in any stocks mentioned, and no plans to initiate any positions within the next 72 hours. I wrote this article myself, and it expresses my own opinions. I am not receiving compensation for it (other than from Seeking Alpha). I have no business relationship with any company whose stock is mentioned in this article.
Additional disclosure: This article was written by Gold News business journalist, Hans Centena. Gold News is not a registered investment advisor or broker/dealer. Readers are advised that the material contained herein should be used solely for informational purposes. Investing involves risk, including the loss of principal. Readers are solely responsible for their own investment decisions. If you found this article to be informative and would like to hear more about my investment research, please consider hitting the "Follow" button above.