HP Is (Still) A Buy, Even After Incredible Rally
Summary
HPQ shares have room to rise even after gaining 37% over the course of the past 12 months.
The PC market's slow turnaround is being built on ultramobiles, where Hewlett Packard has proven competitive.
The slow-growth 3D printing market is heating up and should accelerate quite a bit come 2019.
In September of last year, I posted some bullish thoughts on computer and printer icon Hewlett Packard, now just called HP (NYSE:HPQ). At the time, it was mostly a lamentation of my then-misplaced preference for former bother Hewlett Packard Enterprise (HPE), though I readily acknowledged the consumer-oriented HP had proven its value on its performance.
Since then, HPQ shares have gained more than 20%. I'm glad I bothered to notice and say something.
Thing is, as technically overbought as the stock may be here, this is one of those turnaround stories that's not over yet. We're only a little more than halfway through it, and the stock likely has plenty more upside to go before all is said and done.
That's the veiled way of saying HP is still a buy.
Not a Lot Not to Like
For the record, the crux of my thesis from six months ago:
While the PC market outlook for the foreseeable future is tepid, on average, most observers may be underestimating the future.
In its most recently reported quarter, HP reported a 15% increase in sales for Personal Systems… its PC unit. It was the sixth consecutive quarter HP logged a year-over-year increase in PC revenue.
To be fair, the rising tide is helping. IDC reported at the beginning of the year that total PC shipments from all vendors grew in the fourth quarter of 2017. It was the first Q4 PC sales increase in six years, up just a hair under 1.0%. Clearly, that tailwind helped. It helped HP a heck of a lot more than it helped its rivals though, underscoring the idea that luck favors the prepared. Hewlett Packard has been redesigning and improving its entire lineup for several quarters now.
That modest uptrend is expected to persist as well. Gartner's PC outlook for 2018 calls for 264 million devices to be shipped this year, up from last year's 262 million. Most of that growth will be spurred by ultramobile devices. Laptop and desktop shipments are projected to fall from 204 million last year to 193 million in 2018.
Source: Gartner
As was noted though, it's a shift Hewlett Packard is ready for thanks to a couple years' worth of "back to the drawing" board.
That said, it's not just an improving PC market that will keep the bullish pressure on HP shares going forward. The company's printer arm saw a 14% improvement in revenue in its first fiscal quarter that ended in January. And that's without the full benefit of its still-nascent 3D-printing business.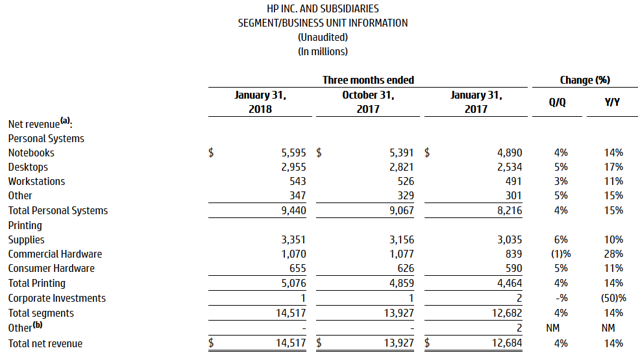 Source: HP Fiscal Q1 Earnings Release
The short version of a long story: While 3D printers were ready for the world back in 2012 and 2013, the world wasn't quite ready for them. That didn't stop the bubble-creating mania from swelling out of control though. The end result was a meltdown that soured some investors on 3D printing stocks forever.
Big mistake.
With a couple more years of refinement and a couple of more years to fully understand how 3D printers can and will be used in the marketplace, the well-funded HP is turning 3D printers into a viable business. Last quarter's sales of "Commercial Printing Hardware" was a healthy $1.07 billion, up from the year-earlier total of $839 million. Most of that was still traditional printing-on-paper equipment, but some were indeed the result of 3D printer sales.
The best is yet to come though. The HP Jet Fusion 300/500 series of 3D printers, for instance, allows for color printing of physical objects at an affordable price.
This printer and the myriad of others HP is bringing to the table are being presented at a time when the United States - and much of the world - is planning on an industrial revolution. Though IDC program vice president Keith Kmetz doesn't see 2018 being a breakout year in terms of 3D printer sales, the picture beyond 2018 is compelling. The firm believes the industry will grow to become a market worth $32.8 billion by 2023, advancing at a compound annual growth rate of 25.8% between now and then.
HP is perfectly positioned to capture a huge chunk of that market too, if for no other reason than it has a recognizable name to leverage.
Putting all the pieces of the puzzle together, and it's difficult not to like HP here. The bonus bullish argument is, in light of the fact that HP has topped estimates in each of its past five quarters, analysts are likely underestimating the company's forward-looking earnings. (The strong pre-Q4-2015 figures reflect the company's results before splitting with Hewlett Packard Enterprise.)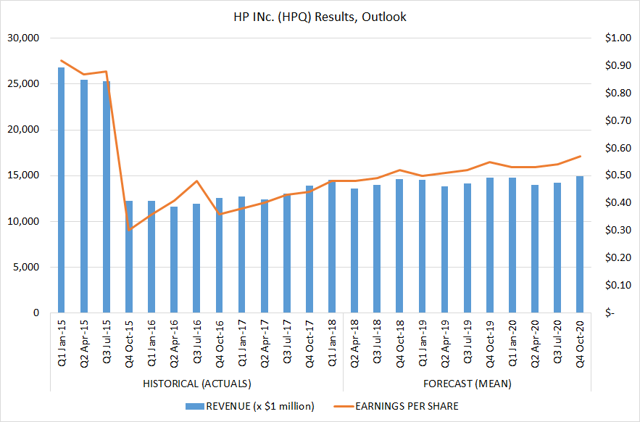 Source: Thomson Reuters, image made by author
Bottom Line
To be clear, I do think the bigger rally from HPQ shares is closer to its end than its beginning. In other words, don't get greedy. If it starts to look toppy and you're not truly married to it for the long haul, don't be afraid to pull the plug and head to the sidelines. You can always buy it back after a meaningful pullback.
Either way, the timing of any entry or exit is ultimately superseded by the overarching story here. That is, this company that was largely left for dead in an industry that was similarly scoffed at has not only defied the naysayers but has an encouraging future.
To that end, I suspect there's enough gas left in the proverbial tank to carry to $30.50 or so. It could take several months to get there, and even then that's a checkpoint target… meaning you should reassess then to see if more upside is feasible. After that, the company will need to continue producing some pretty amazing growth against some solid year-over-year comparison. It will take a full-tilt rebound in the PC market to make that happen.
Don't rule PC purchases out, however. All of the personal computers that were automatically updated with the free upgrade to Windows 10 are now several years old and are either breaking or are becoming obsolete thanks to newer, more demanding software designed for newer hardware.
Either way, at $30.50, HP shares are still only trading at a P/E of around 14.6.
At the other end of the spectrum, should things not pan out, I'd bail out of any trade on any move under $20.70. It also can't hurt to scoot that stop-loss up as any progress is made.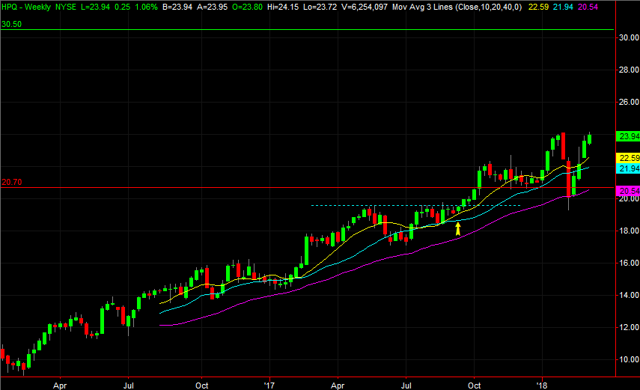 Source: TradeStation
Looking for more trading ideas and insights like this one, complete with targets and stop-loss levels? Hit the orange "Follow" button above. I publish about twice per week, sharing not just trading ideas but market insights and industry-specific research.
This article was written by
The Well-Rounded Investor newsletter is the culmination of a couple of decades' worth of not just experience within the financial services industry, but different kinds of experience within the industry. Brokerage, money management, journalism and more, with approaches ranging from short-term trading to buy-and-hold fund selection. Different schools of thought too, with practical applications of contrarianism, melding fundamental and technical analysis, and possibly above all else, learning when and how to ignore the news. Now that wealth of experience is being put to use in a way most investors have never seen before... in a practical way that makes sense, and acknowledges that investing in today's market requires adapting several (and ever-changing) ideas. The premise of yin-yang is only a glimpse of how the Well-Rounded Investor service considers all matter that impact your investments, and responds accordingly.
Analyst's Disclosure: I/we have no positions in any stocks mentioned, but may initiate a long position in HPQ over the next 72 hours. I wrote this article myself, and it expresses my own opinions. I am not receiving compensation for it (other than from Seeking Alpha). I have no business relationship with any company whose stock is mentioned in this article.
Seeking Alpha's Disclosure: Past performance is no guarantee of future results. No recommendation or advice is being given as to whether any investment is suitable for a particular investor. Any views or opinions expressed above may not reflect those of Seeking Alpha as a whole. Seeking Alpha is not a licensed securities dealer, broker or US investment adviser or investment bank. Our analysts are third party authors that include both professional investors and individual investors who may not be licensed or certified by any institute or regulatory body.