Northern Oil & Gas - The Only Reason For The Insider Buying Is Because It's Undervalued
Summary
Insiders are about to invest $40mm or 22% into this small but dynamic oil and gas producer.
The company is undergoing a recapitalization that will reduce risk and allow it to ramp up growth.
The bond market agrees with these changes, as its bonds have gone from 60% of par to 90% in the last six months.
The company is positioned to grow in a big way. While oil prices above $60 might add to your returns, oil price appreciation isn't required to get the stock to $6 per share.
The company is under-followed and waiting to be discovered.
Northern Oil & Gas (NYSE:NOG) is making a long overdue recovery, and I believe it's headed from $2 to $6 over the next year due to recent funding, a recapitalization, strength in production, declining costs and increasing oil prices. Its performance will be a catalyst for discovery by The Street, and an out-of-favor company will return to being in favor by rewarding long investors.
Insiders are leading a $40mm injection of new capital into the company. This represents 22% of the pro forma post-money valuation based on the closing market cap of $140mm on March 5, 2018. This is on top of the current 37% held by insiders, as per Yahoo Finance (29% post-money, pre-debt conversion). Contrary to most insider positions of this size, this represents shares about to be purchased or purchased in the last few years at prices actually higher than today's closing price of $2.15. Another $38mm will be sought for incremental cash and equity investments in the company. Furthermore, another $78mm of stock for oil and gas property might be issued.
When was the last time you could get in on such a large insider purchase before it happens? This is very unusual, so why is it happening? The company is going through a recapitalization and in addition to $40mm of new capital coming in, there is another $38mm of equity expected to be raised plus $156mm of existing debt that will be converted into equity from a mixture of insiders and key debt holders. The targeted price is $3 per share, but the final price will be what the market supports and the insiders are doing their best to talk up the company's prospects before the deal is priced. That indicates to me that the common shareholders will get a fair shake in the transaction. I think there is plenty of upside to go around and the market would agree.
Take a look at the first paragraph of its Form 8-K, filed on Feb. 1, 2018:
On Jan. 31, 2018, Northern Oil and Gas, Inc. (the Company) entered into an agreement (the Exchange Agreement) with holders (the Supporting Noteholders) of approximately $497 million, or 71%, of the aggregate principal amount of the Company's outstanding 8.000% Senior Notes due 2020 (the Outstanding Notes), pursuant to which the Supporting Noteholders have agreed to exchange all of the Outstanding Notes held by each such Supporting Noteholder for approximately $155 million of the Company's common stock, par value $0.001 (the Common Stock), and approximately $344 million in aggregate principal amount of new senior secured second lien notes due 2023 (the Second Lien Notes) (such proposed exchange, the Exchange Transaction).
The bond market agrees -- more than 80% of the company's current enterprise value or long-term capitalization is debt. This debt typically trades daily, and it has made a nice recovery over the past few months as evidenced by this recent pricing (as of June 1, 2020):
Symbol

NOG3913730

CUSIP

665531AB5

Next Call Date

06/01/2018

Callable

Yes

Last Trade Price

$90.40

Last Trade Yield

13.078%

Last Trade Date

03/05/2018

U.S. Treasury Yield
The bond price chart below, whose details can be found here and here, shows a five-year history of one of NOG's bonds, with the first year above 100% of par (100%-110%) and the most recent price at 90% of par. The bonds bottomed at 45% of par in February 2016.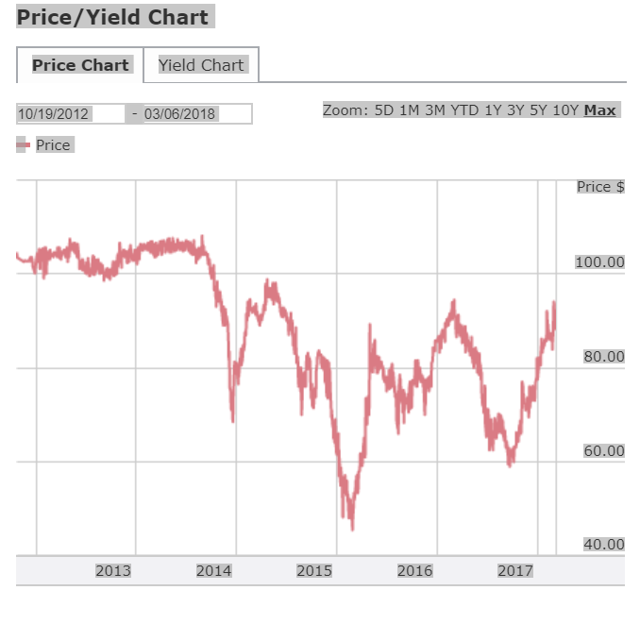 The company's February investor presentation is a worthwhile read and shows a new and improved set of insights about the business and its long-term potential. It can be found here.
Here is a highlight regarding recent progress and Q4 2017 momentum: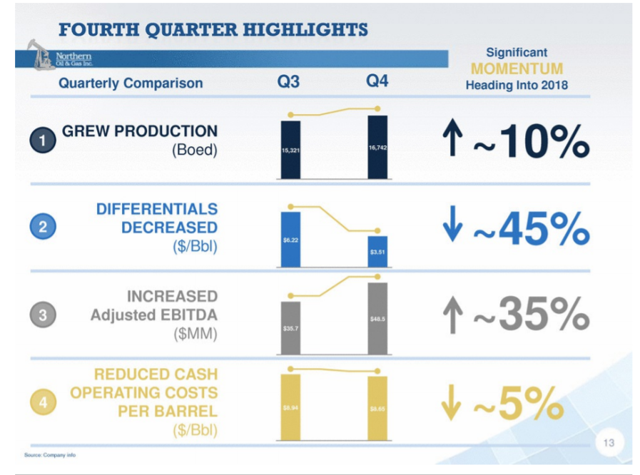 And the insiders behind this improved results and positioning of NOG aren't your average investors or insiders. They have taken board positions and the chairman role at NOG and are very accomplished business people. Some helpful background information can be found here.
For those wondering, I submitted the above-linked article when the stock closed at $1.18 per share (Nov. 22, 2017 closing price). The article was published a day or so later, and a little over three months later shares are now up 82% ($1.18 to $2.15). I still think it is a $6 stock easy and it is my largest position.
Oil prices have improved considerably over the last six months moving from a mid-range of about $50 to $63. With the company's nearly 50% hedge position of expected 2018 production at $53, only about one-third of this oil price appreciation is reflected in the company's results. In fact, the company reported its Q4 adjusted EBITDA as up 35% Y/Y, and this is with the oil price increasing fairly evenly over Q4, so the year-end pricing was only enjoyed for several weeks. As the company's February 2018 investor presentation outlines on page 7, at $60 oil the low end well performance produces a 40% IRR and the mid-range has a 71% IRR.
For those who want to read more about the outlook on oil prices, see Seeking Alpha author HFIR. There are some excellent views around the impact of the industry underinvesting in upstream exploration for years, and the possible bullish influence on oil prices. Here are a just a couple: "IEA Medium-Term Oil Market Outlook - Not Enough Capex" and "Weekly Oil Markets Recap - Oil Bull Thesis Remains Undeterred."
NOG is under-followed and waiting to be discovered. When comparing its following to other producers, NOG has a lower enterprise value but there is plenty of upside in coverage. Their expected strong performance in 2018 should serve as the catalyst for recognition.
Enterprise

Analysts

Value (Billions)

5.7

5

WLL

3.4

22

OAS

4.25

28

LPI

2.7

18

2

13

Average

3.61

17.2

NOG

1

3

Source: Yahoo Finance
A few other things about Northern Oil & Gas:
Fixing the leverage of NOG -- pushout or converting debt -- moves $652mm of debt five to six years out.
The hedge is 30% of the next four years' production, 48% of 2018; this is reasonable given its leverage position.
Production in 2018 will be at record levels. The company has a range of 17.2-17.8 BoeD, which equates to 6.4mm barrels for the year. The previous peak was 2015 at 5.9mm for the year.
The company has NOLs of $714mm, $175mm tax effected, total deferred tax assets, and fully reserved of $227mm (see pg. F-23 in the company's 2017 10-K).
Analyst estimates are soaring; see the below summary from Yahoo Finance.
| | | | | |
| --- | --- | --- | --- | --- |
| EPS Trend | Current Qtr. (Mar 2018) | Next Qtr. (Jun 2018) | Current Year (2018) | Next Year (2019) |
| Current Estimate | 0.1 | 0.09 | 0.42 | 0.57 |
| 7 Days Ago | 0.07 | 0.07 | 0.29 | 0.46 |
| 30 Days Ago | 0.02 | 0.03 | 0.17 | 0.5 |
| 60 Days Ago | -0.02 | -0.01 | 0.1 | 0.12 |
| 90 Days Ago | -0.02 | -0.02 | 0.06 | 0.12 |
Conclusion
If you want some exposure to energy, it's tough to find a better-positioned stock with so many positive things -- yet that is still underappreciated in a significant way. Investors are still far more fearful with regard to this stock. With the significant insider purchasing under way, its time to "back up the truck" as huge insider buying only means one thing: a higher stock price is expected. The recent fundamentals support this conclusion, as evidenced in the company's February 2018 investor presentation.
Editor's Note: This article covers one or more microcap stocks. Please be aware of the risks associated with these stocks.
This article was written by
I am a professional business adviser with a degree in accounting from a Big 10 school. As an investor of thirty years, I have served in the financial services and professional services industries. I am a past holder of various securities licenses and CPA. I am also an active personal investor. I feel strongly that people need to think for themselves.
Analyst's Disclosure: I am/we are long NOG. I wrote this article myself, and it expresses my own opinions. I am not receiving compensation for it (other than from Seeking Alpha). I have no business relationship with any company whose stock is mentioned in this article.

I have been a shareholder in NOG for over three years, and built this into my largest position while the stock was less than $2 per share, buying as low as $0.70 per share.
Seeking Alpha's Disclosure: Past performance is no guarantee of future results. No recommendation or advice is being given as to whether any investment is suitable for a particular investor. Any views or opinions expressed above may not reflect those of Seeking Alpha as a whole. Seeking Alpha is not a licensed securities dealer, broker or US investment adviser or investment bank. Our analysts are third party authors that include both professional investors and individual investors who may not be licensed or certified by any institute or regulatory body.