Overview
At the end of 2017, we published a three-part series to demonstrate that investments in shipping can be fruitful. We presented Star Bulk Carriers (NASDAQ:SBLK), and Seanergy Maritime Holdings (NASDAQ:SHIP) as potential investments that are poised to benefit from the current supply-demand dynamics. We felt that Star Bulk was the safer pick of the two and concluded it was the safest pick in dry bulk shipping. It is not an easy thing to make that statement in shipping, knowing how cyclical and invariably toxic management can be in the industry.
Despite a surprisingly positive Q4 result, where the best highlight was the unexpectedly high TCE rate of$13,860/day, the market completely disregarded Star Bulk. The stock merely moved up by 1%. Aside from the high TCE, the results showed that Star Bulk also maintained the leanest operator, with the lowest OPEX per vessel, in the industry. During Q4, it also improved its balance sheet by reducing further debts.
As we set to leave the lowest point of the shipping season, which coincides with the end of the Chinese New Year holiday, we believe Star Bulk will ride with the improving market. Thus, it's a good opportunity to add to Star Bulk as the stock is poised to break $13 from here.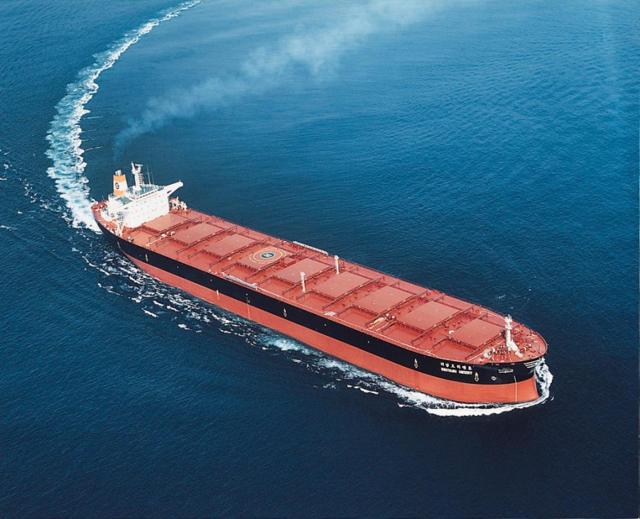 Related Tickers
From a group of Dry Bulk firms including Diana Shipping, Inc. (NYSE: DSX), Eagle Bulk (NASDAQ: EGLE), Genco Shipping (NYSE: GNK), Golden Ocean Group Ltd. (NASDAQ: GOGL), Navios Maritime Holdings, Inc. (NYSE: NM), Navios Maritime Partners L.P. (NYSE: NMM), Scorpio Bulkers (NYSE: SALT), Safe Bulkers (NYSE: SB), Star Bulk Carriers and Seanergy Maritime, we picked out the last two. Here, we will demonstrate that Star Bulk Carriers is a low-risk investment.
Star Bulk Carriers
If you are familiar with the company, then skip this section. Briefly, the company operates in Dry Bulk with a mixed charter profile, fleet composition, low-cost structure and responsible corporate governance.
The combination makes Star Bulk Carriers a much more diversified and well-run company than most shipping companies, making a safer long-term investment, but we think it is also adequately exposed to the upside of the current market trajectory. We will go through each aspect of the company briefly. For more general analysis of the company, we suggest reading our generalist guide article as a starting point.
Q4 Results
Fleet composition and charter profile
Star Bulk's fleet consists of 74 vessels, a mix of 11 Newcastlemax, 12 Capesize and 51 smaller vessels. Combined they amass 8.2 million DWT of transport capacity and has an average age of 8.1 years.
The mixture of vessel sizes makes Star Bulk a diversified operator, exposing the company to iron ore, coal, grains and other dry bulk markets. This makes the company a more defensive company when one segment underperforms, but also allows it to benefit from the growing grains market which a purer dry bulk company such as Seanergy lacks.
The chart below shows grains and crops market growing the strongest this year, up 9%. Ton-miles have been boosted due to healthy Pacific import demand and concentrated Atlantic exports.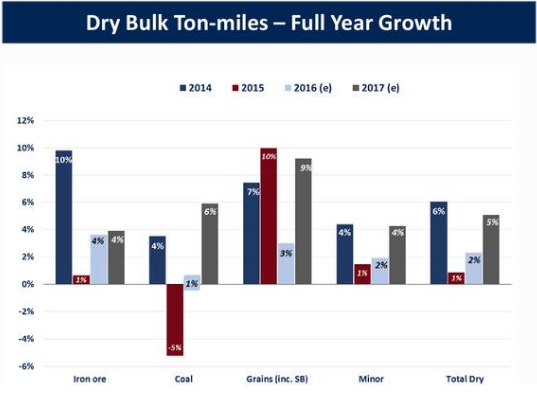 Source: Star Bulk Carriers Q4 2017 presentation
Another aspect that makes Star Bulk safe is its mixture of spot and longer term charter contract. As of Q4, Star Bulk fixed 30 vessels out of its 74 to longer-term contract. It makes the company less susceptible to a major drop back of current spot rates.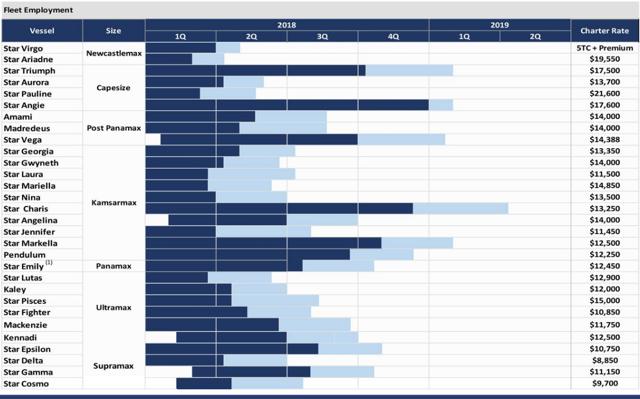 Source: Star Bulk Carriers Q4 2017 presentation
In Q3, the management said that it had fixed 80% of Q4 at $12,600 TCE, so to our surprise Q4 ended with $13,860 TCE. The high number proved the strength of the current market and ability of management. It was a fantastic achievement.
Low-cost structure
Operating a large and diversified fleet and a mixture of spot and fixed rate charter allows Star Bulk to benefit from economies of scales. The chart below shows that the company spent less OPEX in the last 12 months, at just under $4k a day compared to $4.4k spent by the other peers. That's roughly a 10% margin premium. Perhaps, as opposed to a lot of peers, Star Bulk uses an in-house commercial and technical management, thus allows it to cut OPEX even further.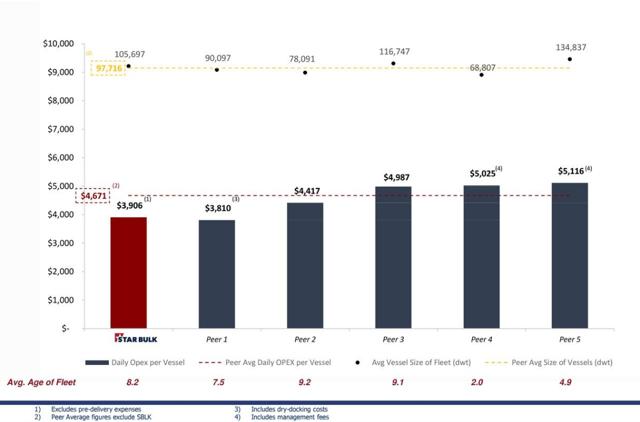 Source: Star Bulk Carriers Q4 2017 presentation
Earnings and Cash Flow
With the balanced fleet composition and low-cost structure, Star Bulk delivered $0.34 EPS, compared to -$0.29 last Q4. Adjusted EBITDA achieved $55.7M compared to $15.5M last year. It's worth mentioning that the company has managed to expand EBITDA over the previous seven quarters consecutively.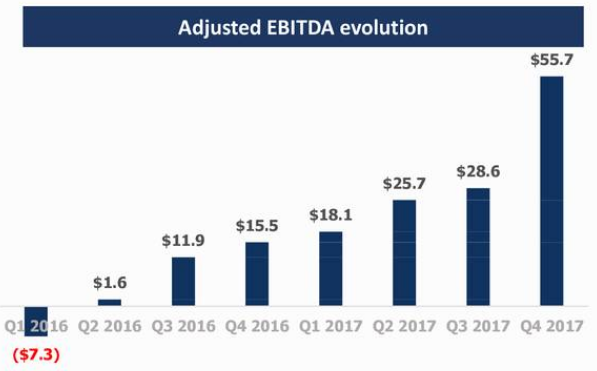 Source: Star Bulk Carriers Q4 2017 presentation
Star Bulk generated $39.2M of FCF from on the water vessels during the quarter. After adjusting for net sales proceeds, CAPEX and remaining financing activities, the company has $257.9M of cash.
The company expects to generate significant FCF over the next 1-2 years. As a result, the management is spoiled for choice with how to allocate its cash.
… our free cash flow for a little while anyway is going to be used to pay down debt and then we would intend to become a dividend payer. And I think we probably have a little bit of cash more than we absolutely need but that will just be used, for example, to pay for some of the required upgrades to the fleet and eventually as dividend."(emphasis ours)
We expect Star Bulk to prioritise on paying down debts;
…we have approximately $100 million of deferred debt. Therefore we aim at repaying these with the free cash flow that we will be making over the next few quarters, as well as refinancing some of our facilities. So you would see that figure of deferred debt hopefully going to zero by the end of the year." (emphasis ours)
And share buyback the least important, even though it makes sense when the share price is below NAV;
… no dry bulk company ( Star Bulk included) is really big enough to satisfy the needs of the institutional investment community and every time a shipping company makes a substantial share buyback, that shrinks the market cap and the public float even further" (emphasis ours)
With improving market, we expect a minimum of $40M FCF per quarter going forward. That makes Star Bulk cheap, at the base case, trades at 5x FCF. Not to mention the rising asset value that comes with improving market fundamentals. If BDI of March proves to be the lowest point of this year, then it has already doubled last year's number.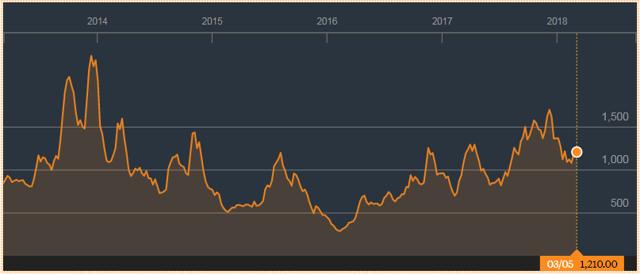 Source: Bloomberg BDI Index
At the same time, new ordering in the dry bulk continues to remain subdued, indicating a continued favourable supply-demand dynamics. Given the overall market improved fundamentals, in addition to improving steel prices, we expect higher ship valuations to follow.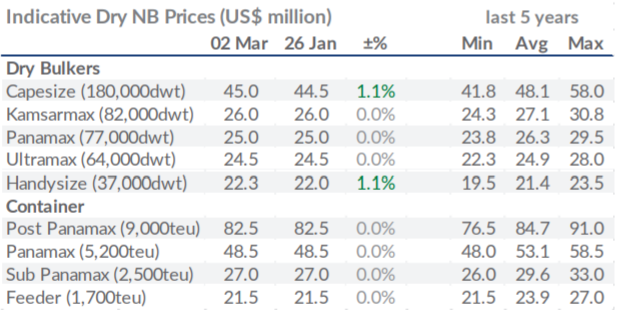 Source: Hellenicshippingnews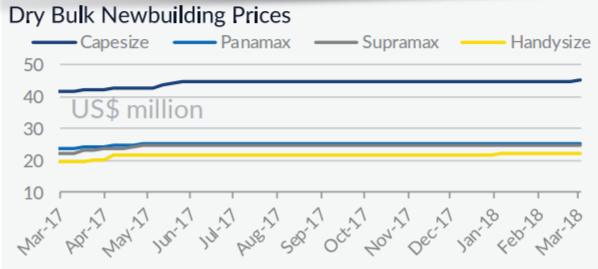 Source: Hellenicshippingnews
Corporate governance
Setting financial aside, what attracts us to Star Bulk is the clean corporate governance record. Part I of our shipping investment guide lists a host of devious equity-destroying behaviours that many are guilty of, and Star Bulk as of date has none of them. In recent months, a few dry bulk firms have issued head-scratching equity raises, namely NMM's $35M offering, and SHIP's failed equity raise, and we recall numerous other instances on the broader shipping industry.
What makes Star Bulk more aligned to equity holders is that over half of the company's shares is owned by Oaktree Capital management, a reputed private equity fund, whose investment in the company is still underwater at current prices. It is undoubtedly motivated to make the most of the ongoing recovery. The other significant owner is the Pappas family, which owns a modest amount at 5.3%.
Also, the company is less susceptible to risks of related party deals as its technical and commercial management is run in-house. Star Bulk also ranks highly in the recent Wells Fargo's (NYSE:WFC) corporate governance ranking.
Takeaway
Overall, Star Bulk is a low-risk investment; it manages a larger and more diversified fleet, a mixture of spot and longer term charter and a solid ownership and corporate governance profile. It is also reasonably levered at 52% D/A and possesses a healthy cash position close to $260M.
Q4 has shown massive improving fundamentals with 70% improvement of TCE, and EBITDA and FCF way above our expectation. We expect the company's share price to ride with the current dry bulk market and achieve $15/share within a few quarters, giving it a small 10-20% upside, but certain.
For those who have higher risk appetite, consider Seanergy, which is due to report Q4 results on March 7. It is riskier, but the cash flow potential is phenomenal; at $2 target price, savvy investors can achieve at least 50% gain from the base case.
If shipping investments are not for you, we cover value stocks, so maybe try a turning-around watch retailer (Fossil (NASDAQ:FOSL)), a beaten-down health retailer (GNC (NYSE:GNC)), or a diversified infrastructure (L.B. Foster (NASDAQ:FSTR)).
Author's note: Thank you for reading! If you have enjoyed our article, support us by clicking the "Follow" button. Lastly, please do additional due diligence and enjoy investing.
Disclosure: I am/we are long SBLK, SHIP. I wrote this article myself, and it expresses my own opinions. I am not receiving compensation for it (other than from Seeking Alpha). I have no business relationship with any company whose stock is mentioned in this article.
Editor's Note: This article covers one or more microcap stocks. Please be aware of the risks associated with these stocks.