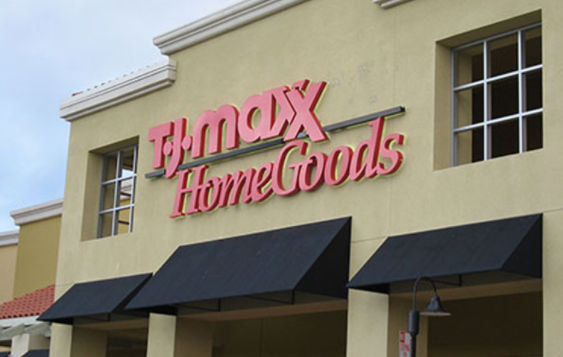 TJX (NYSE:TJX) has been a bit of a pioneer in the off-price treasure hunt retail experience. Its years of developing the concept have afforded it an advantage that few others have been able to cultivate; but in the recent past, TJX shares have just traded sideways. The company's growth has slowed as it has become larger and more efficient, and investors have revalued the multiple they are willing to pay for the stock. After the company's Q4 report, however, shares are very near their 52-week highs, and given the EPS growth TJX guided for, I still think they're reasonably priced here.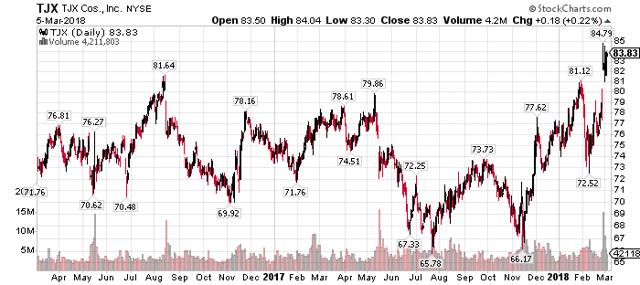 Lots of sales growth, but margins were flat
Total sales for Q4 were up 16% as TJX enjoyed an extra week over last year's Q4, but importantly, posted a 4% comp sales gain. Consensus was for more like 2%, and this quarter's gain comes on top of last year's Q4 gain of 3% as TJX has continued its 22-year streak of comp sales gains. The Canada business led the way with a 7% comp, but all segments were up at least 3% as TJX just continues to find ways to get people in the stores. The formula works, and nothing needs to change; TJX is doing a terrific job with comps.
Adjusted operating margins were down 10bps in Q4 as adjusted gross margins fell 40bps but adjusted SG&A costs partially offset that loss by leveraging down 30bps. TJX has a bunch of one-time adjustments to its margin profile in Q4, including charitable contributions, one-time bonuses, the extra week, a goodwill impairment and others. Excluding those, TJX saw operating margins at about flat, and while I'd obviously like to see some margin growth, that hasn't been in the cards for TJX for some time. In addition, guidance for this year would suggest that margins will be flat again, but given the other levers it has for EPS growth, the stock is still reasonably priced.
Guidance was good enough
Comps were guided at 1% to 2% for this year, which would put 2018 roughly in line with 2017's result. Coupled with store growth, that should lead to something like 5% or 6% total sales growth in 2018. In addition to that, TJX reckons its wage increases will negatively impact EPS growth by 2%, so margins are going to be flat to slightly down in 2018. The buyback, however, is guided for $2.5B to $3B, good for 5% or 6% of the float at today's prices. Putting all of this together means EPS will grow at 4% to 6% on an adjusted basis this year, this being the sum of slated revenue growth, the larger buyback and negative margin growth.
On an unadjusted basis, EPS is going to grow another 16% or so due to tax reform. TJX says it will see a $0.74 positive impact from tax reform this year and is using that money for various things, including increasing the dividend as well as the buyback that I just mentioned. The dividend was bumped 25%, and the stock is now yielding close to 2% for the first time in a long time. TJX is no income stock, but it is rapidly becoming that way given the magnitudes of recent dividend increases. Further, management has made it very clear they are committed to the dividend and the buyback, so I'd expect we'll see TJX emerge as a strong dividend growth stock in the coming years. The business produces more cash than TJX can use to expand, and that is why we are seeing so much cash returned to shareholders, which is a very good thing and the sign of a healthy business.
A reasonable, but not cheap valuation
The stock is going for 17 times TJX' guided EPS number for this year, and given its adjusted EPS growth number, I'd say the stock is reasonably priced. For a company that is growing EPS in the mid- or high single-digit range over the medium term, that's a somewhat high price to pay for growth. However, TJX has a lot of money it is willing and able to pay out to shareholders, and let us not forget it has been two decades since it posted a full-year comp sales decline. The treasure hunt retail experience has proven to be a winner, and I'd argue TJX is probably the best at it; segment leaders don't really get to be cheap very often.
The bottom line is that TJX's Q4 was strong, and while guidance wasn't gangbusters, it was good enough. The capital return story is really coming into its own for TJX and that should help the stock find some additional buyers in the coming years. I have a lot of faith in the management team as they continue to execute well; so I still think TJX is a long-term hold here. You don't need to chase it at its highs, but on a pullback, TJX is well worth considering.
If you found this article interesting, please consider hitting the orange "Follow" button at the top of the page. Thanks for reading!