Why Volatility May Be A Bigger Threat Than Rates
Mar. 07, 2018 6:13 AM ET
SPY, QQQ, DIA, SH, IWM, TZA, SSO, TNA, VOO, SDS, IVV, SPXU, TQQQ, UPRO, PSQ, SPXL, UWM, RSP, SPXS, SQQQ, QID, DOG, QLD, DXD, UDOW, RWL-OLD, SDOW, VFINX, URTY, EPS, TWM, SCHX, VV, RWM, DDM, SRTY, VTWO, QQEW, QQQE, FEX, ILCB, SPLX, EEH, EQL, SFLA-OLD, QQXT, SPUU, IWL, FWDD, SYE, SBUS, SMLL, SPXE, PPLC, PPSC, UDPIX, JHML, OTPIX, RYARX, SPXN, USSD, HUSV, RYRSX, SCAP, SPDN, SPXT, SPXV, USWD, TBT, TLT, TMV, IEF, SHY, TBF, EDV, TMF, PST, TTT, ZROZ, VGLT, TLH, IEI, BIL, TYO, UBT, UST, DLBS, GOVI, DTYS, VGSH, SHV, VGIT, GOVT, SCHO, TBX, SCHR, FTT, SPTI, GSY, TYD, DTYL, EGF, VUSTX, DLBL-OLD, TYBS, DTUS, TUZ, DTUL, DFVL, TAPR, DFVS, TYNS, RISE-OLD, FIBR, GBIL, HYDD
1 Comment
Russ discusses why investors should worry less about higher interest rates and more about the volatility resulting from tighter financial conditions.
Investors are growing anxious. Most of the angst is focused on interest rates and the Federal Reserve (Fed). However, although that fear is not irrational, it may be exaggerated, as I discussed a few weeks back. All else equal, stocks can withstand modestly higher rates. The obvious rejoinder is that all else is never equal.
Rather than a marginally more aggressive Fed, the bigger threat may be the side effect of tighter financial conditions leading to more volatility. In other words, stocks can probably withstand yields of 3% on the 10-year Treasury, but a VIX stuck in the 20s may create a real headwind for equities.
Why should volatility be such a threat? Even after the recent spike, the VIX Index is only back to its long-term average. Furthermore, equity markets did quite well in the late 1990s, a time when the VIX frequently was above 20.
There are at least three counter arguments. This bull market has been largely built and sustained on cheap money; conditions are changing. In addition, the change is happening against a backdrop of extended valuations in U.S. equities. High valuations and high volatility did coexist in the late 1990s, but that did not end well. Finally, in the post-crisis world multiples are much more correlated with volatility.
Easy money
Indeed, one reason markets performed so well last year is that despite the Fed hikes, financial conditions actually eased. While the Fed was hiking, other factors - notably the U.S. dollar and credit markets - were pushing in the other direction. The net result is that financial conditions remained about as easy as they get.
Easy money and loose financial conditions are important as they correlate with volatility. In the post-crisis environment this relationship has been getting stronger. It is no mystery why the VIX spent much of 2017 in a coma.
Equity multiples
Although financial conditions have yet to tighten in a material way, investors are clearly getting nervous about the Fed wrecking the party. Again, higher interest rates by themselves are not a disaster, but if we experience a broader tightening of financial market conditions, including a stronger dollar and wider credit spreads, volatility is likely to remain elevated. This is problematic because in the post-crisis environment, equity multiples - the amount investors are willing to pay for each dollar of earnings - and volatility have also become increasingly correlated.
Since 2010, the level of the VIX has explained 45% of the variation in U.S. equity multiples. Not only is volatility highly correlated with multiples, but the relationship has historically been the most relevant at current levels. Based on this relationship, a sustained move from 10 to 20 in the VIX would suggest a decline of about 20% in the S&P 500 P/E ratio. Interestingly, that is also roughly the level of earnings growth that many analysts expect. See the chart below.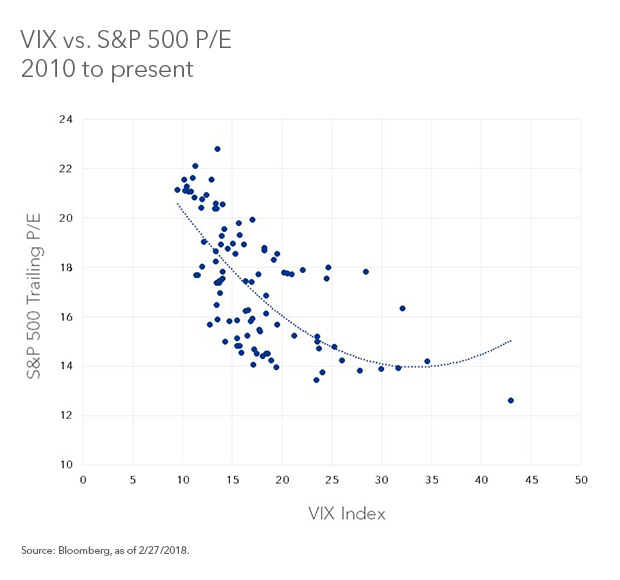 The takeaway
If we are moving to a higher volatility regime, investors should expect some multiple compression. If volatility remains high enough, the headwind from lower multiples could offset much of the tailwind from higher earnings.
This post originally appeared on the BlackRock Blog.
This article was written by
Russ Koesterich, CFA, JD, Managing Director and portfolio manager for BlackRock's Global Allocation Fund, is a member of the Global Allocation team within BlackRock's Multi-Asset Strategies Group. He serves as a member of BlackRock's Americas Executive Committee. Mr. Koesterich's service with the firm dates back to 2005, including his years with Barclays Global Investors (BGI), which merged with BlackRock in 2009. He joined the BlackRock Global Allocation team in 2016 as Head of Asset Allocation and was named a portfolio manager of the Fund in 2017. Previously, he was BlackRock's Global Chief Investment Strategist and Chairman of the Investment Committee for the Model Portfolio Solutions business, and formerly served as the Global Head of Investment Strategy for scientific active equities and as senior portfolio manager in the US Market Neutral Group. Prior to joining BGI, Mr. Koesterich was the Chief North American Strategist at State Street Bank and Trust. He began his investment career at Instinet Research Partners where he occupied several positions in research, including Director of Investment Strategy for both U.S. and European research, and Equity Analyst. He is a frequent contributor to financials news media and the author of two books, including his most recent "The Ten Trillion Dollar Gamble."Mr. Koesterich earned a BA in history from Brandeis University, a JD from Boston College and an MBA from Columbia University. He is a CFA Charterholder.