Europe's Late Winter Deep Freeze Makes Further Gazprom Pipeline Obstruction Very Unlikely
Summary
In the immediate aftermath of the Ukraine crisis in 2014, a very dominant public perception took hold, which assumed that Gazprom was set to lose European market share.
Since then, the opposite has happened, with its share of a growing European market increasing from 30% to about 35%, with new export records being set.
Given Europe's return to economic growth as well as the continued decline of domestic supply, Gazprom's share of the market is only likely to increase, with new pipelines helping along.
It was just four years ago that relations between the EU and Russia were seemingly entering a period of irreconcilable differences as the crisis in Ukraine was escalating. There were sanctions and counter-sanctions. The South Stream pipeline was obstructed in 2014 by the EU, which leaned on its poorest member Bulgaria in order to obstruct the pipeline from reaching EU shores. There was more and more talk of replacing Russian gas with LNG from the US and elsewhere. To make matters worse for Gazprom (OTCPK:OGZPY) and for Russia, oil prices started plummeting in mid-2014. As most of us already know, in much of the old world, long-term pipeline gas contracts are tied to oil prices, so in addition to Gazprom seemingly looking like it was set to sell far less natural gas to Europe, it was also being threatened with lower natural gas prices. 2014 was most definitely a bad year for them, and at that point, most indications were that things were mostly set to get much worse, as most media reports, as well as political rhetoric, suggested that Gazprom was set to lose its most important export market. Five years on, I have to say that things are not looking anything like some people thought or hoped back then. Looking forward, things are, in fact, looking extremely good for Gazprom, when it comes to its natural gas export prospects.
The China Deal
At the time it was seen as a desperate move to salvage the overall situation in regards to Gazprom's gas export prospects, but the Power of Siberia pipeline deal, which will have a capacity of 38 Bcm/year is clearly not the desperate money-losing enterprise that it has been portrayed to be in the Western media.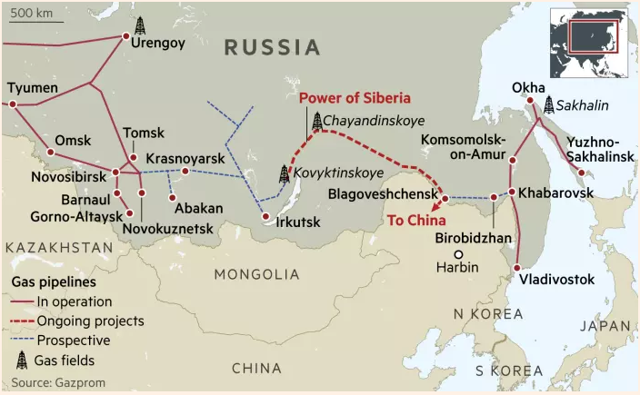 Source: Financial Times
At the time of signing, it was estimated to be worth $400 billion for a 30-year supply deal. By my own rough estimate that comes out to a gas price of about $350/1,000 cm, which was the average price paid by European customers for Russian gas at the time the deal was signed. The pipeline itself may seem expensive, costing $55 billion. But to put things into perspective, Ukraine charges about $2.88/1,000 cm for every 100 kilometers, meaning that for every 1,000 cm of natural gas Russia pays about $35 to transit Ukraine. This does not include the pipeline costs going through Russia and then other transit fees once the gas gets through Ukraine. By my rough estimate, the cost of the Power of Siberia pipeline for every 1,000 cm comes in at about $47, meaning that it does not cost more to ship the gas to China than it does to ship it to Europe via Ukraine. In other words, the costs are similar, while the price it is sold at is also similar. The pipeline is set to start becoming operational sometime next year, meaning that Gazprom is set to see a significant boost in its export capacity by the end of the decade.
Gazprom's exports to Europe doing opposite of previous expectations
While most people saw the Chinese pipeline deal as a way for Gazprom to salvage some of its export business in the face of declining European prospects a few years ago, as it turns out, the situation is turning out to be nothing like that.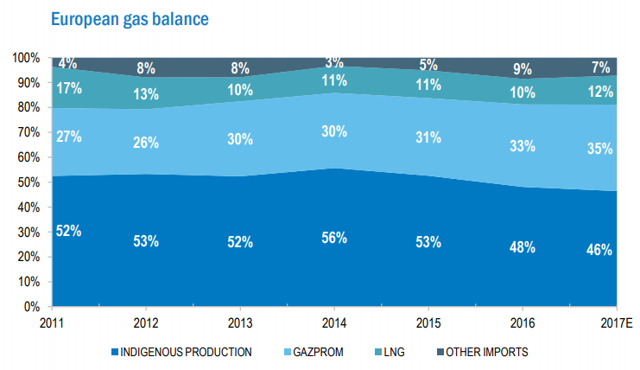 Source: Gazprom
As we can see, Gazprom actually managed to significantly increase its share of the European gas market since 2014, from 30% in 2014 to about 35% last year. Most of the increase came at the expense of domestic European production which entered a period of significant decline right in 2014, just as animosity between the EU and Russia was being ratcheted up. Netherlands production declines have been particularly prominent in the past few years. This was an issue I highlighted back in 2014 already as the Ukraine crisis was unfolding, which in my view was not being acknowledged at least publicly as a reason to perhaps be more cautious in taking an antagonistic position towards Europe's largest gas supplier.

Source: Index Mundi
Because Netherlands production only started to decline precipitously in 2014, it is in a way understandable why many European politicians, as well as the general public, were not factoring in this trend at the time. We see now that they should have, just as I pointed out back then that they should.
Aside from the evidently pressing issue of declining production, we also have the return of Europe's economy from more than half a decade of economic crisis, which among other things led to a trend of declining natural gas demand. 2014 was exactly the year when there was a definite reversal of the crisis situation and Europe's economy started moving forward again. With that reversal also came the reversal of the trend of declining natural gas demand, which back in 2014 some people were arguing that it was likely to be a permanent aspect of Europe's economic progress going forward.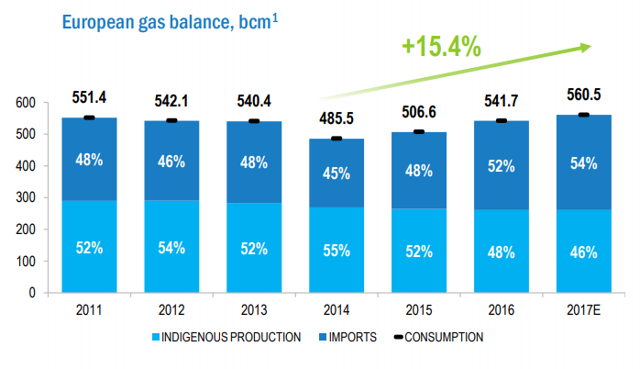 Source: Gazprom
The combination of declining domestic supplies, as well as a return to at least mediocre economic expansion in Europe, is what caused a record year of imports from Gazprom in 2016, followed by a new record set in 2017, which was over 8% higher compared with the previous record year. With total exports to Europe reaching 194 Bcm, it was in fact 40% higher compared with 2010. The reason I wanted to highlight the change since 2010 is because that was the year before the EU's third energy package came into force, which was unofficially meant to diminish Gazprom's role in the EU gas market. Evidently, it did not work as envisioned. It seems that economic realities did not match political wishes.
The storm that may have ended any remaining resistance to Gazprom's plans
A late cold spell in late February, going into the beginning of this month, which brought some near record-breaking cold temperatures to most of Europe could not have come at a better time for Gazprom. It was supposed to be the end of winter, a time when in most years spring is in the air, with some countries in Europe having a tradition on March 1, where men offer women the first wild flower that blooms in the spring. Natural gas stockpiles were already running low, with some countries such as the UK wondering whether they will be able to make it through the storm without possibly having to start rationing by limiting industrial activity. It did not take long for everyone to realize that Gazprom was the only entity able to respond on short notice to such a situation. It made sure to use the Yamal and Nord Stream pipelines to their full capacity, setting daily export records in the process. It should be noted that no other entity managed to respond in this way to Europe's near-crisis situation. LNG takes a while from the time a shipment is contracted to the point when it gets delivered. Norway has not been able to respond for a number of technical reasons, while domestic production would also take months to respond.
It should be noted that pragmatic heads were already starting to prevail in Europe after 2014. The Nord Stream 2 project was met with a tough reception by the EU as well as a number of individual countries, including those who felt cheated by the obstruction of South Stream, but even before the storm, which managed to highlight the importance of Russian gas to the European economy, it was already looking more and more like the pipeline will be built. At most, it may face some minor delays. South Stream has also been replaced by Turkstream, which is a modified project that is set to now benefit Turkey more than it does the EU but is also set to have an EU branch taking gas to East-Central Europe. In regards to this project, it now seems that Turkey is the source of possible obstruction & delays, rather than the EU. It seems EU objections to the project are increasingly muted. If anything, it would not surprise me if we were to see a renewal of a smaller-scale plan to follow the route of the old South Stream project with at least one of the branches of the Turk stream project, with Bulgaria once more becoming the entry point of at least some of the gas going to Europe.
Looking at the longer-term prospects, it seems unlikely to me that either of the two main assumptions that determined EU natural gas policies back in 2014 is likely to work out. It does not look like Europe's demand for natural gas is likely to contract as long as there is at least some economic growth going forward. The second assumption, namely that Russian gas supplies can be replaced with other sources is proving to be even more unrealistic. In terms of domestic supplies, the first alarm bell should have been heard when Britain's production started to decline at a very fast pace starting in 2003. Since then, it is down by about 60%, even though in the past few years there have been some modest production gains.
The second alarm bell should have been heard in 2013-2014 when Netherlands production entered a permanent trend of severe decline. Norway may not be an EU member, but nevertheless, it is a very important supplier of natural gas to the EU, being the second largest source after Russia. Norway maybe just a few years away from seeing the commencement of a similar decline, meaning that Europeans should already start planning for the event. Back in 2003, these three countries accounted for about three-fifths of the EU's natural gas needs. At the moment, they are down to about 35%. After Norway will start declining, they will be down to perhaps a fifth of total EU supplies, just a few years after that. Within this context, it was completely unrealistic in my view to expect Gazprom's share of exports to Europe to start shrinking. As we can see, the opposite is happening, and it will continue to happen going forward, it is just that it may not yet be entirely obvious for those who are not presented with the big picture.
Editor's Note: This article discusses one or more securities that do not trade on a major U.S. exchange. Please be aware of the risks associated with these stocks.
This article was written by
My name is Zoltan Ban,  I have a BA in economics. I am a personal investor with over a decade and a half of active trading experience.
Analyst's Disclosure: I/we have no positions in any stocks mentioned, and no plans to initiate any positions within the next 72 hours. I wrote this article myself, and it expresses my own opinions. I am not receiving compensation for it (other than from Seeking Alpha). I have no business relationship with any company whose stock is mentioned in this article.
Seeking Alpha's Disclosure: Past performance is no guarantee of future results. No recommendation or advice is being given as to whether any investment is suitable for a particular investor. Any views or opinions expressed above may not reflect those of Seeking Alpha as a whole. Seeking Alpha is not a licensed securities dealer, broker or US investment adviser or investment bank. Our analysts are third party authors that include both professional investors and individual investors who may not be licensed or certified by any institute or regulatory body.