Biotech Forum Daily Digest For March 7th
Summary
Fears of a 'trade war' and a key departure from the current administration should put the market in a 'risk off' mode today, at least in early going.
Dermira implodes on a key Phase III trial failure. Clearside Biomedical and Tetraphase Pharmaceuticals get several positive mentions from analysts.
All the other notable news, events and analyst ratings from across the sector as well as a Spotlight feature on T2 Biosystems are below.

Love all, trust a few, do wrong to none." ― William Shakespeare

The choppy nature of the market continues. After posting slight gains on Tuesday, the main biotech indices will open substantially down today as will the rest of the overall market.
Today's rally killer is the departure of Gary Cohn from the White House. Mr. Cohn was a key economic adviser and driver of the recently passed tax reform package. As importantly, his departure will weakened the free trade wing within the administration and makes a feared 'trade war' more likely in coming months. Not something that is going down well with investors.
Author's note: To get these Biotech Forum Daily Digests as soon as they are published, just click here on my profile, hit the big orange "Follow" button, and choose the "real-time alerts" option

Dermira (DERM) was the big loser in the sector on Monday. The shares lost over 60% of their value after the company announced that its Phase 3 trial for its compound olumacostat glasaretil or DRM01 failed to meet all co-primary endpoints in its two pivotal trials for the treatment of moderate-to-severe acne vulgaris. Dermira will not discontinue development for this program. The company does have another compound 'DRM04' that has a PDUFA date late in June to treat primary axillary hyperhidrosis.
Esperion Therapeutics (ESPR) should buck the downward tilt of the market today and get a decent lift from trial results it announced this morning. The company discloses that a Phase 3 trial for its bempedoic acid in statin-intolerant patients atherosclerotic cardiovascular disease or at high risk of ASCVD with elevated low-density lipoprotein cholesterol met its primary endpoint.
Protagonist Therapeutics (PTGX) rallied some five percent in trading on Tuesday. Its compound PTG-300 was designated as an Orphan Drug by the FDA for the potential treatment of beta-thalassemia, an inherited disorder characterized by chronic anemia due to impaired red blood cell production. Orphan Drug status conveys a seven-year period of market exclusivity for the indication, if the compound is eventually approved. PTG-300 recently successfully completed a Phase 1 clinical trial but is years away from any potential commercialization.

Piper Jaffray reiterated its Buy rating on Fate Therapeutics (FATE) Tuesday and doubled its price target to $20 on this emerging CAR-T concern. Jaffray's analyst believes lead allogeneic natural killer cell therapy FATE-NK100 'can enhance anti-tumor activity when combined with antibodies'. This compound is currently in three ongoing Phase 1 studies.

Not surprisingly given Monday's positive trial developments, Clearside Biomedical (CLSD) is seeing some love from analysts this week. On Monday, JMP Securities reissued its Outperform recommendation with $25 price target. Tuesday saw JP Morgan doing the same with a Buy rating $18 price target. The analyst at JMP Securities raised his price target from $21 a share previously on CLSD as he now sees the chances of eventual approval of CLS-TA moving to a 80% probability from 70% prior to this week's trial disclosure.

Tetraphase Pharmaceuticals (TTPH) also get some positive mention from analysts recently. Last week, Piper Jaffray reissued its Outperform rating and $8 price target on this small cap concern. After fourth quarter results yesterday, both H.C. Wainwright ($6 price target) and B Riley FBR reiterate their own Buy ratings on Tetraphase this morning. The company's compound eravacycline to treat complicated Intra-Abdominal Infections has a PDUFA date in late August with the FDA seeking approval.
Note: New analyst ratings are a great place to begin your due diligence, but nothing substitutes for deeper individual research in this very volatile sector of the market. Many of the small-cap names highlighted in "Analyst Insight" will eventually appear in the "Spotlight" section, where we do deeper dives on this type of promising but speculative small-cap concerns.

Today we provide an update on 'Busted IPO' T2 Biosystems (TTOO) whose shares have soared over the past week in today's Spotlight feature.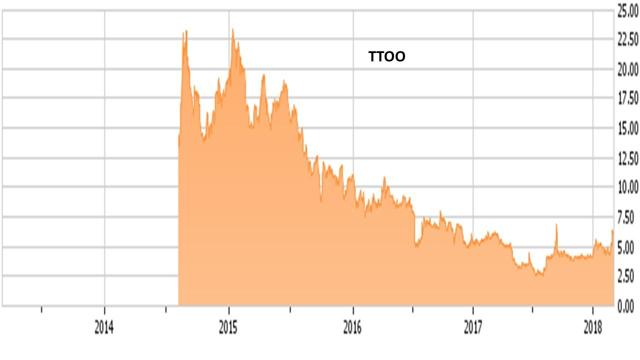 Company Overview:
This company is a Massachusetts based diagnostics company that has developed a proprietary magnetic resonance technology platform that enables rapid detection of pathogens, biomarkers, and other abnormalities in patient fluids including blood, plasma, serum, saliva, sputum, and urine. The company was founded in 2006 and came public in August 2014 at $11.00 per share. Even with the stock's recent rally, the shares are far below their debut. Thus, TTOO is a 'Busted IPO', a niche in the market where I have found almost all of my 'ten-baggers' in my 30 plus years in the market. The stock currently has an approximate market capitalization of $225 million.
The Technology: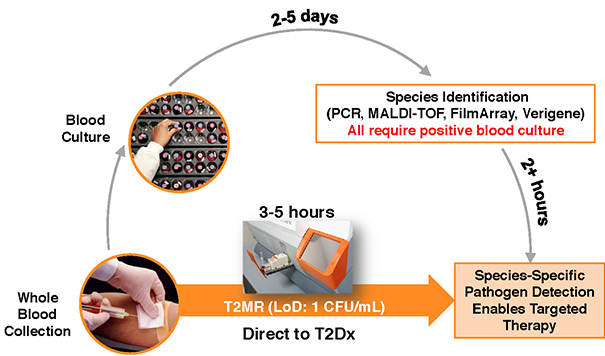 What I feels makes T2 Biosystems unique is its technology platform.
The company's T2 magnetic resonance platform (T2MR) is a direct-from-sample diagnostic detection method. For molecular and immune-diagnostic targets, super paramagnetic particles with specie-specific target probes are introduced into a patient's sample. If the target pathogen is present, the particles bind to it and cluster. This clustering alters the magnetic property of the sample water, which increases the T2MR signal, indicating the presence of the targeted pathogen. Because this technology works directly in the patient's sample, no purification or extraction (culture) is required. As a result, none of the target pathogen is lost, providing a more sensitive and thus more accurate result. The company's detection device, the T2Dx Instrument can run 7 tests at once and between 2,500 and 3,000 per annum.
This device has the potential to be a game changer in the detection of sepsis. Domestic deaths from sepsis annually (> 200,000) are more than breast cancer, prostate cancer, and AIDS combined. Sepsis related costs are about six percent of the overall hospital costs in this country, nearly $25 billion a year.
Sepsis is a severe inflammatory response to 25 different bacterial or 5 different fungal (Candida). A panel for Candida has been approved and is in the market. It can return a result in less than five hours, compared to an average of five days of the previous process. Each of these T2Dx machines cost ~$100,000 and currently employ only the T2Candida Panel. T2 Biosystems supplies the machines and the panels that much be restocked as tests are run. A true razor & razor blade story.
On September 11th, the company submitted a marketing application for a second panel. This would bump up the amount of different types of sepsis the T2Dx Instrument could detect to nearly 95% of the total from just over 10% with the T2Candida panel currently approved (fungal). Obviously, this is a game changer and should result in a big increase in sales of machines (razors) and panels (razor blades). This panel is already approved in Europe and should be approved in the United States soon. It takes generally six to months to approve this sort of device in the States.
Analyst Commentary & Balance Sheet:
Despite the company potential, there is little analyst commentary around this name. The only new analyst rating in the last nine months was from H.C. Wainwright in Mid-February. They chimed in and reiterated their Buy rating and $8 price target three weeks ago. The stock has staged a ~50% rally since then. The company ended the fourth quarter with just over $40 million in cash and marketable securities on the balance sheet. Management stated this gave it a cash runway for at least 12 months.
Verdict:
The new panel will detect a much greater percentage of sepsis pathogens (~95%) compared with current methods (50% to 65%) and will be do it in under six hours compared to the current three day average. This should spur much faster adoption as hospitals buy the machines and start to use the panels. I continue to think TTOO will be an amazing growth story over the next decade.

To be trusted is a greater compliment than being loved." ― George MacDonald
Editor's Note: This article covers one or more microcap stocks. Please be aware of the risks associated with these stocks.
This article was written by
Finding tomorrow's big winners in the lucrative biotech sector
Finding tomorrow's big winners in the lucrative biotech sector, The Biotech Forum focuses on proprietary, breaking research on promising biotech and biopharma stocks with significant potential for outsized alpha. It is the fourth most subscribed to investment service offered through the Marketplace on SeekingAlpha.com. Our service offers a model-20 stock portfolio as well as the most active Live Chat on the Marketplace. This is where scores of seasoned biotech investors trade news and investment ideas back and forth throughout the trading day.
• • •
Specializing in profiling high beta sectors, Bret Jensen founded and also manages The Biotech Forum, The Insiders Forum, and the Busted IPO Forum model portfolios. Finding "gems" in the biotech and small-cap stock sectors, these highly volatile spaces proven hugely successful have empowered Bret Jensen's own investing portfolio.
• • •
Learn more about Bret Jensen's Marketplace Offerings:

Analyst's Disclosure: I am/we are long derm, fate, ttoo, ttph. I wrote this article myself, and it expresses my own opinions. I am not receiving compensation for it (other than from Seeking Alpha). I have no business relationship with any company whose stock is mentioned in this article.
Seeking Alpha's Disclosure: Past performance is no guarantee of future results. No recommendation or advice is being given as to whether any investment is suitable for a particular investor. Any views or opinions expressed above may not reflect those of Seeking Alpha as a whole. Seeking Alpha is not a licensed securities dealer, broker or US investment adviser or investment bank. Our analysts are third party authors that include both professional investors and individual investors who may not be licensed or certified by any institute or regulatory body.