April Natural Gas 4-Hour Chart
We trade natural gas on a relatively short time-frame, and use the 4-hour chart to look for swing trading setups. April natural gas futures prices have been rising in a well-defined uptrend channel, and in the recent overnight session, broke above this channel. The current price level is the 50% Fibonacci re-tracement, which served as prior support in early February. We have a long bias, and may consider going long if the price pulls back to the March Pivot near $2.70/mmBtu.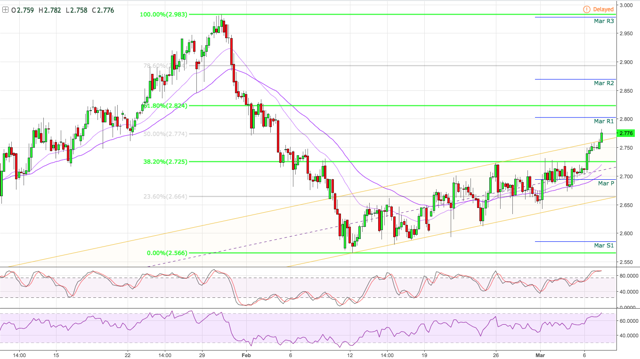 Source: Trading View
Natural Gas Volatility
The price of natural gas is volatile, especially in the winter months. The historical average volatility of natural gas is near 45% (by one measure). Over the last three to four weeks; however, the volatility of natural gas has diminished considerably. In fact, one can see on the graph below that the 10-day volatility of natural gas fell to near 13%, the lowest level it has seen in many years.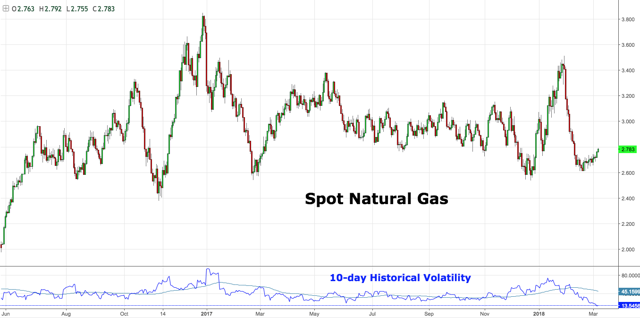 Source: Trading View
$2.50/mmBtu has been a reliable price floor since early 2017, and the low volatility might suggest that natural gas has indeed found another bottom in late February. It will be interesting to see how this plays out over the next few weeks.
Historical volatility is one thing, and implied volatility is another. Historical volatility measures the prior standard deviation. In contrast, implied volatility is derived from the value of call and put options that are trading. Implied volatility shows what the market implies about a commodity's volatility in the future. Let's take a look below at the recent implied volatility of the U.S. Natural Gas Fund (UNG).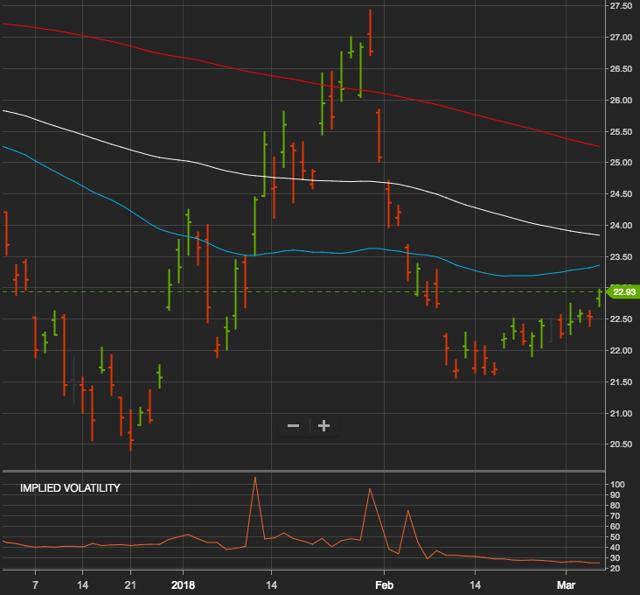 Source: E-trade
Whereas the 10-day historical volatility is under 13%, the implied volatility of UNG (and NG futures) is currently near 25%. Also, there were three recent spikes in implied volatility, which all occurred prior to a big move in the value of UNG.
A big move in price is not always preceded by a spike in implied volatility, however. Natural gas and UNG moved up substantially in late December 2017 when the implied volatility was flat.
Our regular readers know that we have a keen interest in volatility, and we look for ways to profit from it. At the moment, we don't see a compelling opportunity to profit from volatility in the natural gas market, and we are currently flat.
Option Expiration Price Magnets
Each day, we calculate the point of "neutral delta" and "neutral gamma" in natural gas futures in an attempt to ascertain how the large traders are currently positioned. We call the price level of these neutral Greeks the "Price Magnets." At the moment, the Price Magnets for the next three months is neutral.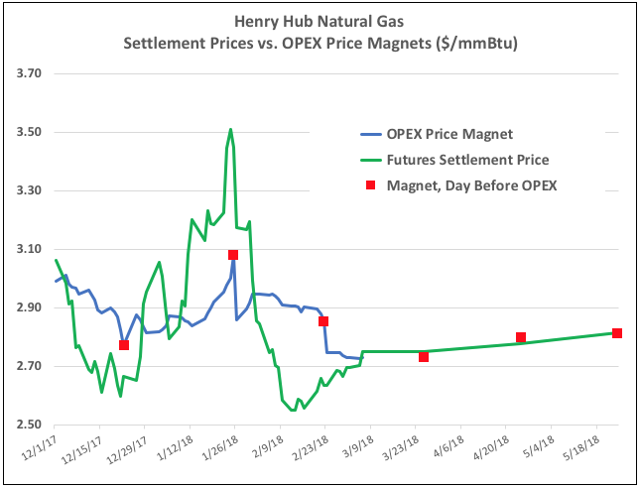 Source: Viking Analytics
Disclaimer
This article was written for information purposes, and is not a recommendation to buy or sell any securities. We never intend to give personal financial advice in any of our articles. All of our articles are subject to the disclaimer found here.
Commodity Conquest
In our Marketplace Service, we publish a daily update on the OPEX price magnets for gold, crude oil and natural gas, along with other indicators and comments. In addition, we conduct buy-side coverage on nine energy and commodity companies. Our verifiable trading record since launching our service in June 2017 is shown below.