Bert's February Dividend Income Summary
Two months are over in 2018. Where has time gone? Seriously, the first two months have 2018 have flown by! But no matter how busy you are, what you have going on in life, or how many hours you may be working, there is one thing that I love about dividend investing. Your dividend income is ALWAYS working for you in the background, and you barely have to lift a finger to receive the benefits. Well, February was not different from January or any of the months before it. Time to dive in to my February Dividend Income summary!
February Dividend income summary
This February, my wife and I received $260.93 in dividend income, a 19.82% increased compared to last year! I'm excited about the 20% increase this month give my single digit dividend growth rate in January. The chart below summarizes the companies that cut me a dividend check last month.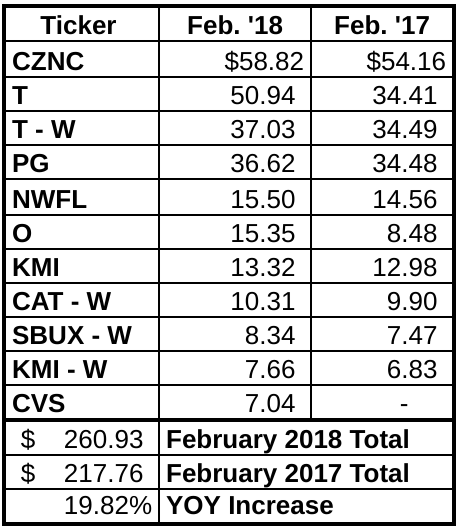 January was a boring dividend month. I didn't receive any dividends from new companies compared to last year and the increase experienced was due to DRIP and nice dividend increases. Well, that changed in February as a few portfolio moves from 2017, and even early 2018, impacted my results. First, as I am sure you are all sick of hearing, I have purchased Realty Income (O) three times in 2018. The first two purchases totaled 28 shares and were made before the ex-dividend date for the February dividend. Because of this, the dividend income I received from Realty Income nearly doubled compared to January 2017. Boom! And I cannot wait until March my dividend income total will reflect my full position post-purchases in 2018.
This one made me laugh, because it felt like ages ago. I had to do a double-check when I tallied the dividends received from AT&T. For a brief moment, I could not remember why my dividend income increased so much compared to last year. Then, after coming back to reality, I remembered that I had purchased 28 shares of AT&T (T) back in the fourth quarter when the company's price dropped. The purchase was after their Q4 ex-dividend date, so this was actually the first increased dividend I received from the company post purchase. Man it was nice to receive over $50 from AT&T this quarter! Lastly, the increase in Citizens & Northern Corporation (CZNC) was from the solid 3+% dividend increase I received in January. Got to love these dividend increases.
February portfolio news and dividend increases
Last month, I debuted two new tables in my monthly summary article, and I really enjoyed compiling and including them into the post. I also received some nice feedback from readers that said they thought the posts added some value, so here they are once again! In this section, I'll summarize the dividend increases I received this month and the additional income I received from purchases and 401k/HSA contributions.

February continued the streak of strong dividend increases, and I was able to see my forward dividend income increase $64 as a result. I thought I had a good month, but I was not able to come close to the $110 amount that Lanny recorded. Lanny, congrats my man! The two largest dividend increases were posted by Aflac (AFL) and T. Rowe Price (TROW). AFL technically announced its dividend increase in January; however, I didn't notice the increase until February, so I included it this month. TROW's dividend increase was very nice, and thank goodness I have such a large position in the company. I just wish I also owned PepsiCo (PEP), Cisco Systems (CSCO), and BHP Billiton (BBL), some of the other major names out there that announced large, double-digit dividend growth rates in February! Regardless, I was happy to see my dividend income increase $64.03 due to dividend increases.

This table shows how much dividend income I added to my forward dividend income from purchases and 401k/HSA contributions. My final purchase of Realty Income, 20 shares, should add an extra $4/month to my dividend income total and will allow me to buy an additional share each year via DRIP at the current prices. I'm loving my new semi-monthly 401k contributions, VINIX, that are a result of our plan to maximize our 401k contributions this year. VIIIX is the fund my wife will invest to in her 403(b) plan. However, the amount is minimal this month since it was her first month on the job, and I am having issues setting up her contributions into Fidelity. Unfortunately, time is at a premium in busy season, and I have not been able to investigate the issue and will work to fix it in March. This number should start increasing soon. I also had to adjust my HSA contributions based on my wife's new healthcare plan, and I will summarize those changes in a separate article. In total, though, purchases and contributions added $87.93 in February.
In total, due to dividend increases and purchases/contributions, I saw my forward dividend income increase $151.96 in this short 28-day month!
Summary
Another very solid month to start the year. Hopefully, the great dividend increases continue, and we are all able to benefit going forward. Now that March has arrived, the quarter is coming to a close. We should all start receiving the benefits from these increases, and I cannot wait to see how all of you have done this year as a result. I know I have loved updating my dividend's received total just 5-6 days into the month! Based on my last watch list, I found three great companies that I am ready to pounce on when the right opportunity presents itself. Adding Altria Group (MO) or PEP would be great, and I have some capital that I am ready to move before their ex-dividend dates. Now, let's all keep pushing forward, keep hustling, and keep on grinding our way towards financial freedom!
How did you perform this month? What was your growth rate compared to last year? Did you buy any stocks? If so, how much did you add to your forward income? What dividend increases did you receive in February?
This article was written by
Two guys who love Investing, Dividends, Frugality, Passive Income & attempting to Reinvest Our Dividends to one day achieve Financial Freedom! Follow us on your journey towards a work-free life! We share EVERY ASPECT of our journey on our blog, social media, and YouTube Channel. Make sure to follow us so you don't miss an update. Updates include the stocks we are watching, buying, selling, and our overall thoughts about the the marketBlog: http://www.dividenddiplomats.comYouTube Channel: www.youtube.com/dividenddiplomatsTwitter: https://twitter.com/DvdndDiplomats