7 Reasons To Sell Your ETH Tokens
Summary
Ethereum is the #1 platform for running decentralized applications with strong development activity and active community.
High token price of ETH is unsustainable in the long run because Ethereum operates in a perfectly competitive environment and can easily be copied and forked.
Ethereum's switch to proof-of-stake consensus mechanism will most likely benefit users at the expense of investors.
Scalability problem, criticism of proof-of-stake, rising competition, lack of successful use cases, accusations of being centralized, immaturity as an assets class - reasons for investor to be vigilant on ETH's prospects.
According to Nick Szabo (alleged Satoshi Nakamoto, creator of Bitcoin) Ethereum is "headed for either a huge bureaucracy or disaster".
"Ethereum-the-great-project": the world computer #1 to run decentralized apps without censorship
Ethereum is a super-cool decentralized platform that runs smart contracts: applications that run exactly as programmed without any possibility of downtime, censorship, fraud or third-party interference. With Ethereum anyone can create a decentralized application (DApp) and even issue a token. Ethereum currently is the number one platform for DApps, with competitors like Neo, Cardano and Lisk lagging well behind. According to the research by Ernst&Young 77% of initial coin offerings (ICOs) are done on Ethereum: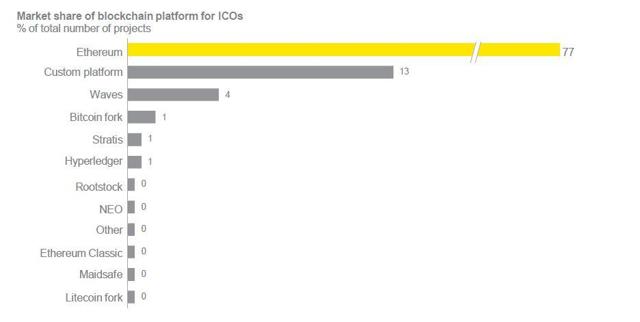 Ethereum's ICO market share source: EY ICO Research (December 2017)
Users of Ethereum platform pay for the services of the platform using Ether tokens (ETH). Those tokens are paid to the miners to motivate them to support the platform. Total value of Ether tokens today is worth more than 80 billion dollars. ETH is very liquid with daily trade volume totaling almost 1 billion dollars.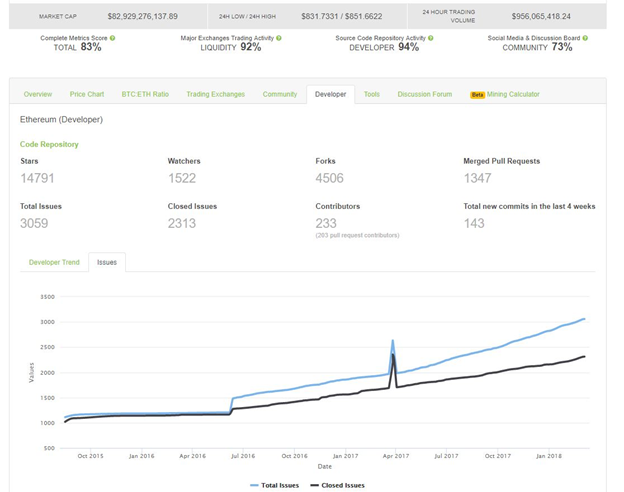 There are 1176 DApps being developed on Ethereum blockchain as of now, the community is very strong, activity on GitHub suggests that developers are working without a letup on the platform's code.
So ... what is wrong with investing in ETH?
An investment is an asset or item that is purchased with the hope that it will generate income or will appreciate in the future (Investopedia). As ETH is not a share or a bond, it cannot generate future cash flows such as interest or dividends. So there is only one reason for you to buy ETH as an investor: the hope for the price to go up. Of course, this may happen in the short term because of the speculation and more people buying into crypto. However, in the long run high ETH prices which we see now are unsustainable. Here are the reasons.
Reason #1. Ethereum is operating in a perfect competition
P = MR = MC. This is what they teach you in every Economics class. You cannot make an economic profit in a perfectly competitive markets. Period.
Imagine that Ethereum becomes the dominant platform for DApps, there is no alternative, ETH prices go up, there is a great demand for tokens from creators of DApps and miners enjoy significant economic rent. This situation is highly unprobable. Programmers will create their own decentralized platforms and more miners will enter into Ether mining until there is no economic rent.
There are almost no barriers to entry – Ethereum's code is open source, it can easily be forked. As John Pfeffer puts it, the ability to fork protocols maximizes utility for users but suppresses economic rent for token holders. So, over the long run the price of ETH will converge to the price of computing power.
Reason #2 – Bitcoin is superior to Ethereum
This seems like a very subjective statement right now. But let me support my argument.
First of all, Ethereum is overused and can be easily substituted: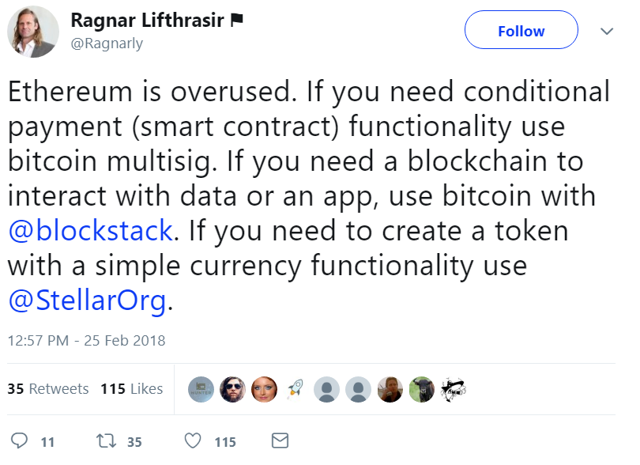 Source: Ragnar Lifthrasir ⚑ (@Ragnarly) | Twitter
Secondly, while proof-of-work (PoW) has already proved itself viable, proof-of-stake (PoS) is a pig in a poke.
Let's see what Nick Szabo says about PoS: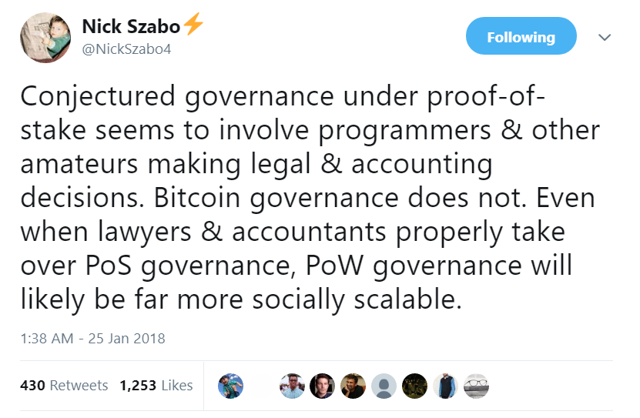 Source: Nick Szabo⚡️ (@NickSzabo4) | Twitter
Founder of Ethereum Vitalik Buterin believes that switching from PoW to PoS will help to prevent attacks on the network, because you can't burn someone's hardware if this someone tries to perform 51% attack on the network, but you can burn this person stake (burn attackers coins using code).
Here is Nick's thought's on that: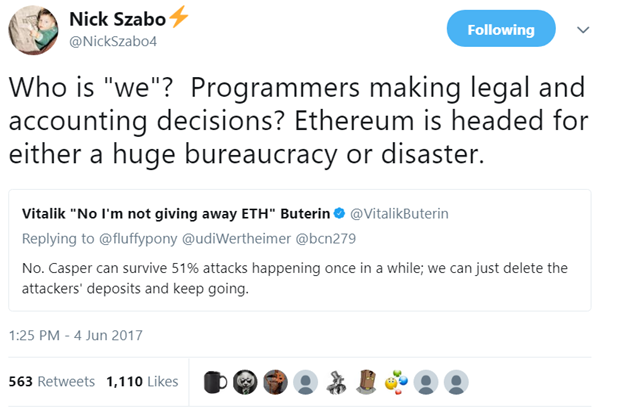 Source: Nick Szabo⚡️ (@NickSzabo4) | Twitter
Who is Nick Szabo and why his opinion even matters? Well, this guy is one of the most probable candidates to be Satoshi Nakamoto. In 1998, Szabo designed a mechanism for a decentralized digital currency he called "bit gold". Bit gold was never implemented, but has been called "a direct precursor to the Bitcoin architecture." Vitalik Buterin was 4 years old back then. Szabo's experience in the field and his reputation give at least some credit to his opinion.
Reason #3 – Scalability issue may take longer than expected to be resolved
At the moment there is no way to run applications with billions of users on chain. As co-founder of Coinbase, Fred Ehrsam, put it:
We're roughly 250x off being able to run a 10m user app and 25,000x off being able to run Facebook (FB) on chain.
Scalability is the problem why Ethereum started to lose its clients to other platforms. I covered this issue in my article here.
I believe that scalability issue is resolvable, but I think it will happen no earlier than in 2019. In my opinion, even Vitalik doesn't know how to make significant scalability improvement at the moment, because if you know what to do, you don't ask for advice. But Vitalik and Co invite others to help them deal with the problem of scalability, which is a sign they can't do it on their own.
Reason #4 – Solving scalability issue is good for users, still bad for investors
Increasing scale will lead to higher velocity of ETH tokens. According to MV = PQ monetary model, increased velocity will translate to lower token price. John Pfeffer covers this issue in more detail here. Again, great platform, bad investment.
Reason #5 – DApps created on Ethereum so far are useless and inconvenient
According to Adam Ludwin, "while it's early, if none of the 730+ decentralized apps built on Ethereum so far seem useful, that may be telling. Even in year 1 of the web we had chat rooms, email, cat photos, and sports scores. What are the equivalent killer applications on Ethereum today?"
Reason #6 - Ethereum is more centralized than Bitcoin
Researchers looked at "commits" - bundles of changes a developer proposes to make to the codebase. 7 percent of all the files in the Bitcoin Core software were written by one developer, while about 20 percent to ethereum were written by a single coder.
We don't even mention the role Vitalik plays in Ethereum even if he denies it.
What would happen if Vitalik decided to leave the project? (highly unprobable but still question worth asking).
Reason #7 - Price has already increased enough to reflect the potential behind the smart contracts.
Ethereum's market cap is more than 80 billion dollars. In terms of market cap it is comparable to Starbucks (SBUX). Even Vitalik thinks that the cryptocommunity should "earn" the valuation assigned to it.
source: Vitalik Buterin's twitter account
Final notes and recommendation
Just trying to imagine what Ethereum may become in the future, I think that it has a chance to become a universal protocol for decentralized software, national cryptocurrencies and fundraising.
Investment is about calculating the potential profit over the time horizon and entering into a position at a reasonable price. With Ethereum tokens we don't know if there will be any profit, we don't know when the platform will become popular enough with wide audience, and we are pretty sure that the price was more reasonable at the beginning of 2017 than it is at the beginning of 2018.
Price of 1 ETH is March 2017 was around $20, today it is at $862.
What happened in 1 year that the price of ETH has gone up 43 (!) times? The problems I mentioned above were there a year ago. They are present now. Has there been a 43-fold improvement in ETH protocol and the platform's prospect? Don't think so. There is a guy who bought ETH a year ago at $20 and now this guy may be the one selling his token to you at $862. Do you think the $20 investor guy has earned this 43x profit? I don't want to be a guy who offers someone 43x exit option.
I would recommend a long term investor to sell ETH (price as I write this is $867). Particular point of exit can be located using technical analysis.
This article was written by
Hello everyone, My name is Aydar, I am a Chief Editor at CryptoEconomist.ru 1. I cover cryptoassets: - cryptocurrencies (BTC, LTC ...) - cryptocommodities (ETH, Lisk...) - cryptotokens (Storj ...) 2. I recommend you to make only ethical investments in companies you understand (Peter Lynch-style) 3. I passed CFA Level 2 and have 4 years of experience in finance. Feel free to contact me at facebook.com/aydarm16
Analyst's Disclosure: I am/we are long BTC. I wrote this article myself, and it expresses my own opinions. I am not receiving compensation for it (other than from Seeking Alpha). I have no business relationship with any company whose stock is mentioned in this article.

Aydar is a Chief Editor at CryptoEconomist.Ru and a proponent of sustainable financing. No content within this article constitutes a recommendation that any particular security, portfolio of securities, transaction or investment strategy is suitable for any specific person. The author is not advising you PERSONALLY concerning the nature, potential, value or suitability of any particular security, portfolio of securities, transaction, investment strategy or other matter. To the extent that any of the content of this article may be deemed to be investment advice or recommendations in connection with a particular security, such information is impersonal and not tailored to the investment needs of any specific person. The author is not offering investment advice. You understand that an investment in any security is subject to a number of risks, and that discussions of any security published in this article will not contain a list or description of relevant risk factors.
Seeking Alpha's Disclosure: Past performance is no guarantee of future results. No recommendation or advice is being given as to whether any investment is suitable for a particular investor. Any views or opinions expressed above may not reflect those of Seeking Alpha as a whole. Seeking Alpha is not a licensed securities dealer, broker or US investment adviser or investment bank. Our analysts are third party authors that include both professional investors and individual investors who may not be licensed or certified by any institute or regulatory body.