Tesla: Expectations Are Low
Summary
Tesla revised its Model 3 production timeline, twice, but the stock did not plunge. Why?
I present two separate data sets that illustrate how low expectations are set.
Will Tesla beat, meet, or fail its revised production goals?
Tesla (NASDAQ:TSLA) will release its 1Q 2018 production and delivery report in early April and detailed financial results in early May. The next two months will be busy for those who trade the stock in the shorter term.
I, on the other hand, primarily focus on the longer-term intrinsic value, but I also keep an eye on short-term results to the extent that they impact my understanding of the company's fundamental factors, and I review how the company's results are tracking against market's expectations, and my own, each quarter.
For example, I first published my expectations for Semi and Roadster deposits, and after the actuals failed to meet my expectations, I adjusted my estimates of long-term demand for both products, shared here with Value Portfolio subscribers by product line.
Elon Guides High, Market Expects Low
Elon is self admittedly an optimist, as proven dozens of times, which means Tesla will rarely meet his "aspirational" goals. The current management guidance for weekly Model 3 production is "2,500 by the end of Q1 and 5,000 by the end of Q2."
This, however, is not what matters to the stock price. Instead, what analysts have priced into the stock is what influences how the stock price reacts to actual results. This is an important investment concept.
The following is what the market expects of Tesla in 2018 and 2019: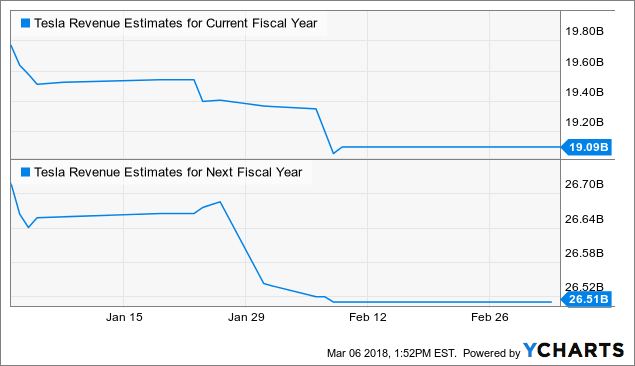 The above graph shows that analysts expect $19.1 billion of revenue in 2018 and $26.5 billion of revenue in 2019, representing year-over-year growth rates of 62% and 39%, respectively.
Starting from 2017's $11.8 billion combined revenue for Model S and X and other, and assuming minimal Tesla Energy revenue growth in the next two years, I roughly estimate that analysts have priced in 150,000 units and 300,000 units of Model 3 deliveries for 2018 and 2019, respectively. I note, again, that this is a rough back-of-the-envelope calculation for illustration purposes.
What Matters?
Generally speaking, bulls are betting that Tesla can deliver more than the above estimates in the next two years, while turning a bottom-line profit, and bears are betting the opposite.
I personally do not know of a single bull who expects Tesla to achieve Elon Musk's "aspirational" goals. In fact, the following poll results illustrate that, even over at the Tesla Motors Club, the vast majority of bullish investors are not expecting Tesla to achieve its milestones for Model 3 production: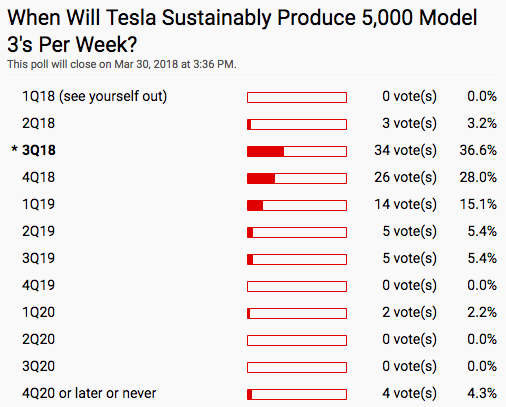 Source: Tesla Motors Club
According to poll results, the majority expect 5,000 Model 3s per week some time in second half 2018, and 32% of voters expect the milestone to be reached in 2019 or beyond. The median vote is 4Q18.
In other words, even the bulls do not expect Tesla to reach its milestones until two quarters on average after its revised guidance.
Bottom Line
Low expectations are baked into the stock, which is why when Tesla pushes back Elon's "aspirational" goals, the stock price does not plunge. This key takeaway will come handy when reviewing the next set of results that will arrive in the coming weeks.
Now imagine what would happen if Tesla hit its revised goals.
Follow For Free Articles
If you enjoyed this article, please click "Follow" next to my name. Your support will allow me to invest further time and resources into creating proprietary research for you.
Premium Research
If you're interested in my investment methodology and other holdings, join Value Portfolio. I'm confident that you will find my fundamental research to be insightful, and I look forward to discussing ideas with you.
This article was written by
You'll never see me write a long bio listing all of my credentials and degrees or refer to myself in the third person. I love discussing ideas and I appreciate it when people can play devil's advocate without resorting to personal attacks. In short, I employ a long-only, long-horizon, focused value style, guided by thorough bottom-up research and backed by years of accounting and finance experience. When people ask me "what do you do?" I assume they mean for fun.
Analyst's Disclosure: I am/we are long TSLA. I wrote this article myself, and it expresses my own opinions. I am not receiving compensation for it (other than from Seeking Alpha). I have no business relationship with any company whose stock is mentioned in this article.
Seeking Alpha's Disclosure: Past performance is no guarantee of future results. No recommendation or advice is being given as to whether any investment is suitable for a particular investor. Any views or opinions expressed above may not reflect those of Seeking Alpha as a whole. Seeking Alpha is not a licensed securities dealer, broker or US investment adviser or investment bank. Our analysts are third party authors that include both professional investors and individual investors who may not be licensed or certified by any institute or regulatory body.