During school tragedies involving firearms, the public debate over gun control systematically resumes. In most cases, time is spent on rehashing already decided issues because myths resurface and sidetrack the discussion. These myths can also cause a DIY stock investor to make mistakes regarding firearm and outdoor recreation companies.
Three Gun Control Myths That Cause Investor Fear
Gun manufacturers are going to be held liable.
The demand for guns will taper with tougher restrictions.
Public sentiment supports gun control.
Gun manufacturers are not liable. It was in 2005 that U.S. Congress essentially decided guns were not at fault. The Protection of Lawful Commerce in Arms Act (PLCAA)1 states that gun manufacturers are not liable for crimes committed with firearms. This has been challenged multiple times and is often forgotten or ignored. If the gun has a defect, then there is grounds for a case.
Smith & Wesson or its holding company, American Outdoor Brands Corporation (NASDAQ: AOBC) gives updates to lawsuits in its quarterly reports.
[W]e were a co-defendant in a case filed on August 27, 1999 by the city of Gary, Indiana against numerous firearm manufacturers, distributors, and dealers seeking to recover monetary damages, as well as injunctive relief, allegedly arising out of the misuse of firearms by third parties. On January 2, 2018, the court granted defendants' motion for judgment on the pleadings and dismissed the case in its entirety. On February 1, 2018, plaintiff filed a Notice of Appeal with the Indiana Court of Appeals. We believe that the various allegations as described above are unfounded, and, in addition, that any accident and any results from them were due to negligence or misuse of the firearm by the claimant or a third party. - Q3 '18 SEC Form 10-Q
The demand for guns increase when access is restricted. It's hard to tell what American loves more; if it's beer or guns. We know that the age restriction of 21 for consuming alcohol has not closed the college parties. It has not stopped a friend or family member from purchasing these items for minors either. For families specifically, alcohol in the home is rarely policed and some jurisdictions allow for alcohol to be shared by parents2:
In Texas, a person may provide alcohol to a minor if he/she is the minor's adult parent, guardian, or spouse, and is visibly present when the minor possesses or consumes the alcoholic beverage. - Texas Alcoholic Beverage Commission
There have been similar age restrictions for handguns. For minors under 21, the possession of a handgun can be unlawful. However, handguns are in the homes and many states still have private person sales without formal checks.
Walmart (NYSE: WMT) and Dicks Sporting Goods (NYSE: DKS) now voluntarily restrict semi-auto rifles (AR-15s and what some call assault rifles). They've stopped selling them altogether or are limiting sales to adults 21 and over. Yet, this action is not a large concern for American Outdoor Brands Corporation.
...we looked at what percentage of our sales overall for the Company, were as a result of MSR sales to Dick's and it's extremely small, it's actually one-tenth of one percentage points of our total sales. - CEO James Debney at Q3 '18 Call
Meanwhile, a parent in disagreement can still buy the rifle and gift it to a teenager at home with none the wiser. More notable for the gun market is the countless stores in competition, including Sportsman's Warehouse (NASDAQ: SPWH) that will continue to sell to all legal ages.
Public sentiment is diverse regarding gun control. It is easy to be in a bubble of like-minded constituents. Coming from major news outlets that cater to Democratic political stances, the popular view might be perceived as anti-gun. However, in reality it's much more diverse than that. After Florida's recent school shooting, the Florida Senate rejected new gun control. One might blame this result on Republican values, but even Democrats such as Bernie Sanders can't be pigeonholed. Sanders voted to pass the 2005 PLCAA that protected gun manufacturers from liability. Several Democratic majority states still labor to protect conventional Second Amendment rights.
Gun violence in schools has had immediate shock and demand for gun control, however the opposite effect tends to happen. States tend to increase the presence of guns.
Since 2013, in response to the massacre at Sandy Hook Elementary School in Newtown, Conn., legislation in state capitals across the country has sought to arm school staff. At least 10 states allow staff members to possess or have access to a firearm on school grounds... - New York Times3
Gun Stocks Have Bounced Back
While there had been some downward trend in firearm sales, the latest gun control debate was attempting to crash gun stocks. The sentiment was overstated or oversold and the market witnessed a bounce back in price per share.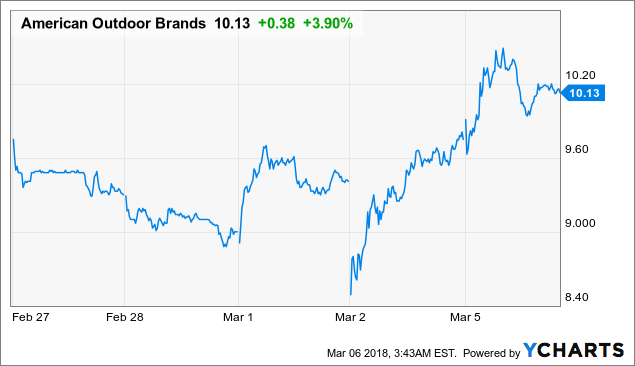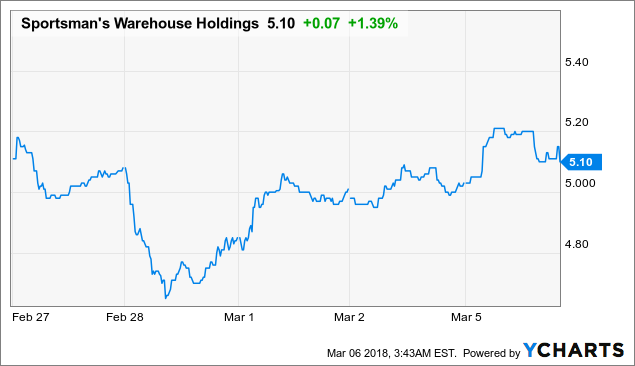 Both companies had their attempted bear attack in the same time frame. The swing was more dramatic in after hour activity for AOBC. On March 1, 2018 AOBC had an After Hour price as low as $7.11 per share. By March 5th, the stock price had an inter-day high of $10.57 for a 49% bounce.
AOBC Long-term Horizon Outweighs Short-term Cuts
American Outdoor Brands Corporation has started to launch its new handgun product, a polymer .380 caliber with modern, user friendly features and extra safety measures. The series is appropriately labeled, "EZ." This model is scheduled to expand into other calibers. The company continues to speak on its new distribution center that is in the making. The center is scheduled to be running in December of 2018, which will be the company's fiscal year 2019.
After April 2018, AOBC will start its 2019 fiscal year and they will benefit greatly from tax changes "...tax rate for Q4 of approximately 40%. Due to the various give and takes under the tax reform act, we won't see a benefit on our new tax rate until fiscal '19. For those of you modeling in our'19 numbers, we currently estimate the tax rate in that fiscal year will be around 27% to 29%." - (see Seeking Alpha's AOBC transcript).
For the immediate short-term results, the financials and sentiment may appear risky. The company is seeing Y/Y decline in total revenue. A $157m Q3 is not the exciting performance of 2017 when sales were elevated at $234m. The earnings per share/EPS this time was a low $0.09 Non-GAAP or $0.21 GAAP, when last year these EPS were both over half a dollar. Profit margin has reduced to sub 6% and the P/E of approx. 9.8 might seem too high for a company predicting flat sales.
In sizing all the circumstances, the short-term under performance and current negative sentiment is causing the price per share to return to bargain lows. The American Outdoor Brands Corporation stock is rated a buy.
Click the follow option at the top header next to author's name. The feature will alert you to new releases. The author's profile lists past articles.
-----
1. 15 U.S.C. §§ 7901-7903.
2. Texas Reg. & Penal Code, Title 4 § 106.06.
3. Erica Green & Manny Fernandez, Trump Wants to Arm Teachers. These Schools Already Do, New York Times, https://www.nytimes.com/2018/03/01/us/armed-teachers-guns-schools.html (accessed March 5, 2018).