A BlackBerry Win Against Facebook Might Add $3 To Its Share Price
Summary
BlackBerry is suing Facebook for patent infringement relating to messaging.
By virtue of the fact that BlackBerry was a pioneer in messaging, it probably has the patents to support its claim.
If BlackBerry wins, I am modeling $3 to its share price.
In an interesting twist of events, BlackBerry (NYSE:BB) is suing Facebook (FB) for patent infringement, alleging FB's messaging services infringe on BB patents.
BB is claiming infringement on patents covering message encryption, battery and message notifications, and combining messaging with gaming. BB also names Instagram and WhatsApp as defendants.
Chances are BlackBerry will win
We all know BB's BBM was the king of messaging years ago. We also know BB has thousand of patents, covering everything from encryption to (yes) messaging. Exactly what type of patents BB holds pertaining to messaging we don't know, but I imagine a whole sort of things, since BB was a pioneer in the space.
So it's only natural BB might have many patents covering messaging. Not because BB was the smartest kid on the block, but because it was the first in this space. Early bird gets the worm, or in this case, holds the patents.
Also, I am assuming BB's management has researched this case for months if not years. I think BB's management has been weighing when to proceed with litigation against FB, and I am also sure they did their research to prove FB is infringing (my opinion).
Coincidently, John Chen to date, has a very good track record for taking companies to court. The best example is when it took Qualcomm (QCOM) to court and managed to milk it for $814.9M.
Granted is was not a patent case, but nevertheless QCOM took the matter to court instead of settling. Which basically means QCOM thought it did not have to pay this money. Which goes to show just how good of a job BB's management did in the QCOM case.
What kind of monetary compensation might BlackBerry win?
To begin with if BB wins, the monetary compensation it will receive will not harm or even cripple FB. FB has more than $40B in cash and securities, and even if FB loses, it will likely pay only a fraction of that.
And while we do not know what BB is asking for, or what FB might end up paying, it will not be chump-change.
Please recall the patent dispute between Apple (AAPL) with VirnetX over secure communications protocols in FaceTime. AAPL was ordered in a final judgment to pay Virnetx $440M.
Folks, if something as obscure as telecommunication protocols in FaceTime is worth $440M, what are BB's worth? I don't know, but my guess is a lot more than the $440M that Virnetx got.
Furthermore, if BB can prove its BB App lost market share, as a result of FB's infringement, then the judgment might be a lot more than even I could imagine (and I have a wild imagination).
Reason being, FB's Messenger, WhatsApp and Instagram are number one in massaging across the board worldwide.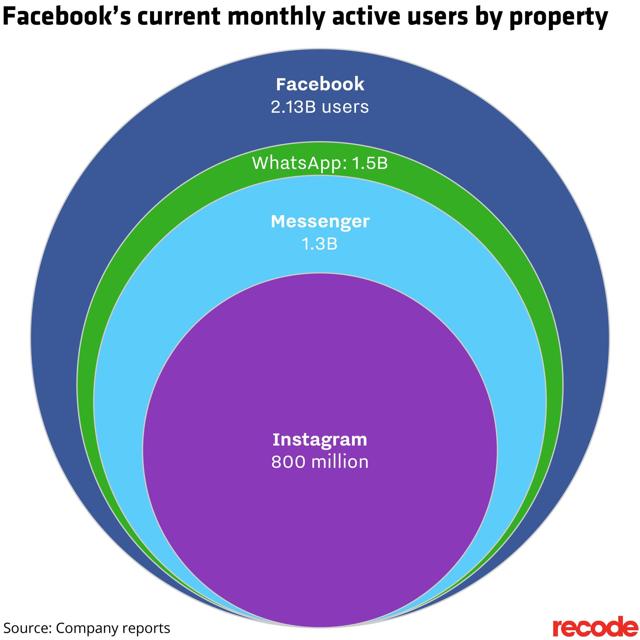 Source: Recode
So if BB manages to win this case, then monetary compensation will probably be huge. How huge I do not know, but please also recall that FB paid $19B for WhatsApp.
If BB can prove FB infringed on its patents, and as a result of this infringement FB Apps conquered messaging, then the monetary compensation BB might receive might be substantial.
So based on the fact that Virnetx milked AAPL for $440M, and given that FB has the most popular messaging apps in the world, I don't think $2B is a lot for BB to ask.
How might this affect BlackBerry shares?
While $2B is not a lot of money for FB, and it will not even make a dent in its finances, it's a lot of money for BB.
Please note BB's market cap is just $6.7B. So an award of $2B might add 30% to its stock price or even more. Furthermore, it will make BB a cash-rich company once more.
Bottom line
Chances are that BB has researched this case for months if not years, waiting for the right time to ask for compensation for patents relating to messaging.
My hunch is that BB has a case against FB, simply because it was a pioneer in messaging and holds thousand of patents, among others relating to messaging.
If we assume BB wins and is rewarded monetary damages, it might be a huge sum (at least for BB). Reason being, FB Apps serve billions of users.
John Chen has a good history of taking companies to court. Personally, I think that he has thought this one out very well. I am also assuming BB has done its homework very well, and is sure it will win.
While we do not know what monetary compensation BB is asking from FB, if the case goes to court and FB loses, it might be a lot. Even a $2B award might add 30% or more to BB's market cap.
Please note I am modeling BB will win, and FB to lose. As such, my price target for BB shares, based on a BB litigation win is $15-$16.
This article was written by
I only look at stocks that have the possibility to double over a twelve month period and stocks in which the risk/reward ratio payout is high. In addition I focus on swing trade opportunities. I focus more on valuations and risk/reward metrics as opposed to what make companies tick. I have been a professional investor for over 20 years and during the past several years an economics analyst and financial writer for capital.gr, the biggest economic news portal in Greece. I have managed money from time to time and have also done some seed venture capital projects in the past.
Analyst's Disclosure: I/we have no positions in any stocks mentioned, and no plans to initiate any positions within the next 72 hours. I wrote this article myself, and it expresses my own opinions. I am not receiving compensation for it (other than from Seeking Alpha). I have no business relationship with any company whose stock is mentioned in this article.
Seeking Alpha's Disclosure: Past performance is no guarantee of future results. No recommendation or advice is being given as to whether any investment is suitable for a particular investor. Any views or opinions expressed above may not reflect those of Seeking Alpha as a whole. Seeking Alpha is not a licensed securities dealer, broker or US investment adviser or investment bank. Our analysts are third party authors that include both professional investors and individual investors who may not be licensed or certified by any institute or regulatory body.