Activision Blizzard: The Growth Is Already Priced In
Summary
With FY2017 results coming in higher than guidance and consensus, ATVI is ambitiously exploring new growth avenues.
There are many possible opportunities for growth: monetizing through micro-transactions, advertisement, e-sports, deals for exclusive distribution of third-party products or higher sales of adjacent merchandise.
However, historically, the company experienced poor organic growth, product sales are falling, industry is increasingly competitive, and how the players' community will adapt to new monetization methods is uncertain.
Current market value seems to price in most of the future growth and the stock appears to be fully valued. Investment in ATVI stock at current price does not appear.
Introduction
Video game industry is surely a hot one. The stocks of publishers and developers have been soaring amid new methods of extracting dollars from existing and newly created IP. However, the enthusiasm has been somewhat cooled, with risks of aggressive monetization being more and more apparent. As we are entering the next stage of growth and general awareness of these (i.e. video game) investments, the risk/return proposition is changing as well. For some time already, it's no longer a time when video games were considered as something juvenile and not worth looking into and the respective stocks were under-covered. As these stocks became more and more popular, the prices rose, multiples expanded and the question arises: is there really much more growth not already recognized by the market?
Business and industry overview
Activision Blizzard Inc. (NASDAQ: NASDAQ:ATVI) is an international publisher and developer of video games for PC, consoles and mobile devices. The company operates under three segments: Activision, Blizzard, and King. The company in its current form is a result of merger between Activision and Vivendi (owner of Blizzard) in 2008 and an acquisition of King in 2016. Key franchises include: Call of Duty, Warcraft, Overwatch, Candy Crush.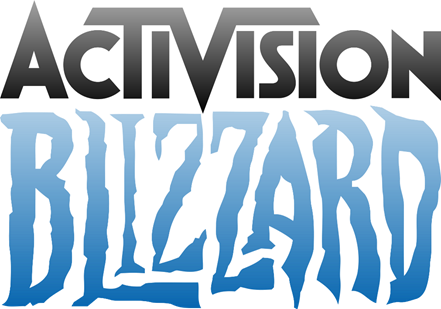 Recently, together with the whole video game industry, ATVI experienced a solid rally in its share price, rising by over +50% over the last twelve months.
The general positive perception of ATVI stems from both rising top and bottom lines as well as from dynamic developments in the general industry, discussed below.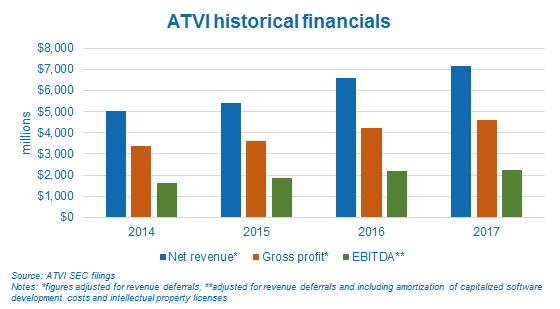 Key industry trends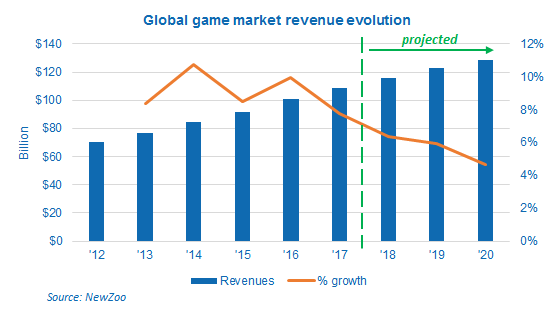 Mobile devices - increasing meaning of capitalizing on casual games of 'match three', 'clickers' or 'bubble shooters', usually available for free. When free-to-play, monetized through in-game purchases. More advanced games are usually paid apps, but nonetheless, often feature paid content.
Micro-transactions - initially mainly used for monetization through mobile apps, but now more often present in PC/console games. Good way to continue monetizing online-enabled games after purchase, however, the player community has mixed feelings towards this business model due to alleged unfair advantage over players opting not to make these purchases.
Downloadable content - often purchased through micro-transactions, allows game publishers to release new content in relatively small increments, allowing to 'test waters' with new content or simply stabilize the revenue stream. Can be limited to cosmetic changes to the game or implementing significant brand new content, like storylines or campaigns.
Key franchises - big players in the industry tend to carefully cultivate their franchises and focus most of their resources on them once they gain community's acceptance. Exemplary household names are Call of Duty (Activision), League of Legends (Tencent) or FIFA (Electronic Arts).
E-sport - sponsoring, transmitting, and advertisement through tournaments involving competition in video games. Currently perceived as one of the key untapped sources of revenue in the industry.
Distribution through digital channels - currently around 75% of video games is distributed through digital channels, which increases margins of the publishers.
Key Recent Developments at ATVI
Acquisition of King for $5.9 bln in February 2016
Release of new key franchises in recent years: Destiny, Hearthstone, Heroes of the Storm, Overwatch
Start of the Overwatch League, $90m deal with Twitch for 2-year exclusivity to broadcast the League
Credit rating upgrade to BBB from S&P
FY17 results: GAAP revenues of $7.02 bln ($1 bln over initial guidance), GAAP operating margin of 19%, free cash flow of $2.06 bln
FY 2018 guidance: GAAP revenues of $7.35 bln, GAAP operating margin of 25%
ATVI's Management's Plan
Further development of Overwatch League
Ramping-up adjacent revenue streams like advertising or cinematic productions with more significant impact in later years
Strong mobile pipeline across all segments
Release of social casino games by King
Growth for King both in terms of MAU and engagement
In-game bookings as primary growth driver for top and bottom line
The Upside
First, let's consider all the positives for ATVI's business.
Diversified product platform
Prior to release of new Blizzard franchises and acquisition of King, ATVI's major platform by revenue was consoles with over 50% of GAAP revenue in 2015. However, since the release of new major titles like Overwatch and acquisition of King, the revenue became much more balanced, providing good risk-minimizing diversification and access to different varieties of players from casual to hardcore, with FY 2017 revenue at:
Consoles - 34%
PC - 29%
Mobile and ancillary - 30%
Other - 7%
Adjacent content/licensing
As noted by the management during Q4 2017 earnings call, ATVI is aiming at increasing its revenues from advertising, licensing and selling adjacent merchandise in the long-term. The company already has some experience through a relatively big release of the Warcraft movie, being the highest grossing game-based movie in the history with over $400m in ticket sales globally. Skylanders franchise, being a pioneer in sales of toys related to its IP, can see its potential growth in the long-term, as video-game related merchandise will be further adapted by parents from generations more used to video games
M&A capacity
As the shift towards digital decreases barriers of entry, many independent game developers emerge. This, on the one hand, increases the competitive pressures, but on the other hand, it also eases identifying and targeting of potential acquisitions. ATVI is present across all key platforms and game genres, it has the financial capability with net cash on the balance sheet and has already proven ability to execute significant M&A through acquisition of King, which could facilitate future acquisitions.
Profitable digital revenue streams
By both shifting sales from traditional 'boxed' games, to in-game purchases and sale of whole games over the internet, ATVI managed to get better control of its product and to save money. According to ATVI CFO, Spencer Neumann (Q3 2017 earnings call), by each game sold that goes through online, rather than traditional retail channel, the company nets on average additional $10 per game sold. By shifting to digital, ATVI can get higher margin or more competitive pricing, but also it allows the company to smoothen the revenue from product sales, as it enables more regular releases of smaller increments of content, which is not limited to typical retail releases consisting of full scale games or expansions, but can also include micro-transactions consisting of in-game equipment or boosts for players' characters. One of the key competitive advantages of ATVI is Battle.net, which is a gaming social as well as distribution and game operating platform. Notably, all Blizzard games plus Activision's Destiny are exclusively distributed through Battle.net or Blizzard's affiliated shop. This is crucial, as, for example, the most popular online distributor, Steam, takes roughly 30% commission for each sale through its platform. The significance of Battle.net can be further utilized in the future in case ATVI decides to shift more of its product sales to their own platform on an exclusive basis.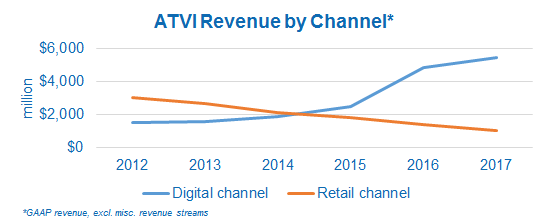 Seasoned management team
ATVI's management team is led by Bobby Kotick, who has lead Activision (as a standalone company, prior to the merger with Vivendi) since 1991 after he has acquired a 25% stake in the company with Brian Kelly, currently a member of the board of directors at ATVI. Since the merger, Kotick still leads the company, which gives him an impressive tenure of 27 years. Other senior management includes:
Dennis Durkin, ex-head of Microsoft Game Business
Michael Morhaime, CEO of Blizzard who co-founded it in 1991
Spencer Neumann, ex Disney senior executive.
Well-established franchises
ATVI holds ones of the most reputable household names in the industry, among others: Activision's Call of Duty, with COD: World War II being the best-selling console title in 2017 and the biggest one-day digital release ever. Blizzard's Diablo III, which at the time of its release (2012) set the new record by selling 3.5m copies in the first 24h and was the best-selling PC game in 2012, with 12m copies sold that year.
Potential for new franchises in the future
Activision can have flexible approach, e.g. it managed to partner up with Bungie to secure exclusivity for publishing their Destiny, which proved to be very successful. Similar deals in the future might bring in significant new revenues. Blizzard known for its prudence in relation to existing and future IP, nonetheless, managed to successfully release as many as 3 new franchises over the last couple of years, after very long time of no new releases. These new franchises opened many new ways to monetize users in previously unavailable ways. Exact potential for new franchises in the future is unknown, however, there is a strong optionality in new releases, with ATVI having high credibility in players' community.
New ways of digital monetization
ATVI manages to grow engagement of its users, reaching over 50 minutes of in-game daily engagement per user as of Q4 2017, which is on par with Facebook and its adjacent services (Instagram + Messenger). Such lengthy engagement enables ATVI to induce more in-game sales as it increases number of touchpoints between users and selling points in ATVI's products. ATVI generated over $4 bln. in in-game bookings (56% total bookings) in 2017, making a clear indication of new growth drivers. These in-game bookings allow to further increase engagement, as players constantly 'invest' in the game beyond the initial purchase price of the game. It allows to more easily attract users for games which are free-to-play and only have optional micro-transactions (growth in MAUs) and it allows to successfully monetize key franchises without high incremental risk of releasing new separate editions of games or whole new franchises.
Growing presence on the e-sports scene
ATVI owns 7 out of 20 top viewed games on Twitch, with the next publisher owning just two titles in the top 20. With the launch of the Overwatch League in 2017, ATVI managed to sign contract with Twitch for $90m, giving it an exclusivity to broadcast Overwatch League over the next 2 years. Considering that there are various franchises, especially Call of Duty, that could as well capitalize on such deals and other sponsorship/similar arrangements, there could be some growth in this area for ATVI in the future. Overall the increasing significance of e-sports in the gaming industry and ATVI's strong engagement in it should secure better engagement and cross-selling opportunities in adjacent businesses like advertisement or cinematic productions.
The Downside
Keeping in mind all the great things, it is reasonable to shed some light on the less popular aspects of ATVI's business.
Mixed trends in MAUs
Blizzard's flagship product, World of Warcraft (WOW), has been a melting ice cube. Last reported subscribers were at 5.5m or 54% lower than the all-time high of 12m. Assuming that the downtrend has continued, with current base of 5.0m subscribers and average annual sale of subscriptions ($14/mo.) and expansions (av. price of $40, exp. every 2 years) totaling $188/subscriber, we are currently looking at around $1 bln annual value in the franchise, or $1.2 bln less, than at its peak popularity. Of course due to different middleman and other costs, the whole impact is not absorbed by ATVI, but nonetheless, the overall magnitude of this trend is very significant and surely hurts ATVI's bottom line big way. However, despite this trend, Blizzard managed to increase its overall MAUs by over 50% over the last two years, mainly through successful launch of new franchises like Overwatch or Heroes of the Storm. New titles with features enabling monetization of MAUs other than subscription (paid loot boxes in Overwatch vs. subscription fees in WoW) appear to work, however, these are not outperforming the previous, declining monetization model with '17 rev/MAU lower than that in 2015.
King MAUs have been steadily declining, -33% over last two years. However, at the same time, King's revenue/MAU increased by 65% in 2017 vs. 2016, hence the management's explanation that the churn concerns mainly the least engaged players (i.e. the ones least likely to bring in revenue), seems plausible. Nonetheless, in the longer term, it will be very challenging to grow topline without new incremental users.
Activision's MAUs are mostly flat over time, which is in line with regular releases of 1 Call of Duty title per year plus new releases related to Destiny franchise, which helped mitigate the churn from older titles. If Activision fails to launch new successful franchises, the flat trend in MAUs is likely to persist.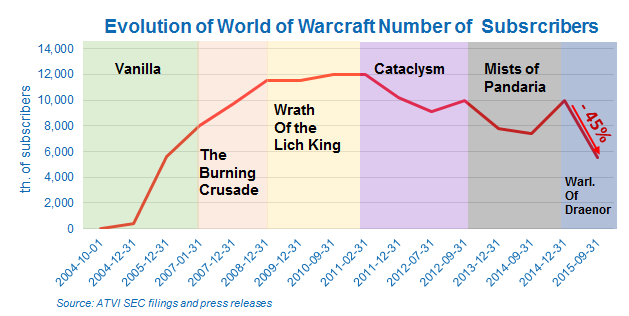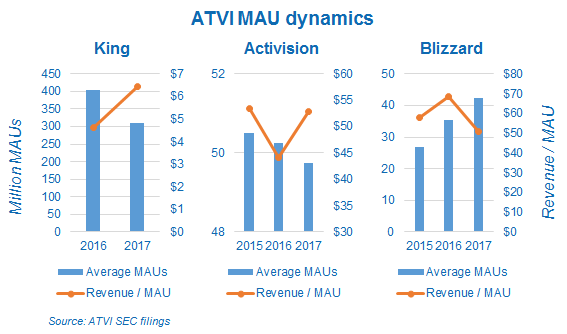 E-sports potential possibly overestimated
Total prize pools for e-sports tournaments in 2017 were $112m of which $20.5m (18%) belonged to ATVI games. Total e-sports market is estimated (NewZoo) to be worth $696m in 2017 If ATVI's share in the market is proportional to prize pool share, it would equal $125m in revenues, optimistically assuming it all goes to the company If, as projected, the e-sports market grows to $1.5 bln by 2020 and ATVI expands to 20% share in this market, it would equal total $300m/$175m incremental e-sports revenue, which would account for roughly only 3-4% of total ATVI revenue, depending on the growth in other segments Hence, if ATVI's share in the e-sports does not further expand or there won't be new ways to better monetize this segment, overall impact for ATVI can be overestimated by the market, as the share in the total revenue would be rather minor
Lackluster organic growth

Despite strong new franchise releases from Blizzard and capitalizing on exploiting existing franchises by Activision, the organic growth (i.e. ex. King) was poor and the company saw constant decline in product sales since 2012 (down -42% as of FY 2017). The shift to micro-transaction-based monetization explains some of the product sales decrease, however so long the both effects only cancel out (i.e. no significant net organic growth), so it's yet to be seen whether organic growth can finally materialize.

Limitations to transition to digital
As of FY2017, only 15% or $1 bln of ATVI GAAP revenue came in through traditional retail sales. Hence, even with some further marginal shift to digital, this growth driver should be generally considered as mostly exhausted. The transition to digital model of distribution significantly lowers the barriers to entry and allows independent developers to publish on their own through platforms like Steam and completely bypass major houses like ATVI and increases competitive pressures from both amateur developers and highly professional ones with deep experience gained in major companies. The major game companies are still testing the waters of micro-transaction-based monetization, but there are alarming reactions from the players': they don't always feel like the content they are required to pay for should be paid or they are afraid of unfair advantage over players who opt-out of in-game purchases. If the new methods of monetization lead to adverse reaction from the players, they could flee to productions of publishers using other business models.
Highly competitive environment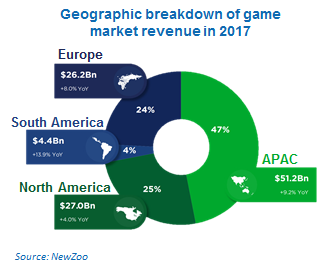 Almost half of the gaming market is APAC and at the same time, this market is home to only big non-US game companies like Tencent or Sony. Therefore, even if the global growth keeps the pace, ATVI can be successfully challenged by the domestic Asian players in competition for the local customers. ATVI is competing with game divisions of Apple (AAPL), Microsoft (MSFT) or Google (GOOG), who at the same time are suppliers of devices on which the games are played, which gives them an extraordinary bargaining lever against ATVI.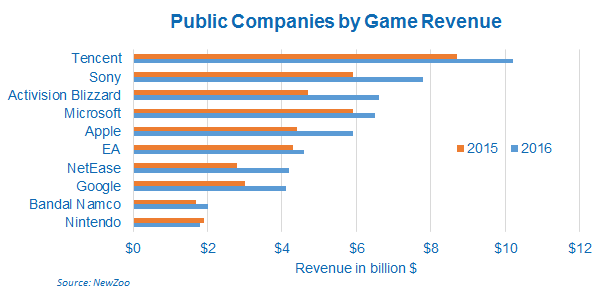 Insider transactions at ATVI are worrying
Since Late 2008, there has been only one insider purchasing shares in the market - a board member Peter Nolan, who bought ~$800k worth of ATVI shares in 2016. On the other hand, there have been numerous occasions of insiders selling (ex. option exercise), among others, director Brian Kelly, who has been with the company since 1991, selling $120m of stock in February 2018 and around $250m worth throughout 2017
Valuation
Considering all the good and bad, let's translate it into hard numbers.
P&L forecast

Cash flow forecast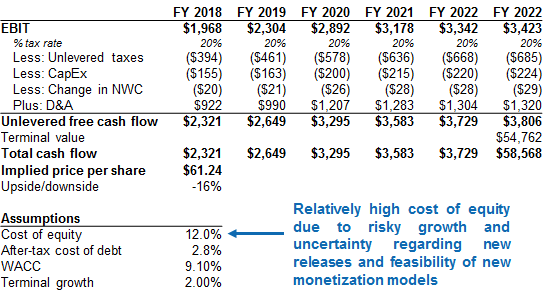 Sensitivity analysis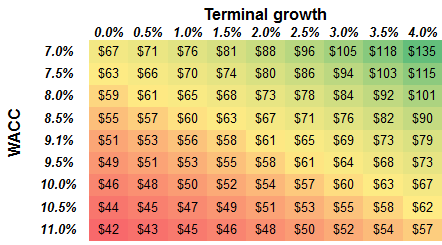 As this kind of long-term projections, especially regarding growth, are high-level, uncertain and susceptible to changes in certain assumptions, I like to think about the company's value in terms of a range of outcomes, but at the end to have a general idea whether the price-value discrepancy is tolerable or way off. As you can see above, under these assumptions, at the current market price, we are more or less at the level of fundamental value. Of course, should new developments arise, which would lead to up-revision of projections, the price shall still have more room to grow. Such an occasion could be a solid beat of FY2018 guidance, however, the question is whether the management put its current guidance in place with a margin of safety, considering a healthy beat in 2017, or is it already accommodating the optimistic growth perspective.
Key takeaways
Positive highlights
Strong growth of the overall video game industry with new emerging growth venues like e-sports or monetization through micro-transactions
Leading position in the industry with well-established franchises
Increasing user engagement, strong presence on the e-sports scene
Growth optionality through new franchise introduction and sales/licensing in adjacent areas of merchandise or cinematic productions
Solid user-oriented management team with lengthy experience
Possibility of further consolidation through acquisitions
Presence in each key sub-market: PC, consoles, mobile, allowing for multi-channel growth and diversification
Growth in revenue per MAU despite falling MAU numbers in King
Risks to consider
Poor organic growth to-date
Declining product sales
Decline of World of Warcraft, ATVI's money-generator
Declining user base of King
Limited potential of further shift from traditional retail to digital
Challenging expansion into APAC market with established presence of local players
Increasing competition from both non-pure play companies like Microsoft or Apple and independent developers
Potential of aggressive in-game monetization back-firing
Impact of e-sports potentially overestimated by the market
Conclusion
ATVI is a well-established, leading player in the video game industry. Despite poor growth in the past, new possible expansion venues emerge. Nonetheless, some important risks persist and high future growth should not be taken for granted. Hence, at current market valuation, ATVI appears to be fully valued, with future growth priced in. Therefore an investment would be reasonable only in case of future price correction or in case of solid proof of new growth opportunities, not currently available to the company.
This article was written by
Long/short equity.-------------------------------
Analyst's Disclosure: I/we have no positions in any stocks mentioned, and no plans to initiate any positions within the next 72 hours. I wrote this article myself, and it expresses my own opinions. I am not receiving compensation for it (other than from Seeking Alpha). I have no business relationship with any company whose stock is mentioned in this article.
Seeking Alpha's Disclosure: Past performance is no guarantee of future results. No recommendation or advice is being given as to whether any investment is suitable for a particular investor. Any views or opinions expressed above may not reflect those of Seeking Alpha as a whole. Seeking Alpha is not a licensed securities dealer, broker or US investment adviser or investment bank. Our analysts are third party authors that include both professional investors and individual investors who may not be licensed or certified by any institute or regulatory body.