Mall REITs: Update On My Best Pick For 2018 - Choosing The Best Operators
Summary
Mall REITs have underperformed the broader market to start 2018.
Not all mall REITs are created equal: the high quality "A malls" are my preferred way to invest in the sector.
These mall REITs trade at a 50% discount to the S&P 500.
As the interest rate environment is changing for higher interest rates, I have repositioned my portfolio towards lower leverage and stronger management.
Summary and Thesis
My most contrarian positions, Simon Property Group (SPG), Macerich (MAC), GGP (GGP), and Taubman (TCO), represent mall REITs owning "A malls," otherwise known as high quality mall properties. Whereas I have no doubt that Amazon (AMZN) and e-commerce will take down low quality malls found in peers CBL Properties (CBL) and Washington Prime (WPG), my thesis is that high quality malls will continue to thrive through "business as usual" rent increases and anchor redevelopments. In light of the increased market risk and rising interest rate environment, I am adjusting my positions to emphasize the better operators. It's time to go to the mall.
Since picking A mall REITs as my top pick for 2018, returns have thus far been disappointing: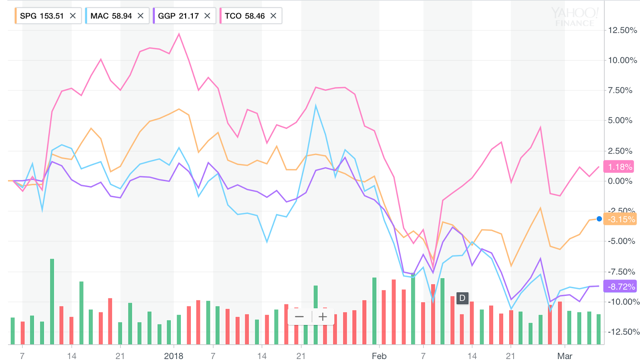 Financial results for 2017 closed on a high note - yet why isn't the market revaluing these shares?
This makes me remember the episode "Slap Bet" from the television series "How I Met Your Mother" where Robin reveals her music video from childhood called "Let's Go to the Mall!"
With mall valuations continuing to trade at opportunistic levels, what can I say, it's time to go to the mall!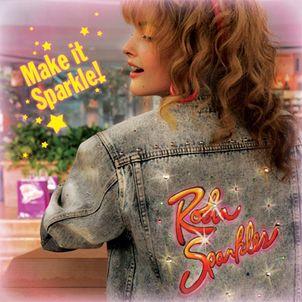 Strong financial results continue due to best of breed assets
2017 sales per square foot has remained strong (note: GGP's sales psf is NOI weighted):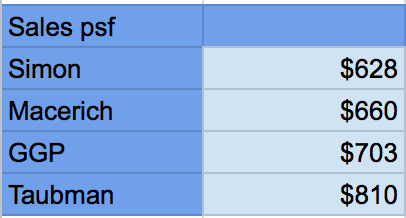 (Chart by Author, data from SPG, MAC, GGP, TCO 2017 Q4 supplementals)
These numbers are much higher than that of the struggling B malls, which reported sales per square feet below $400.
Occupancy rates have remained high - with the strongest results being Taubman's occupancy increasing 0.9% from the previous year: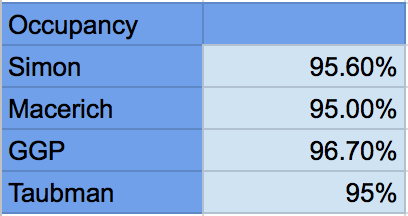 (Chart by Author, data from SPG, MAC, GGP, TCO 2017 Q4 supplementals)
Strong financial results and guidance
2017 same store net operating income growth has been solid, with Simon leading the pack: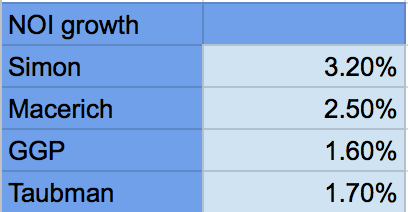 (Chart by Author, data from SPG, MAC, GGP, TCO 2017 Q4 supplementals)
Finally, funds from operations growth and 2018 guidance have been reasonable (note: GGP did not release guidance due to the pending buyout negotiations with Brookfield):

(Chart by Author, data from SPG, MAC, GGP, TCO 2017 Q4 supplementals)
It is impressive how Simon continues to lead in execution - despite having the "worst" quality assets on paper, they are still able to generate the most growth year after year.
Mall REITs are still cheap
The S&P 500 is currently trading at a p/e ratio over 25. The REIT equivalent of p/e ratio is p/ffo, where ffo is funds from operations (earnings plus depreciation and amortization). Mall REITs continue to have significant discounts to the broader market:

(Chart by Author)
I believe that the earnings growth from A Mall REITs is significantly more reliable than that of the broader market, and thus believe the discount to be unwarranted. My near term price target for Simon is $190, reflecting an FFO multiple of 16 for 2018.
Catalysts
Whenever one argues that a stock is undervalued, there must be some sort of catalyst to drive prices forward. This catalyst is usually share buybacks. What more direct message can you send that your shares are undervalued? In the case of these mall REITs, they will not be able to execute any meaningful share buyback for the next several years - but this is not such a bad thing.
It just so happens that they have even more accretive uses of free capital in the form of redevelopments. In these redevelopments they spend money to purchase large anchor boxes existing at their properties (such as those from Sears, Macy's, and JC Penney) and redevelop them to allow new tenants to come in at higher rents. Return on investment, calculated as new rent divided by anchor box purchase price and redevelopment cost is expected to come to about 9% in average. A typical use case would be replacing a Sears with a Dave and Busters.
At their current valuations, they are at the middle line where capital could be accretively deployed either through buybacks or redevelopments. Redevelopments thus are to be favored due to the secondary not quantifiable benefits they have on the rest of the properties.
This however does mean that they will probably not buyback shares for quite some time - taking away any real predictable catalyst. If shares remain at the same levels in spite of rising financials, I expect to see a combination of buybacks and redevelopment spend (as buybacks become more accretive).
Is it time to bring in grocery stores?
As a Taiwanese American, I have visited Taiwan many times. A warning, this is purely anecdotal, but what I've found was that their grocery anchored department stores (their version of malls) thrived. This is surprising because Taiwanese department stores are basically very similar to indoor enclosed American malls except for the fact that they have 20 floors. Thus if you thought the threat of e-commerce to enclosed malls was significant, you would think that these 20 floor enclosed structures would be crumbling. This is not the case - the grocery stores at the basements of the successful department stores drive a lot of traffic and appear to benefit surrounding tenants.
It would not be as simple to bring grocery stores to USA malls because these grocery stores would have to compete with the neighboring grocery stores (Taiwan has very few standalone grocery stores). However, if mall REITs focused on special grocery stores like Whole Foods, this might increase the experiential experience and get more people through the doors. The hardest thing about these A malls is just getting foot traffic - they have no problems generating sales once you're in the door.
Buys and sells to the original portfolio
As interest rates rise, I began to take special note of their leverage ratios: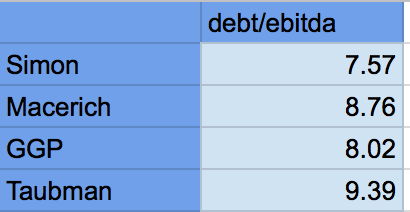 (Chart by Author, data from SPG, MAC, GGP, TCO 2017 Q4 supplementals)
Simon's EBITDA was difficult to find as they do not report this metric - thus is may be more accurate to use the REIT equivalent of EBITDA which is net operating income: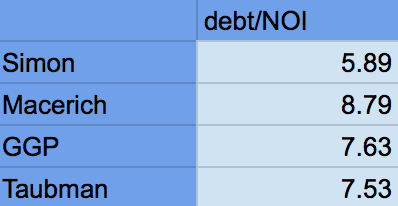 (Chart by Author, data from SPG, MAC, GGP, TCO 2017 Q4 supplementals)
The rising interest rate environment has increased the risk that operators with large amounts of leverage will see their bottom line results pressured should interest expenses rise. I have thus decided to focus my allocations on positions with lower leverage and more reliable forward growth.
I sold my stake in Taubman and distributed it into Simon. I have a feeling that many investors are long Taubman because they are hoping for a buyout. As I wrote in my article about Taubman, I view the chances of this to be extremely slim. I had a small position in Taubman for diversification - but with shares remaining at elevated levels I decided it was time to distribute the position into best of breed Simon which continues to outperform at the operational level (and in this respect Taubman continues to underperform). Sure, Taubman has the highest performing assets, but in this difficult retail environment I give more value to stronger management teams and more conservative balance sheets. The low probability of M&A combined with a history of operational underperformance made Taubman an easy sell.
I also lessened my Macerich position slightly into GGP. I give extra value to the slightly lower leverage at GGP but not only that, the decreased valuation. GGP's management team is the more likely to take active measures to close this net asset value gap, as Vince Martin pointed out in his article on GGP.
How I'm tracking the changes
If we use an arbitrary $1 million basis for the original portfolio, then at inception there were 2139 shares of Simon, 10580 shares of GGP, 2490 shares of Taubman, and 3833 shares of Macerich, based on the 3.5 - 2.5 - 1.5 - 2.5 weighting.
The current value of this mall REIT portfolio is $939,147 plus $10,891 in dividends for a total of $950038. The current portfolio has 2979 shares of Simon, 13190 shares of GGP, and 3174 shares of Macerich. Dividends won't be reinvested.
I will be judging the performance of this call based on the growth of the original $1 million - currently it's down about 5%.
Miscellaneous: Selling PREIT
While PREIT (PEI) was not one of my top picks for 2018, it was indeed a stock that I was long. Similarly with Taubman, I have become concerned with the high leverage (management indicated they are aiming for 9-11 debt times EBITDA through 2019) and thus sold the position to reinvest in Simon. This of course is not reflected in the above portfolio, but just wanted to include this disclosure as this is an update on all my mall REIT positions.
Conclusion
Whereas REITs in general have performed poorly in 2018, I do believe that certain sectors, including the A mall REIT sector will outperform moving forward. I transitioned my portfolio towards names with less leverage and stronger management teams to adapt to the rising interest rate environment.
Author's note
If you liked this article, follow me! Those who stay strong in extended periods of underperformance will win in the end.
This article was written by
High conviction investment ideas in the winners of tomorrow.
Analyst's Disclosure: I am/we are long SPG, GGP, MAC. I wrote this article myself, and it expresses my own opinions. I am not receiving compensation for it (other than from Seeking Alpha). I have no business relationship with any company whose stock is mentioned in this article.
Seeking Alpha's Disclosure: Past performance is no guarantee of future results. No recommendation or advice is being given as to whether any investment is suitable for a particular investor. Any views or opinions expressed above may not reflect those of Seeking Alpha as a whole. Seeking Alpha is not a licensed securities dealer, broker or US investment adviser or investment bank. Our analysts are third party authors that include both professional investors and individual investors who may not be licensed or certified by any institute or regulatory body.