CARZ And Global Auto Outlook: Week Ending March 2, 2018
Summary
CARZ ETF was down 2.87% during the week as a result of significant diesel-related regulatory pressure and potential trade war talks.
Trump's tariff  threat and German court decision on diesel ban made shares go down.
VW reported good annual results, while PSA Group turned to have excellent 4Q and its shares are up by 6.3% over the week.
Following sluggish performance this Monday, Auto sector started recovery on Tuesday as trade war fears eased.
Dear Readers,
We will publish Global Auto Outlook on a regular basis. The Outlook will be based on First Trust NASDAQ Global Auto Index Fund (NASDAQ:CARZ). To the best of our knowledge, this is the only Auto ETF available for domestic US investors. Despite its liquidity and market cap being rather small, one can use CARZ as a proxy for the overall industry as it covers all major OEMs globally. In the Outlook we plan to cover industry-related news, corporate news, provide analysis and insights on coming events.
Why we do this? In our view, Automotive is one of the most undervalued industries with high potential. On the other hand, there is an intense regulatory pressure, especially in Europe right now, which may pose a risk for further recovery. In addition, the transition from ICE vehicles to EVs is underway. As a result, there are many things going on in Automotive industry right now, making it the subject of our industrial coverage.
CARZ ETF overview
As usual, we start from short introduction of the ETF and its underlying.
CARZ ETF represents securities of a wide range of countries (see Figure 1) and has exposure to 6 different currencies (see Figure 2).
Figure 1. Country exposure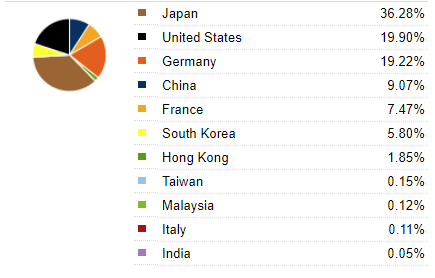 Source: Fidelity Investments
Figure 2. Currency exposure

Source: Fidelity Investments
Listing of all underlying shares is available at the link: First Trust NASDAQ Global Auto Index Fund
Since its launch in 2012, CARZ ETF price has gone up 75.5%, which is close to iShares MSCI World ETF's (URTH) growth of 74.5%, as one can see from Figure 3. The dynamics of CARZ ETF price, however, was less smooth as a result of emission scandals, regulatory overhang and fears of China and global economy deceleration. As global economy started to get pace in the beginning of 2016 and dieselgate scandal seemed to become a thing of the past, CARZ ETF accelerated its upside dynamics.
Figure 3. Price dynamics of CARZ ETF (grey) and iShares MSCI World ETF (orange)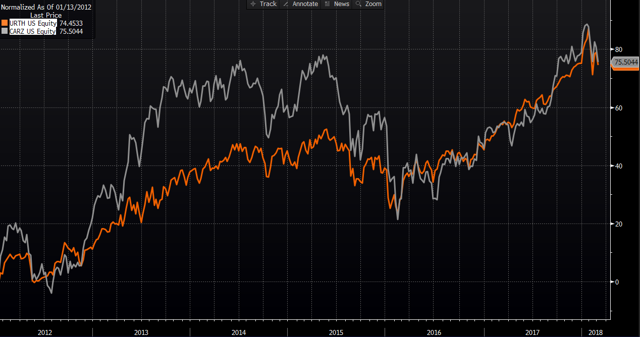 Source: Bloomberg Terminal
Trailing 12m dividend yield of ETF is 2.15%, indicated yield is 2.58%.
Our view on Automotive sector:
View

Overweight

Thesis

Attractive valuation
Post 2008-09 crisis recovery
Macro momentum and growth of auto market in EMs
Corporate events (IPOs, spin-offs, etc.)

Risks

Regulatory & further litigation cost risks
Late part of cycle in developed auto markets (USA declines, Europe close to peak)
Negative implications of faster EV introduction (elevated R&D, CAPEX; margins pressure)
Our top picks are European OEMs:
Daimler AG (DDAIF) (Overweight)
Volkswagen (VLKAY, OTCPK:VLKAF, VLKPY) (Overweight)
Fiat Chrysler Automobiles (FCAU) (Overweight)
Peugeot S.A. (OTCPK:PEUGF) (Overweight)
We will publish separate coverage for our top pick companies.
Over the week ending on March 2, CARZ ETF was down 2.87%, its largest drawdown since the market correction in February. Announcement made on Thursday afternoon by Donald Trump about coming aluminum & steel tariffs was the primary reason for the decline. The news hit the entire market. However, Auto sector stocks' reaction was stronger because steel/aluminum is used as a raw material in car production as well as due to the fact that automotive value chain is one of the most globalized among the industries. As a result, CARZ ETF was down 2.78% on Thursday, as it can be seen from Figure 4. Please note that as most of exposure (over 80%) of CARZ ETF is in foreign currency (non-USD), change in exchange rate can have significant direct and indirect effects on ETF price. For this reason, we show USD index (DXY) and MSCI World ETF in Figure 4 below.
Figure 4.
| | | | |
| --- | --- | --- | --- |
| Day | CARZ ETF price chg, % | DXY chg, % | MSCI World ETF price chg, % |
| Monday (26 Feb) | +1.45% | -0.03% | +0.86% |
| Tuesday (27 Feb) | -1.13% | +0.56% | -0.40% |
| Wednesday (28 Feb) | -0.07% | +0.29% | -0.74% |
| Thursday (1 Mar) | -2.78% | -0.32% | -1.35% |
| Friday (2 Mar) | -0.32% | -0.43% | -0.82% |
Source: Bloomberg Terminal
Industrial News
In tweet posted on Saturday afternoon Trump threatened to impose more taxes on EU auto imports as a response to Europe's negative reaction on earlier announced tariffs hikes:
As Reuters explains, the United States imposes a 2.5-percent tariff on cars assembled in Europe and a 25-percent tariff on European-built vans and pickup trucks. Europe imposes a 10-percent tariff on U.S.-built cars.
This is bad news for European Autos, many of which have high proportion of sales in the United States (see Figure 5). Every European OEM has exposure to the United States: FCA with over 50% of sales in the USA, Daimler with 16% of sales and Volkswagen with 16% in North America. Although most of the cars are produced at the local facilities, some are imported from Europe.
Earlier, German court refused to overturn city diesel car ban (the ban itself is under development). The degree of ban is still under discussion as well as to what extent the burden of software/hardware fixes will be levied on OEMs. More light on the matter may be lit within months, while the ban can be implemented as early as by the end of the year. What is clear now is that, whether it is relatively light or rather strict, the ban will cost German Automotive industry billions in market capitalization. In our opinion, the ban presents a short-term risk for German Autos.
Figure 5. Vehicle sales split by region (2016)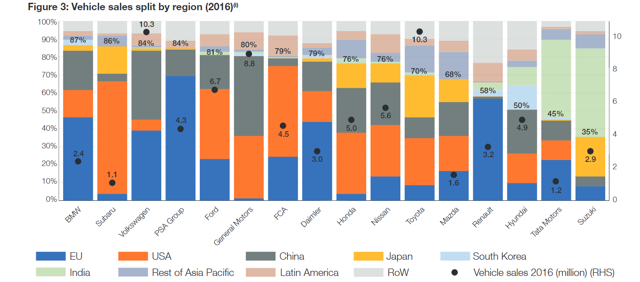 Source: Bloomberg
Corporate News
Daimler, -4.35% over the week (EUR)
On February 17, 'Bild am Sonntag' - a German newspaper - reported about Daimler's cooperation with US authorities, citing internal documents from the investigator. It mentioned that Daimler was found to use software which switched off emission cleaning after 26 kms of driving. Earlier, in April 2016, Daimler announced that DOJ requested to amend company's certification and admission process and mentioned the risks of significant monetary penalties in its report. After the news went public, Daimler said that it fully complied with the investigation and no complaint has been filed against the company. Markets reacted by sending Daimler shares down 2% on Monday.
Li Shufu, chairman, founder and principal shareholder of Zhejiang Geely, was reported to build up a 10% stake in Daimler, to become its largest shareholder (see Figure 6). In 2010, it purchased Volvo Cars (OTCPK:VLVLY) from Ford (F) for some $1.8 bn. The announced deal became a surprise to the management and shareholders of Daimler AG - the management initially thought that Shufu would try to get a seat on the Supervisory Board; however, later Shufu announced that he would not join the Board. Through investment in Daimler, Geely is likely to try to get access to Daimler's new mobility technologies, where Daimler has leadership. The future cooperation will also be fruitful for Daimler as a way to get a partner in the fast-growing Chinese market.
Figure 6. Daimler's shareholders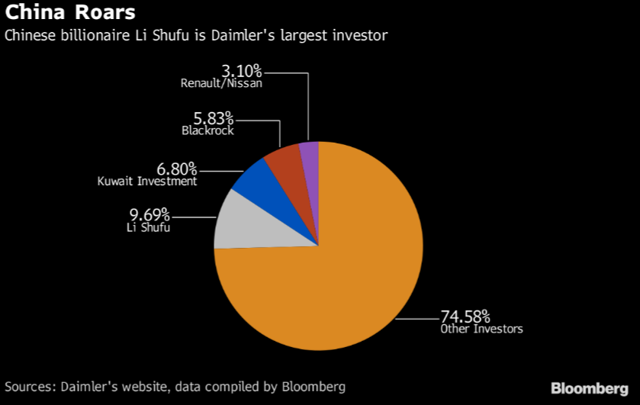 Source: Bloomberg
Daimler buys remaining 25% of Car2Go in pursuit of its mobility development strategy. The sum of the deal is undisclosed.
The investment of Li Shufu in Daimler is a positive event: it signals about long-term value of the Company as well as opens up new markets and opportunities for Daimler in Asia (although Daimler already has JV with BAIC). Despite possible volatility in the short term, we rate Daimler as Overweight.
FCA, -8.15% over the week (USD)
FCA turned out to have a successful February in USA, its key market, with sales declining by only 1.4% vs. 11% estimated by market consensus.
FCA reported to gather Board in order to consider the spin-off of Magneti Marelli, its components business. In the announcement, FCA explicitly noted that the review may not necessarily result in the spin-off and said that the result is to be announced after the decision is made. Meanwhile, the spin-off brought attention of several investors, including Bain fund, expressing initial interest.
FT reported that under a four-year plan to be unveiled on June 1, FCA would intend to phase out the fuel type from the cars across its brands, according to people familiar with the strategy. Earlier last year Toyota said that it will probably not launch another model with a diesel engine.
FCA story goes fine, with significant deleveraging and business growth reached under late Marchionne. More positive is yet to come: FCAU is to announce its new Strategy in coming months as well as make decision on spin-off of Magneti Marelli which is likely. During the year FCA will become net-cash, as we earlier wrote in our FCA 2023 bond article here. However, there are tailwinds: diesel crackdown (although it is less widespread than at VW) and US import tariffs threat. Our rating for FCA is Overweight.
Volkswagen AG, VOW3 shares, -5.44% (EUR)
Volkswagen reported its annual earnings on February 22. Adjusted EBIT (EUR 17 bn) came in line with forecast and was significantly higher than previous year's (EUR 2.4 bn rise). Dividends were boosted around two times to EUR 3.96 from EUR 2.06 for preferred shares. VW also provided positive guidance: 2018 revenue is expected to grow by 5%, operating profits should be within 6.5-7.5% range.
Volkswagen was under pressure following Stuttgart court requesting documents that show that Martin Winterkorn, its former ex-CEO, knew about the diesel emission scandal since May 2014, around 1.5 years before it became public in September 2015. Current company's position was that its top management knew nothing about the scandal; however, the documents may bring new lights to the case and put VOW under fire.
Scania, Volkswagen's subsidiary, ended trials of its first electric bus, which is to start service in a Northern city of Sweden.
Volkswagen had a tough week despite the fact of positive earnings and support from buy-side analysts, many of which reiterated their "Buy" ratings during the week. Both emission-related risks (potential ban on diesel in German cities and ongoing investigation on dieselgate issue) and trade-war related fears contributed much. Despite likely volatility in short to mid term, we think that it is good opportunity to add Volkswagen in diversified Auto portfolio. Our recommendation is Overweight.
PSA Group, +6.30% (EUR)
PSA reported annual results on Thursday, which came above analysts' expectations. JPMorgan (JPM) called the results "excellent," increasing its TP from EUR25 to EUR28, SG raised PT from EUR23 to EUR27, Jefferies increased PT from EUR22 to EUR 24. 4Q EPS came 21% ahead of consensus, core EBIT was 23% higher. The good earnings came on back of smaller losses at Opel, long struggling unit earlier acquired from GM for a "symbolic" price.
PSA was the best-performing stock in CARZ ETF over the week. We believe that PSA will continue to overperform the wider market as a result of its smooth Opel integration and limited exposure to diesel. High share of sales in EU will drive top line, with monthly car registration results contributing towards PSA upside, while no exposure to the USA will make the Company look attractive amid US vehicle import tariffs talks. We rate PSA Overweight.
Aston Martin
Aston Martin considers IPO as the automaker reached record revenue of GBP250 mn last year. Bloomberg reports that the shares may be floated as early as this year, "cementing recovery that has seen the former Ford division unwind years of losses and build a plan to replace its vehicles on a seven-year cycle."
Aston Martin IPO is likely to bring much attention of investors who remember well recent Ferrari (RACE) IPO success story (shares of Ferrari more than doubled over 2.5 years).
Thank you for staying with us!
Best regards,
Alexander Shvedov
P.S.: We welcome your comments and suggestions on other things we can add to the Auto Industry Outlook.
Editor's Note: This article discusses one or more securities that do not trade on a major U.S. exchange. Please be aware of the risks associated with these stocks.
This article was written by
We are research team that covers wide spectrum of financial assets in USA, Europe and across emerging markets. We primarily focus on short-to-medium duration bonds and event-driven equity strategies.Recently, our team decided to publish some of our Fixed Income/Event-Driven investment insights here on Seeking Alpha. Our goal is to represent ourselves to different kind of investors as well as attract attention of larger financial institutions for future cooperation.We are committed to provide you only the best ideas, insights and analysis.We also welcome your feedback on our investment insights as well as your own ideas!Feel free to subscribe to our channel and use our knowledge and experience for making return on your own investments. Welcome to LHC Management consultancies!Disclaimer: please note that provided views and materials cannot be classified as investment recommendations from legal point of view. Provided insights must not be used on their own for making investment decisions. Investors are recommended to do their own research and consult with their broker(s)/investment advisor(s) prior to making a trade. Investing in financial assets always poses a risk of capital loss.
Analyst's Disclosure: I am/we are long DDAIF, VLKAF, FCAU, PEUGF. I wrote this article myself, and it expresses my own opinions. I am not receiving compensation for it (other than from Seeking Alpha). I have no business relationship with any company whose stock is mentioned in this article.
Seeking Alpha's Disclosure: Past performance is no guarantee of future results. No recommendation or advice is being given as to whether any investment is suitable for a particular investor. Any views or opinions expressed above may not reflect those of Seeking Alpha as a whole. Seeking Alpha is not a licensed securities dealer, broker or US investment adviser or investment bank. Our analysts are third party authors that include both professional investors and individual investors who may not be licensed or certified by any institute or regulatory body.